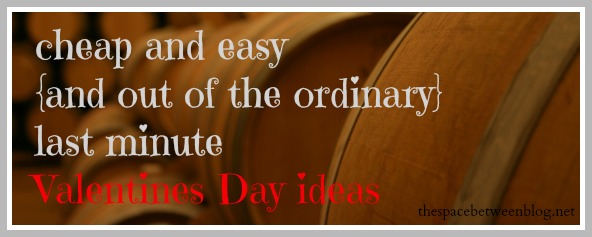 Now, I'm not suggesting that we all go being cheap and easy this Valentines Day, or any other day for that matter.  But I love a cheap, easy and unique Valentine's Day idea.

I am aiming for cheap and easy always this year.  (Oh, the things I say that make my parents so proud.)  😉 And I could, pretty legitimately even, use the "we just moved" and "we're living out of a hotel" and "I'm stockpiling money under the hotel mattress for the purchase of a house" excuses for justification.  But, the truth is, I'm just all about the cheap and easy.  (As my mother shakes her head in shame.)
Post-It Notes Heart from the Dating Divas
The Game of Love from East Coast Creative

Date night Q&A by hopes and dreams – 30 interesting, thought-provoking and funny questions to ask your significant other, even if you've been together forever.
Nerf Gun War a la Mr. and Mrs. Smith from Life Design Craft – Hey, it worked for Brad and Angelina!
A closet full of hearts
from
Oh Happy Day
– or an office, kitchen, bathroom … that room that you can get into last the day before that your man will be in first thing in the morning.
Watch the sunrise
from
The Nest
 – Ummmm, this would take some effort on my part, but Joel is totally a morning person so it might be fun to enjoy those peaceful first moments of the day together.
Date night in a jar by Life in the Green House – This one might take some time to get together … if you're just hanging in this Valentines Day it might be fun to write the list of date ideas to put in the jar with your spouse over a glass of wine … then you can craft up the actual jar on your own time. Or craft a date night box using my friend Stephanie's tutorial at The Silly Pearl.

The First Word game from Simply Modern Mom – this one sounds like a great conversation starter.

Flashback Date from Everyday Mom Ideas

And a few things Joel might find himself roped into here soon …
Go for a tandem bike ride – Bikers are everywhere in Key West … I'm not sure exactly how well the whole tandem thing would go, but it sure would be fun to give it a try.
Have a grocery store dinner – We're still living out of a hotel here people.  So all thrifty food options are on my mind.  But, how fun would it be to go to the grocery store, give each other a limit, say $5-$10, and buy whatever you want and call it dinner. Maybe we get a roasted chicken and carrot sticks or maybe we get chips and cake … who knows.  Fancy pants Valentines dinners are sooo last year.
Play tourist in your own town – I'm still somewhere between tourist and "I live here" so this one is pretty much what I do everyday … but use the day as an excuse to do those local things you wouldn't normally do.
Happy Hour Hop – We just did this the other day with a few of Joel's co-workers.  It was a fun way to check out new places and everything was a bargain.  🙂
Have a board game night show down – you know you want to!
Organize your digital photos – OK, I know this one sounds like work, but I read the idea somewhere and truth is, we have so many photos that need to be organized from years of life and vacations.  I have a feeling this one would lead to reminiscing and turn into a fun trip down memory lane.  "Hey, remember when we did that!?!?"
Visit a local winery – My BFF and her husband are regulars at theirs and they took me along as a third wheel when I was visiting in December because I am awesome they like to have me on their dates I wouldn't let them go alone.  And it was fun, inexpensive and felt like we were somewhere exotic even though we were about 15 minutes from their house in Maryland … not really the heart of wine country.
And, of course, while you're doing any of the above you could whip up your favorite drink and drop in a raspberry puree heart shaped ice cube … except with the tandem biking … you might want to try to master the bike before you add a martini into the mix.  😉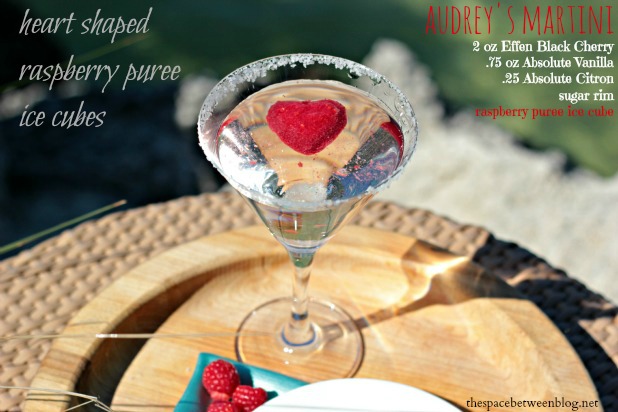 Happy dating!!  Other than the usuals (dinner, movie rental, go for a walk, skydive, etc) do you have any fun, out of the ordinary, yet very cheap and easy Valentines Day ideas?  Or are you more of the go big or go home type?