With only hours to go until our flight to our new home in Aruba I ran around our house, if you ask Joel like a mad woman, with the camera to snap as many pics as possible of one of my longest awaited and most adored updates we made to this sweet little Key West home.  Upcycling Idea – Reclaimed French Doors on Rolling Door Hardware.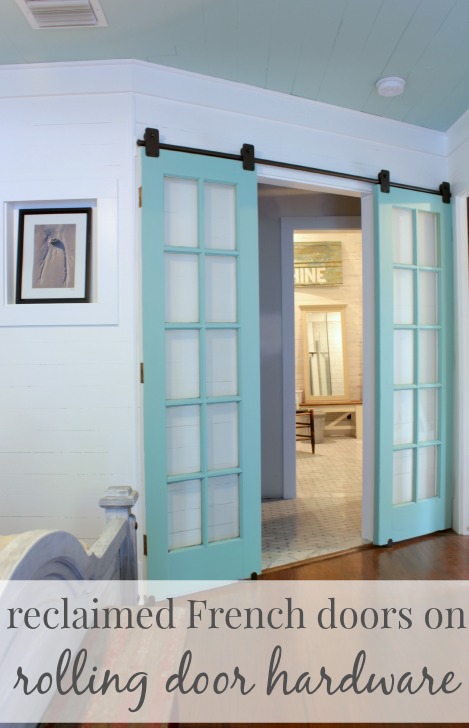 It's funny how things actually happen during a renovation.  And it's funny to be able to write about it and make it seem like everything works in perfect order and things just happen like magic in natural succession.
But, the truth is I found these old french doors in a dumpster (Literally!  In a large dumpster at a home remodel site in our neighborhood.  Whoever considers these garbage needs a brain re-calibration.  In my opinion, of course.) and not a single pane of glass was broken.  So awesome, right?!?!
But that was pretty much right after we moved in.  I didn't need a pair of exterior french doors.  But I couldn't pass them up so they became the thing that was shuffled around as we continued to get settled in.  They were always in the way, but I just couldn't let them go.  I'm sure I'm not alone.
I'm basically saying that hoarding is acceptable.
Ok, maybe not.  But cut yourself some slack about your always-in-the-way-but-not-prepared-to-get-rid-of items.  It happens to the best of us.  🙂
And looky where I ended up using the free beauties.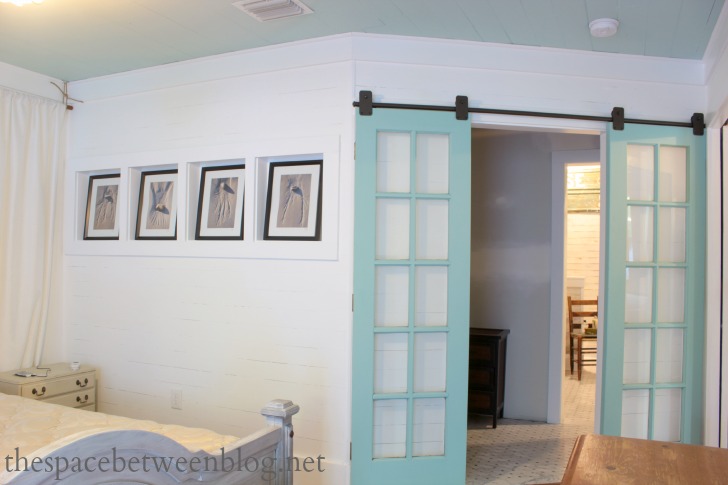 It was actually the original color of these french doors (Yes, I found french doors without any broken glass and painted in a beautiful aqua!) that inspired the color I painted the master bathroom door on the rolling door hardware.  And I love it so much I painted these doors the same color.  It's Behr Marquee, Eggshell sheen, Cascade Green.  The ceiling color is very similar but is not exactly the same, my custom-ceiling-color-saga is here.
Granted, the doors don't really provide any privacy, if you needed that you could use a spray frost, but we figure we'll just shut the door to the bedroom, which is just to the right of the closet doors.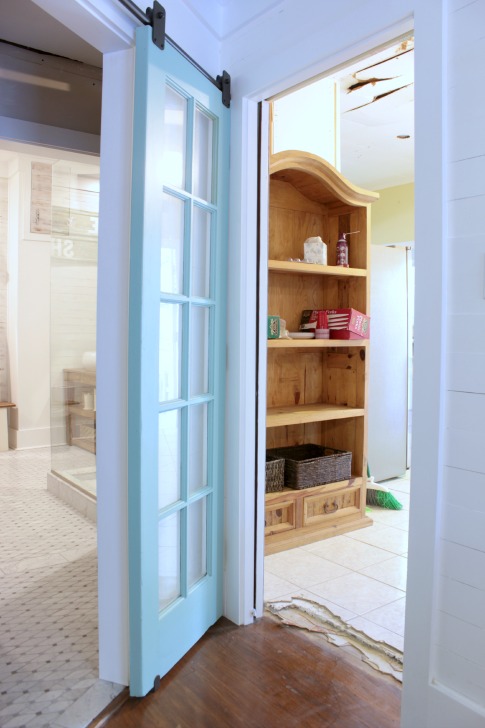 Yeah, we need to take care of that kitchen one of these days.  Just don't look down …or up for that matter.  🙂
I just love the way the rolling door hardware looks and it's a bonus that it helped me get rid of one more swinging door (in addition to the master bathroom door we installed on rolling door hardware) and makes this little corner where you enter the master bedroom a little less "there are doors swinging everywhere".  Say that with your arms flapping about and you'll have a good visual.  🙂
You can find all of the step-by-step installation details for the rolling door hardware here.  And I used the same process for this set even though I have two doors, you can order the hardware so it has an extra set of door plates for the additional door.  My sets are both from Rolling Door Designs and are the Bronze Plato Hanger.  A huge thank you to Rolling Door Designs for providing me with both sets of the hardware.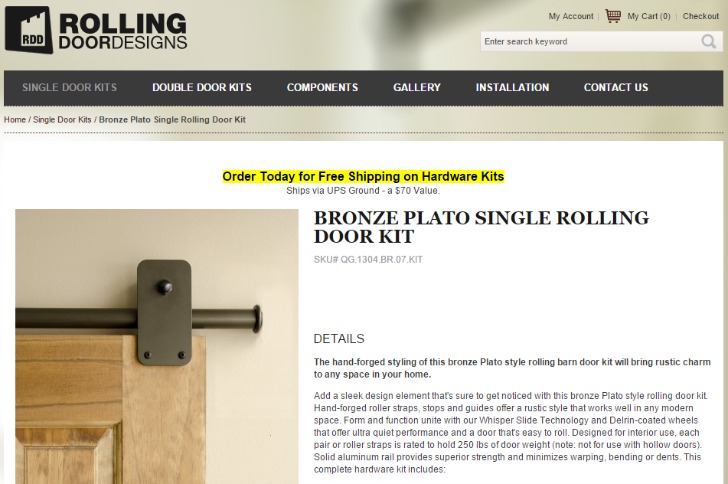 Now only one more door to wrangle in this ménage à trois of doors.
Remember what this area of the master looked like when we moved in?  Me either.  Let's look back.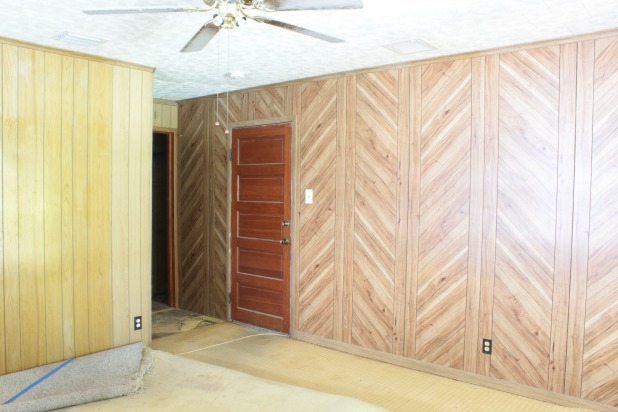 I reused that 5 panel master bedroom door and we moved the wall on the left a little and added the angled wall that now has the French doors on rolling door hardware as a focal point with the entrance to the master bathroom inside the unfinished master closet.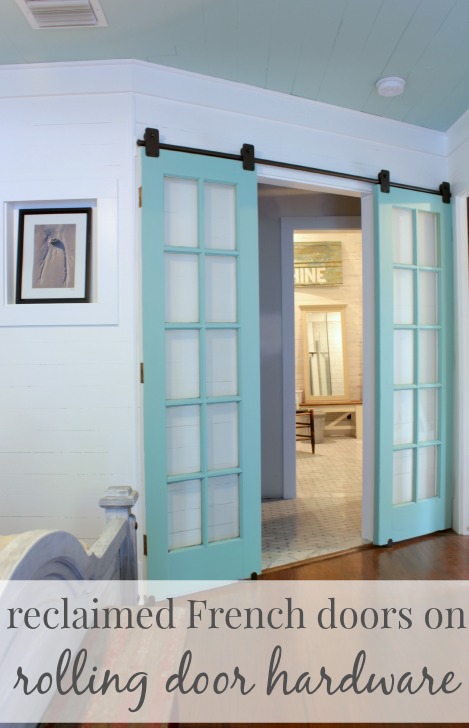 Tell me, do you love this rolling door hardware look as much as I do?  I think it's a great way to add a little interesting detail with something that serves a functional purpose at the same time.
And for a little "current status" update, we're doing great!  My focus is making sure this place feels like home to the girls.  It's new and different and one day soon it will feel like the same old, same old.  That's always the goal.
We were lucky when we flew here that our seats were right over the baggage conveyor belt and I took a short video of them loading the girls on the plane.  The woman in the seat in front of me struck up a conversation about them before she knew they were ours.  🙂
*post contains affiliate links