So, you all know that Joel and I have the perfect relationship, right?!?!
We never fight and always speak in loving tones.
And we live in a land full of unicorns and rainbows.*
*Consider everything I've said so far to be a lie. 🙂
Turns out this whole process of making and hanging our first ever DIY wood closet doors gave me some good insight into that husband of mine and some useless information about myself.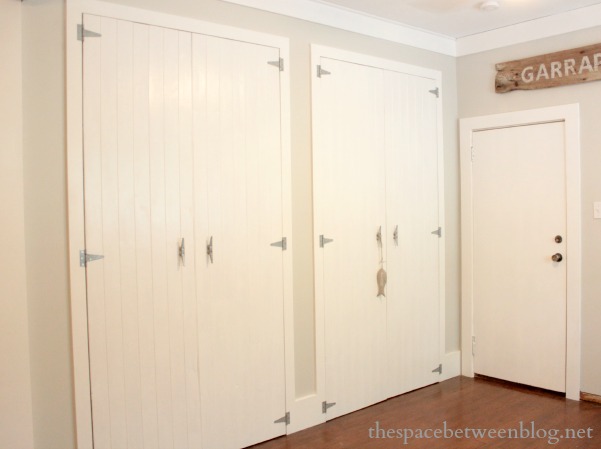 Husband Insight #1 – He likes to enable me to procrastinate on projects we are worried aren't going to turn out well and I like to pretend to push him to get these projects done.
The doors have actually been made for over a month.  They are knotty pine, tongue and groove slats that come in packages of 6 for about $16.  After we had framed out our closet and determined the size of our door openings I started assembling the doors with wood glue.
I may or may not have insisted this was a two person job to justify not getting them done and then I would make plans (happy hour anyone?) for us on the nights he offered to help so he wasn't available to help so they didn't get made.  All the while proclaiming "if you could just help me they'd be done".  I am fun.  🙂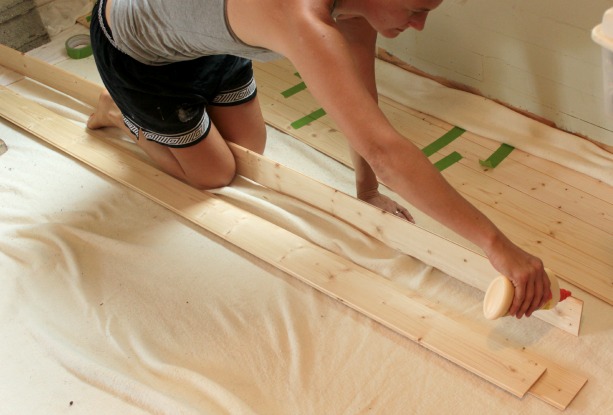 DIY Wood Closet Doors Lesson #1
Dry fit all of the tongue and groove slats together before you start in with the glue.  Some of the slats are more warped than others (they are only 1/4 inch thick), and those actually assemble easier in the middle of the door as opposed to as an end piece.  This dry fit step is actually easier with 4 hands, but don't let that hold up your whole progress.  🙂  And, either clamp the slats together after they have been glued, or use some old cinder blocks and a wall as a makeshift clamping system.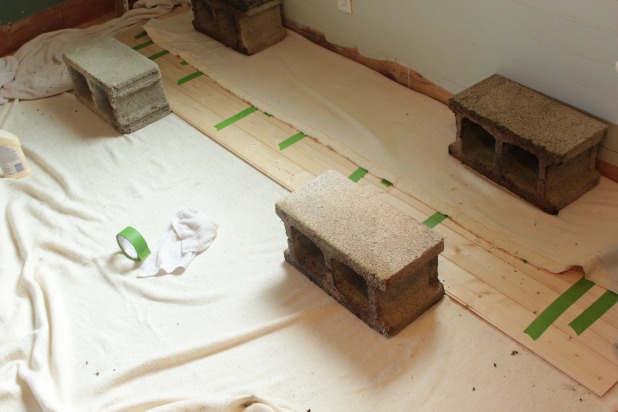 I eventually found the painter's tape unnecessary, but was happy I had worked on a drop cloth because glue does seep out the bottom.  But you may not want to go with a fuzzy blanket because I did end up having to sand off some glued on blanket fuzz.
Husband Insight #2 – Joel likes to give me free reign on projects.  I can sometimes, in a weak moment, interpret that as "full blame" if things go bad. #DIYegogonebad
The whole idea for the doors was mine.  I saw the wood slats in Home Depot one day and knew we'd like the look.  I liked that we could run them through the table saw to adjust the size after they were assembled.  I called my dad and learned a good way to support them on the back would be with Z supports.  I decided to use the same 1 x 4's we used as supports in the closet.  I decided on the measurements for the Z supports, made the cuts, glued them on and then nailed them in with 5/8″ brad nails.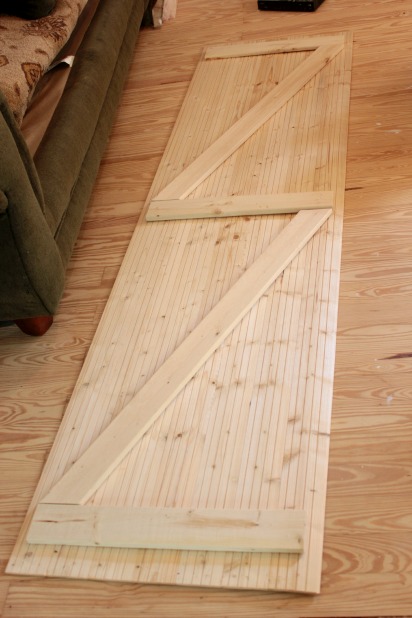 Joel watched soccer.
And I started getting nervous about "my" big idea.
DIY Wood Closet Doors Lesson #2
Almost 8 feet tall, 1/4″ thick doors supported by the 1″ x 4″ Z supports do end up a sturdy door.  (Phew!)  While I used my trusty cinderblocks as clamps while the glue set securing the Z supports …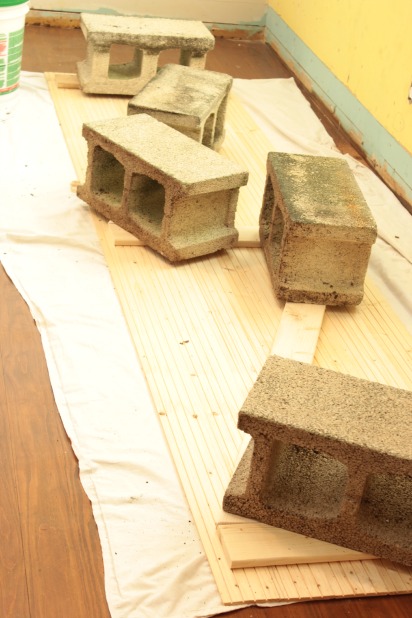 … I did have to clamp the Z supports in spots to make sure they were secured flat to the back of the doors.  I used the 6-in-one tool to sneak in a little extra glue, too.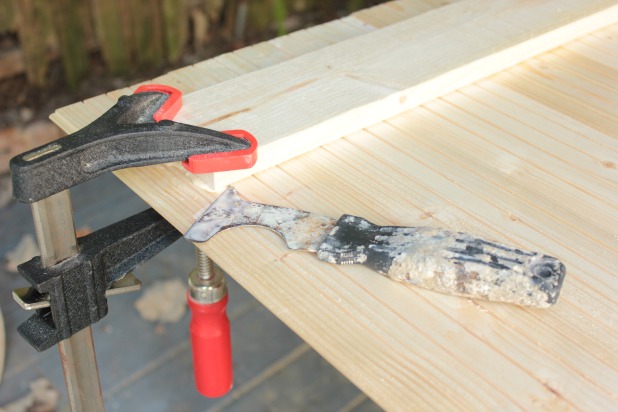 The doors were so tall I think we were both worried they would somehow just end up warping into useless piles of timber when we finally got them hung.  Luckily, with all of the proper gluing and clamping and nailing they ended up perfect for the closet.
Husband Insight #3 – Joel hates painting. I have an uncanny ability to find many more, less appealing, tasks for him to do while he's not painting and I am.
DIY Wood Closet Doors Lesson #3
Painting small grooves is hard.  See all those little grooves in the picture above?  That is the back side of each door and there were 4 grooves per slat, plus the groove where each slat connected, times 7 slats per door, equals a pain in my painting behind!  The roller wasn't doing it and the brush failed me, too.
Lucky for me I had an idea, and reached out to the best ever primer sponsor, KILZ, to explain my problem and got to try a new to me product, spray primer.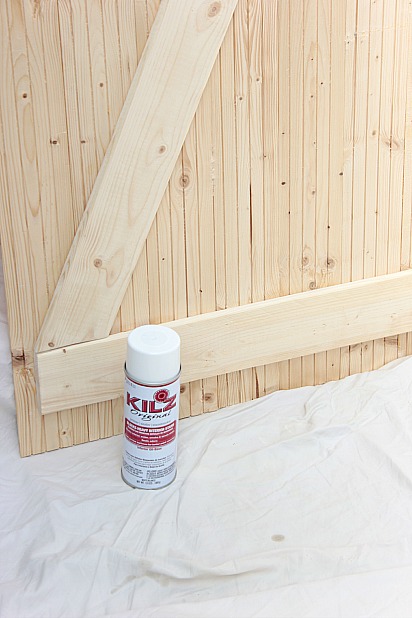 I started by just leaning the doors up against our house (we will be repainting the exterior so I didn't need to protect our awesome peach paint for this) and going through the proper spray painting motions.
We all know them, right?!?!
Long, steady strokes across the entire surface you're painting
Keep the spray can about 12-15 inches from the surface you're painting
Don't hold the can still in one spot or you risk paint drips
Do this all in a well ventilated area
3-4 thin coats should do it
And then I followed my own spray painting rules
Completely lose patience with the proper technique
Lay doors on a flat surface
Spray directly into each small groove with the spray can as close to the groove as possible
Even out finish with paint brush – but definitely don't over brush, just a couple long strokes to eliminate any evidence of your "too close for comfort" primer attack
Use a cheap brush because this primer is oil based and you're best off just throwing it out when you're done
And since my own priming technique was so effective I followed it up with my equally effective paint strategy.
Pour paint on doors (I used semi-gloss white, off the shelf)
With a paint brush drag the paint over the grooves in the opposite direction of the grooves
Brush paint smooth in the same direction as the grooves


Step away from the doors as you point at them declaring "I knew I could cover you with paint you tiny little slats you" and let dry completely while you gloat
Here's a little comparison shot for you.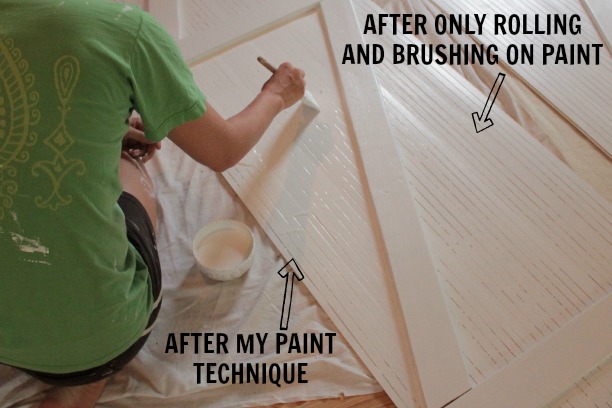 Now that the doors were all assembled, primed and painted, it was time to make sure they were the right size.
What?!?!  That seems backwards?  Keep in mind husband insight #1.  We both seriously procrastinated on this step just out of pure uncertainty about how it was going to turn out.
DIY Wood Door Lesson #4
When you have two doors opening in one large door frame you do not need 1/8″ clearance on all sides of each door.
This information comes to you courtesy of my own luckily overcomable mistake.  I looked at a number of different sources online before we got up the courage to actually run the doors through the table saw to rip them down to right size.  And everywhere I turned it was saying "leave 1/8″ clearance on all sides" of your door.
So I ran the info by Joel, explained the research, how the math translated to what we were doing … I needed his agreement so any bad cuts wouldn't be my fault.
He was watching soccer and I got a half-hearted "seems right" response.  That was enough for me, these cuts were practically his idea.  😉
The thing I didn't take into consideration is that we had one opening for two doors and I didn't really want the 1/4″ gap that was going to leave us between each door if we accounted for 1/8″ for each door.
They looked bad!  We didn't take any pictures.  I was too busy feeling the effects of insight #2 ticked off.
Luckily for us Joel had suggested we only cut 2 of the doors and see how they fit before cutting the other two.  Which left us the option to see how one cut door and one uncut door fit in each opening.
He's so smaht!  And we were so lucky that it worked out.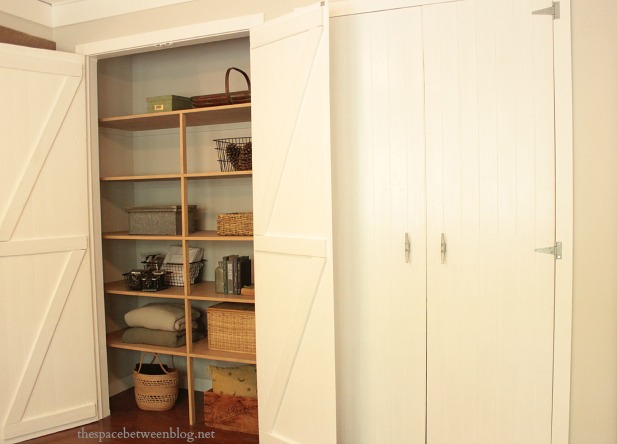 As far as hanging goes, we wanted a bit rustic and a bit nautical, so we used galvanized gate hinges, 3 per door lined up with the cross bars of the Z supports (which ended up being 4 inches from the top and bottom and exactly center).  We used 3 inch long screws to be sure they would be secured into the door trim and studs in the wall, and definitely drill pilot holes so your wood doesn't split and you don't strip your screw.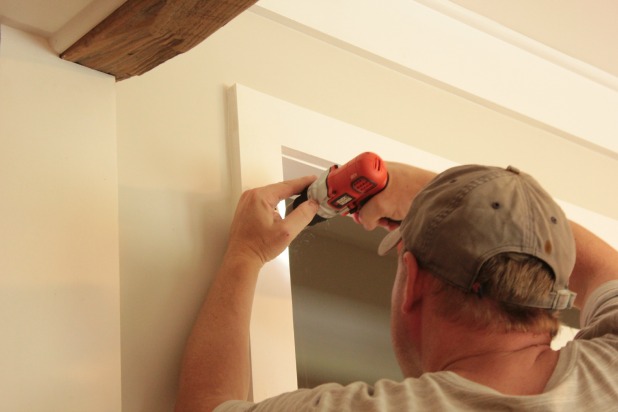 And, one of my favorite ideas, we used galvanized dock cleats for the door handles.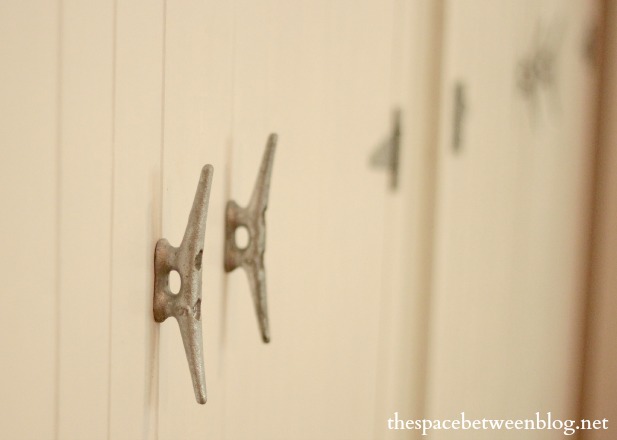 Since they are tongue and groove panels I did fill all of the edges that were the grooves with caulk and we hung the doors so those are the hinged ends.  And since we only ended up making 2 cuts, 2 of the doors still have the tongue on one side.  But, unless you're looking for it, you won't notice.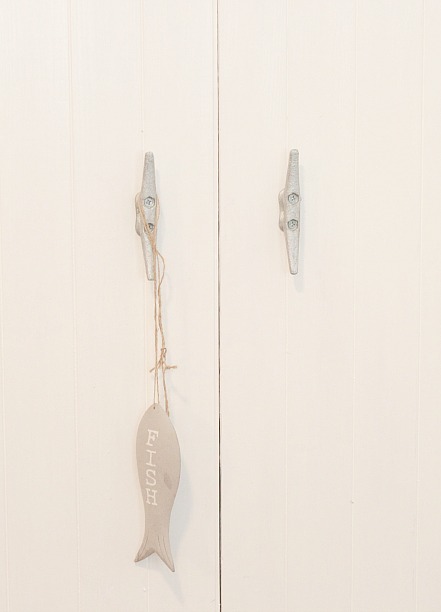 Just like how we lined the dock cleat handles up with the grove between the boards, so even though one door has the extra 1/4″ length of the tongue, the handles visually appear equidistant from the edges of the doors.
These doors are far from perfect, but there's something to be said for doing it all ourselves …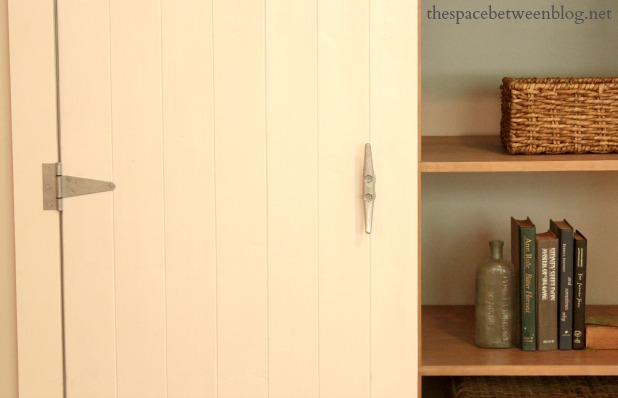 … and learning a few endearing things about each other along the way.  🙂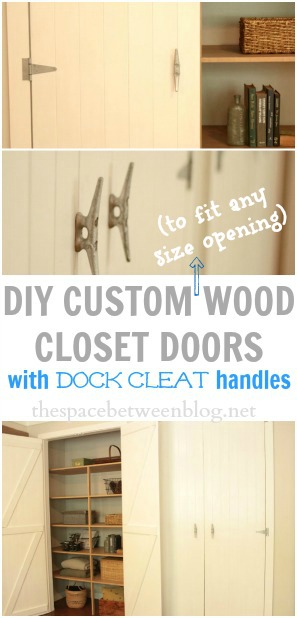 Oh, and we just used those little cabinet magnet things to make sure they lined up nice when they were closed.  And since the screws were too long for our narrow doors I just lined the magnets up and hot glued them to the door.  They've worked great so far.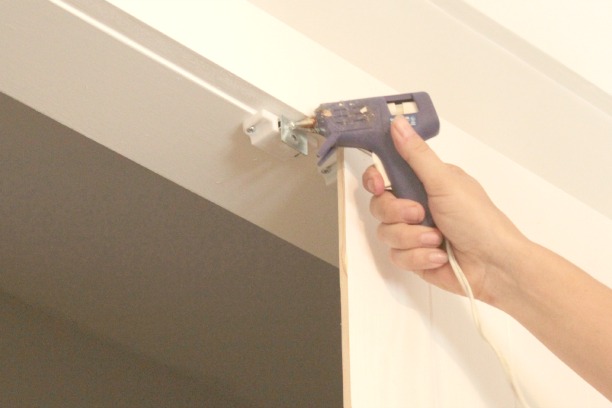 And because I may not have done the best job of holding one of the doors in position while Joel was drilling the pilot holes we ended up with a little door drag … a few minutes with some 60 grit sand paper under the door, while it was hung, did the trick.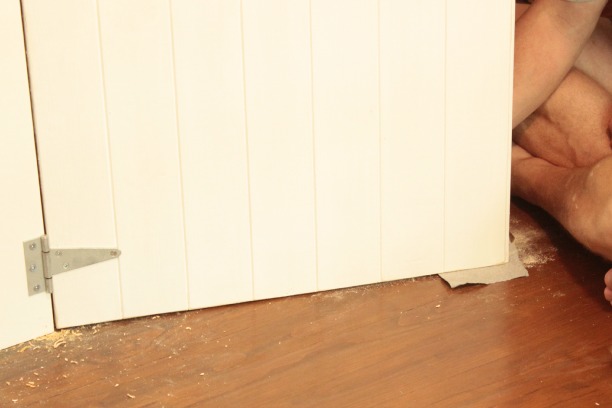 And let's bow our heads now and take a moment to say good-bye forever to what this spot used to look like.  First with the paneling and drop ceilings …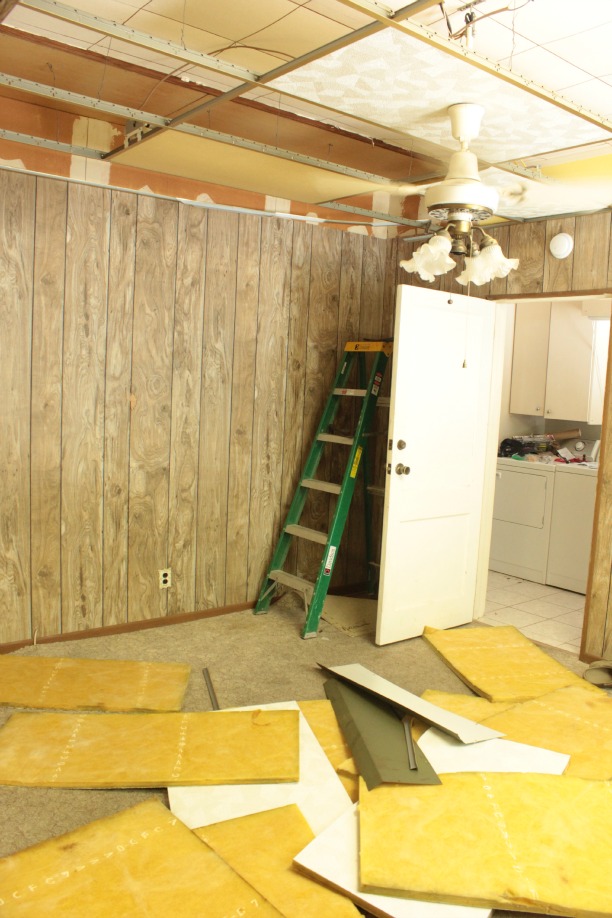 … and what we found under that lovely paneling.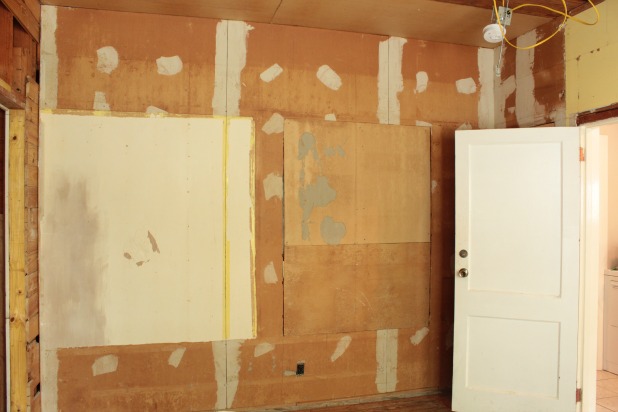 Look away, look away quickly!
For anyone looking to tackle this project, here are some affiliate links to the supplies we used:
If you want to see all of the projects we've tackled so far in this room you can find them here.