Hey there!  Happy Day to you!
If you've been following along on Facebook you know we didn't close on the house yesterday. #whatchagonnado?  We're pretty much (meaning totally, 100%, without a doubt, nothing we can do at this point, they've got us by the cajones) at the whim of the bank who seems to have no sense of urgency around actually finalizing the process.
So, I've been busying myself during this little transition period of ours working on this blog's backside back end inner workings. Being a part of this post actually got me focusing on what are our top posts, analyzing what it is that you guys like to read about, tend to pin and in general have the most positive reactions to.  Which also got me thinking about what the top posts where for some of my favorite reads.
Aren't you ever curious about what has been someone's biggest hit and why?  Is it a drop dead gorgeous room reveal or an informative tutorial or super simple quick tip?
I am, so I thought I'd ask … and here are the top posts by your favorite bloggers!
Here is an antiquing glaze to try.
Brittany says "It is insanely popular on Pinterest and honestly I was shocked to see it go "viral". As of today, it has been pinned over 505,000 times. CRAZY!!! This post was written less than 3 mos. into blogging. So, you can't say it was because of my page views or anything at the time. I think it has done so well because of the "pinnable" graphic and that there are several techniques discussed in one post. Otherwise, your guess is as good as mine."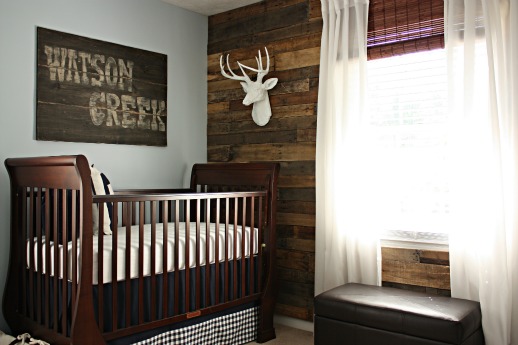 Here is a paper mache deer head for your wall.
Katie says "I think historically speaking our most popular post is the one where we show how to create a pallet accent wall. We did it in our son's nursery but it works really well in living spaces, dens, bedrooms and even little accent nooks. I think it is so popular because of Pinterest and the fact that it appeals to a large range of people and works in different spaces."
They still sell these foam play mats here.
Roeshel says "the popularity of this post is attributed to Pinterest! 🙂  I guess it's really no surprise since Pinterest is nearly always the #1 referral source."

The Chandy Fan from Happily Home After

Robin says "I originally posted about updating the light attachment on our ceiling fan in March 2012. The post meteorically soared to the most read post on my blog as a result of being featured on Tip Junkie."
And a recent "Working With What You Have" link party at Emily A. Clark has launched the rework of Robin's old post to her 3rd most viewed post in just 2 weeks!
And it's kind of funny that I can see myself using all of these tutorials to make updates in the new house.  Makes sense to me why they'd be so popular … useful information, in well written posts with beautiful pictures seems to be a recipe for success.
If you have any tips of types of things you'd like to see the most as well delve into the full home remodel process give me a shout. I don't want to bore you with step-by-step tutorials when you're really only looking for before and after pictures … or vice versa.
*post contains affiliate links