… my nephew.  That's right, that's who x is for in my book.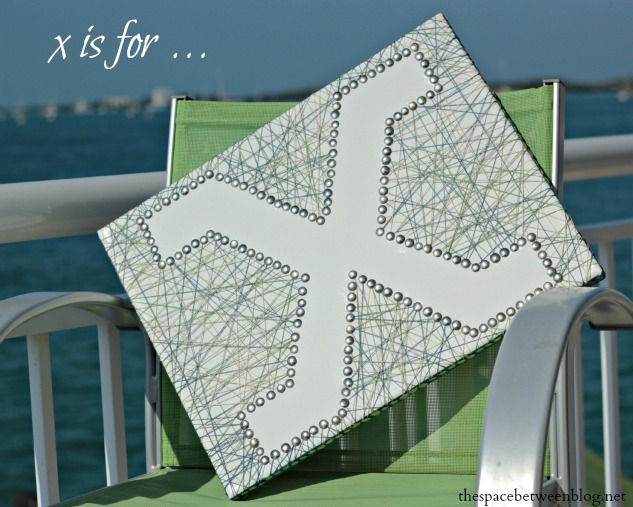 You may remember a certain letter that I wrote him last year.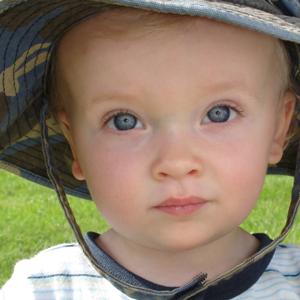 Well, when the announcement came out, that it's time for the pinterest challenge winter addition I knew I had to participate.  Hosted by the regulars Katie from Bower Power and Sherry from Young House Love and this time around Megan from The Remodeled Life, and Michelle from Decor and the Dog.
First, this whole blog thang started with a pinterest challenge … the fall 2011 challenge to be exact.
And second, I've been itching to get a little crafty lately.  If you've been around here recently you know we have just moved to Key West and are living out of a hotel while we wait to close on a house. (I had typed our house, but she's not our house yet, so I'm trying desperately to not get emotionally attached … even though I've already started a room by room project plan complete with sketches of project ideas.  Mission Don't Get Emotionally Attached is not going so well.)
Aaaanyway, take one girl living out of a hotel, combine her with a project she's been thinking about doing for about a year, add in a little pinterest inspiration kick in the pants and you end up with …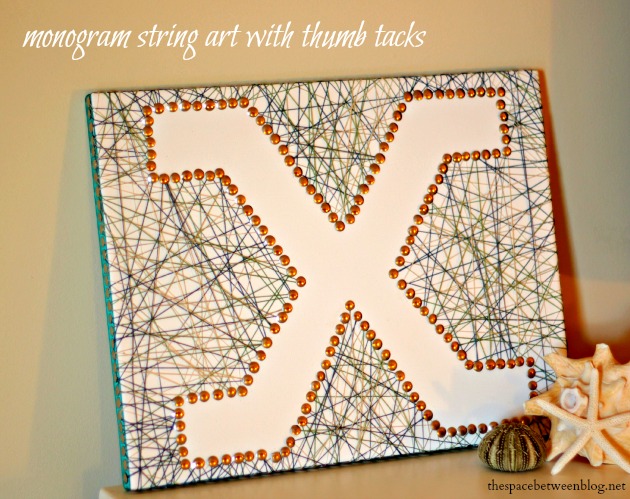 … monogram string art.
Here's the project at Honey & Fitz that gave me the idea to do the monogram for my nephew.
And here's how I decided to tackle this project.
Supplies:
canvas, a variety of sizes can be found here
thumb tacks, I bought two 300 packs at the Dollar Store
string, I bought mine at Ben Franklin, but many colors can be found here
foam board – I bought a 3/8 inch thick piece at the Dollar Store
a hammer
ribbon – optional
super glue – optional
Step 1 – Cut the foam board so it will fit inside the back side of your canvas, double or triple it up as you desire and glue them together and into the back of your canvas.  Use whatever you've got around to apply pressure while it dries.
This step is to give the tacks a thicker surface to stick into and prevent any little fingers from pricking themselves on tacks.  That would be bad.  Kind of like the time I made a cute little printable for my nephew and put it in a frame I had covered in book pages, like these, and my sister-in-law noticed in about point 3 seconds it had the F word on it.  #kidgiftfail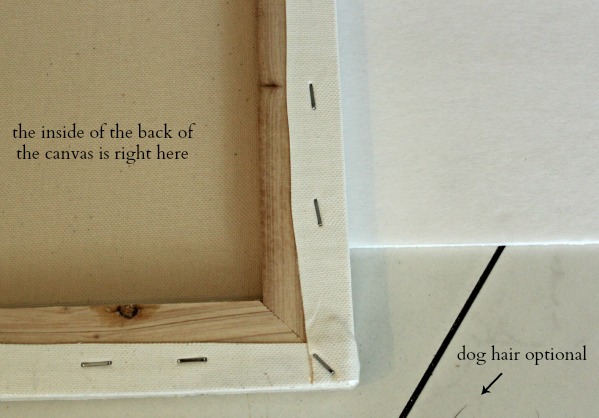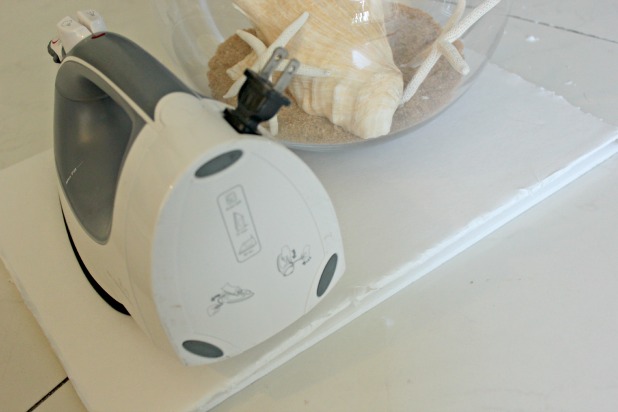 Step 2 – Draw  and cut out your design on a piece of craft paper.  I had cut the craft paper the same size as the canvas and just hand drew half of an x.  I folded the craft paper in half and cut it out while it was folded so it would be symmetrical for the most part.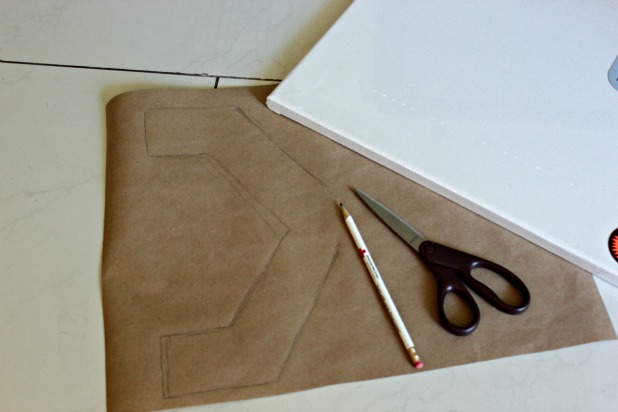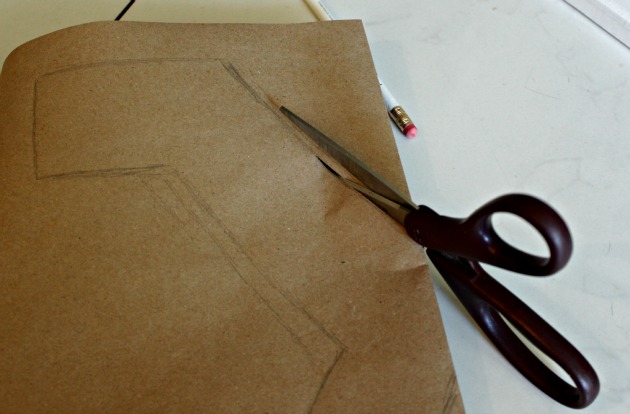 Note:  It appears you need a pencil and scissors for this project, too.  🙂
Step 3: Measure meticulously to center your design … or just eyeball it … and then start thumb tackin'.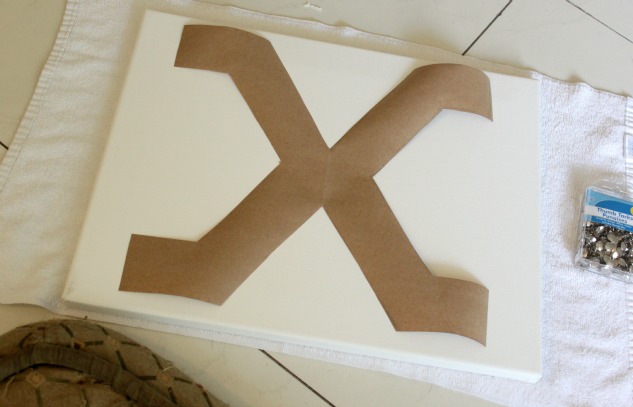 It is worth noting here that I was sitting on the dog bed to work on this project, all the while this was going on on the people bed.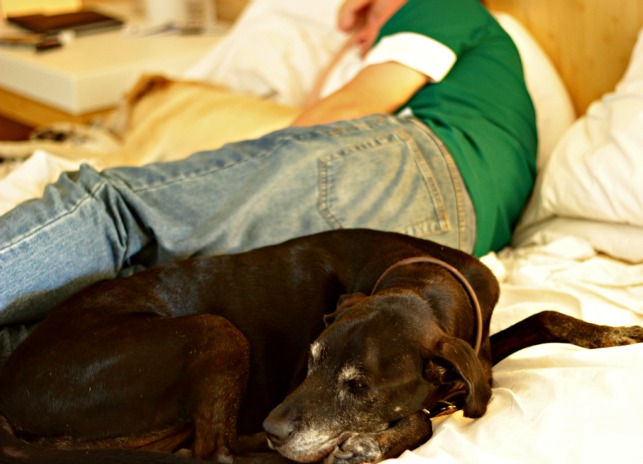 That's my husband in bed with two other women. #lovethem (I originally had that as #lovethemall but couldn't help but read it as "love the mall", which I don't, but I do "love them all".)
Ok, back to the tackin'.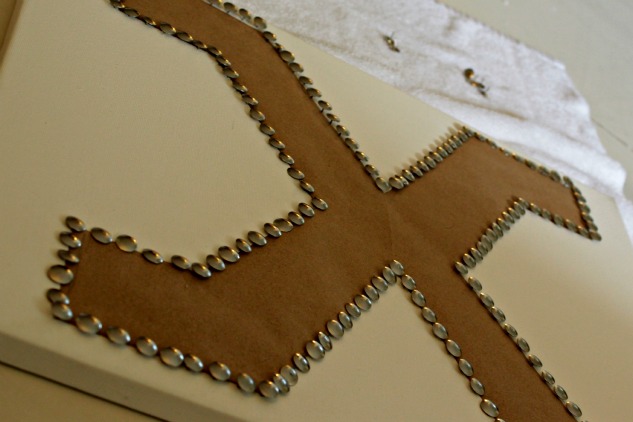 Here are my very specific tacking tips:
don't bother measuring
just eye-ball the spacing between each one
don't do all of the corners first … that's actually a real tip, just go from tack to tack and wing it as close to your stencil corners as you can when you get there
don't push them in all the way … another real tip … that step comes after the string
Step 4 – Ribbon (optional) and tack around the edge of the canvas.  I wanted to make the inside of the monogram open with all of the string on the outside so I decided to tack strip the entire edge of the canvas and added a ribbon detail just for more color. This strip of tacks gives you something to wind your string around so you can create the hollow letter effect.
I used a glue stick to set the ribbon and a hammer to hammer in the tacks … there will be some tack casualties.  Let's just say I was happy I had bought that second pack of tacks.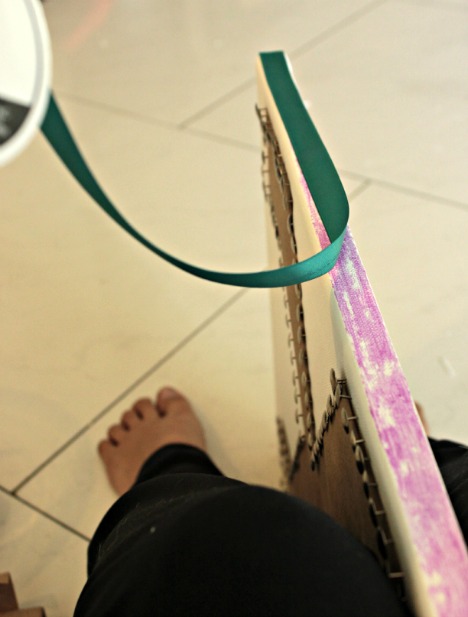 And I used my fingernail to hold the tack in place for nailing … you can see about how far in I was putting them in this picture, too.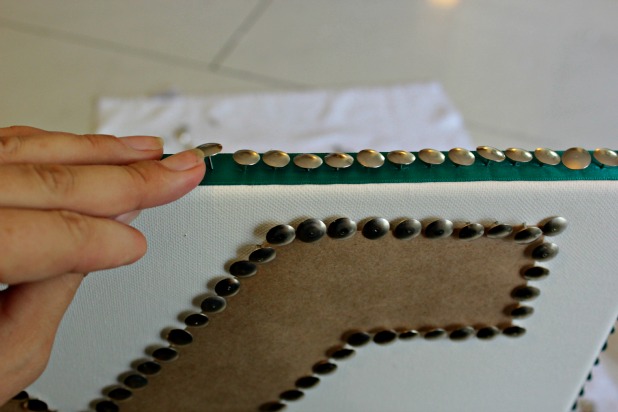 Step 5 – String. I just picked a random tack on what is the bottom of the canvas and knotted off the string and went in a totally random pattern making sure to wind around every tack until I thought it was enough.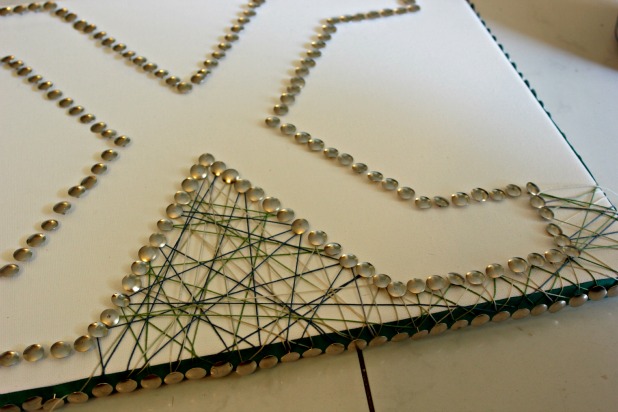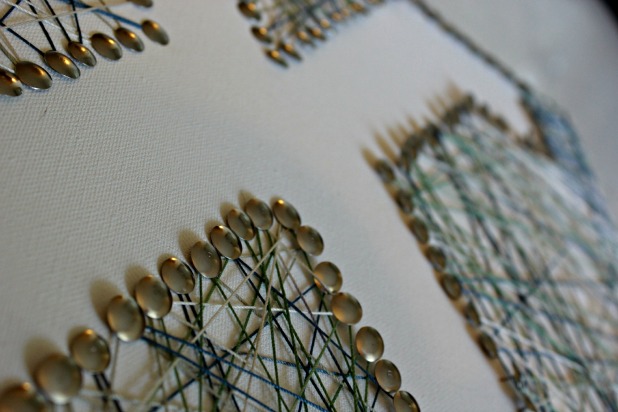 Step 6 – Hammer all of the tacks in all the way and (optional) put a dab of glue on any of them that don't seem to be holding tight in the foam board.  If I was just going to hang this up I probably wouldn't bother gluing, but this x needs to do some traveling so I didn't want to risk it.
And then, if you're living in a hotel, walk around the hotel with your monogram string art and camera trying to find a good spot for the right shot.
In front of a tree.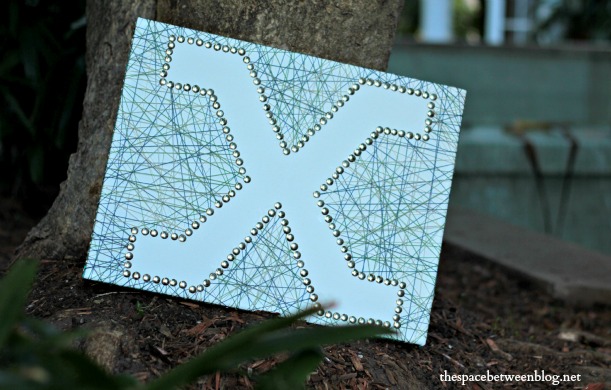 On a chair with the water in the background.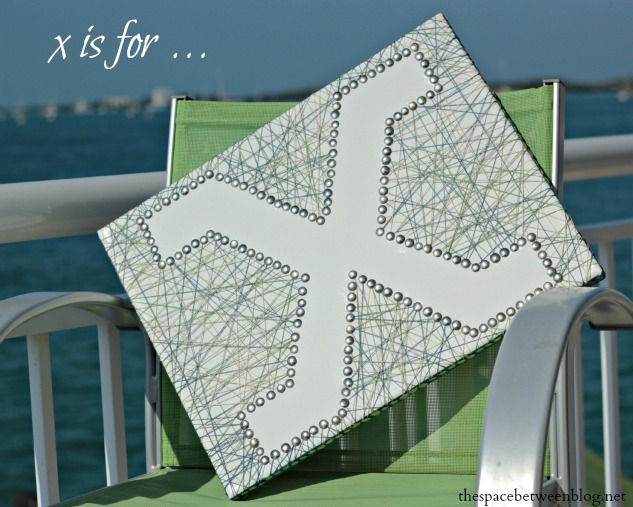 Here's a close up of the ribbon with the tacks all strung up … I love the industrial look of the tacks combined with the simplicity of the string and ribbon.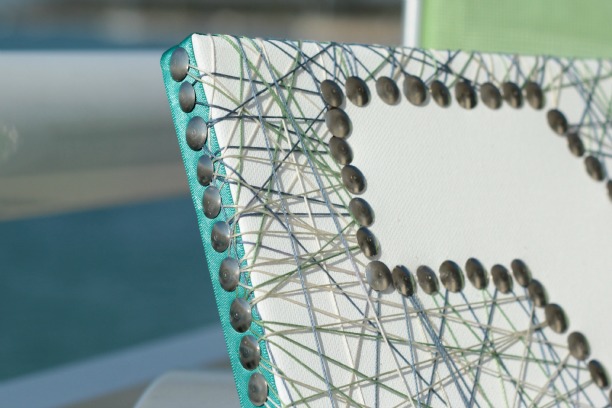 And then back in the room accessorized with a few items from the sea … where the fluorescent light makes the tacks look gold.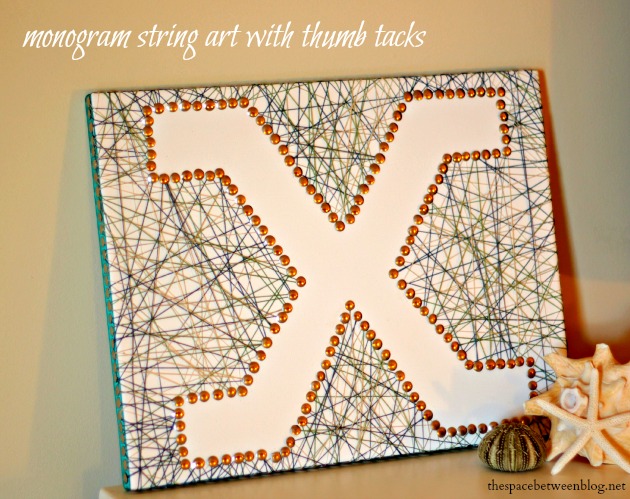 I got the canvas for 35% off $14.99, the string was $3.59 (and I have a ton left) and the ribbon and tacks we bought at the Dollar Store … the glue I had on hand … making this about a $17 project.  Not a bad price for a fun gift for a little boy.
How about you, have you made any string art of any kind?  Do you have an adorable nephew?
Tomorrow I'm headed back up to MD to work on a few more projects at the rental house, meet with a few realtors and put our previous primary residence on the market and coordinate the shipment of our things from storage down here.  It's sure to be a busy couple of weeks … and I hear it's winter up there.  😉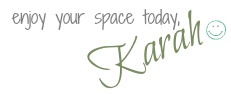 *post contains affiliate links