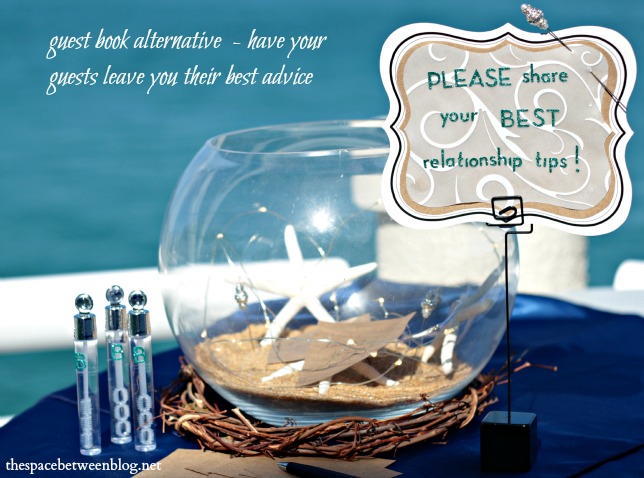 Now some of you may be reading this thinking "Have you met my friends and family? Do I really want their advice?" 😉
And I guess my answer to that is "I don't know".  But, trust me on this one, if nothing else the answers will be entertaining, thought-provoking and will make you smile for years to come.  Especially marriage tips from 8 and 10 year olds …
 … eat dessert first ….
… listen to Taylor Swift …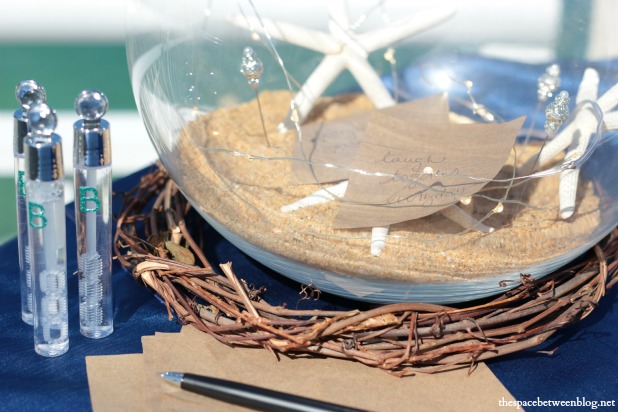 … priceless advice, really.
And this 'project' couldn't be any easier.
Step 1 – Select a vessel of your liking and adorn accordingly.  I used sand and starfish in a glass bowl with a few David Tutera embellishments … crown picks and LED thin strand lights … I was able to hide the little battery pack under the sand.
Step 2 – Cut pieces of paper to size.  I used postal wrapping paper and cut about 2 inch squares.  You could use card stock, scrapbook paper, something fancy to go with your theme and even pinking shears or a large punch to create a fun design.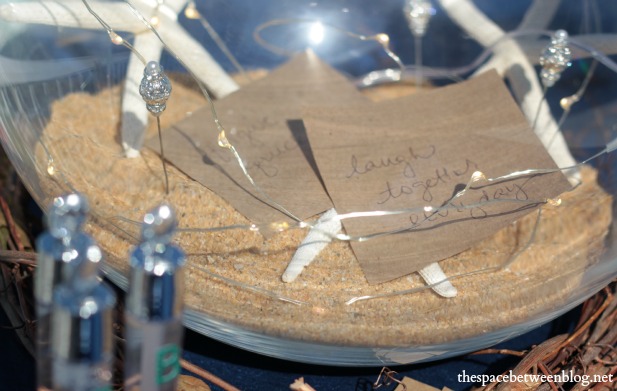 Step 3 – Create a sign telling your guests what to do. You can see how I made my sign here.  I used the vellum paper, a table card stand and glitter letter stickers.
Step 4 – Enjoy the responses for years to come.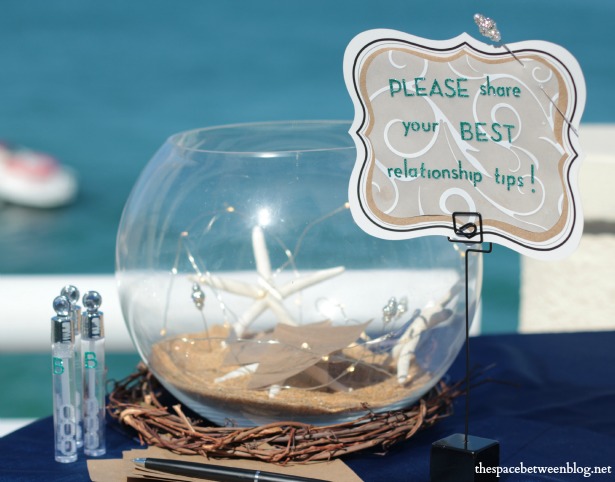 This would work for any milestone celebration and didn't cost us a dime when we did it at our wedding.  I used a basket we had on hand, handmade the sign and put it in a frame we also already had and used scrapbook paper left over from my bachelorette party.  
See, this idea was originally my BFF's from my bachelorette party.  You can imagine the fun, entertaining and off the wall advice I got from those gals … especially the ones from later in the night.  Ahhhh, fun memories.  🙂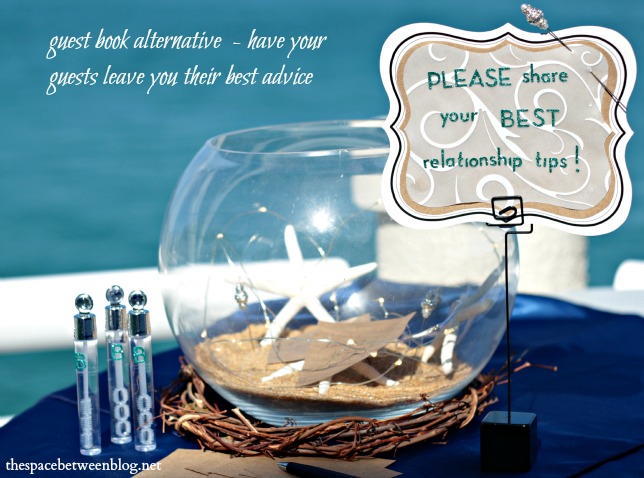 And, I read somewhere in the beginning of the year about a fun idea to do something similar to this in your home and write down big, fun, exciting, meaningful events that happen throughout the year.  Then take them all out and read through them on New Year's Eve.  So I've been using this vessel and cut paper to jot down things like 'move from Curacao to Key West in 23 days' and 'buy a house in Key West'.
I'm a reminiscing kind of gal so I'm already looking forward to looking back on all that life brought us in 2013.  Fun, right?!?!
And, you can check out the fun picture banner I made with more David Tutera items here … a great way to showcase some of your favorite pics and create a celebration decoration you'll want to hold onto long after the party is over.
Have any fun guest book ideas of your own?  Do you usually shy away from asking your family for relationship advice?  Do you keep track of the mini-milestones along the way?
*post contains affiliate links for products I use