Holy 2014!  Where did you come from exactly?
Hopefully you had a festive new year celebration.  It is odd for Joel to not have to work on NYE so we enjoyed our own little night of merriment and saw our first Key West new year's eve party live.  Funny enough we actually saw the coverage of Key West's new year's eve party last year from Curacao on CNN.  Yes, we were home, just us and the dogs, watching the world celebrate.  We are rock stars like that.
Remember the wall-to-wall closet we made for our guest bedroom way back in 2013?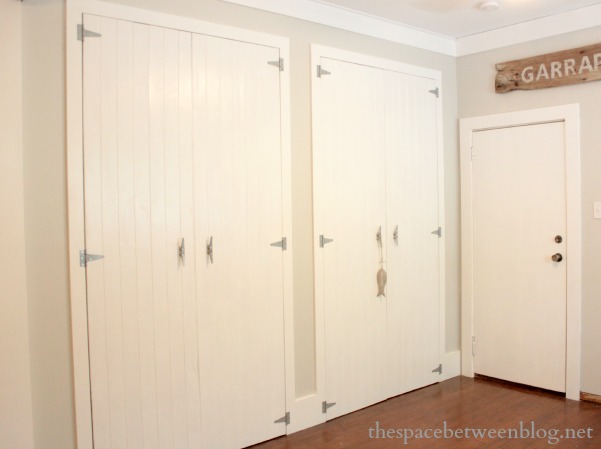 She has definitely come in handy to house all of our stuff that doesn't have a real home yet.  Right now that consists of all of my project supplies, lamps and lamp shades, vacuums, unhung artwork (which is basically all of anything we have ever hung on a wall except these guys) and all of my clothes and shoes can be found in there. Oh, not-yet-built-master-closet how I yearn for you.
I have high hopes for more organization in time as we get to creating what I hope to become a craft corner in the guest room and an office nook on a wall between the living and dining room.  But, until then, this closet is probably my most used accessory.
And, what once looked like the picture above, after a few short months started to look more like this.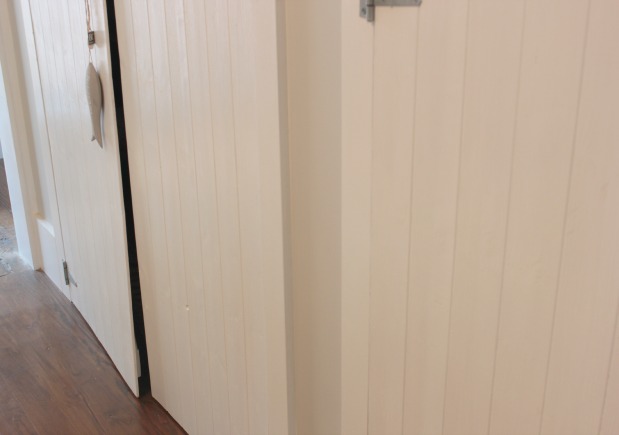 One thing that I've learned from our house guests that doesn't translate well on the blog is just how tall these guys are.  They are a full 8 feet tall, which is the height of the ceilings in many houses.  Our ceilings are 9 1/2 feet tall throughout the house and I guess I don't do a good job of pointing that out on the internet.
And I'm not really sure how I can.  Picture me trying to figure out what I can place next to our closet doors to give a good proportional shot of just how tall these babies are.  My cousin suggested a banana, however hilarious I found that idea I'm not sure it will do the trick.  So let's just agree, they're tall, and lanky and they were feeling somewhat awkward until I retrofitted them with braces magnets at the bottom.
We added small magnets at the top of each door so they would shut in perfect alignment with each other when we first installed them.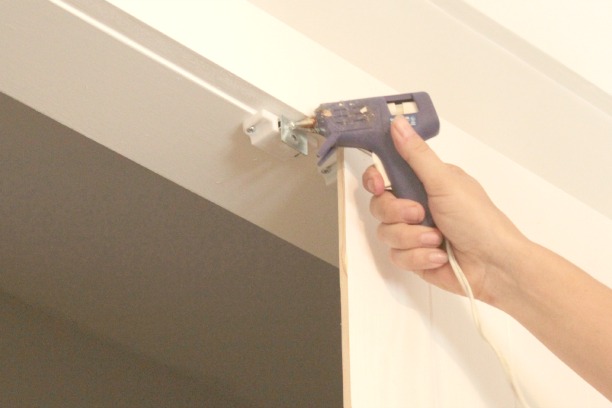 This can actually be considered the first update of this "two little closet updates" post. When we first installed the top magnets I was worried the short little screws were too long and would go through the entire width of the doors so we just hot glued the magnets to the back of each door.
It actually worked pretty good but the magnets on the two most used doors eventually stopped sticking to the hot glue and just stayed stuck to the other side of the magnet attached to the door frame.  But, being the quick thinker I am, I realized that the glob of now dry hot glue still stuck on the back of the door added just the right amount of depth so I could now screw the magnets into the back of those doors and they wouldn't go through the whole door.
Little update number one complete in about point 2 seconds.
Now, onto the new magnets I added to the bottom.  I actually found these double-wide brown magnets in the cabinet hardware section at the home improvement store.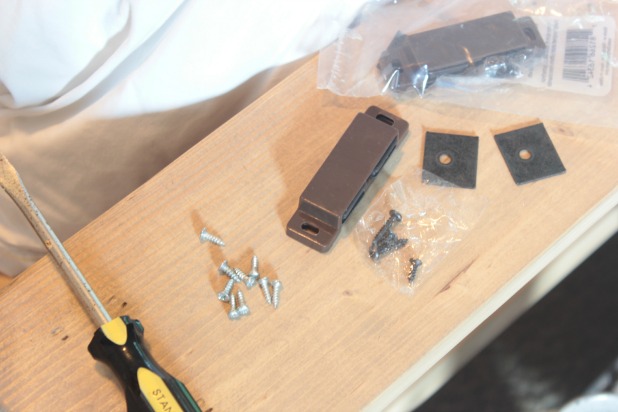 I just closed one closet door and with the other side open, eyeballed where to attach the magnet and screwed it right into the floor.
We didn't do this when we first installed the doors because I thought the magnets would get in the way of sliding things into that bottom area.  But these new magnets are directly in front of the center support we added below the bottom shelf so this little magnet doesn't get in the way of anything.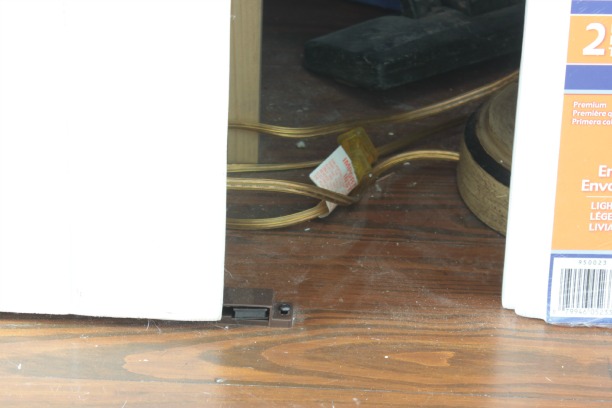 Ok, there's dust, too.  I failed to include that in the list of things in the closet.  Project supplies, a lamp, the vacuum and dust are all in this one little photo.
I actually had to use a 5 gallon bucket of primer nudging the door closed tight for a few days to retrain the door to hang straight again.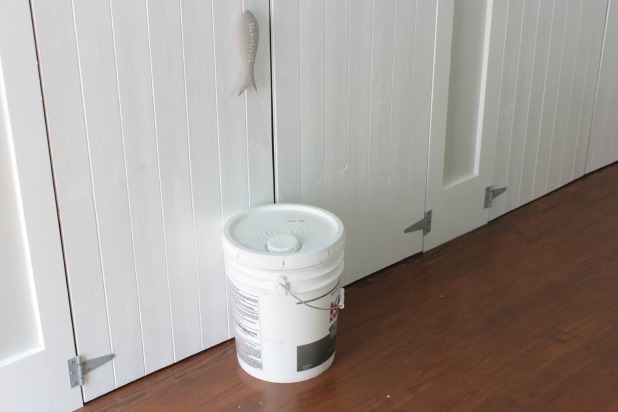 But now no one is the wiser that these 8 foot tall beauties were ever a little off kilter. And I don't gasp in disgust every time I walk by the guest room and see wonky closet doors out of alignment.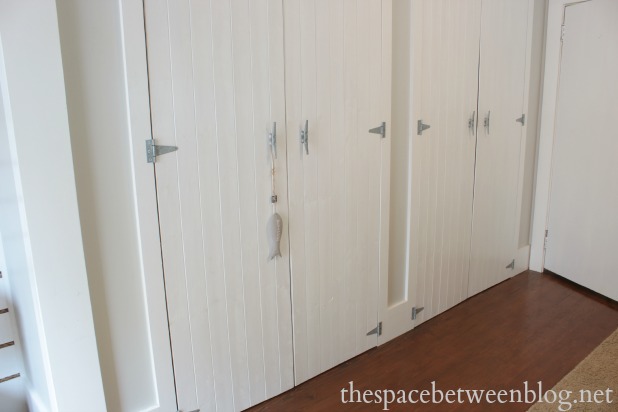 And now all of the dust is neatly tucked away behind perfectly aligned closet doors.
Probably out of sheer laziness, but I actually only attached the magnets to the back of the two doors that needed to be retrained to hang straight.  The two doors on the right-hand side that are not used as much actually close lined right up with the new magnet.  I may need to go back and add them over time … I hope I'll be able to remember the super special spot I put them.
For the full details on this DIY wall-to-wall closet and doors you can see where we started here and how we made them from scratch here and here.
And if you're still in 2013 mode, you can see the run down of our most popular posts for the year here.