Happy Day after Memorial Day to you!
I hope you had a great, long weekend.  We celebrated by continuing to conquer the house renovation to-do list.  

 It feels like we get a lot done everyday, but even all cleaned up she still looks like this.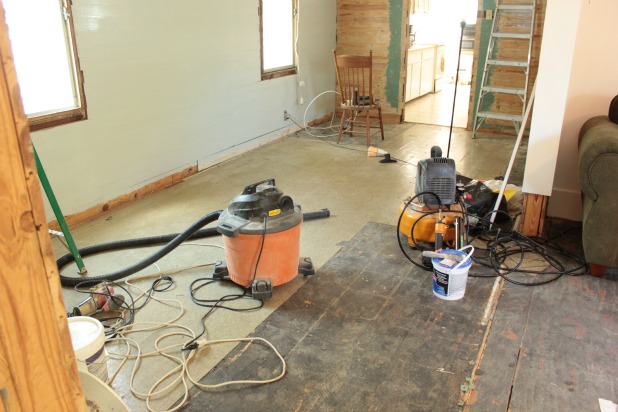 Such is life mid project, right?!?!
We tackled some easy and economical trim and molding and we made our attic access bigger, aka our scariest project yet.  But we did it and no roofs collapsed!!  Phew!
Anyway, Saturday morning started with a discovery that our coffee bean grinder was broken.  And before you go getting all "oh, they are the kind of people who need to grind their own coffee beans … blah, blah, blah" … I will tell you it was a gift and it was fun while it lasted but we will not be replacing that bad boy.
We are actually more the "crap, I forgot to buy coffee filters so I have to use a piece of paper towel for a filter … crap, we're out of paper towels, I'll just add more grounds to the paper towel and grounds that I used yesterday and go with it" kind of people.  

But, do you ever come across a simple little alternative to the 'usual' solution to something and then think you are all that and a bag of chips?
Or at least feel smarter than you felt when you realized you ran a pot of coffee without even putting grounds in it … AGAIN!  


I wasn't quite prepared to start my Saturday without coffee, and I definitely wasn't ready to get out of my pjs and go buy ground coffee beans … and because there was a buy one get one free sale last week we have 3 bags of coffee beans in our freezer. #dangyousale
Luckily, our food processor is right beside our coffee maker on the counter and that sucker worked like a charm!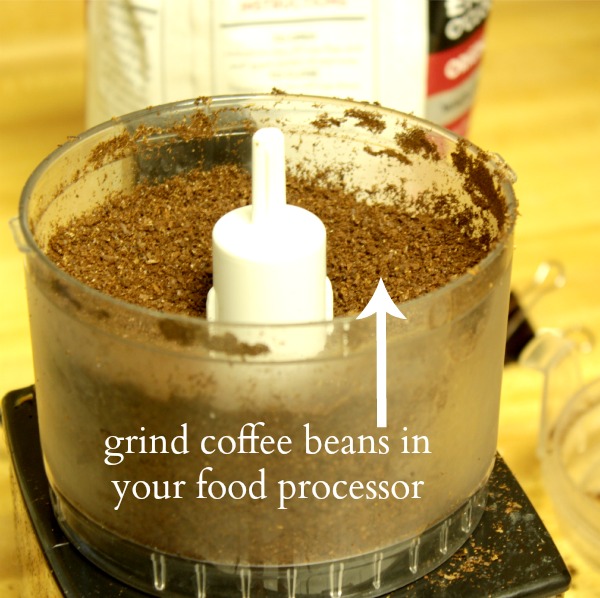 Tip #1!!!  Use a food processor to grind coffee beans
And then because I was feeling all domestic and capable in the kitchen had the remains of a  rotisserie chicken in the fridge and I am determined to use my new slow cooker I just got (#dangyousaleAGAIN) I thought making my own chicken broth from scratch would be fun easy rewarding.
The funny part is that I just made it on the stove top instead of actually taking the new slow cooker out of the box.  hahaha
But, I adapted a couple of recipes found here and here and whipped up my own chicken stock that I will be using to make something in the slow cooker.  I think promise.
Tip #2!!!  Homemade chicken stock

1 chicken carcass with all bits of fat and skin
1 medium onion with peel cut in half
2 unpeeled carrots cut in thirds
3-4 unpeeled cloves of garlic
1 bay leaf
12 peppercorns
Put in large sauce pan (or slow cooker), fill water to just cover ingredients, cover and bring to a boil, uncover and simmer for a few hours.
Use or freeze in 3 days.
Now, I'm no magician in the kitchen, but couldn't the vegetarians out there just omit the chicken carcass and there you have an easy homemade vegetable stock as well?!?!
And, because I didn't want to name this post "this weeks tip and trick" here is a third little idea that saved me time and potential embarrassment on Mother's Day.
Tip #3!!!  Hot glue as a quick fix to prevent wardrobe malfunctions

One little dab to bring the two sides of my dress together just a little higher than the ridiculously low-cut line it came with and we were good to go.
And there you have it, this weeks tips and tricks.
Now, I know you must have some of your own?  A new way to do that old thing?  A go-to last-minute time-saver?  A slow cooker recipe that will entice me to take my new slow cooker of out of the box?