I'm going with the theory here that even though something doesn't work, you still need to know about it, hence the tip that wasn't.
Have you heard that if you drill holes near the bottom of your plastic garbage can it will prevent that awful suction effect as you're trying to get your bag of garbage out?
I tried it.
It didn't work.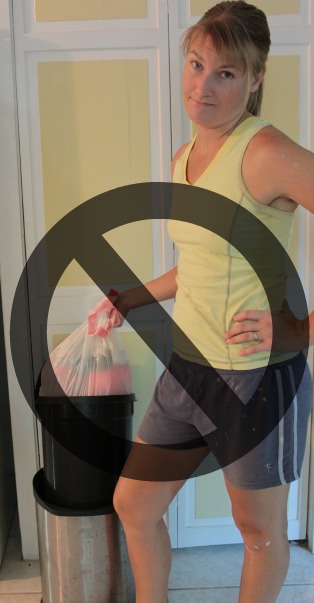 That's my "SERIOUSLY?!?!?!" look.
And I tried it with just the inner plastic bin on the ground to make sure it wasn't something about our outer can preventing the air from going into the holes I drilled.
No luck.
Now, if you don't fill your bag full it might work.  But if you try to fit as much as humanly possible into each garbage bag like we do up in here, skip this tip.
I'd love to hear any little tip fails you've experienced.  What a let down when you think it's gonna be something cool and it ends up being a dud, right?!?!  I even made a video of the problem and then drilling the holes in the can with plans for a grand finale finish because I thought this idea was so simple and could make such a different. #wasteoftime
BUT, tomorrow, you guys, genius is happening.  I just discovered something that has me so excited I'm not sure how I feel about myself.  So, of course, you NEED to know about it!