Do you ever wear a temporary tattoo?  No, I'm not talking to your kids.  I mean you.  🙂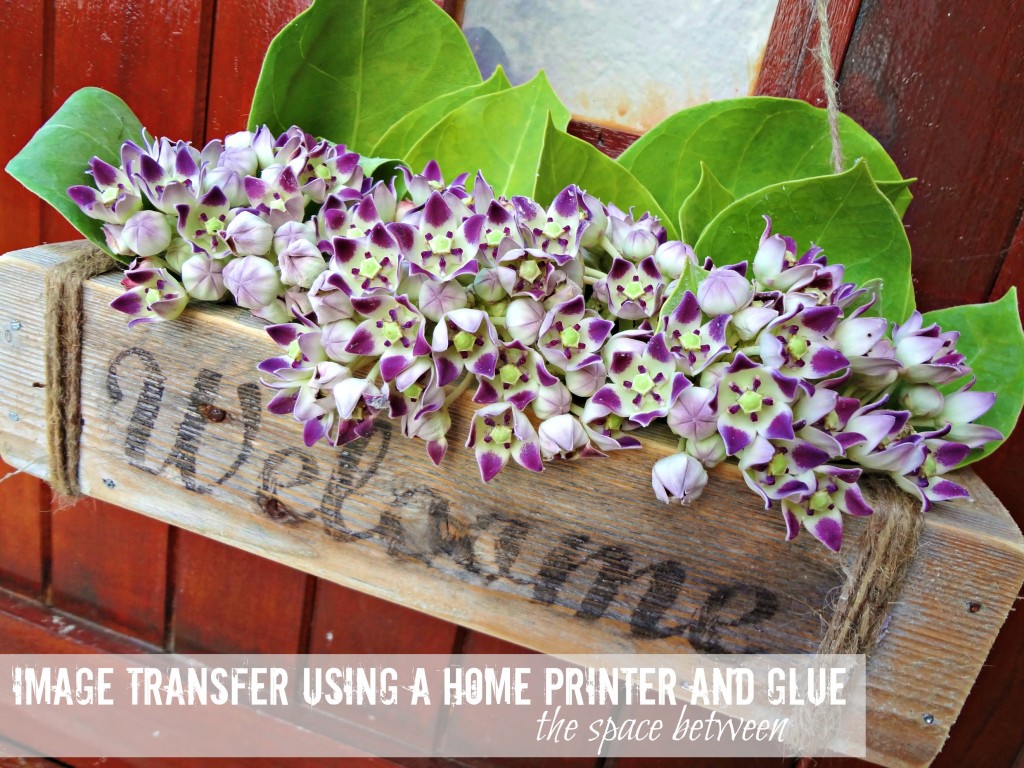 I do.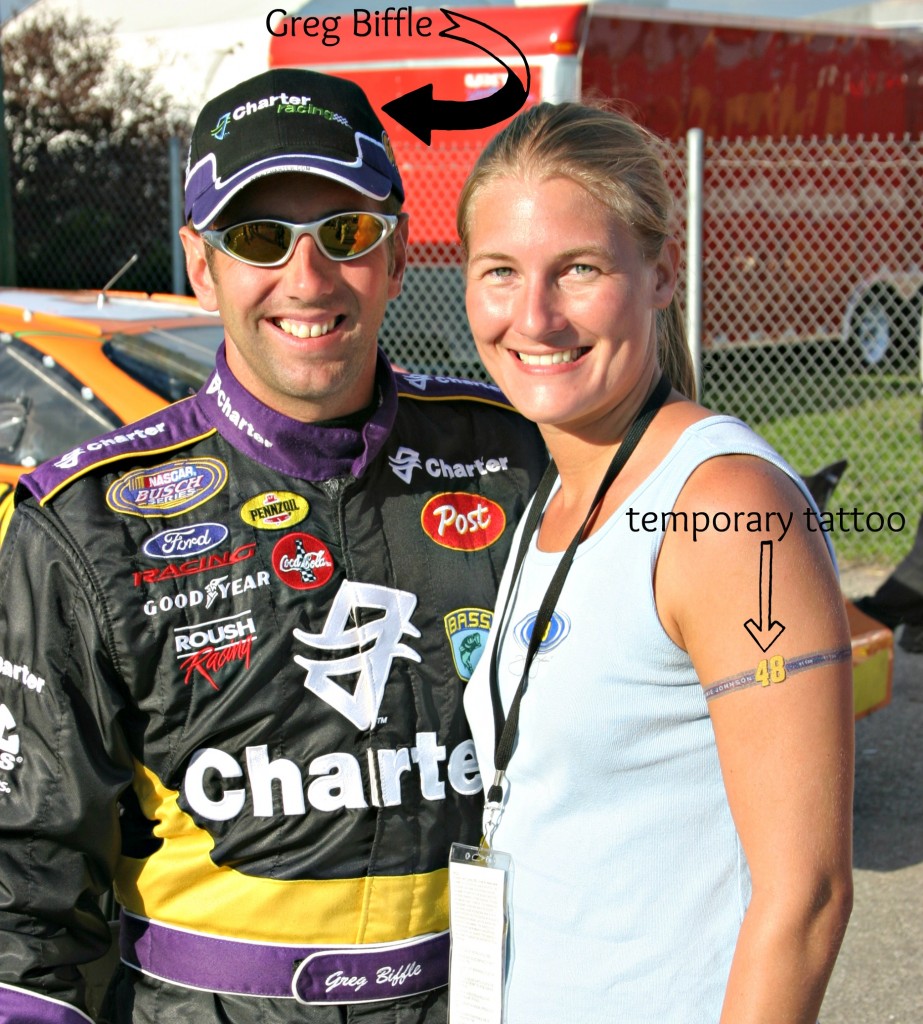 And it turns out that habit came in handy when trying to figure out how to do an image transfer on the cheap.
I still don't have a vinyl cutting machine, or even any idea of what those things are and how they would work.  But I have a home printer, and Picmonkey.  And, I need Picmonkey for this because I don't know how to reverse text in Word.  Do you?  Do tell.
Update: I shared how to reverse text in Word here.
Update #2: I made another, more extensive project using this technique here.

So, basically, like, the second I had my new one slat pallet trough hung and decked out with some awesome flowers I decided I wanted it to say Welcome.  It was hung on the front door, it looked very welcoming, it kinda said welcome, without coming right out and sayin' it … but I wanted it to come right out and say it.
Yes, I realize it looks like it says Weloome, but it doesn't.  There is just a really inconveniently placed knot in the wood.
I considered using the same kind of technique I used for my little black number art canvas, but thought I'd give a little image transfer a go.  There are a number of different tutorials out there, but you pretty much just need to understand the temporary tattoo image transfer technique.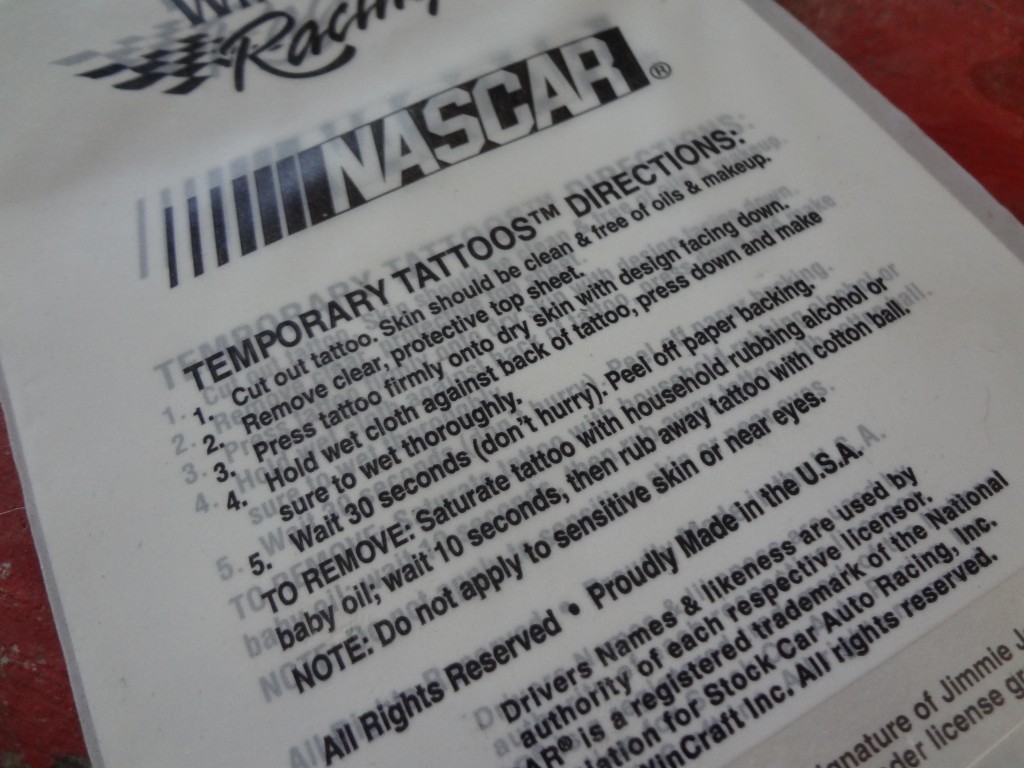 Sooooo, now let's transfer an image from paper to a piece of wood.
1. Have you ever noticed how the side of the card stock your kids' temporary tattoos are on is slick?  Stepo numero uno (I have mentioned before I'm taking Spanish classes, no?!?)  🙂 is to make one side of your paper 'slick' by brushing on a layer of glue.  You know me, I'm not one for measuring and all that, so I squirted on a bit of glue and then used a paint brush I kept dipping in water to spread the glue evenly over one side of my paper.  Let dry completely … I think I was able to print after about an hour if I had to guess.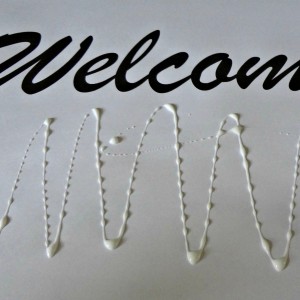 Let's just ignore the 'welcome' already printed.  It is irrelevant to the end result other than the total amount of time this project took due to a few little missteps.  Oops.  🙂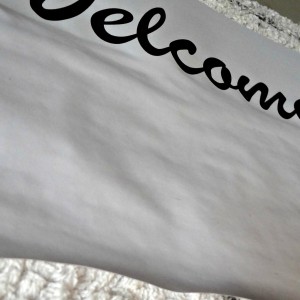 2. While you're slickness is drying, select your wording, font or whatever image you are going to transfer.  This is where I needed Picmonkey because you NEED TO MAKE YOUR IMAGE REVERSE OF WHAT YOU WANT IT TO LOOK LIKE AFTER THE TRANSFER.  Got it?  Again, just ignore the Welcome already printed on the sheet above.  😉  My only complaint about having to do it in Picmonkey is the limited font options, but we made it work.
3. Print your reversed image on the slick side of your paper.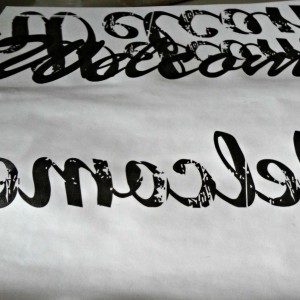 OK, now DEFINITELY just ignore all of the printing madness at the top of my paper.  I am happy to report I did finally get my reversed image on my slicked paper.  Thank. Good. Ness!
4. Moisten your wood (or whatever surface you are transferring your image to), and then squirt a bit of glue on there and spread evenly for good measure.  Ok, I've read the temp tat instructions and I know it says dry skin, but those professionally made oddities clearly have some sort of adhering agent in them, and my home printer printed image does not so we need to give it a little help.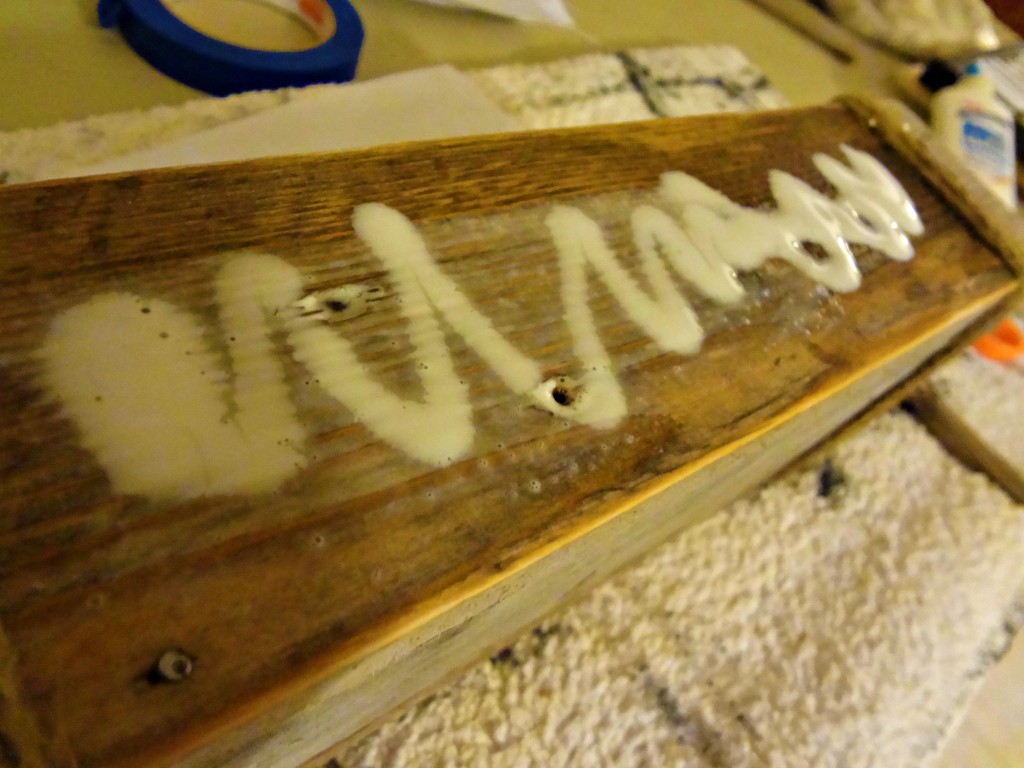 5. Place your image, slick side down, onto your moistened/glued area and rub it in smooth and secure.
And wait.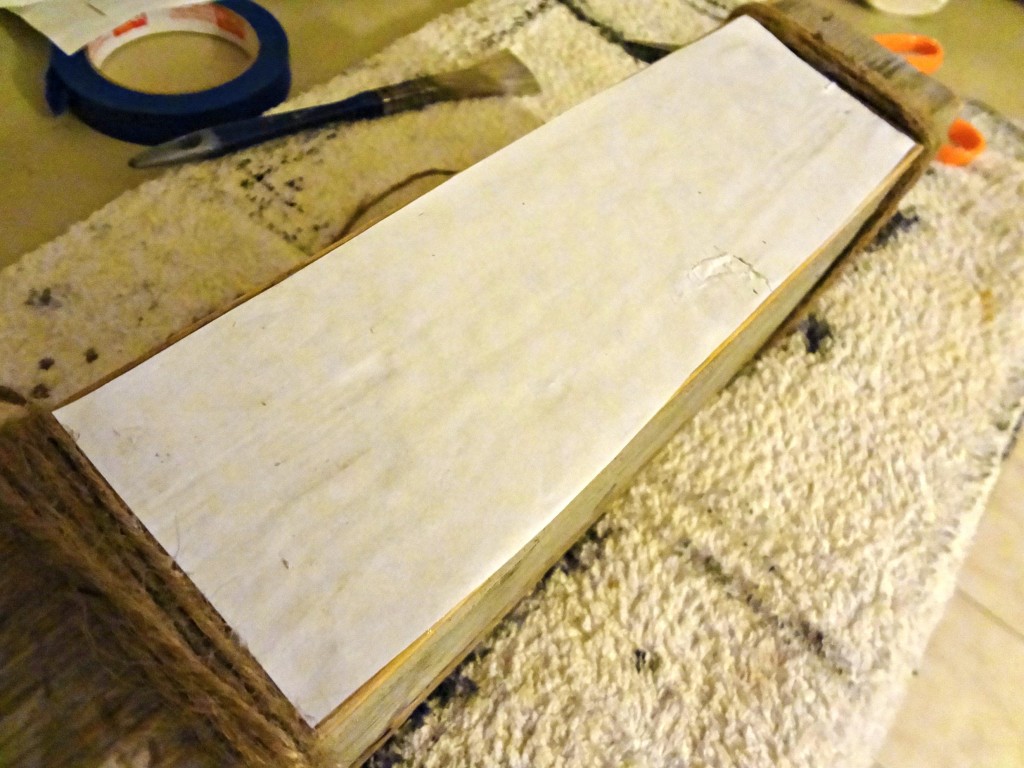 I don't really know how long you really need to wait – kinda like I don't really know how much glue you need to use – but I let it dry overnight.
6.  Now, in true temp tat style, douse your paper with water and let it soak and saturate and loosen up all of the glue to hopefully let everything release and transfer and look nice and pretty.  And feel free to hold your breathe.  😉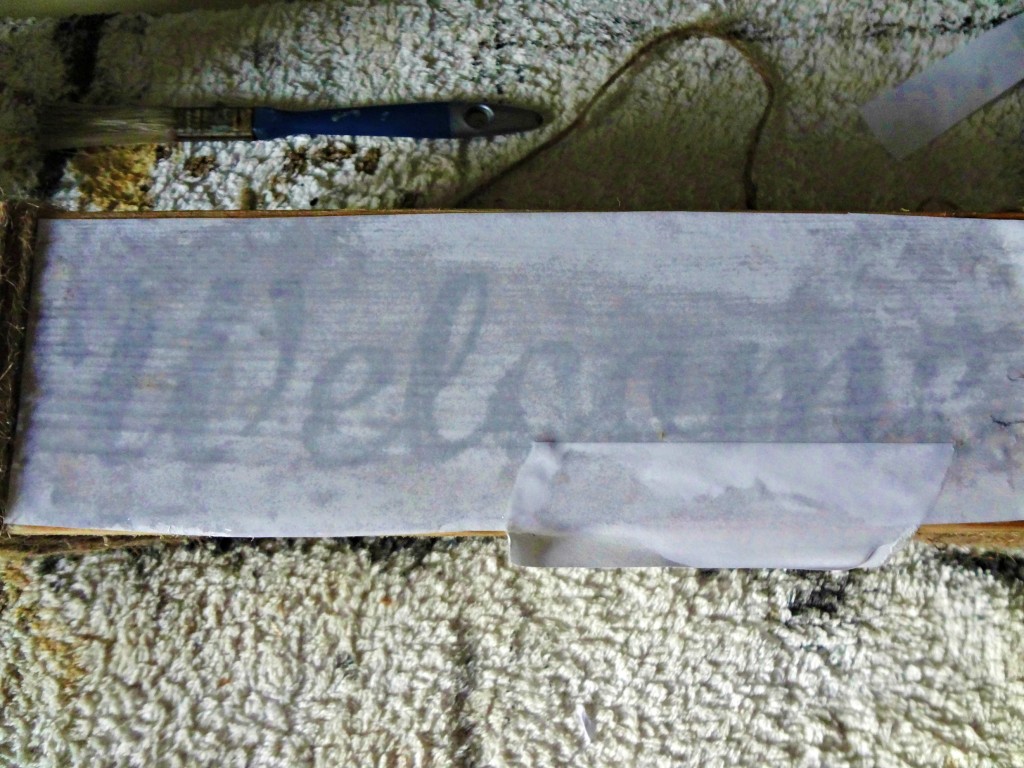 Wait a bit here, no sense rushing it at this point (just like the temp tat instructions say), when you're sooooo close to making it work.  And this will be truly shocking, but I don't know how long you have to wait.  Let's say 15 minutes … definitely NOT only the 30 seconds that the temp tat instructions say.  🙂
7.  Then just peel off the paper and with any luck your image stayed on the wood and looks just how you wanted.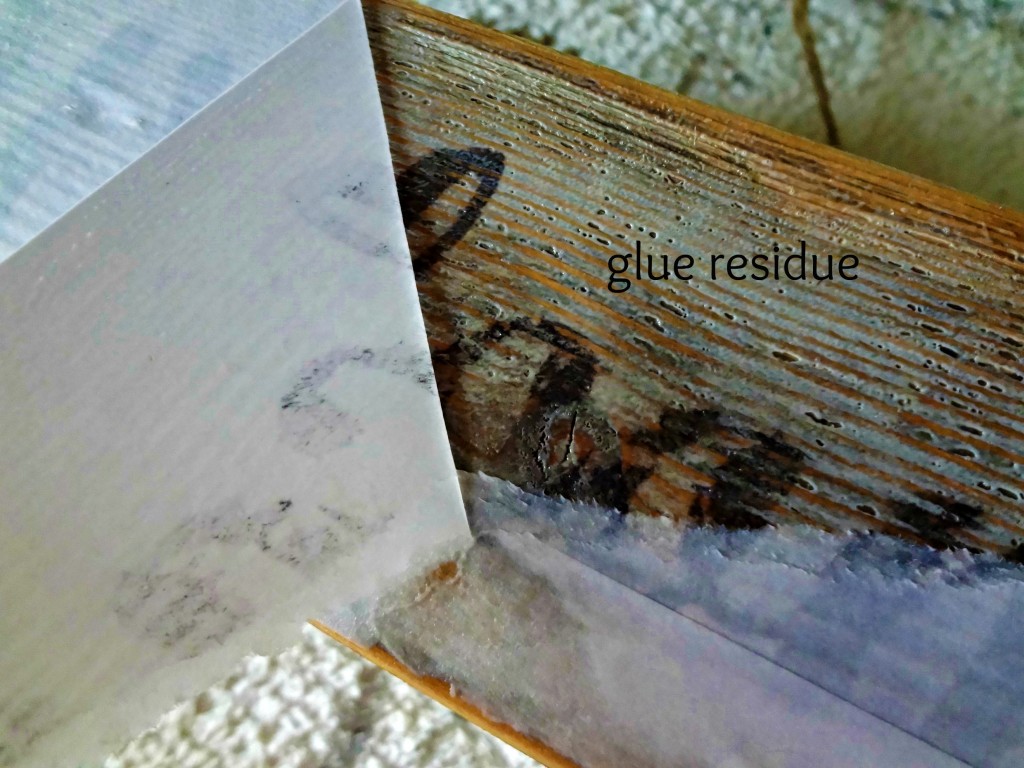 A few noteworthy points here …
1.  See all of the glue residue in the pic above … that leads me to believe that I used too much glue.  So take the amount the I told you to use and reduce it by a little bit.  😉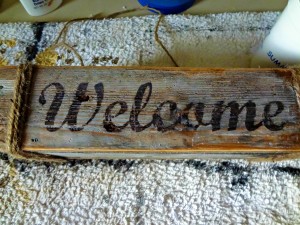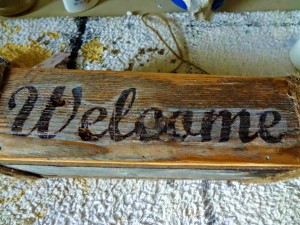 2.  I worked feverishly to remove that glue residue around the letters … but wasn't able to get in the little spots in between the letters … and low and behold it dried clear in between the letters. So …
3.  … maybe it doesn't really matter how much glue you use after all.  🙂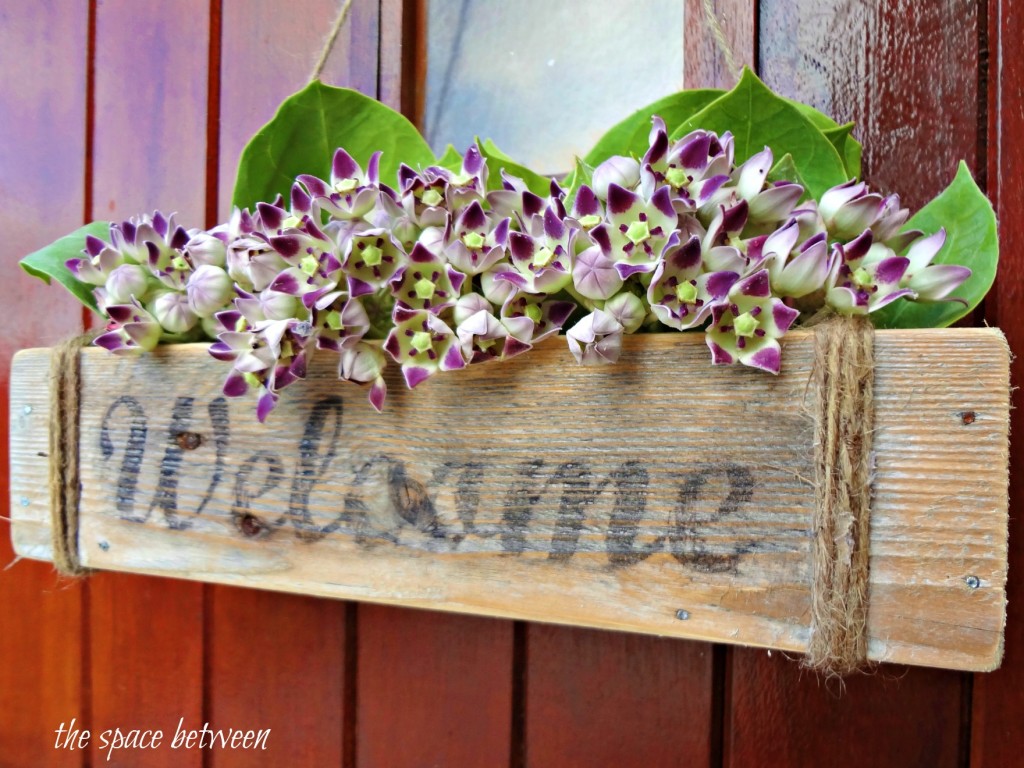 I like the way this came out so much I already have my next temporary tattoo image transfer sign in the works.  And, since it's essentially FREE, I can see myself adding temporary tattoos to everything.  🙂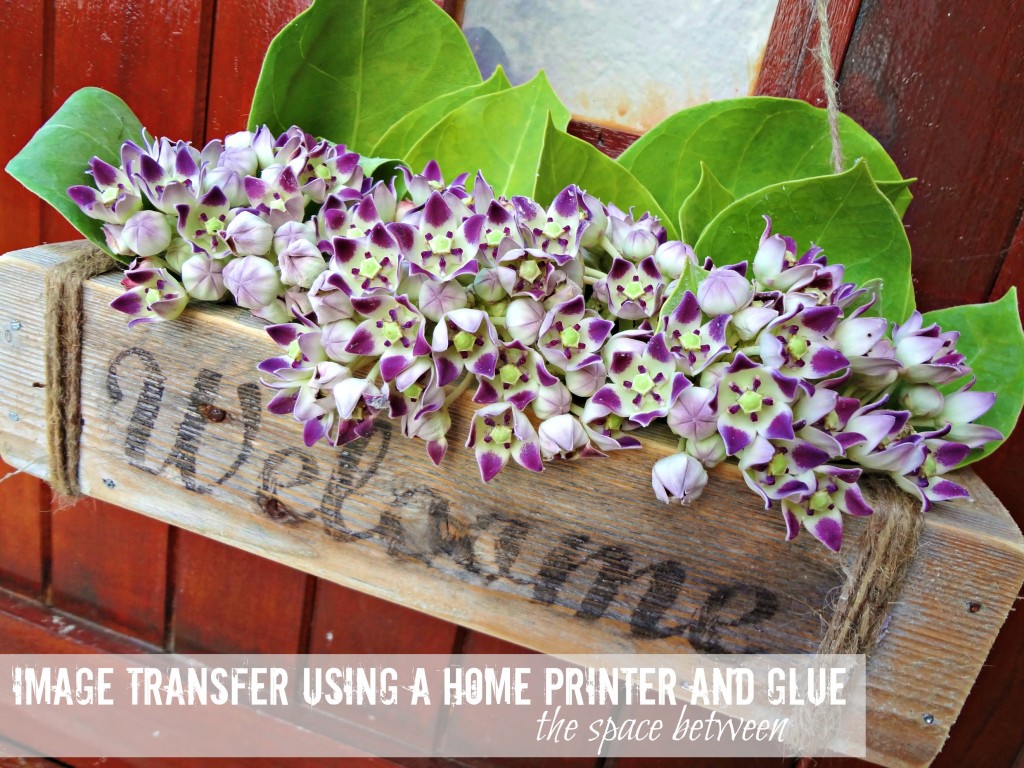 And, if you haven't seen it yet, the tutorial for the one pallet slat trough is here.
The how-tos for my number art on my little black canvas are here.
Oh, and you will find proof that I really should have known the glue was going to dry clear here.
So, do you have any other free transfer techniques I should try?  Have you ever tried something similar to this?  Do you wear temporary tattoos on the weekends for special occasions?
And … you might even see a little somethin' somethin' as part of my The Great Outdoors project … that's coming up on Friday with the link party celebrating The Great Outdoors next Tuesday, May 29th.  Link up here and you'll automatically be linked up to 5 phenomenal blogs.  🙂