Hey, hey!  Happy Monday.  🙂
I have arrived safe and sound in the good ol' US of A.  I have already seen a few great friends, picked up a truckload of supplies for my whirlwind home improvement vacation and suffered through enjoyed some northern weather. 🙂
But before I headed off of my island paradise to the frozen tundra of the north (okay, okay … 50s are quite freezing … but close) I couldn't help but put together a little Christmas arrangement on the mantel to get me in the holiday mood.
And by "the mantel" I totally mean "the floating shelf", but you catch my snow drift, right?!?!  😉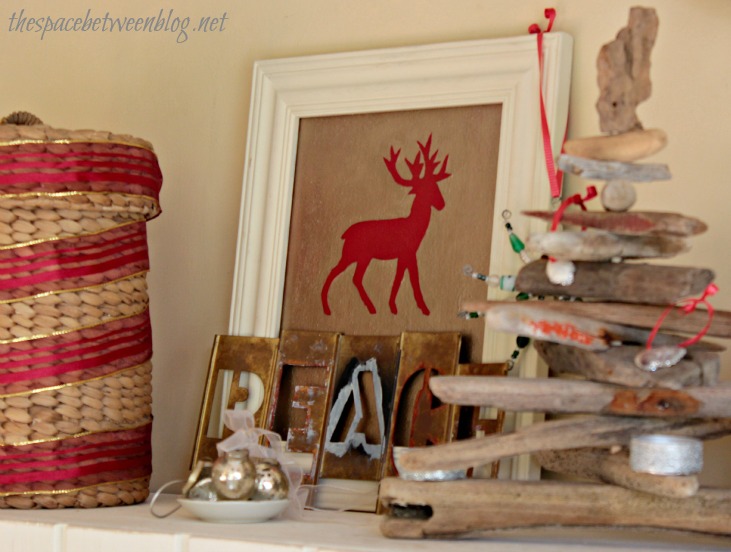 I already shared with you my new found love of metallic.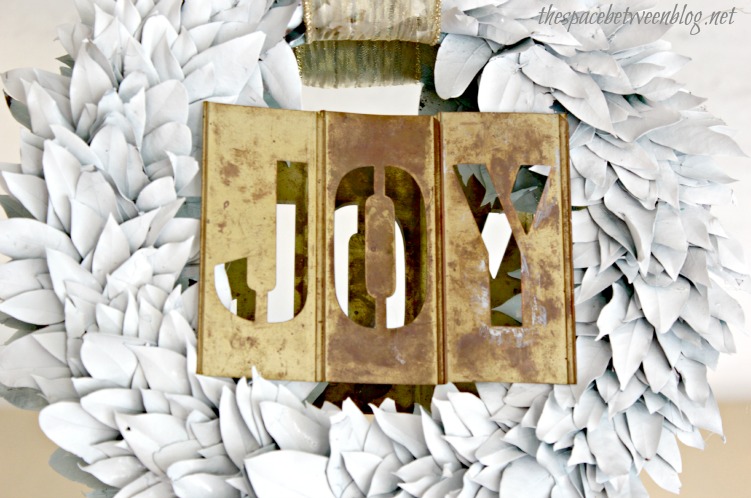 And even though green is my all-time favorite color, the combo of red and gold was just calling my name this year.  I couldn't resist making a festive silhouette in just those colors for a little something new.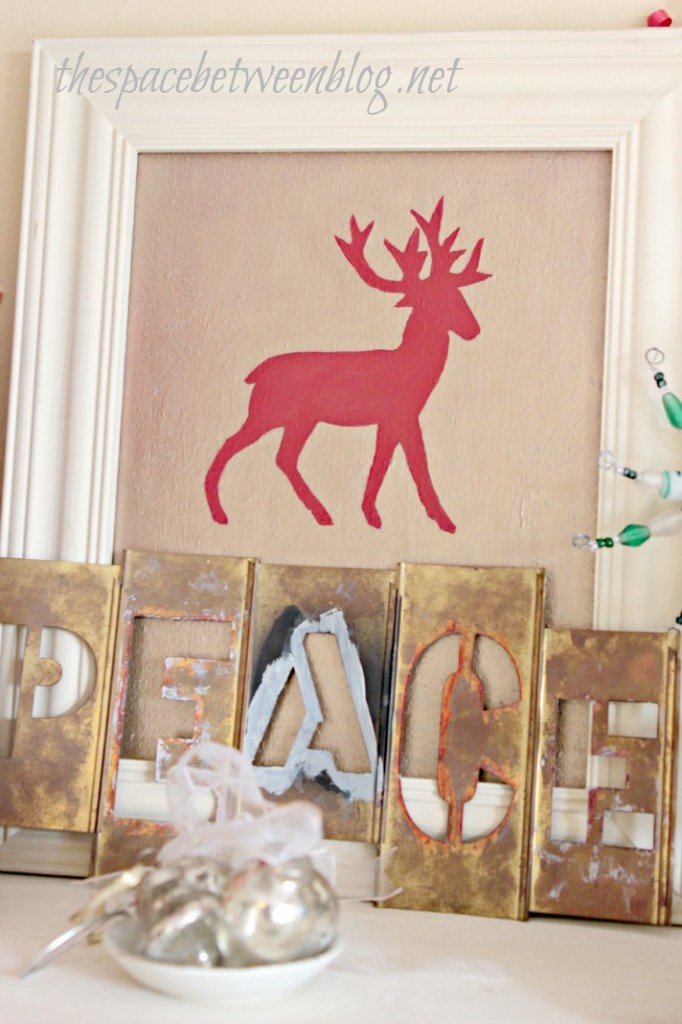 And you had to assume those weathered and worn stencils would make another appearance.  🙂  Lucky for me I have two sets, they are different sizes … but the mixed and matched look just adds a nice eclectic touch, I think.
A few small mercury glass baubles just placed in a little dish …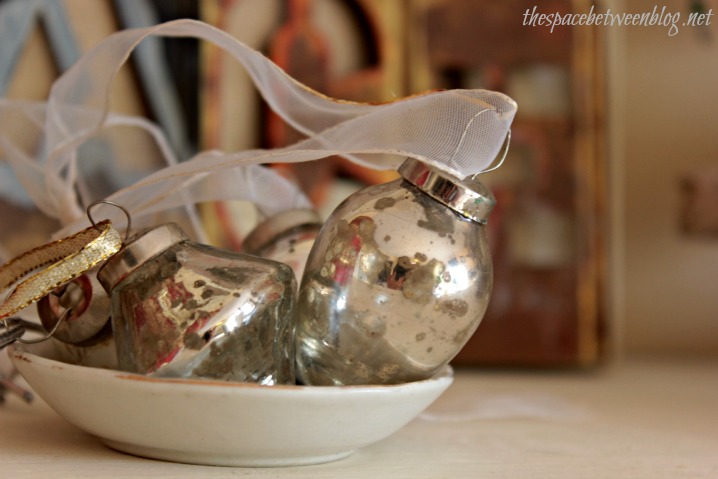 A new driftwood and sea glass Christmas tree craft combined with a few wooden trees I picked up on clearance a couple years back after the holidays … a little more gold.  🙂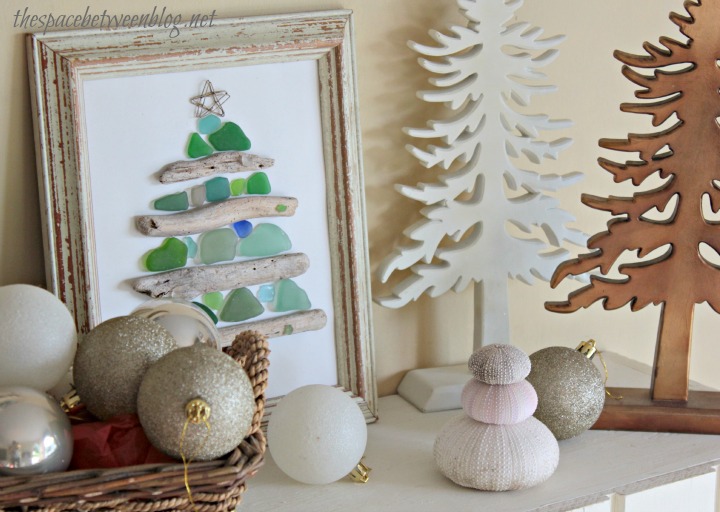 More gold, in the form of baubles, just strewn about.  Some in a basket with red tissue paper … and a couple with no purpose at all … maybe to keep the sea urchin snowman company.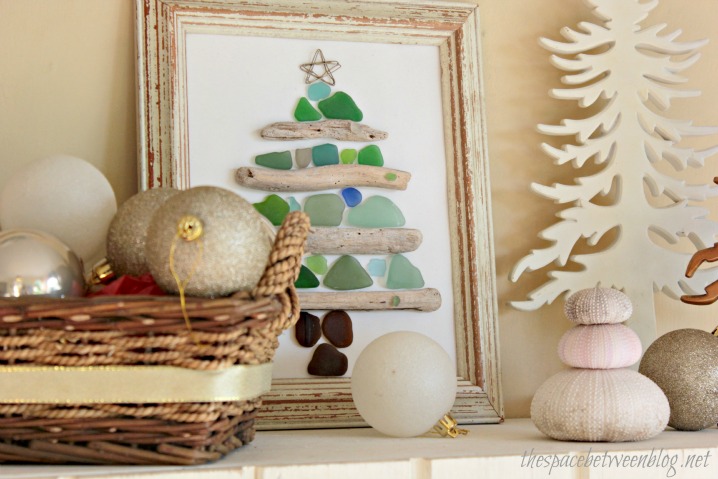 I had such good luck finding sea urchins last year I made a ton of little snowman ornaments to sell … but I'm down to my lone 3 left. A simple stack gives an illusion of a snowman, right?!?!
This little DIY driftwood Christmas tree adds another dimension of nature that I always seem to be looking for.  And the beaded snowflake I made last year draped on the frame gives just the right pop of green.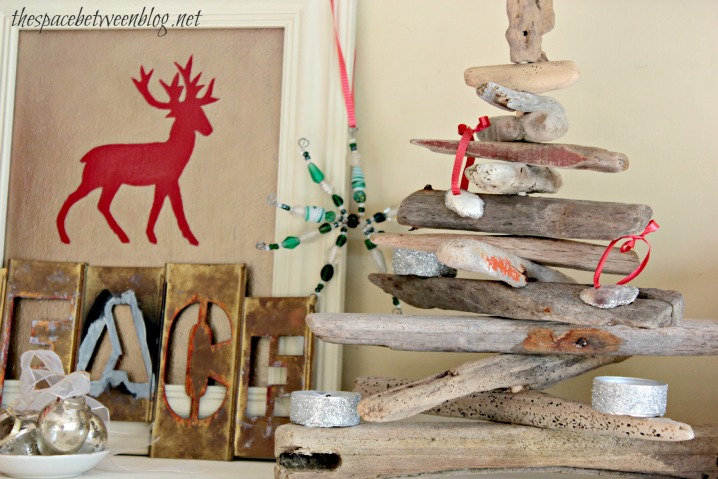 A little more bling in the form of beglittered tea lights and sea shell ornaments helps give the driftwood tree some sparkle.
And a few simple strands of ribbon secured with painter's tape temporarily update your basic baskets into holiday appropriate decor.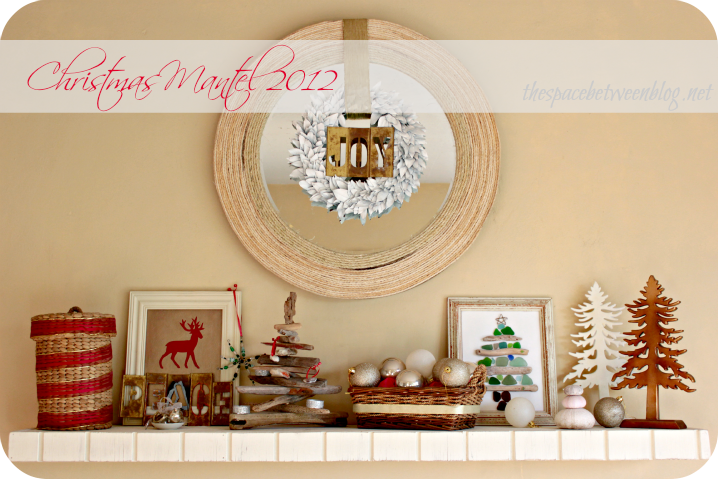 For me this is the right mix of shiny and new with rustic and warn.  An overriding red and gold color scheme with a few touches of green and white layered in.  Nothing over the top fancy … but enough to remind us of the spirit of the season, with a little JOY and PEACE mixed in.  🙂
You can find all of the details for the JOY leaf wreath here.
And if you're in a building mood, find the floating shelf tutorial here.
And don't forget, next week we're celebrating a crafty Christmas so bring your favorite Christmas craft and meet us here on the 10th to link up.  And if you haven't checked out how my co-hosts have been getting ready for the season you should!  Lisa went nice and simple with her mantel this year, Cassie created a whole room of fun in her dining room and Ashley has a great gift wrapping series going on.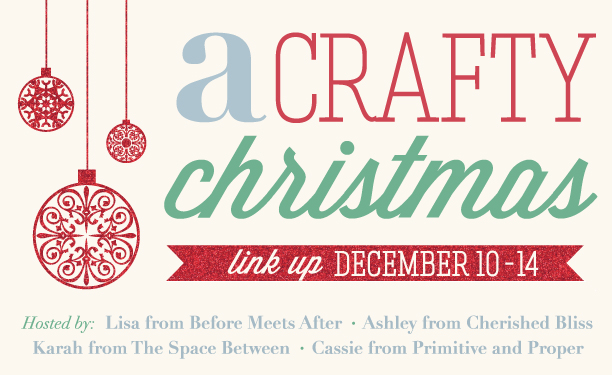 And do tell … how do you do up your mantel for the holidays?  Big and Bold?  Simple and elegant?  Mantel, what mantel?  🙂