Hey hey!  Happy Tuesday!
If you missed part one of my nobody knew it was coming eagerly anticipated Haven lists of 3 please check out yesterday's post here.  

Now, let's just get at it for … the rest of the story.  (name that radio personality for 5 points)
3 Swaggiest Swag Items (in my opinion)
1 – The Kreg Jig Jr.  If you don't know what it is and you like DIY woodworking you've got to check it out and get yourself one.  I can't wait to try it.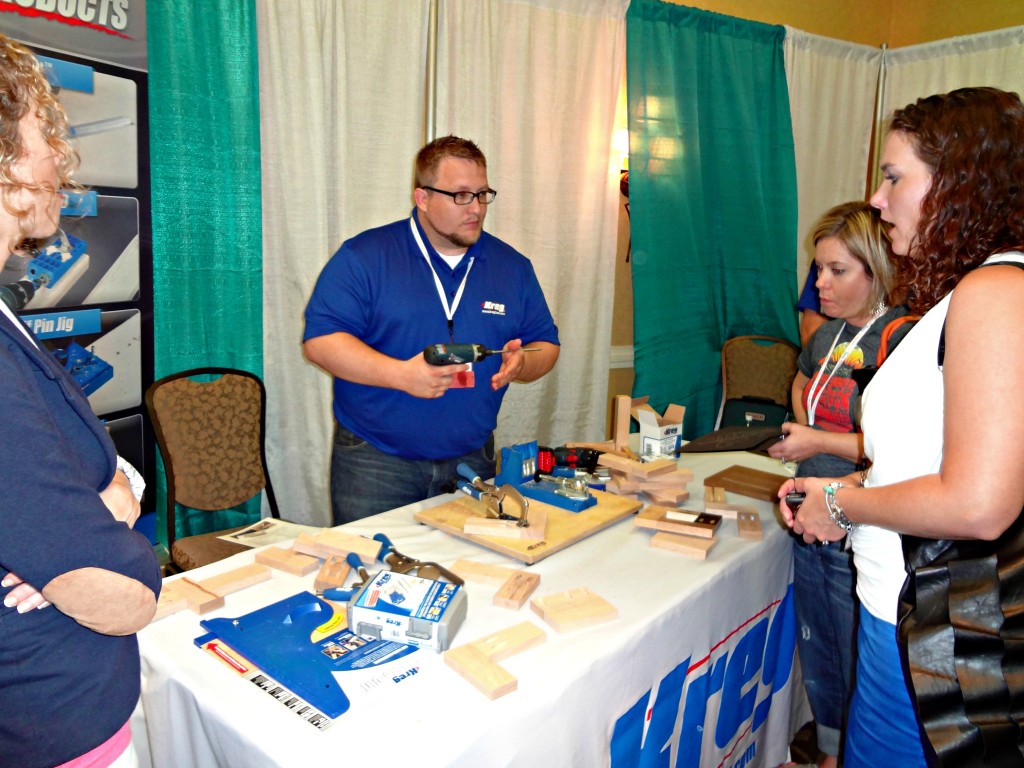 2 – Rustoleum Comfort Spray Grip.  The name says it all.  I can't wait to try it.
3 – Sample pot of ASCP.  I have already mentioned how giddy I am about this product and … wait for it … I can't wait to try it.  😉
3 Winningest Moments
1 – Well, this whole experience wouldn't have happended if I hadn't have put my name on the waiting list and scored a last-minute ticket so Thank you! Rhoda at Southern Hospitality for reaching out and making the dream this possible.
2 – Marian from Miss Mustard Seed put out a challenge and this girl (thumbs pointing at self) loves a challenge. Just ask my husband.  So I literally pulled my white tank top I've recently been using as a paint shirt out of the garbage and embarrassed my whole family by winning the best of the worst paint clothes contest. Just to clarify … the others who tried were disqualified by saying 'you're too cute in that outfit', apparently that statement didn't apply to me.  😉
3 – The vendor booth Annie Sloan Unfolded had a fun little Spin the Botttle Wheel opportunity and I won a natural hair paint brush.  Winning!
(Sorry I don't have any pics of all of the excitement, I was too busy Winning!  But I know some were taken and I'm trying to track them down, I'll let you know if I get some to share.)
But, none of my wins really compare to what my favorite Showoff won … Roeshel won $1000 worth of Purdy paint products!  Holy cow, right!?!
3 Monumental Moments
1 – Realizing that my husband totally needs a new DSLR camera during the incredibly awesome photography session by Josh and Kevin from ShootflyShoot and Layla from The Lettered Cottage. 😉
2 – Realizing the actual financial potential there is to make money from this here blog during the advertising session with Beckie, Sarah and Julia. Wowzas!!
3 – Ok, so, if you're not a pet person, you're not going to get this … but I met Burger.  And, it was awesome … in a way that totally made me wish I had my own girls with me.  And it was by the lunch buffet, the one with the fried chicken … so you can imagine Burger's excitement at the food meeting me.  

3 Cool Business Card Ideas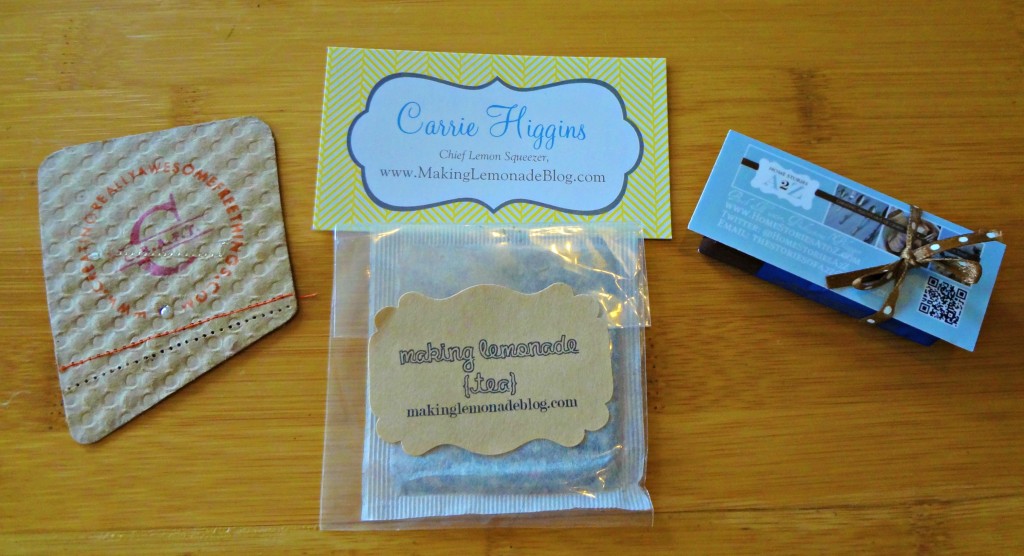 1 – Jamie from C.R.A.F.T. made the cute cardboard, stitched and stamped cards on the left.
2 – Carrie from Making Lemonade added a tea bag to her business card.  Appropriately named 'making lemonade tea'.
3 – Beth from Home Stories A2Z tied her cards to a little chocolate bar with a fun polka dot ribbon.  I would call that a sure-fire way everyone would take one.  

3 Easiest Blog Tips We Should All Implement RIGHT NOW!
1 – Google+ing someone's post is good for their SEO ranking and totally harmless and incredibly easy.  So let's do it peeps.  


2 – Affiliate links are an easy way to include good content in your post with links to products and services we love and hopefully earn a little cash when they're clicked and things are bought.  Win – win, I say.
3 – Content IS King!  Calling this a tip is kind of a joke because well, duh!  Right?!?!  But, it's  a solid reminder that even though I have a post blog conference to-do list that is 2+ full pages long, including items to increase my SEO, improve my page rank and reach a larger audience, the fact remains, I need to focus on providing content that I love to attract readers who love the same stuff.  Cool people you are, who love this kind of stuff, clearly.  😉
3 Biggest Surprises 
1 – My wonderful roommate and friend Debbie from reFresh reStyle surprised me with a lovely little gift of a notepad and a BEAUTIFUL necklace handmade by Creative Carmella.  Carmella makes these to sell and I highly recommend them!!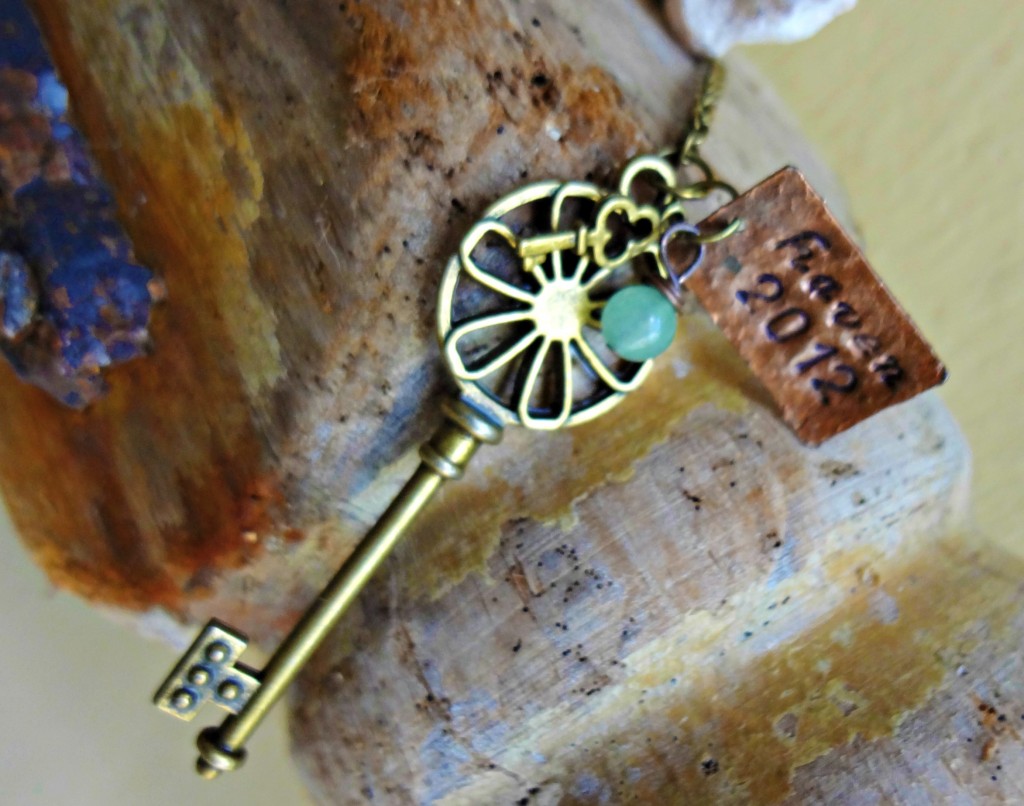 2 – How many non-bloggers were at the conference.  I don't know why I thought there would be only bloggers, but it was fun to mingle with non-bloggers who were there to get hands on with some DIY and meet their favorite bloggers.  So fun!
3 – How much I gained from the experience.  Like I've said, I really didn't know what to expect … but I got so much out of the conference I really can't even believe it myself.  And when people ask me to share my notes, I am ON IT.  But really, it's not just the content I got (even though, content is King) it was the experience and camaraderie and overall environment.  Impossible to replicate on a sheet of words, really.
3 Post Blog Conference Blog Confessions
1 – I want my blog to make money.  I did not start this blog to make money.  And I continue to blog because I love it so.  But, it would be a lie to deny the fact that being exposed to the potential for financial gain was titillating.  Earn money doing something you love … OK, I'll try that.
2 – I don't want my blog to take over my life. I feel quite fortunate that through our many life experiences gained from moving and I have learned the art of, and feel pretty adept at, maintaining life balance.  This blog is going to challenge that daily.  I am up for the challenge.  


3 – I am inappropriately in LOVE with blogging, other bloggers and all of the potential and opportunity available to us all.  Can I get a woot woot?

Ok, that is that when it comes to my main takeaways from Haven.  I am having so much fun reading everyone else's and will be getting back to posting about projects here ASAP.  Thanks for indulging my lists.
Anything about the lists surprise you?