Who knew?  I make one little mention of a simple little broccoli salad that we make all the time and everyone seems to think it'd be a good idea to share.
So I'm totally going to.  Like it's my own recipe.  And mine to share.  And I can totally take credit for it.  🙂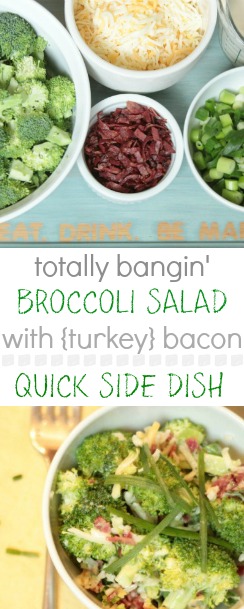 But the truth is, it's my in-real-life bff's.
And here's the deal.
I'm not sure I ever really believed in the idea of a best friend.
I've never actually had a ton of friends.
Not in an oh-woe-is-me sort of way.  I can't explain it, really.  I like people sometimes.
But, Sue … she's different.
She made me be her friend.
I'm serious.  I'm just not good at making friends.
I'm good at meeting people, but I'm not good at making friends.  I've learned those are two completely different things.
But we only lived a few blocks from each other and she started showing up at my house. Every Thursday night.  And we watched Grey's Anatomy.
And we laughed.  And we cried.  And we talked.  And we talked.  And we talked.  And there was wine.
And next thing I knew I had a real friend.
And at some point after that she became my person. (Any old school Grey's fans out there?)
And in 2009, when Joel and I were moving to Curacao, she really stepped it up.
She made me coasters with maps of places we had lived and pictures of our house we were leaving.
She gave me a small Charlie Brown Christmas tree because it was November and she was worried we wouldn't have a Christmas tree in this new, weird place we were going.
And she printed me out all of my favorite recipes of hers because she was worried that I would starve Joel abroad.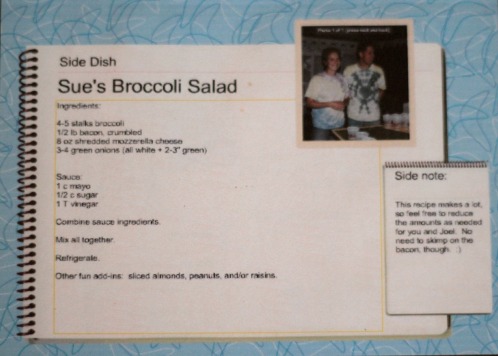 I think I ate at least 2 weeks of dinners at her house with her family before I left because she knew I was working like a dog to get ready for the move and she would just call me in the afternoon and say "we're having dinner at 7, you have to eat, you might as well come over".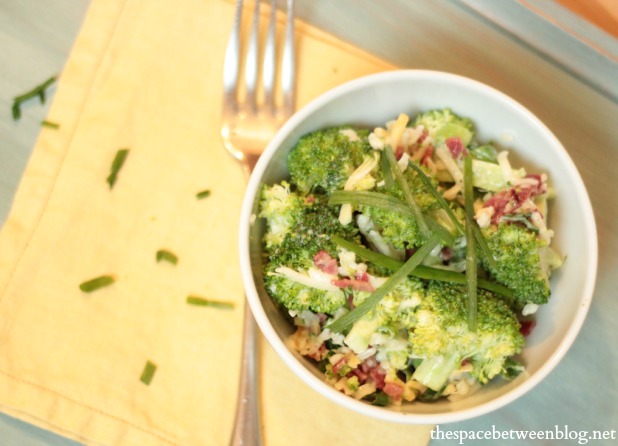 I know, right, you love her now, too.
But she's mine, so back off.  😉
But I will share her broccoli salad recipe with you.  Lucky for me, broccoli was one of the random foods that we had access to regularly in Curacao, and this recipe has cheese and bacon … so you know where this is going.
And a little tip, I worried for the longest time that this would get soggy after the first day so I would insist that we gorge ourselves until it was finished.
But it is even better on day two!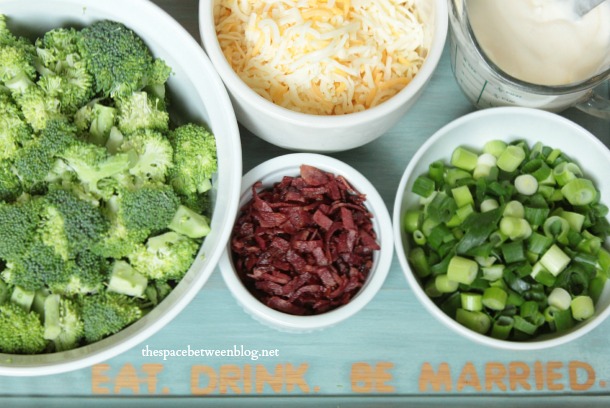 All of the flavors meld together and it is perfection.
And what's not to love about a dish you can make ahead of time for a dinner party or bar-b-que.
Totally Bangin' Broccoli Salad (adapted from Sue's recipe)
3 stalks of broccoli, cut bite sized
8 slices of turkey bacon, cooked and crumbled
3 green onions, sliced pretty thin, we use both the white and green parts
1 cup grated cheese, we've tried all kinds, pick your favorite
Sauce
1/2 Cup Mayo (we use light)
1/4 Cup sugar (we use Splenda)
1 1/2 teaspoons white vinegar
And a couple of tips!
Turkey bacon is real easy to chop up before you cook it
8 slices of turkey bacon is one-third of a one pound package, I chop it all up and cook it all off and then divide in thirds, freezing the other two portions.  Since this is the only step that takes times its super handy to have prepared.  It'll thaw in the time it takes to get the rest of the salad together when you're ready.
Make your sauce right in a 1 Cup measuring cup, fill with mayo to the 1/2 cup, add the sugar to the 3/4 mark and top it off with the vinegar and stir.
You won't ever kick yourself for adding more bacon or cheese.  I'm just sayin'.
Sue suggests possible add ins of sliced almonds, peanuts or raisins.  I have actually added halved grapes before, but prefer it without.
If you think you want to hold on to this recipe for future reference, or share it with your friends I'd love to have you pin it!
So there you have it.  The recipe that kept Joel from starving to death in Curacao courtesy of my dear Sue.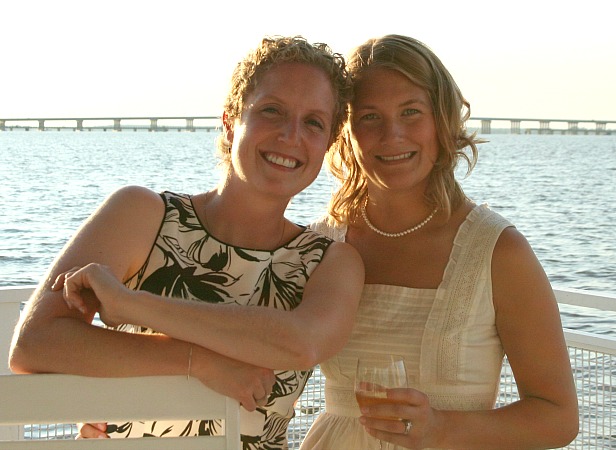 Not sure exactly what happened with my hair here.  #whengoodcurlsgobad  🙂
And while we're on the topic of my favorite girls, look who kept me company during a little broccoli salad photo session.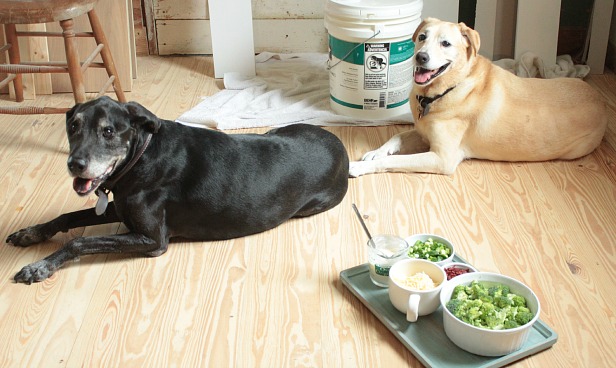 Pretty typical for Mico to be my shadow, Marley was just scared because I was doing laundry at the same time.  That girl does not like the washing machine one bit.
But this girl just likes my company … at least that's what I tell myself.  🙂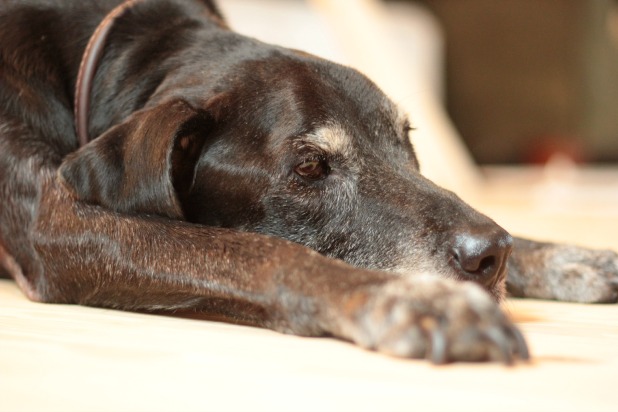 And I made that Eat. Drink. Be Married. tray last year with stickers I got at Walmart for $1.  Check out the details here.