Note: The girls and I have arrived safely in Key West and I've already started the house hunt!  If you want to see some of my first impressions and pics out and about check us out on Facebook, Twitter and our brand spankin' new Instagram account.  As Annie would say … "I think I'm gonna like it here".  🙂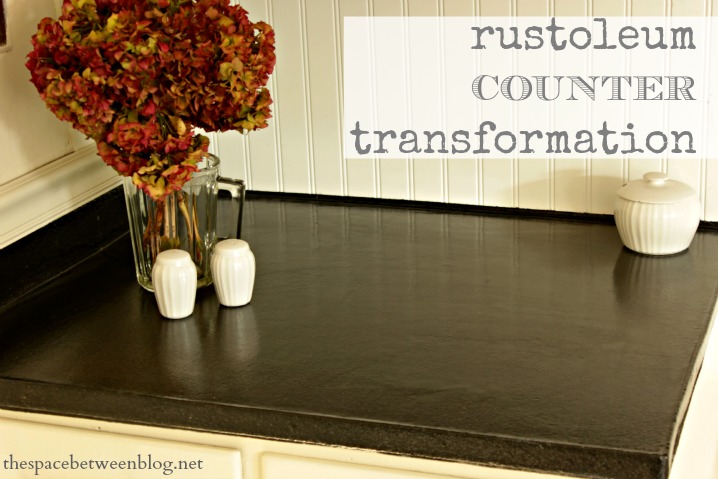 So, they say the rooms that make the biggest impression on a person are kitchens and bathrooms.
Do you agree?  I think I do.
I mean, there are so many ways to make a statement in a kitchen or a bath.  Appliances, a fancy motion activated toilet, a rain shower.  You know, the big ticket items.
But what do you do when you're trying to get the most bang for your buck and aren't really in the market for over the top amenities?  Heck, what if you're starting with this?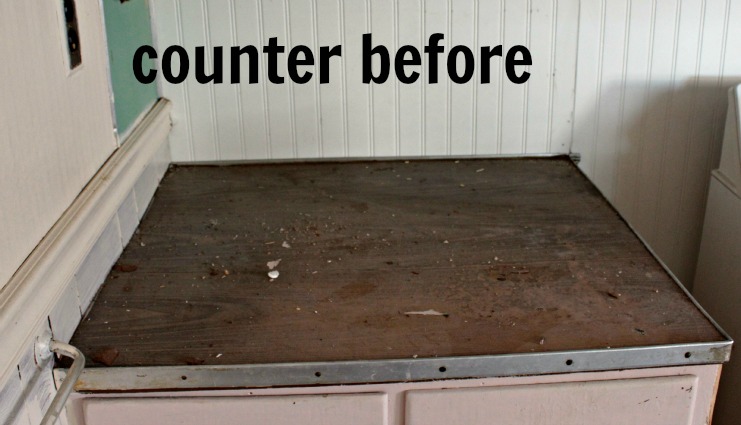 Yeah, I know, it's bad.  Really bad.  That would be a wood grain sticker over a green laminate counter edged in chrome.  I call it retro-not-at-all-chic.
When I saw the upgrade my buddy Roeshel did over at the DIY Showoff I knew I needed to give Rustoleum Countertop Transformations a try.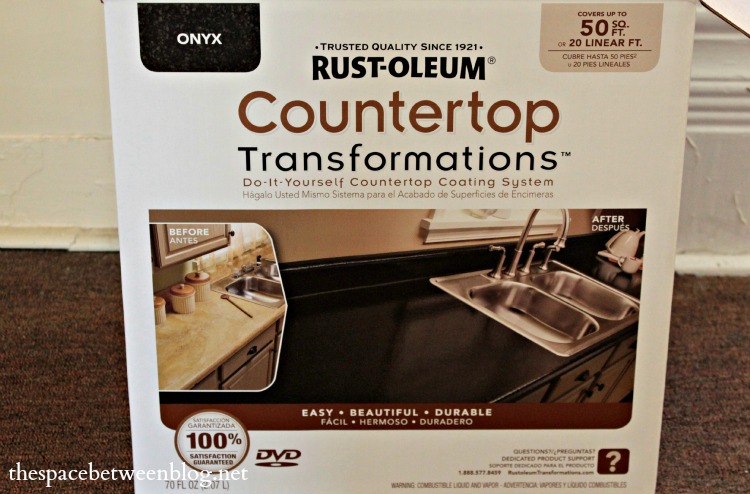 Armed with the Rustoleum Countertop Transformation kit in Onyx, here's a step-by-step of how to take your countertops from that (ok, hopefully not that bad), to this.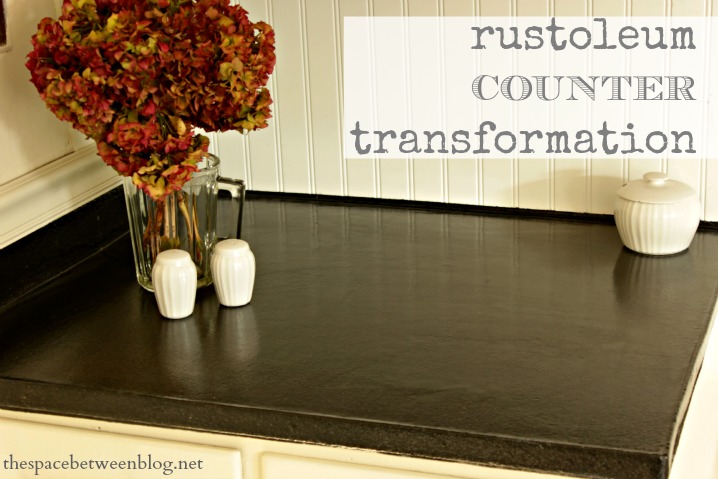 It's a pretty awesome Rustoleum transformation, right!?!?!
I will first say, the set of directions included with the kit is all-inclusive, they even include a video tutorial and have all kinds of tips and details on their website.  So I would recommend this kit for even the most hesitant of DIYers.
The supplies included in the kit are all listed and pictured here, the ones I used were the:
paint stir sticks
adhesive base coat and protective top coat
spreader and decorative chips
sanding blocks
Supplies to provide yourself:
paint brush (I used a 2 inch)
4 or 6 inch foam roller (my counter surfaces were so small I didn't end up using one)
disposable gloves
paint tray
painter's tape and protective covering to protect surrounding areas (I used Frog Tape and Saran Wrap)
lint free cleaning cloth
*I have the wetting agent pictured below, but my counter area was small enough that I didn't need to use it.  It would definitely come in handy with larger counters.
The other area of counter I resurfaced was around the kitchen sink, and if you are a fan on Facebook you already saw my tip to use plastic wrap to protect smaller areas.  It's easier to manage than a whole drop cloth and its sometimes irritating quality of sticking to itself actually comes in handy when you're wrapping it around a faucet.
And you will want to have drop clothes around the entire surrounding floor area … more on that in step 3.  #dirtiestjobapplication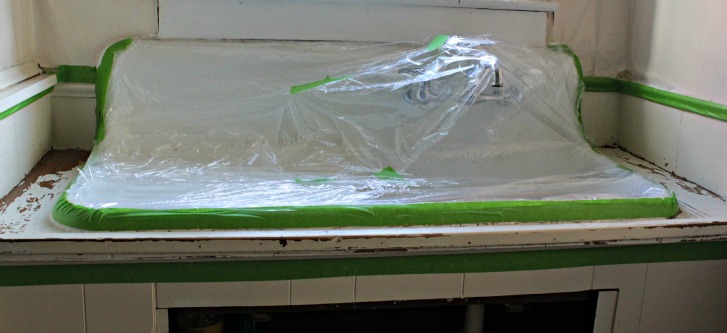 Step 1 – Prep the surface area.  You can see in the picture above that I had already sanded the surface around the sink.  A diamond embedded sanding block is provided and does the trick of pulling up any loose counter areas and scuffing up the surface in preparation for the adhesive base coat.
I was worried about the laminate sticker counter, but after the sanding it looked like this, and any sticker left was securely adhered and covered right up nicely by the adhesive base coat.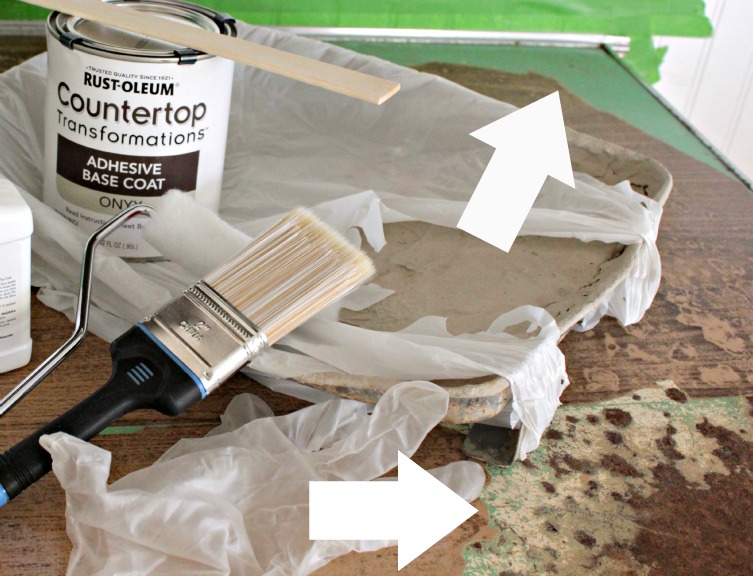 After the surface is fully sanded you'll need to wash it a few times.  I just ran my hand over it after every wash/dry cycle and washed again if I felt any loose particles.
Step 2 – Apply adhesive base coat.  The instructions are very detailed about recommended application.  I found a 2 inch brush in long strokes the entire length of my counter worked well.  Start with the back splash and work your way forward along the counter until you reach the edge.  I worked in horizontal strokes first and then followed with strokes starting as the wall coming toward me. I used a very liberal amount … didn't want any part of that old counter showing through, that's for sure.  🙂
I didn't get any pics here since working swiftly is key to make sure you get the decorative chips applied before the adhesive base coat dries.
Step 3 – Spread decorative chips and be ready to have them everywhere.  This is the step that helps the post title make sense. The spreader is super handy, and definitely the best application process to attempt an even coverage, but don't think you're going to have much control over those dang chips.  😉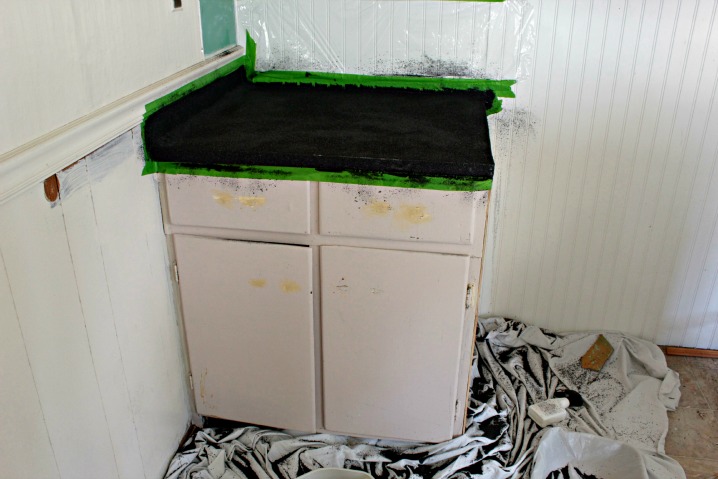 And somehow I didn't get one single picture of my spreader.  Oh the joys of DIYing solo.  🙂
I was stoked that I had taped that piece of plastic wrap to the wall behind the counter, can't be too over protective with the surrounding areas I say.
I used handfuls of the chips to get into some hard to reach areas around the sink.
That picture above was about halfway through the chip spreading process.  You want to be sure there isn't one bit of exposed adhesive coat.  And see where I leaned up against the front of the counter to re-expose the chrome edge?  I did the touch up the same day … just reapply the adhesive base coat and more chips … easy peasy.
After an overnight of dry time you're ready to remove the excess chips and sand.
Step 4 – Clean up excess chips.  This step would be super easy if you could use a shop vac.  This house didn't have the electricity turned on so I had to sweep and brush and clean some more.
I first used my hands to just scoop out all of the loose chips.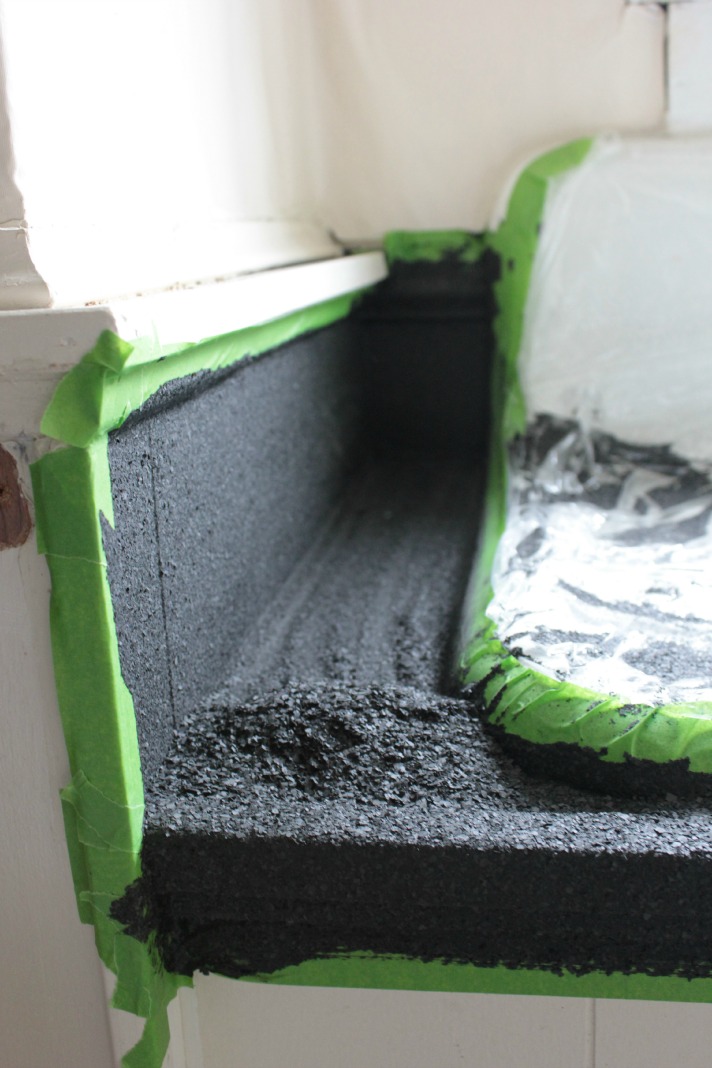 Then I took the end off of a broom and used it as a hand sweeper, it worked like a charm.  And speaking of charms, who doesn't DIY with their Pandora on? 🙂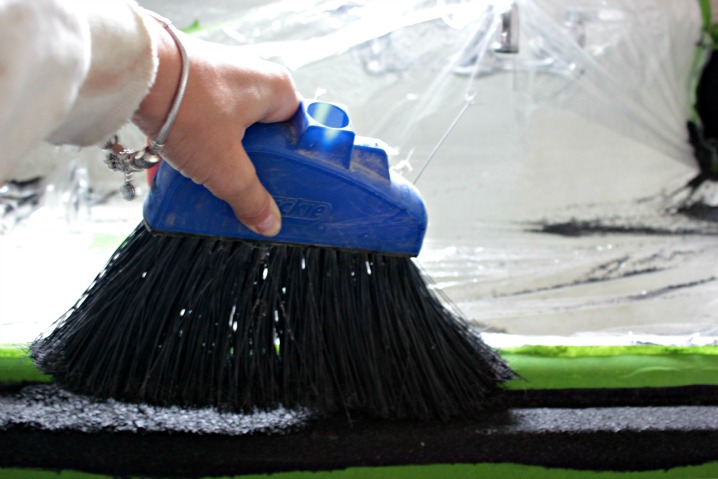 I could tell at this point I was going to LURVE this new look. 
If you want to make a serious change in the look of your kitchen without investing in brand new counters this product is definitely for you!
Now, Step 5 – Sanding.  A sanding block is provided and worked great in circular motions.
Note – A scraper is also provided to scrape off the chips first but I found I didn't really need it.
I used the same sanding strategy I use when sanding a patched area of a wall.  Sand a bit,
then run my hand over to feel for smoothness, then sand some more if needed.  Like my gloves?  It was chilly.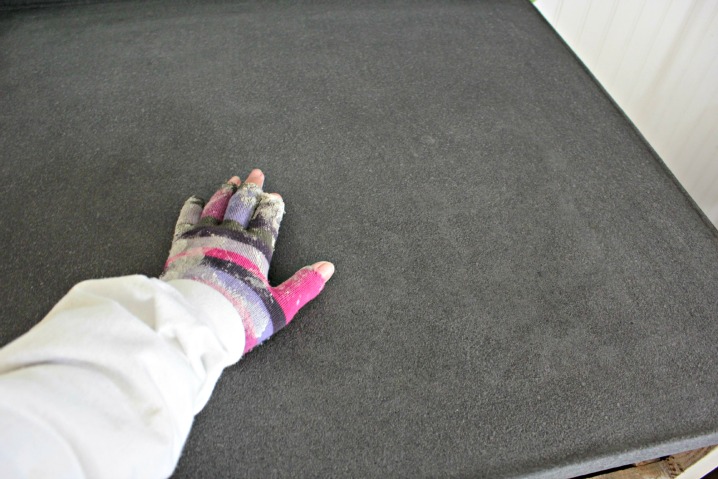 This process changes the finish to a charcoal grey color, but no fear, the protective top coat gives it the look we're going for.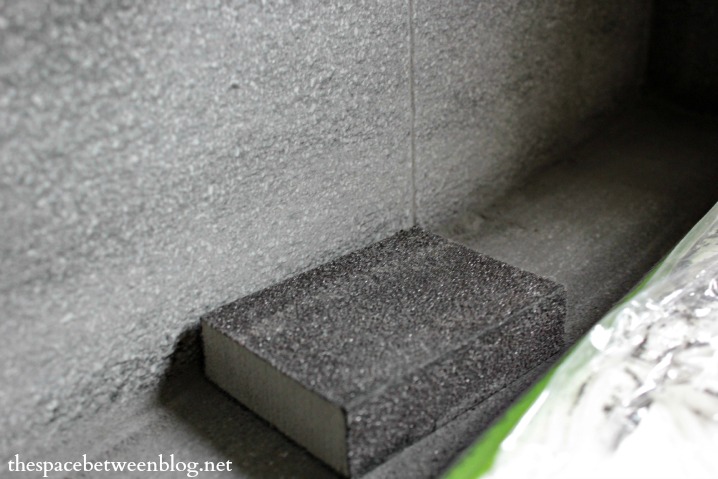 At this point you can gauge if you're done with sanding when you compare your counters to the sample piece provided.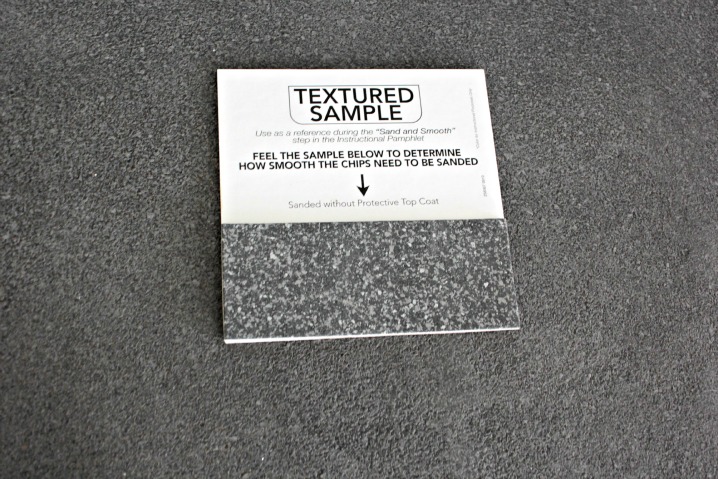 Touch up any areas by just reapplying the adhesive base coat and more chips.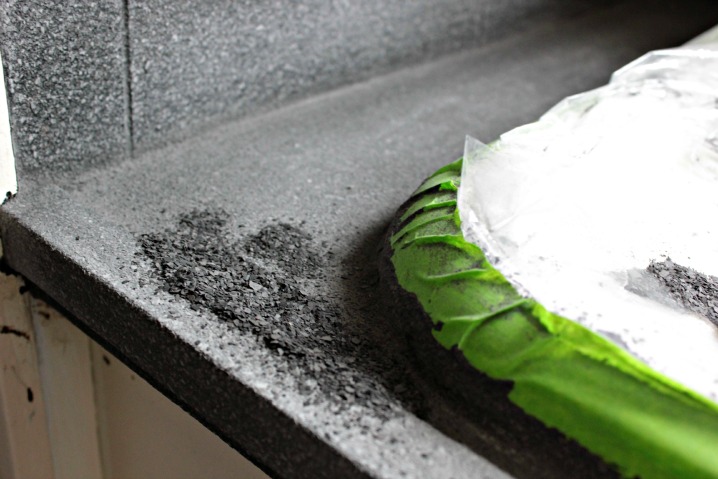 You can see a grove in the back splash there.  The counter surround is actually wood paneling and you can see that the product doesn't work to fill in the grove, but I knew the more cohesive look all around was going to work wonders for the overall effect of the transformation.  The groves don't bother me a bit.
Step 6 – Clean the surface thoroughly in preparation for the protective top coat.
Tip!!!  The protective top coat is not a leveler so be sure you have your counter looking and feeling exactly how you want in terms of texture … it's gonna stay that way.  This also means clean and clean again with your lint free cloth to ensure no loose particles get trapped under your top coat.  🙂 
Step 7 – Protective top coat.  I could tell the instant I started with the protective coat that the finish was going to end up just perfect.  Here I had applied the top coat to the back splash and not the counter … check it out!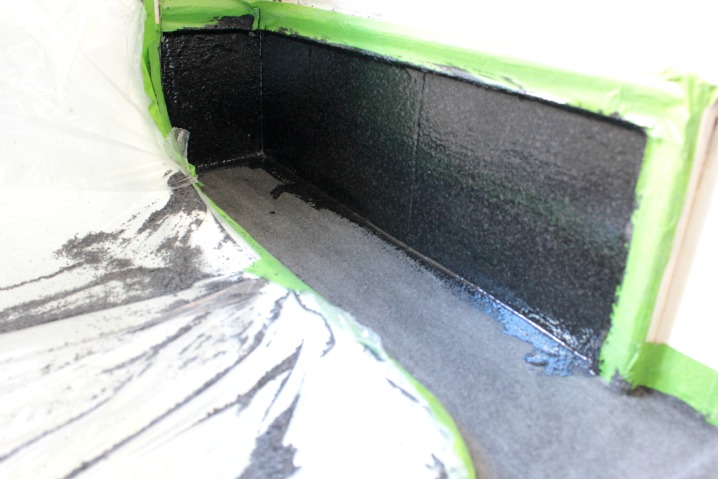 I love that feeling when I'm almost done with a project that I know is going to be awesome!  So rewarding!
Let it dry untouched overnight and there you have it.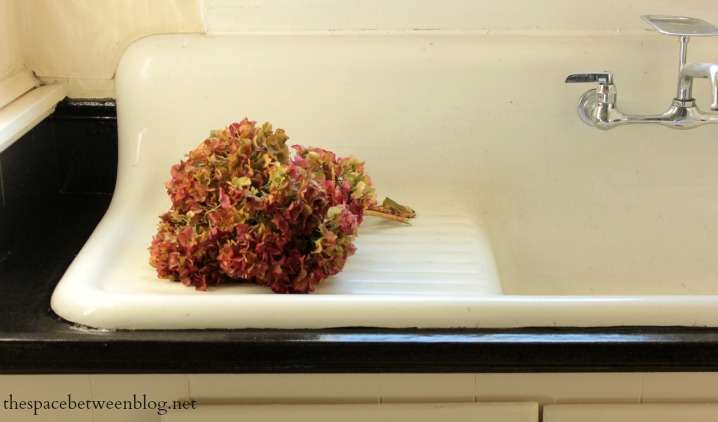 And please tell me you love that old sink as much as I do!?!?!
Now, we clearly have a lot more do to here, but I really can't even tell you what a dramatic impact this one change makes to the entire kitchen.  And I know it's probably backwards to do a counter before the cabinets, but the countertop transformation products have usage limitations when it comes to weather … keep that in mind … I had to get this project done before the temps plummeted on me.
Let's just remind ourselves what the before looked like.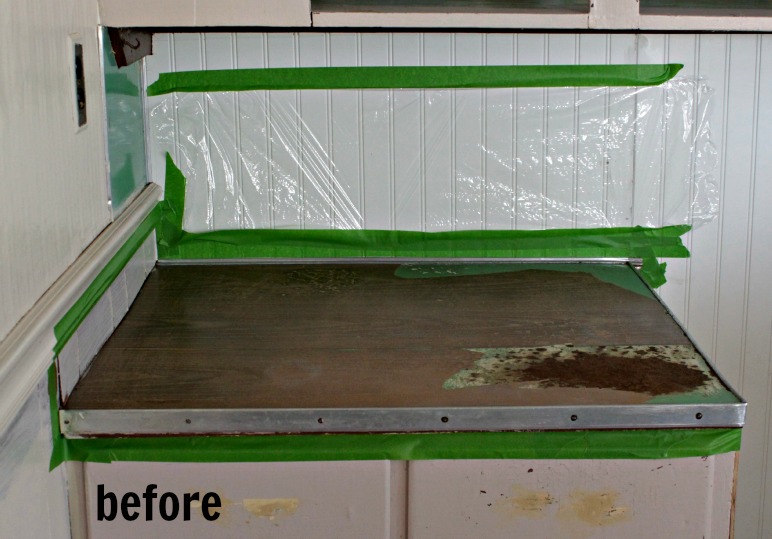 And the after … hard to believe it's even the same surface.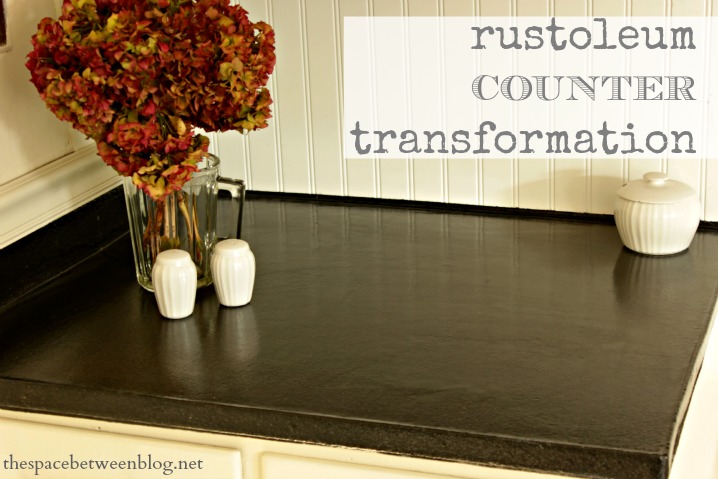 I've said it before and I'll say it again, anyone looking to make a HUGE impact on a small budget in their kitchen needs to try out the href="http://countertops.rustoleumtransformations.com/" target="_blank">Rustoleum Counter Transformation product.
And if you have any more questions about it, give me a shout, I'm happy to help!
And watch out, this is just the beginning of the upgrades we made at this old gem.  We'll be talking cabinets, hardware and wood soon. (And those are just the kitchen projects.)
Update: See the cabinet transformation here, cabinet hardware switch-aroo here  and how to create a wood slat look in the back of open cabinets here.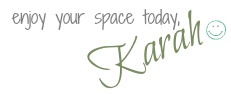 *I was provided the Rustoleum Counter Transformation product at no charge, but the opinions expressed are 100% my own … of course.  You can read my full disclosure here.