I have just finished my second old door project around here, and after my DIY day by the pool with my girlfriends I've started looking more constructively at how I work with old wood.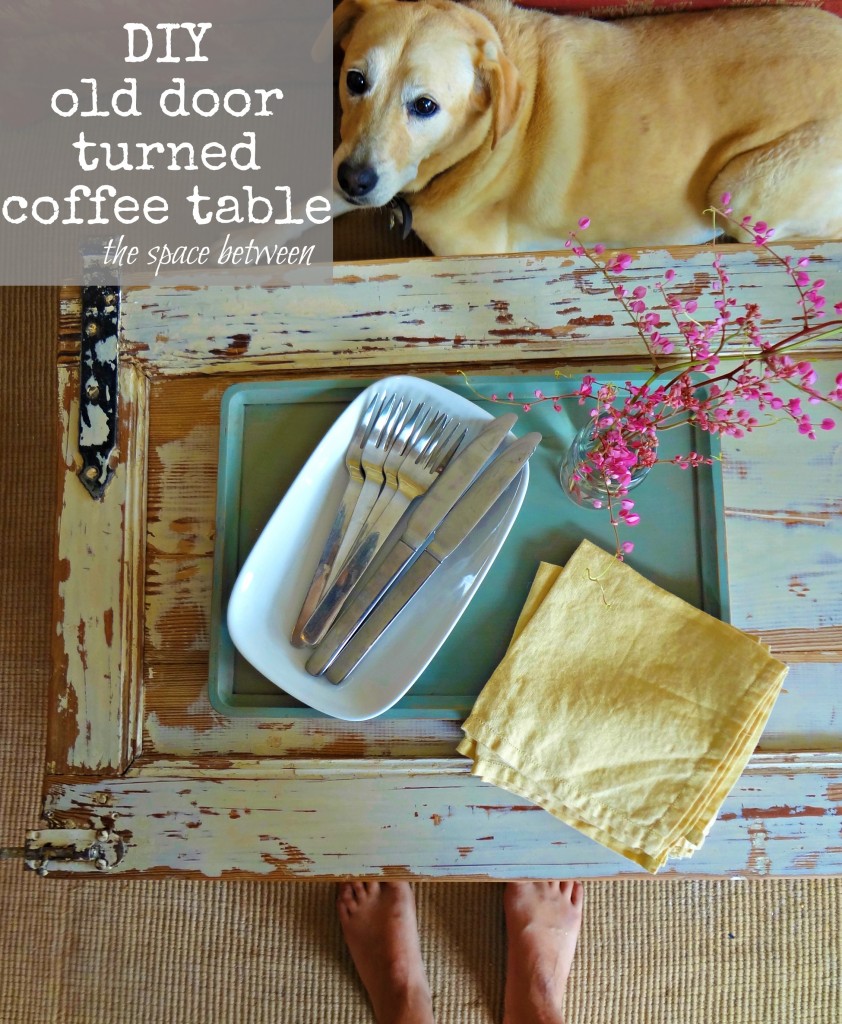 It was fun to be with my friends, and showing them new things, and realizing that what seems second nature to me might be new to others.  So, here are some of my thoughts as I work with old wood.  Some are technical, some are personal preference, some are physical and some are mental tips.  Hopefully you find some, little bit of it useful. 🙂
Finding Old Wood
Where – dumpsters, trash day, construction sites, home improvement store (or any big store) trash area, the beach.  Keep your eyes out, it's everywhere.  I found an old window frame in a roadside burn pile and a friend of mine said 'I never even notice those piles are there'.  They. Are. Everywhere.
What – old doors, windows, pallets, furniture, construction materials … oh, construction materials are my favorite.  I built our entire floating shelf out of dumpster construction material.
Update:  This is not intended to be a safety awareness post as much as a description of my working process.  When working with all old wood please be aware of the possibility that the paint could be lead based and the pallet wood could be chemically treated and take the appropriate precautions.
How – as in 'how do I know if I want it?'.  Check for a few key factors:
If you can answer those questions to your satisfaction, you're good to go.  I've patched rotting wood, secured wobbly furniture and worked extra hard to get a pallet apart when I LOVED the slats … all because I loved the piece enough for the extra work.  If you're not up for that, skip it and move on to the next dumpster.  🙂
Scraping and Stripping and Sanding, oh my the Wood – whenever I bring a new piece of old wood home I most often start by scraping it.
Where to scrape – Wherever you see loose paint, stain or debris that you want to remove.  I even scrape the old hardware if there is any on the piece.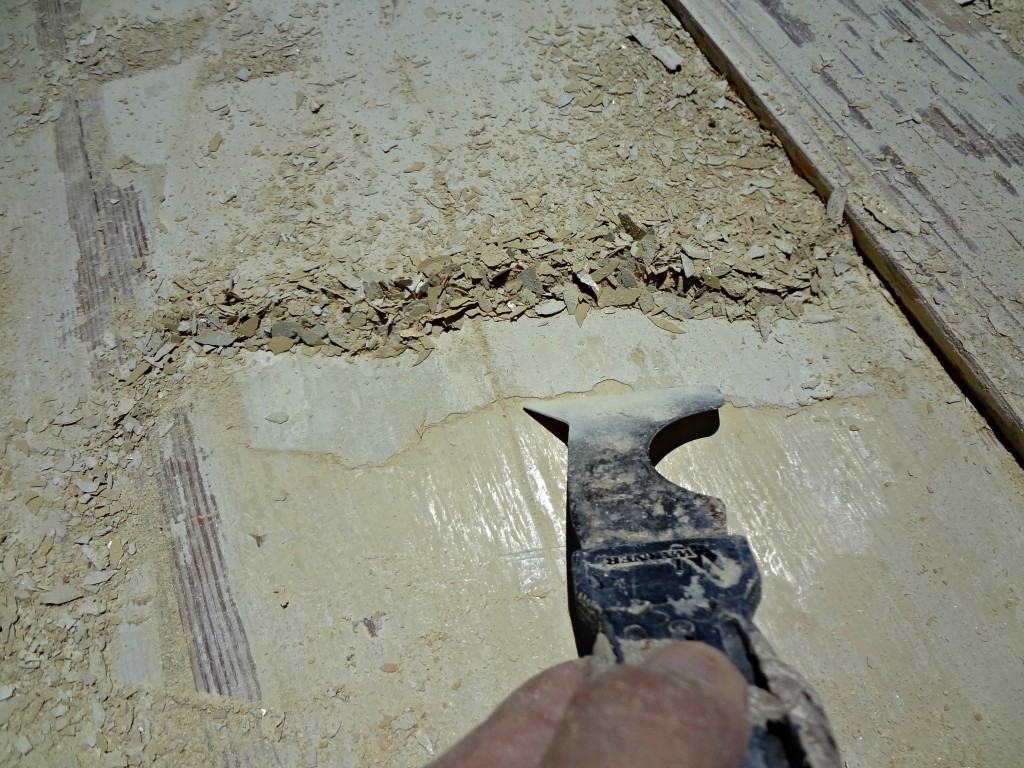 What to scrape – Whatever paint, stain or other aged debris that you want removed.
How to scrape – My biggest tips for scraping:

As far as any type of scraping goes, my absolute favorite tool for this step is the 6-in-One.  With all of the different angles of the blade, you can work in any detail, corner, nook, cranny, and crevice.  🙂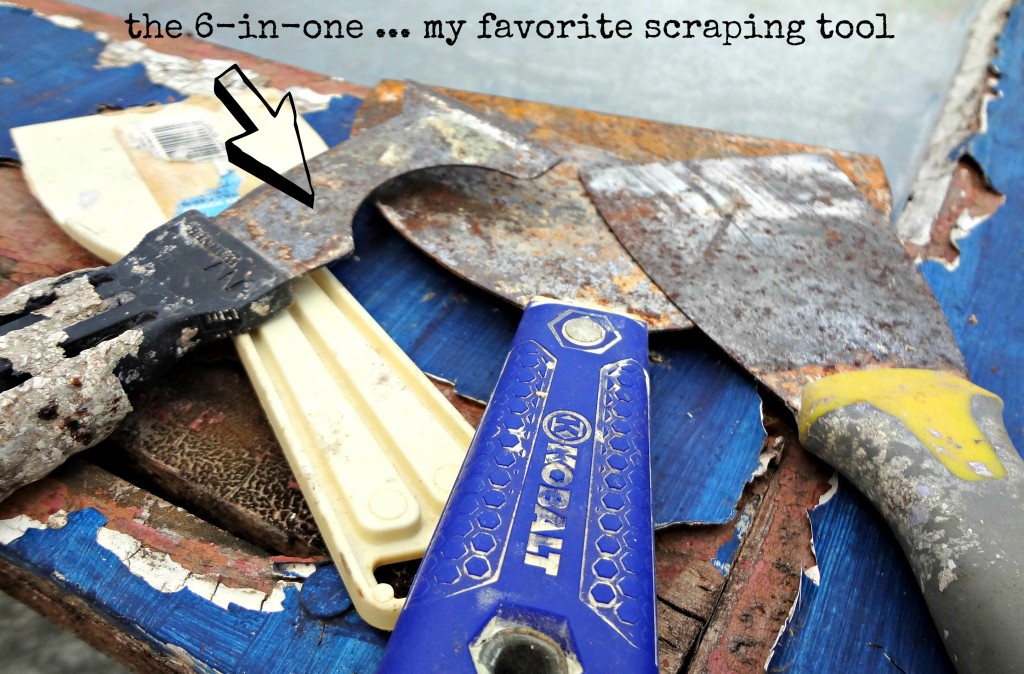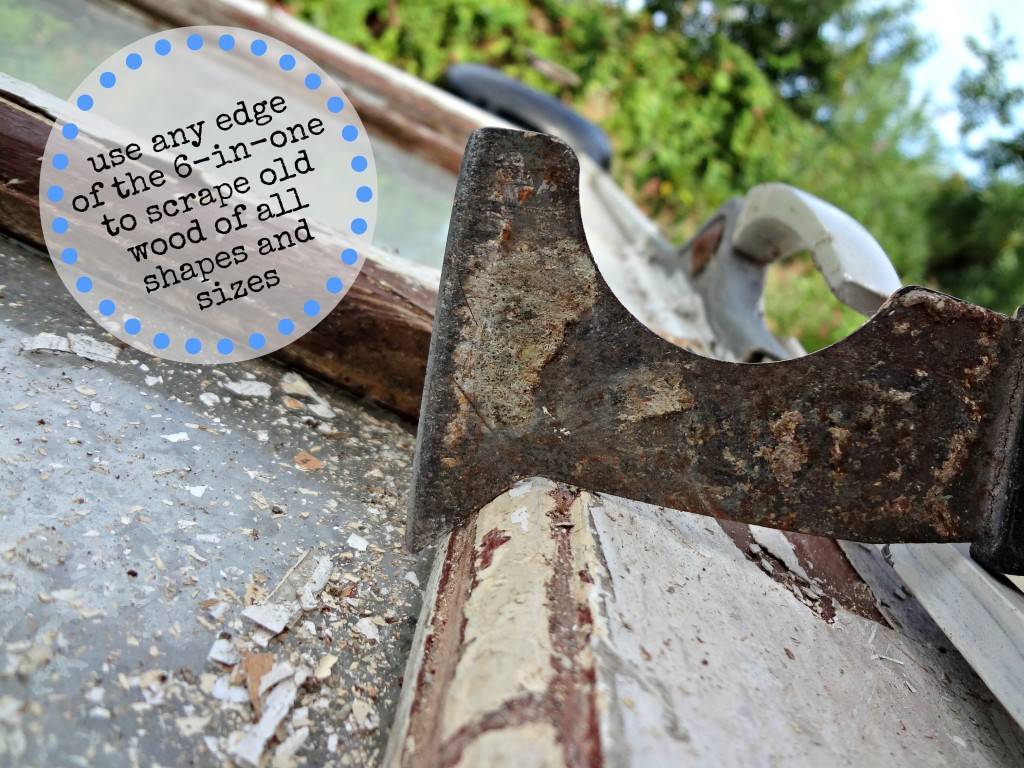 When to strip – When you know you want to remove almost all if not all of the paint.  Even here, I tend to start with scraping (what can I say, I'm a sucker for punishment) … as I scrape, I gauge if I like the look of the piece as some of the paint comes off before I decide if I want to remove it all. Personal preference only.  🙂  And when stripping, follow the instructions on the product you are using and follow the scraping techniques above.
Sanding Old Wood
When – When you don't see any more of those spots where you can see daylight underneath or when you've reached a look you like with the chipping paint.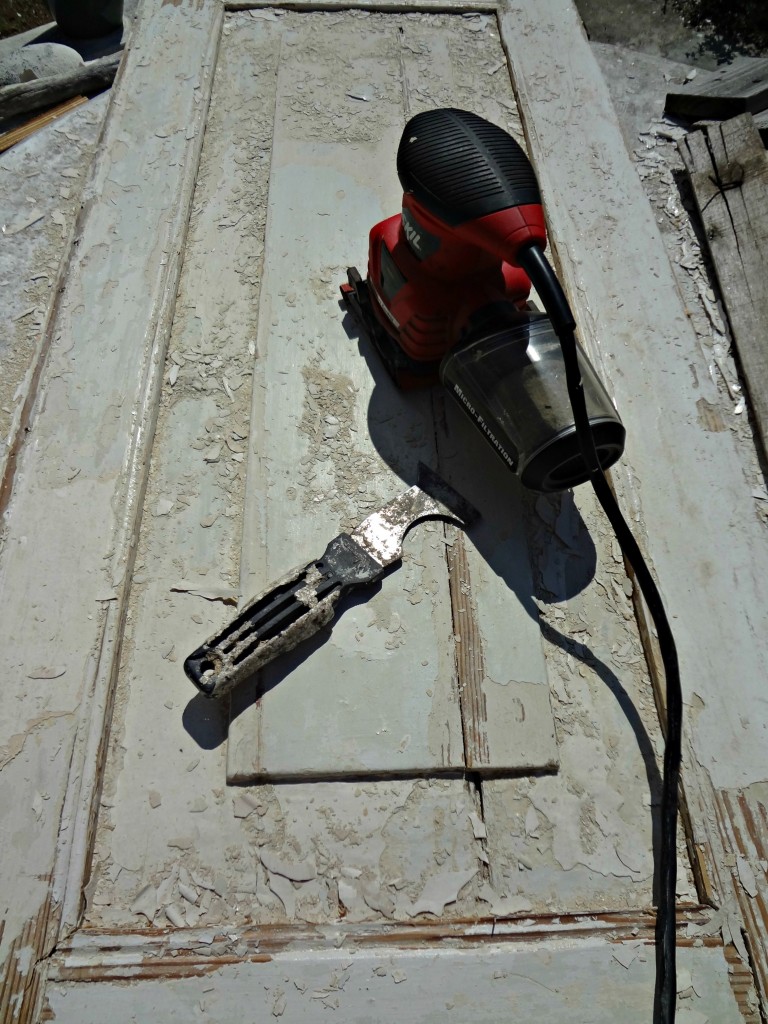 Where – All over.  Make sure to get rid of all rough edges and smooth out the 'transitions' between layers of remaining paint. I like to round every corner, I think it gives a softness to an otherwise chippy piece.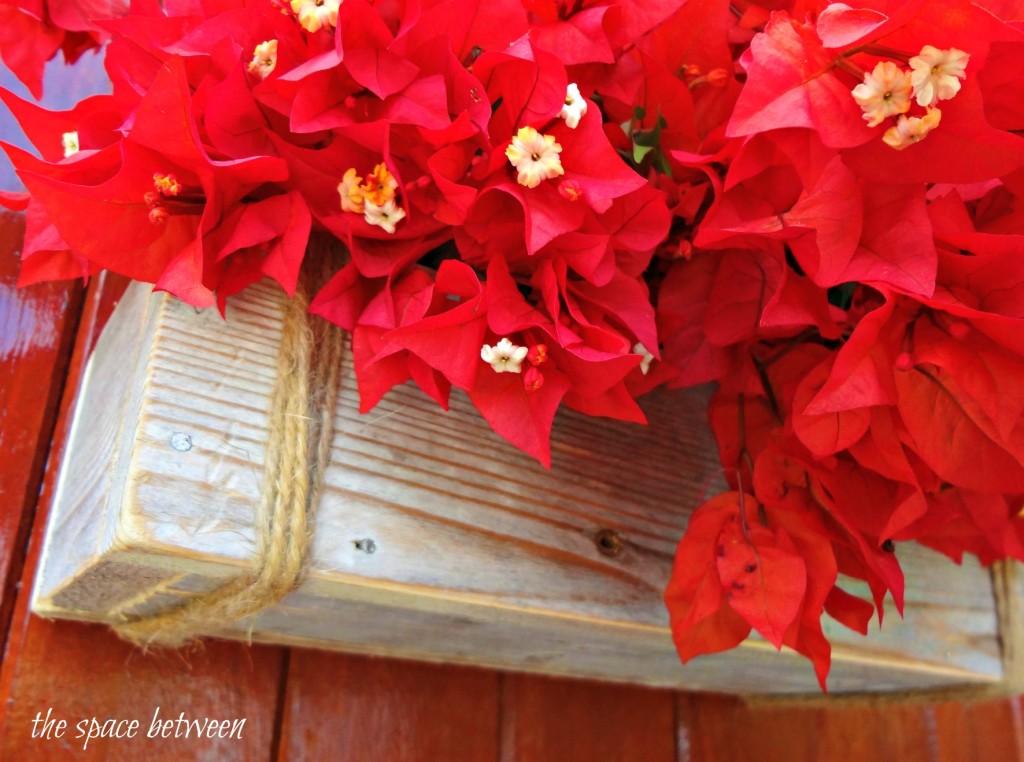 How – These are the steps I take:
So, that's how I get through my old wood projects.  How about  you?  Am I crazy for just not using stripper?  Would you rather just buy something new?
If you'd like to see the first old door project you can see the finished project here, the homemade chalkboard paint details here and the dry erase board how-to here.
And here is the newest old door project … I turned it into a coffee table.
And, here's a shot of it with a little something different in the living room …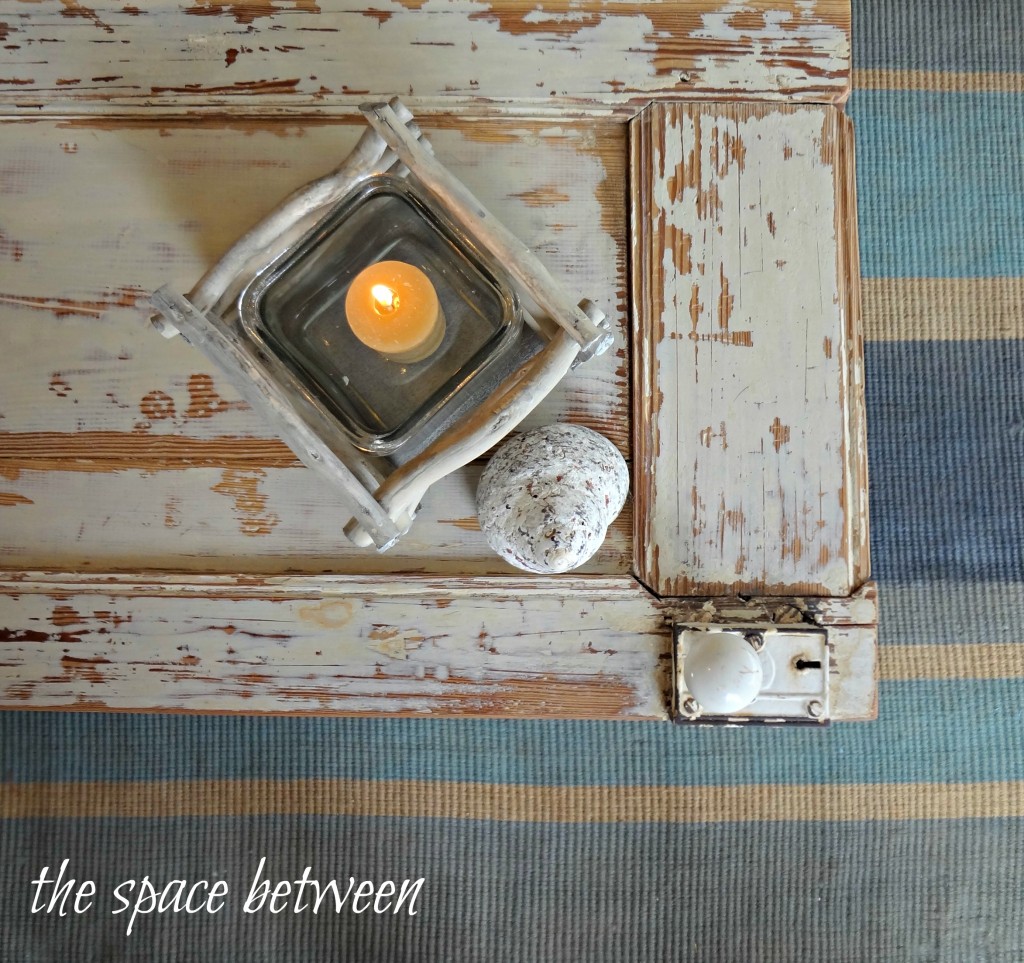 And, to check out more of the fun from our DIY day by the pool click here.  Some of the pictures from that day were taken by my friend, Suzie, you can see more of her incredible photography here.
*affiliate links for products I know and love. I was not paid by anyone to write this post … I just love the 6-in-one tool.