Howdy!  How's your week going?  Remember when I said that we are in that stage where I consider every single task a competition between me and this house? It's like I'm trying to be an American Ninja Warrior and this house is my course.  Don't worry that my "pantry" is practically in my work space.  I'm pretty sure I have dust in my morning coffee.  Every morning.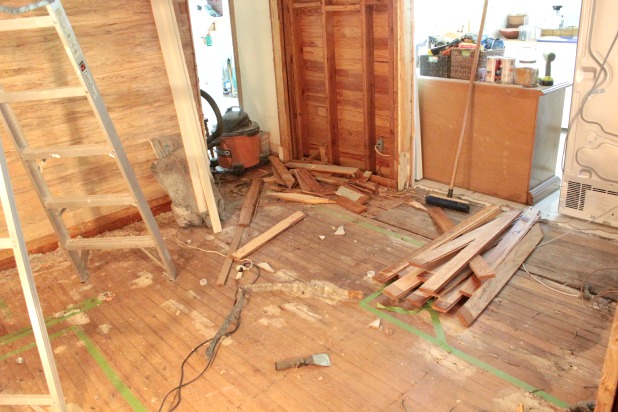 On a side note, I also decided to start Crossfit in June.  Anyone doing it?  It's awesome.  But I don't recommend starting a 3 room renovation and a new Crossfit regimen at the same time.  I can't even express how sore my body feels some days.  So I just focus on the fact that I am actively working toward a brand new tub and all is right with the world.  

Which is how I got through the days of removing cut nails from our old, hardwood floors.  Well that, and enlisting the help of my favorite husband.  Because you know I like to share all of my "favorite" tasks.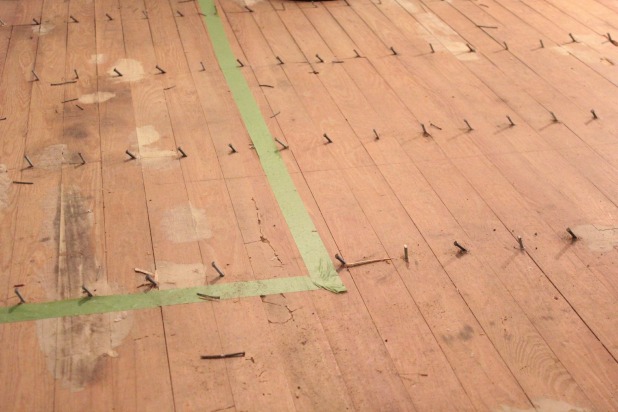 The old, square, cut nails are actually pretty neat so I started the whole endeavour thinking I would save a bunch of them and make something cool.  There is even a market to sell them online if they are antique but since our house was built in the 50's and these were used to install a second wood floor over the original wood floor these guys aren't really antique.
And within 5 minutes I knew I would use whatever means necessary to rid our floor of those bastards nails. Possible eBay income or future repurposed project be damned!  And then I emailed Joel and said "I have a really fun job for you!".
Kidding.  But I did immediately rely on one of my most used survival techniques, don't do one awful task for too long at any given time.  I gave it about 30 minutes each day, and definitely enlisted Joel's help.  Who brought home a king sized crow bar.  Here are all of the different tools we tried on those nails.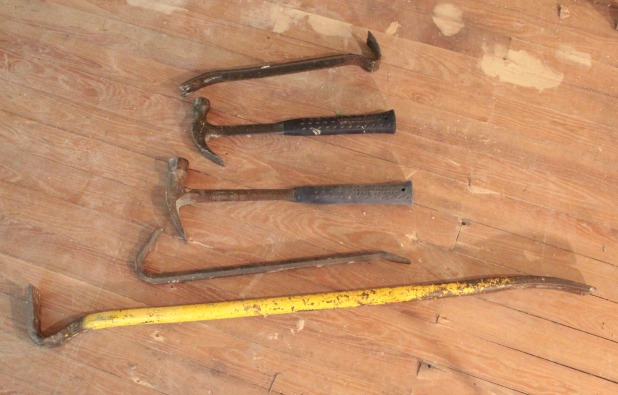 The main issue we ran into was that the square shape of the head of the nail didn't fit well into the more V shape of the claw of any of our hammers, pry bars, crow bars or even the mack daddy crow bar.
And just because I always like a little frame of reference … but let's not focus on the fact that I might be wearing flip flops.  Have you read the disclaimer?  😉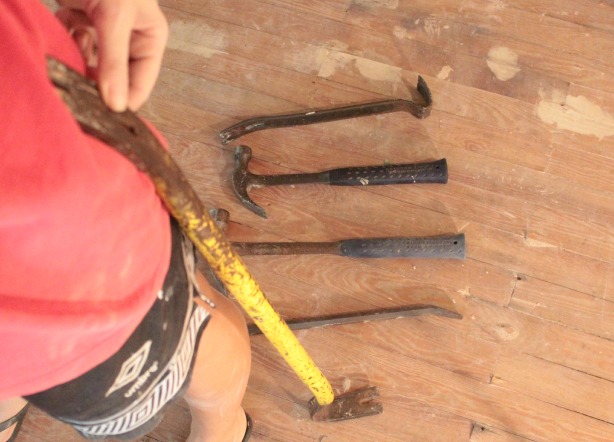 All jokes aside, I did end up resorting to more of a brute force technique where I just whacked the nail back and forth with the hammer until it broke off. #MeJaneYouTarzan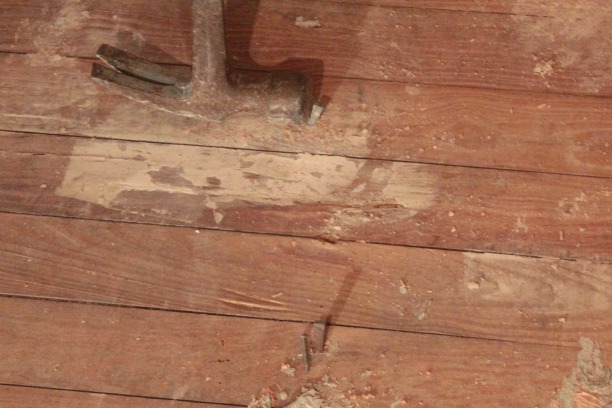 Still exhausting, but I found that approach less frustrating than struggling to get the claw of the hammer to actually grab and pull out the nail.  All the effort it took to pull on the hammer just to have the nail slip free without coming out just seemed like I was wasting my energy, and losing my sanity.
Joel, on the other hand, took a more even-keeled and strategic approach.  Of course.
First, he didn't wear flip flops.  

 Then he would use his foot to wedge the claw of the hammer as tight onto the nail as possible by kicking the hammer head toward the nail and then he would pull it out.  He had the best luck  with the bigger of our two hammers.  The smaller one is my everyday use hammer, but the bigger one is perfect for demo and other jobs like this.  (I tried to find the sizes but they don't seem to be listed on the hammers, sorry!)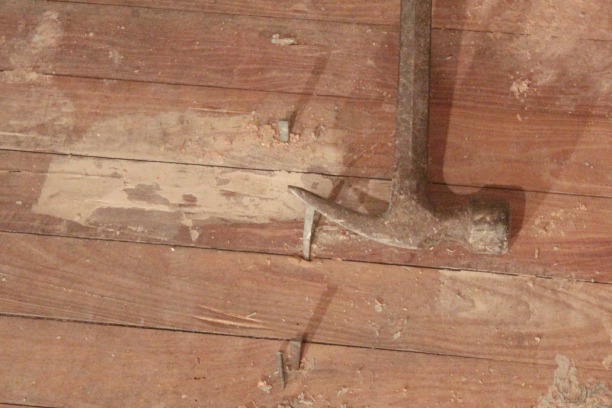 He still didn't have a 100% success rate, but he got into a good rhythm and for some reason wasn't interested in trying my "hit it with the hammer until it breaks" technique.
To each his own.  

 I even managed to salvage a few of the old nails for who knows what.  And we discovered that we had two different types of the cut nails, maybe from different eras?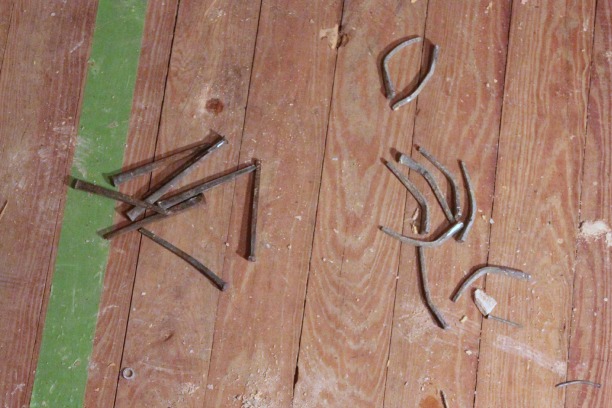 And seriously, this took us all week.  Just a little bit here and there.  It kind of became a game.  If you like the kind of game that drives you batty and makes you curse and sweat and laugh so you won't cry.
But it is behind us.  And in between that madness I have been busy picking out finishes and fixtures and paint colors … the fun stuff.
And please tell me you've been up to something a little more fun.  Summer vacation?  The beach?  Watching the World Cup?  Anything fun?  I want to hear it.