Hi there!  How are you today?
I am doing great.  To say that Joel and I are like kids in a candy store settling into our new space is an understatement.  We thought we had an understanding about how much we really missed tinkering around a house and yard and creating a space we love.  But seriously, even we didn't realize exactly how much this little move would fill us up.
AHHHHHHHH!
Yeah, that's pretty much what it sounds like inside my brain on a regular basis right now.
But that's not to say it's all warm and fuzzy all the time.  I am constantly oscillating between unpacking more boxes and then organizing the madness that has been unpacked.
One of my personal priorities is the shed/tool storage and getting everything in order so there is at least a little sense of order when we start tearing apart every room around here.  And getting everything out of order.  🙂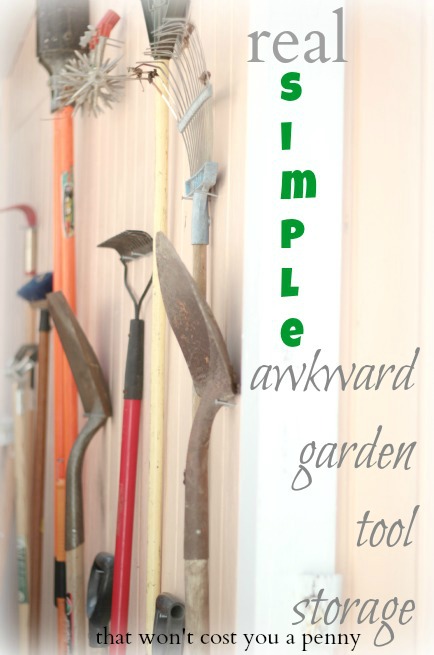 And as quickly as I try to find a place for everything and get everything in it's place, my dear sweet husband is working tirelessly to turn our little yard into a cozy retreat.  And leaving a trail of garden tools in his wake.
So in order to prevent myself from starting to twitch every time I find a random garden tool lying around I found a little out-of-the-way space and created some real simple garden tool storage without spending a penny.  Score!!!
Seriously, this is so simple, and so out of the way, and so easy for Joel to access when he needs to and hopefully so simple for him to keep his toys garden tools organized and out from under my feet.
The only supplies you'll need are a not oft seen exterior wall and the following: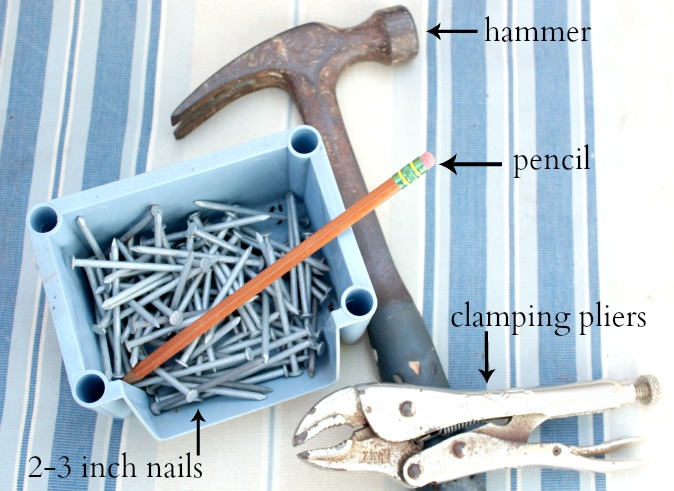 So, side note, but do any of you have labels for your things in your shed or garage?  I told Joel that I wanted a label maker and he said "you should totally get one".  And I said that I thought it would help him keep everything in the right spot in the shed.  And he said "that's stupid".  😉  But there are few things I dislike more than looking for something that I know where it is supposed to be and having it not be there and knowing who was the last to use it.
Is that organized or anal?
Ok, back to this husband proof real simple garden tool storage idea.
After tripping over the garden tools a handful of times I decided to just take the side of the shed that is only 2 feet from our property line and create a little grid of sorts of hanging garden tools.
I had actually laid out the tools on the ground and then totally disregarded my plan.  Here's what I ended up doing.
Step 1 – Take your largest, most awkwardly shaped tool (ours is the large lawn rake) and find a spot where it will fit well.
Step 2 – Use your pencil to mark where to put your nails.
Step 3 – Hammer in the nails.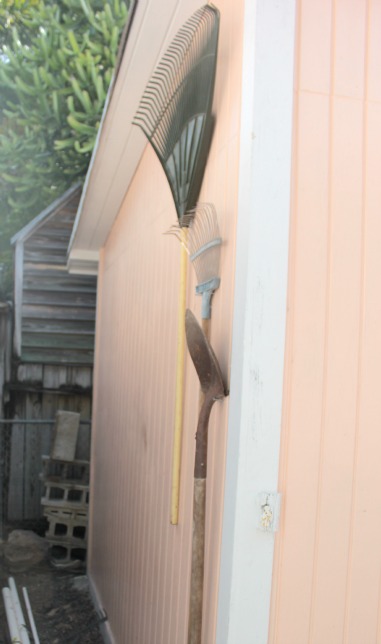 Repeat steps 1 – 3 until all of your tools are hung.  🙂
A few bits of info that worked well for me.
1. For our space, it is a one entrance little nook, so I was sure to put the most used (rakes and shovels) tools toward the front end and least used (post hole digger and hoe) at the back.
2. Stagger the heights you hang each tool to maximize space.  I wanted to leave room for the inevitable future awkward garden tool purchase.  I think the best organization and storage solutions are those you can grow into and won't immediately grow out of, if you know what I mean.
3. Angle the nails downward so they hold each item like a little DIY hook.  And if at first you don't succeed, just hammer up under the nail to adjust the nail once it's already in.  😉  I did this on many occasion as I didn't bother to measure or check for level … a few taps of the hammer in one direction or another fixed any minor off kilter nail.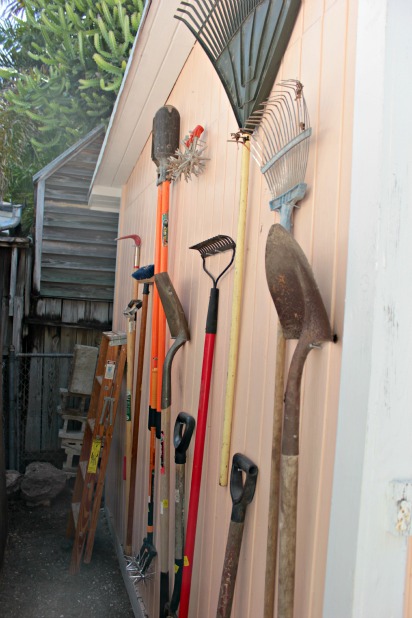 Oh, and as for the clamping pliers … these are for sure one of my favorite tools.  I love that they clamp right to whatever you're trying to bend, turn or screw/unscrew so you don't have to put your energy into holding them tight … they do that work for you. We have a pair similar to these.
I only needed them for this project because we have this garden cultivator thingy with the spikey things to basically turn up small areas of your yard like a rototiller would and the hook at the handle end of the tool had been turned so the spikey cultivator end wouldn't lay flat up against the she wall unless I bent around one of the nails.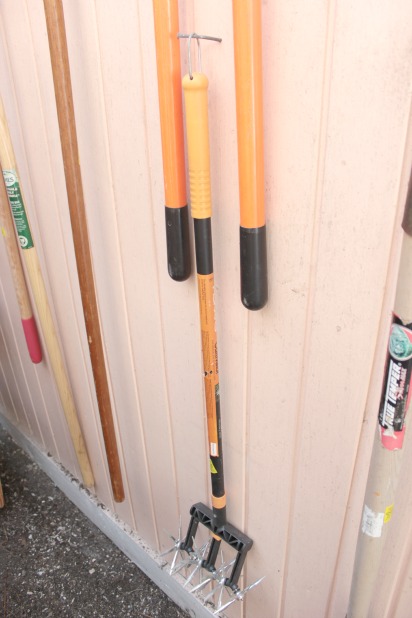 That picture really does nothing to illustrate anything other than the spikey end lays flat against the wall so you'll have to take my word for the fact that I MacGyvered the nail with my clamping pliers to exactly the right angle to give me the desired result.  🙂
And there you have it.  One real simple garden tool storage idea that will keep me happy and my man organized.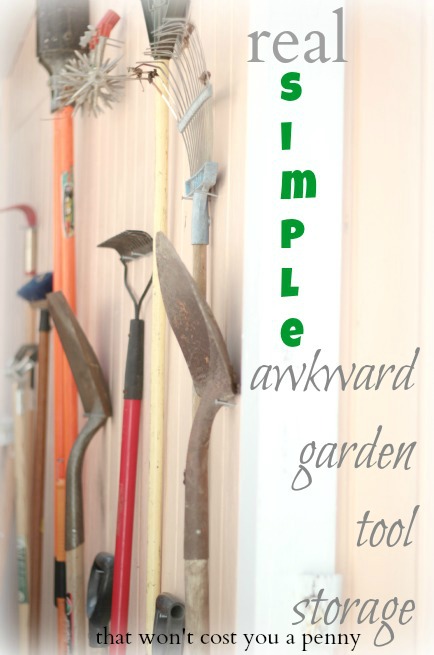 Update:  We have started the whole house renovation inside.  You can see how to remove a drop ceiling, how to paint over cracked paint, the DIY lesson we learned the hard way and our first finished wall (board and batten baby!).
Have any real simple storage ideas of your own to share as this new home owner embarks to organize every nook and cranny of this place?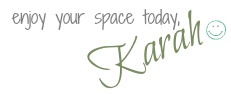 *post contains affiliate links for tools we own and love