That's right!  I found the lazy easy way to do something new.  Shocking, I know. 😉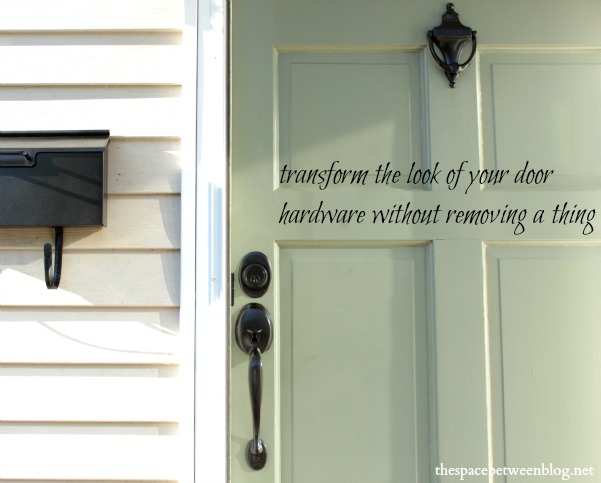 And today we're talking about painting door knobs … without even removing them.
That's right!
This was one of those projects that I knew I had to do … and just to refresh your memory on how I knew … unless I wanted to buy a whole new set.  Which, ironically, I knew I didn't want to do.  😉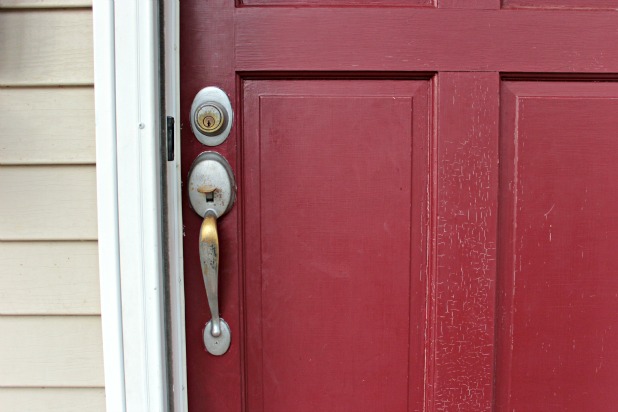 Hey good lookin' …
Yeah, she'd seen better days.  Actually, I first decided to paint the old brass hardware a brushed nickel finish more than 6 years ago, and it worked out really well for about 5 I guess.  🙂
At the time there weren't any special products on the market and I didn't really know of anyone else who had done it (oh to have been blogging before blogging became blogging) so I just grabbed a finish I liked and got to painting.  We used the back door primarily so this wasn't a heavy traffic door.  The house has been rented for the last 4 years and the front door has seen a lot more action (ifyaknowwhatimean). I'm not sure I would recommend this option on a door that is used multiple times a day.  But only time will tell with this new type of paint.
I used the Krylon Rust Protector paint in the Oil Rubbed Bronze finish and one of the best parts about this paint that it dries to the touch in 8 minutes!!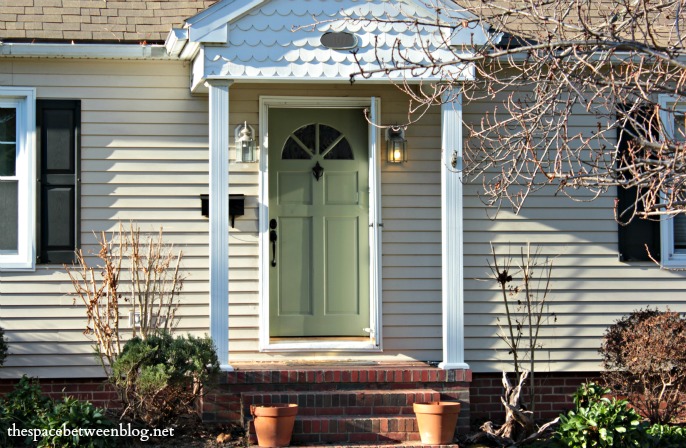 That feature is seriously awesome.  And the paint coverage was amazing.  This paint is specifically designed for rust protection when used on metals.  The key is to shake the can for at least two minutes … get all the active juices mixed up properly in there and then just go to town.
Once I got started, I decided to do the mailbox too … and then the mailbox at another house … and then the house numbers at that other house.  Yeah, it just worked really well.
The picture taking notsomuch.  I think I must have gotten wrapped up in what an instant transformation the paint made, and how seriously awesome the dry to the touch in 8 minutes feature was, that I didn't bother to take any photo breaks.
But, for anyone looking to get to work painting door knobs without having to remove them, here is how I did it.
Supplies:
Step One – Gently sand the area you're going to be painting to scuff up the surface and, in my case, get rid of any loose paint from the previous paint job.
Step Two – And the most important step of all.  Tape plastic wrap around enough surrounding area that you can spray paint in even strokes without having to stop your stroke over the hardware you're trying to paint.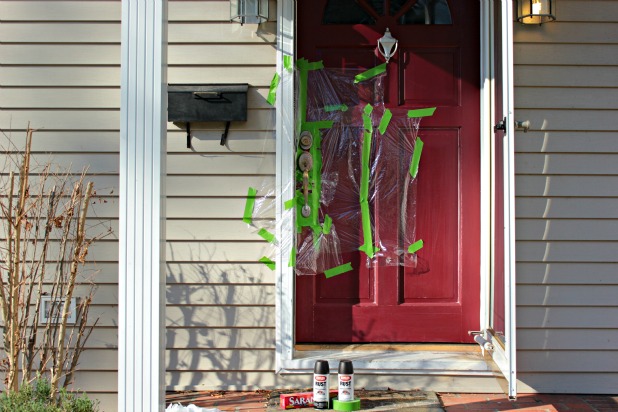 This is one of those check, check, double check steps.  Make sure every possible surface is covered with the plastic wrap, make sure every little seam of tape is securely attached … and then check it all again.  🙂
Another part of this job that worked out really well for me was that I actually thought to do this before I painted the door.  So I knew I didn't need to be super precise with the tape around the actual door hardware because it was just going to get painted over anyway.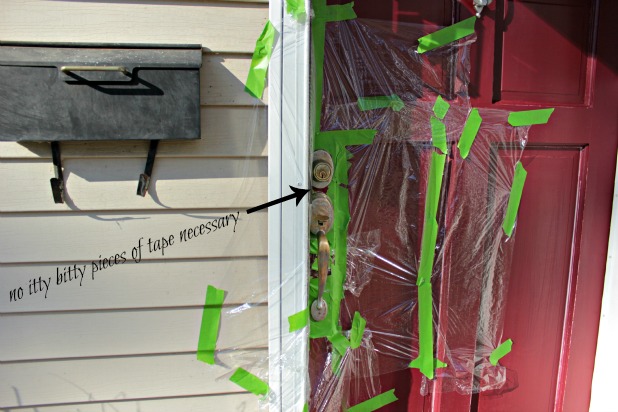 I love when I actually have forethought … that doesn't happen all the time.  🙂
Just a note here, the mailbox is just hung by 2 screws so I took it down and painted it separately on an a piece of cardboard.
Step Three – Spray paint in smooth, even strokes across your surface.  I did about 3 or 4 coats total.  I would paint the hardware, the knocker, then paint the mailbox, then go back to the hardware.  This is where the 8 minute drying time worked to my advantage.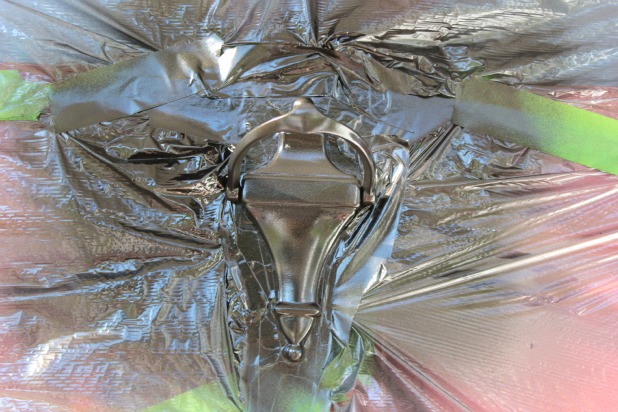 And this what she looked like when I removed the tape.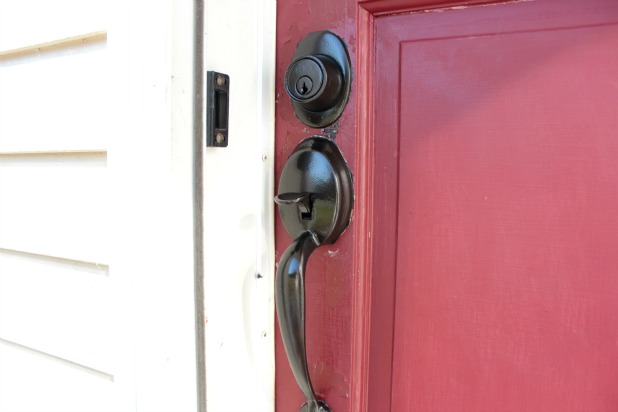 I somehow managed to get one little oops paint spot on the door frame … did you see it?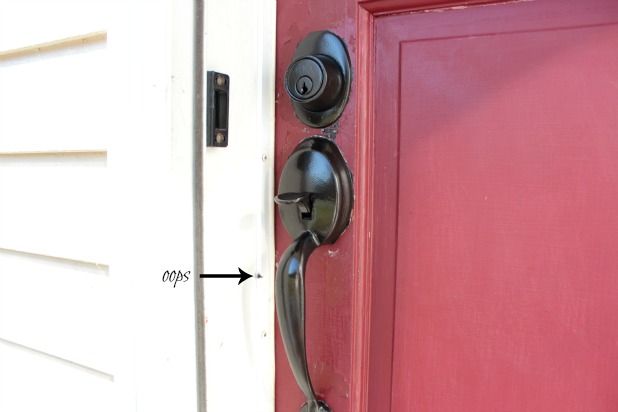 I actually just used the sandpaper to lightly scrape it off.
Step Four, if necessary – After I painted the door I sprayed some paint on a paper plate and used a craft paint brush to do a little touch up work.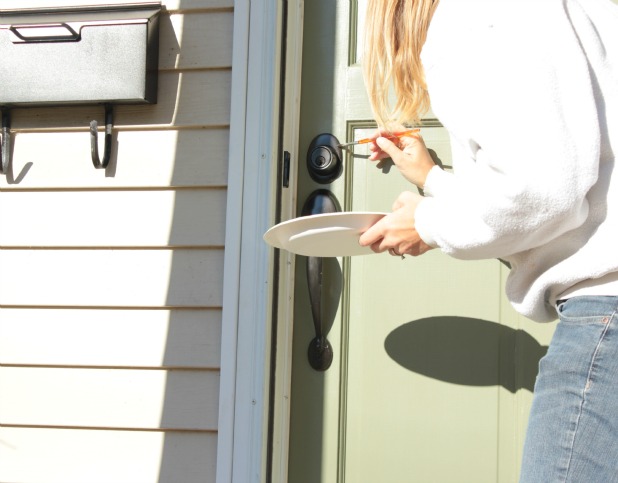 And the final product after the fresh coat of paint on the door.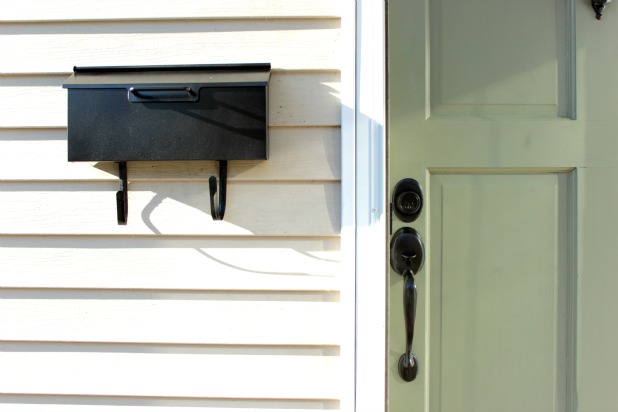 For the price of a can of spray paint and about an hour of time I'd say this little upgrade has completely transformed the look of that front door.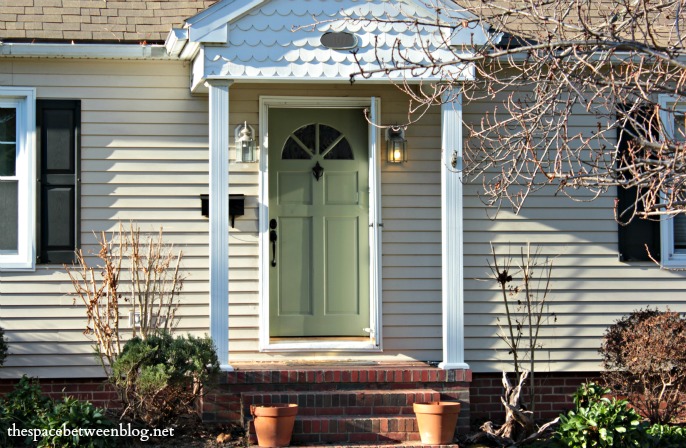 If only spray paint could transform the look of landscaping, too.  😉
What do you think?  Not a bad nearly free total transformation, right?
If you want to see how I scored the paint for the door for $2.50 you can see it here.  And if you want to see how I learned that plastic wrap is so much easier to work with on these small projects, you can see a plastic wrapped faucet and kitchen sink here.
And if you want to tell me what you think I'd love to hear from you in the comments.  Your thoughts on the color change, hardware change, climate change … really anything, they're all welcome.  🙂

*there are affiliate links in this post for products I know and love
*I was given the Krylon paint to try, but the opinions are always 100% my own.  Our full disclosure is here.