That has a way better ring to it in my head.  Like "shut the front door!".  Like "no way!".  Or "way to go!".  Ahhh, well … better luck next time.
Paint the front door!
Nope, still not right.
Ok, instead, let's start out today by taking a look at this picture …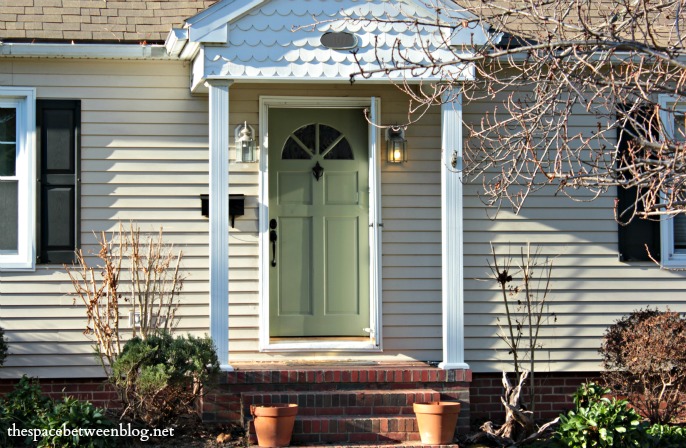 … and tell me the first three things you notice.
Ok, I'll go first.  😉
1 – Hello sad, sad landscaping and empty pots.  It's the mid winter blues out there.
2 – Is the whole "one light" a new trend we're trying to start?
3 – I am in love with the light shade on the door and dark shade of the hardware.  BAM!
4 – (because I'm an overachiever) The dark hardware plus the dark mailbox plus the dark shutters make it seem like dark light fixtures would be in order.  Hmmmm … and the project list continues to grow
This is a picture of what was our primary residence in Maryland.  Such a great house, and yet another one that we're saying good-bye to.  We seem to be doing that a lot these days. Watcha gonna do, right?!?!
The time has come and we're ready to let her go.  But we couldn't very well expect someone to fall in love with her when she was looking like this.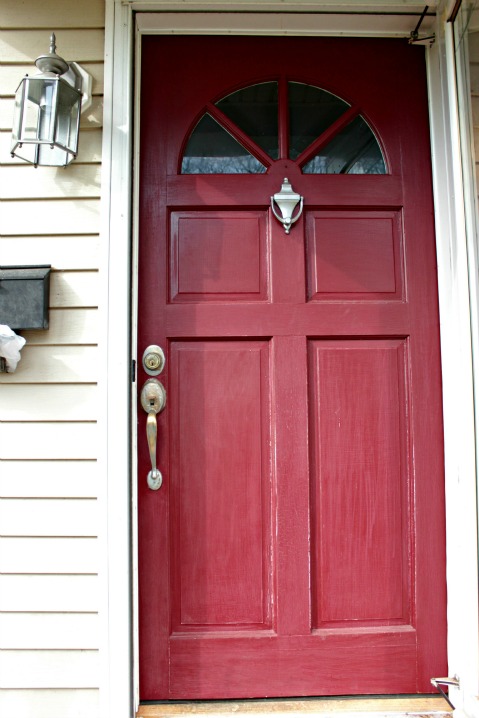 That picture is actually after I sanded her down … and might not look too terrible from that distance … but this is her close up before any sanding.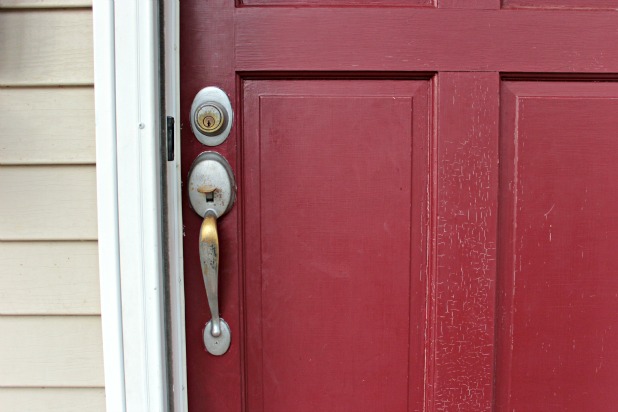 Yep, I was painting hardware before painting hardware was cool.  And I love a good crackle paint finish, but not really on a front door.  The last time I updated the look of that door was probably 6 or more years ago.
I really was just going to repaint her a similar shade … I really like the look of a dark red front door.  And why complicate things.  Because I can.
I had found the little Valspar sample pots at Lowe's and figured the easiest solution would be to just pick a color that was easily available … I think the sample pots were about $3.50.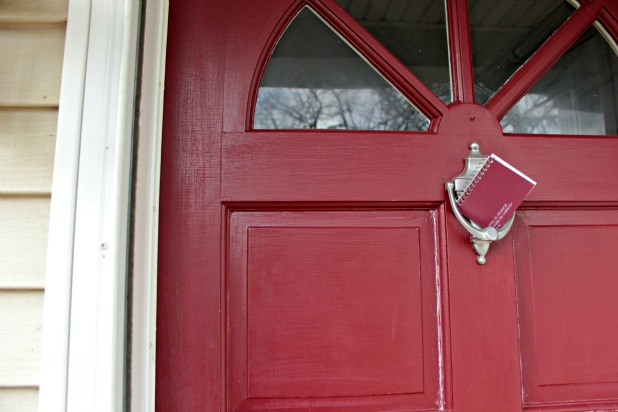 But I first worried the shade of red they had had too much blue in it, making it appear more purple than I wanted.  Maybe a yellow would be fun?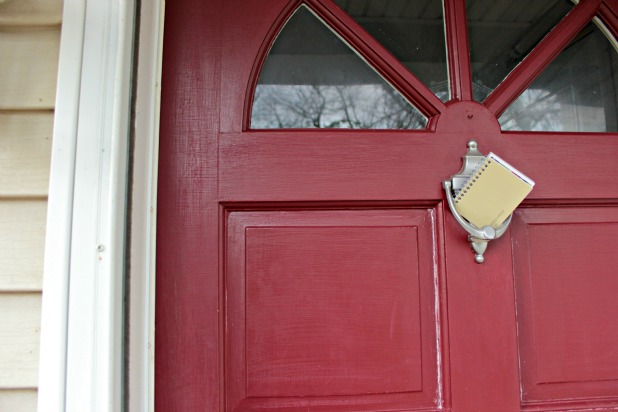 But then I worried it was too similar to the color of the siding.  Maybe grey would be good?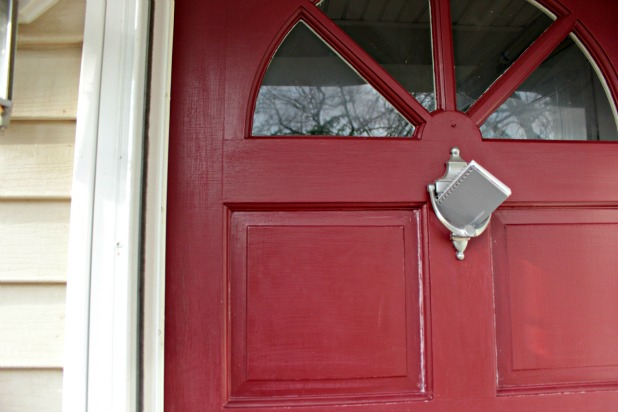 But the grey was just so … grey.  Maybe this color?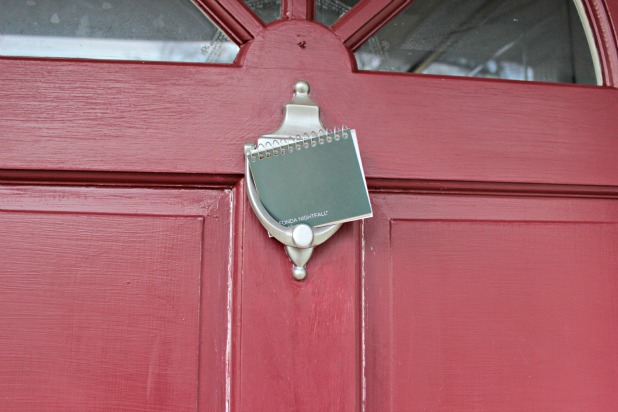 I actually really liked this option.  It would cover the red great.  It was a rich shade of midnight blue, with a lot of charcoal tones so it wasn't screaming blue.
But I already had a plan to go dark with the hardware.  Did I really want dark on dark?  Would it be enough contrast or would the hardware just get lost on the dark door?  Maybe an earthy shade of green would be the ticket?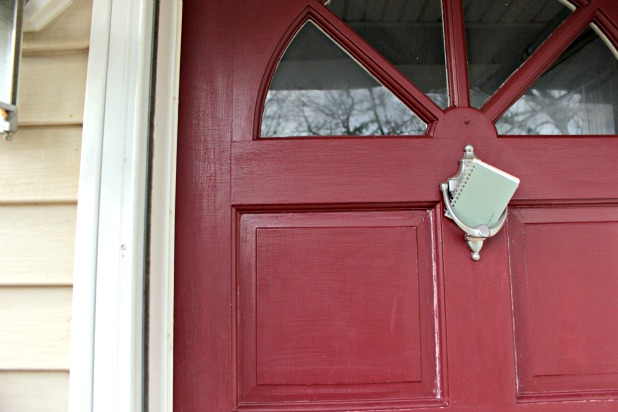 I kinda liked it.  Green is my favorite color, so it's not really surprising.  I was thinking it would look great with some fresh, dark hardware.  It went well with the neutral siding, but still had enough presence to make a statement.  Let's do it.
Then, in one of those moments you hope to happen during every project, I walked in to Lowe's to find almost the exact shade I had decided on in a quart can on the mistint table marked $2.50!
You know the moment, when you have to grab something so quickly you almost look like you're up to something bad.
Then you look around so shiftily that you now definitely look like you're up to something bad.
Then you try hard to move in slow, normal motions because you now feel like you were doing something bad.
Yeah, I was totally there.
So on my slow, casual walk to the check out I gave it a thorough once over.  Make sure it's the right color (check), finish (check) and type of paint (check – more on that in a minute).  And it was more paint than I was expecting to get and $1 less than I was expecting to spend.  LOVE those project moments!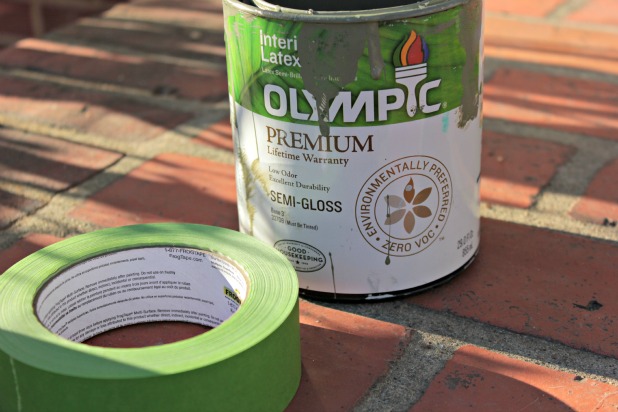 So here's the deal with the interior paint on an exterior door.  I had actually done a bunch of research on it, because the sample pots were also interior paint.  Turns out exterior paint is not stronger than interior paint so to speak.  Exterior paint is made specifically to hold up to exterior elements like wind and sun exposure.
This front door is covered year round by a storm door so she only comes in contact with wind when you enter or exit.  And with this shade of green a little sun fading doesn't really seem like a big deal to me.  And did I mention it's a quart of paint for $2.50????  🙂
Consider it a calculated risk.
Now for anyone looking to tackle this kind of a project, here are my tips for how to paint the front door:
prep the door – sand her all down and fill in any cracks in the door itself with exterior grade, paintable caulk, like this
work at a time where you know you'll be able to leave the door ajar for a few hours to let it cure
work in sections, I like to brush around all edges of any panels in the door and roll the flat surfaces to save time, but then brush over to give it a brushed on look
I debated not taping off the little half circle windows but since I didn't have a razor blade on hand to scrape off the paint after the Frog Tape came in handy
2 – 3 coats should do the trick, don't judge the look of the finish after the first coat, it will be streaky and blotchy and unattractive … the awkward pre puberty version of the final product
For only a $2.50 investment, and the hour or so it takes to actually paint the front door, you've got yourself an awesome upgrade.
Update:  I show you how I transformed the look of the hardware without removing it here.

What do you think of the color?  What do you think of the dark hardware?  What do you think of the one light bulb?  Awesome, right?!?!  :/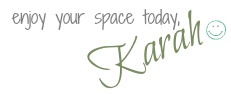 ps.  The winners of the EPIC De-Stash Bash Giveaway have been announced, see if you're one of them in the Rafflecopter form here.
*post contains an affiliate link for a darn good product