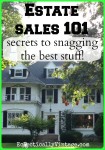 I know, I know … progress updates on the house have been non existent slow lately. Truth is I really do have a hard time balancing it all when company comes to visit.
We joke that everyone needs to come prepared to work, but it's always fun to use them as an excuse to step back for a bit and soak up this vacation location of ours.  I've tackled a few random things here and there between company, a last-minute trip away with Joel and keeping up with this 31 day series and will be getting you up to speed soon. Pinky promise.
But let's talk shopping instead.

(more…)