Hello there!!  You settling into 2014 smoothly?  We've hit the ground running with everything the new year has brought our way and am already looking forward to more company coming soon.
My dad and his girlfriend are coming back for a "project" trip.  How cool is that?  Remember when they combined a bit of projects with their first Key West vacation a few months back and when they heard I had to reel back a bit on house projects to move full speed ahead with book projects my dad was all "why don't we come down just to work on projects?".  And I said "I'll start making your list right now".  So that's pretty cool.
And prioritizing some of the next-step things that we want to accomplish got me thinking about this house project as a whole.  I mentioned when I told you about our little closet updates that our house guests are pretty surprised at our high ceilings and tall closet doors, well they are also enlightened by the in-real-life walk through of the house because man it's hard to put some of our awkward little spaces into perspective on this here blog.
So I made you guys a floor plan!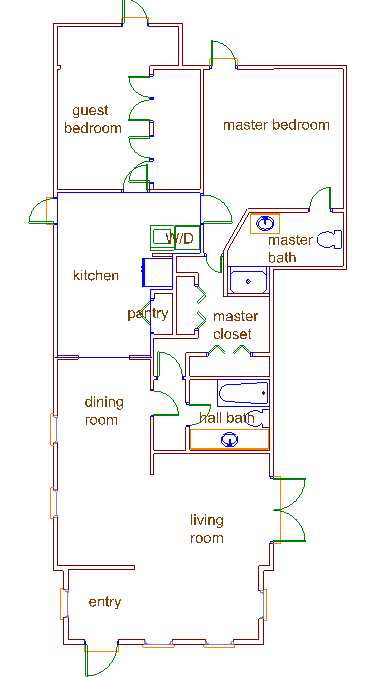 Pretty cool, right?!?!  I may be having way too much fun with this little program.  It's from HGTV and it's available on Amazon for anyone interested (aff link to the program here).  They have no idea I'm using it, and I'm not getting paid for this post.  A friend of mine had the program and helped me come up with some space planning for a really awkward closet/hall/bath area we currently have, more on that in a bit, and I thought it would be helpful to have as we delve into some of the more complex updates we're going to tackle like the kitchen and the master closet.
Merry Christmas to me.   🙂
And, for anyone looking to be able to play around with different ideas without actually tearing out any walls or running any new plumbing, this is a wicked fun tool.
So, let's check out the space we're working with and what we're thinking, and what changes we've already made. I haven't made a rendering of the outside of the house, but I could, this program has some pretty cool features and I've really only scratched the surface so bear with my remedial floor planning abilities.
Starting at the front of the house, it's pretty simple, but there are a few ideas I'm excited to see take shape this year in addition to the changes we've already made.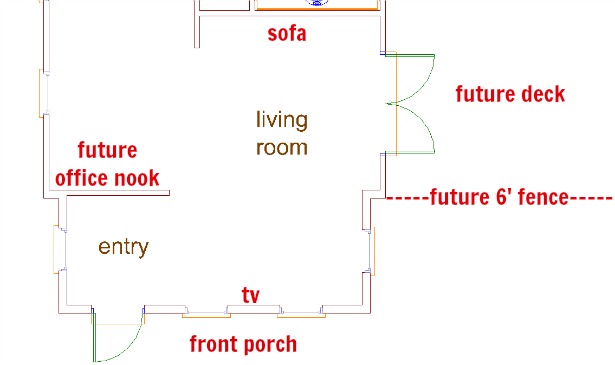 The whole feel of this space has changed even though the shape of it really hasn't.  But that vaulted ceiling in the entry remains one of our favorite upgrades to date.  It runs the full width of the house for the front 6 feet of the house when you enter the front door. Adding the double french door on the right side instantly brought in more light and we can't wait to get all of our furniture out of the side yard.
Yes, 9 months later and we still have furniture out there.  Hold me.  Once that little redneck situation is taken care of we look forward to adding a length of fence from our house to our property line and maybe a deck over the concrete to create an inviting, and private, side yard for outdoor dining and entertaining.
The one other big idea for this picture is the office nook.  I had originally thought a wall with built-ins including a desk, mostly with closed cabinets so it didn't scream office in the middle of the living and dining room but it served the purpose and hid all of the uglies (printer, supplies, etc) at the same time.  But I may be able to inherit a pretty cool hutch from an aunt that could serve the same purpose, minus the desk, so we're weighing our options. The dining room table as a desk has been working for me pretty well, it seems downright luxurious actually after having only furniture in our bedroom for about 7 months.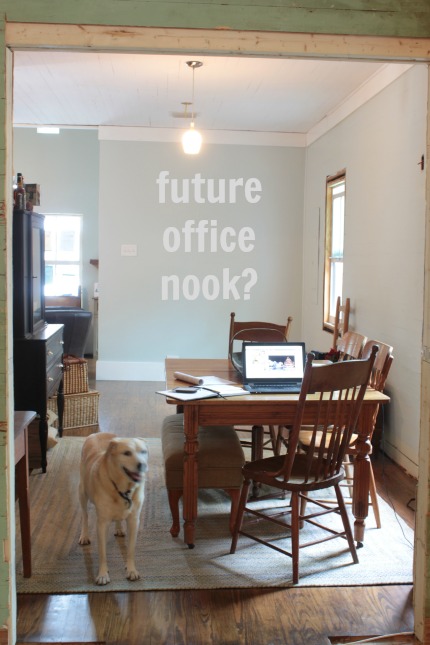 What we have already accomplished and what we hope to get done this year in this space includes:
remove all paneling and drywall
strip wood slat walls – here
remove drop ceiling – here
patch, prime and paint wood slat ceilings – here
install board and batten accent wall – here
prime and paint walls – here
install new double french door 
replace all windows – here
remove carpet and vinyl tile floor – here
remove wall closing in entry – here
raise ceiling in the entry – here
trim around the windows
trim around the front door and double french door

plantation shutters for windows

install wood slats in vaulted ceiling
recessed lighting in vaulted ceiling
chandelier in vaulted ceiling
office nook
finish baseboard and molding
Now, this little picture might require a new level of concentration, the middle part of the house is where the house guests go "whaaaaaa?".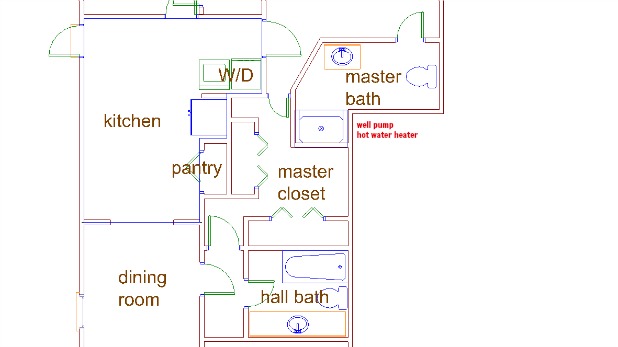 The left is pretty straight forward, the future office nook from the picture above will transition right into the dining room that leads right into the kitchen.  It's that there mess on the right that has us all scratching our heads and shrugging our shoulders.
Yes, that is a weird little hall in front of the hall bath.  Based on the evidence we've uncovered under layers of drywall and paneling we think this little house started as a two bedroom and the current dining room used the be the living room and the current living room used to be a bedroom and what is labeled the master closet used to be the second bedroom and that little hallway connected everything.  I'll give you a second to analyze that theory.
Either way, currently it just provides a labyrinth of unnecessary doors and walls and small passageways.  But we have some fun plans that I really hope we can pull off and make what is now the worst part of the house into a feature any future home owner will think is worth our asking price and beyond.  One can dream.
So, here's the skinny, basically what is now the master closet is going to become the master bathroom and what is now the master bathroom, if one can even call a closet with a shower a "master bathroom", will become the master closet and we'll remove the hallway-to-nowhere for added space in the guest bathroom.
Like so.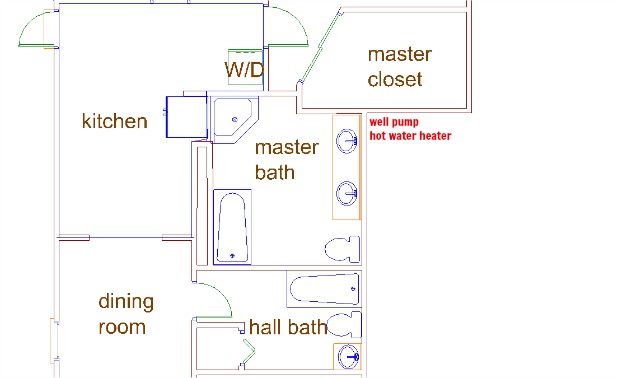 Without all of the random, haphazard closet walls and bi-fold doors there is actually a decent amount of space in that "master closet".  So much room that we're planning to turn it into the master bath complete with a shower with a separate tub and double vanity.  And by pushing the current "master bath" wall out into our bedroom about a foot we can make a walk-in master closet.  It will be one of those long and narrow set-ups with all of the items on the right side after you walk in with some hooks and accessory storage on the left hand wall.  The closet door is moving to that angled wall pretty much right when you walk in our bedroom.  It's definitely an odd-shaped closet, but I'm hoping to harness my inner creativity to maximize the storage space available.
As for the new master bathroom, you will enter through the door between the shower and the master closet, I forgot to put a door on the floor plan so it looks like a wall, but it will be a door unless we learn how to possess walking-through-walls-Harry-Potter-like skills.  There is an opening there now and we're thinking a pocket door would be nice to avoid a bunch of swinging doors since the entrance to our bedroom and closet are in that general area, too.  It was this floor plan program that helped my friend Eryn and I come up with a bathroom layout we think will work well for us.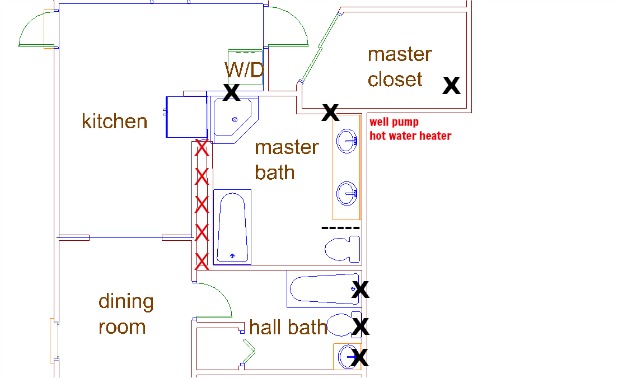 A few key items we needed to consider:
current location of water and plumbing lines (indicated by the black Xs in the picture above) – with the new bathroom floor plan we can use the already existing water and drain lines that run to the washing machine for the new shower, we can use the existing water and drain lines that run to the current master shower for the new double vanity, the new toilet will be very close to the existing pipes for the guest bath so we're hoping that will transition well and then the addition of a tub in the master bathroom is the one main new line of pipes we'll need to run

load bearing walls – pretty much all of the random walls that create the current awkward master closet layout can be easily removed, and we can even remove the kitchen pantry and move the refrigerator farther into the kitchen to create more functional space in the bathroom for all of the amenities we'd like to add. We might need to get creative with the wall between the kitchen and the bathroom (the red Xs in the picture above) since part of it is load bearing and part of it isn't.  We're thinking about storage in between the studs for towels and accessories in the parts that can't be moved.  One easy addition will be a half wall to the right of the new toilet in the master bathroom (the black dotted line in the picture above).
where to put the clothes washer and dryer – we really considered every option we could think of, including moving it outside, which would have been unheard of before we moved to Curacao, but our washer was outside there and we've seen many outside here, but we just didn't think that was the best option for resale. So we were limited to pretty much it's current location based on the size but we are going stackable and hope to build a closet-like structure around it with maybe a sliding barn door.  Moving it into the master bathroom isn't out of the question but we worry it will cramp that space too much and it would require moving more plumbing which I personally am trying to avoid as much as possible.
As far as a to-do list goes for these rooms:
Kitchen
widen opening between kitchen and dining room – here
widen attic access in ceiling – here
update all of the appliances and amenities
enclose washer and dryer
remove tile floor
remove drop ceiling
expose wood slat walls?
install new cabinets
install more cabinets and storage
prime and paint
baseboard and molding
Master bathroom and closet
As for the two bedrooms, the changes have already been made in the guest bedroom and the master is pretty much a square.  Beyond the new closet size there's more of an opportunity to make it fun with unique updates than any real floor plan changes.  I've been dreaming about white walls and trim with the ceiling painted a different color … we will see, this is the one room in the house that the ceilings are only 8 feet high.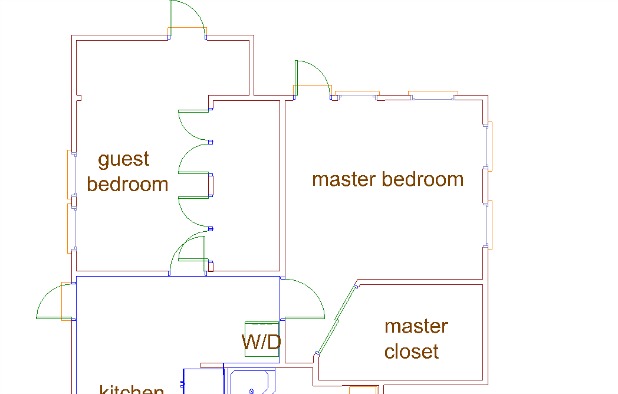 The guest bedroom renovation went like this:
remove both drop ceilings

– here
remove mirrored closet doors
remove carpet – here
remove paneling
remove and repair old drywall – here
patch hole from old wall AC unit – here
install beam header – here
drywall the ceiling – here
repair hardwood floor – here
refinish hardwood floor – here
build new wall-to-wall closet – here
build closet doors – here
build bed frame – here
add door to backyard – here
board and rope accent wall
baseboard, molding and trim
prime and paint – here
The master bedroom will have similar steps and let's just say there is still carpet and paneling so we will be going down that road from the beginning.  Again.
The current thought is that after the major book deadline in February Joel and I will move everything out of our master bedroom, bathroom and that weird closet and live in the guest bedroom while we tackle those three spaces together.  But we'll see, I'm sure we'll have more company planned by then so we'll just have to take it all as it comes.
Hopefully this put our little abode into a little more perspective for you.  I think it would be so cool to have an open house and just invite you all in so you could point and go "Ah ha!  So that's what you've been talking about.", but I guess this will have to do.
So tell me, is the floor plan how you envisioned it?  I've shown you a few pictures of that weird middle part here but she sure is hard to photograph right now since she's packed to the gills with stuff.  As for the outside, picture a yard that goes all the way around the house and is all concrete expect for the one yardscaped area in the back.  That's a whole new list of ideas to share one day.