Otherwise known as the post where I feel like I strip naked in front of you all.*
*sorry for that unnecessary virtual visual you now have  :/
But seriously, who talks about money?!?!  In a real, these-dollars-were-in-my-pocket-yesterday-but-then-we-did-this-and-I-had-to-hand-over-those-dollars-to-that-guy-or-that-store kinda way.
One of the great bits of feedback I got on this post was about money.  How much does a home renovation cost?  And how much do all of the little projects cost individually.
And, on a seemingly unrelated note, but it totally ties in so bear with me, I got a number of responses from you who found the blog around the time we bought this house in Key West. So all of my mentions of Curacao and references to driftwood projects and posts about places we've traveled seem to you like I'm talking about a different blog completely.
And, on yet another seemingly unrelated note, but it totally ties in so bear with me, I was talking to a friend of mine a few weeks ago, who has read the blog from day one … and had never noticed these little page tabs before …

It's like you came by the house one day and I opened the door and said "Hey", but never invited you in.
You're just standing out there and I pop out every few days to tell you about what I've been up to inside, but I don't ever say "you have GOT to come check this out!"
I'm wicked sorry about that!
Luckily it's Key West and we have nice weather year round and a covered porch with rocking chairs, so it was comfortable enough for you to stick around.  But today's the day!
Come on in!
Let's take a look around.
Can I offer you something to drink while you gawk at how inexpensive a full home renovation, even on a budget, isn't?
But, before we get to the budget, let's start at the top.
The image where it says the blog name, the space between, that's technically called the header … but if you do start to poke around a little bit and find that you're lost with a bunch of lamp shades and other random items we're storing in our master bathroom right now just click right on the "the space between" and it will bring you back safely to the front porch home page where our most recent posts are.
And those page tabs are where I've separated all of our posts from day one by category.  They're pretty self-explanatory, but the Photo Gallery is where I stick all of the posts that are more about real life than DIY.  If you click on that and scroll down (all of the pages are in chronological order with the most recent at the top) to the bottom you will start to see a "foto friday" series and there are a lot of pictures of our experiences in Curacao.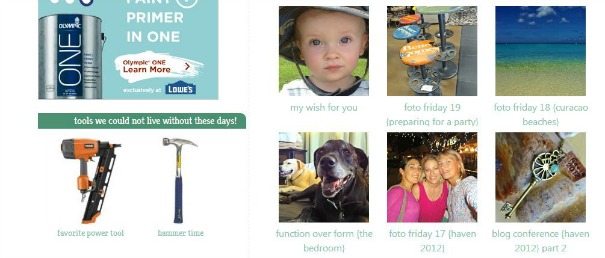 You can either click on the images or the text below them to go to that specific post.
And that section on the left there that says "tools we could not live without these days!", those are affiliate links to products we use and love.  I try to switch them up every few months so sometimes it will just be products I think are super cool, but the section heading will change right along with the items I'm sharing.
If you happen to click any of those links or ads that are eerily tailored to what you've been searching for online and then, say, do your Christmas shopping, you would be helping this blog pay our bills.

And when you're in a post, let's go with the one about Curacao beaches, it's easy to get from post to post by clicking either of the titles right at the top.

Those are the posts that were published right before and right after the post about the beaches.  So you could literally start at the Driftwood Christmas tree post and follow the journey from the beginning.
I'll apologize now for some terrible photography you may come across. #photographerintraining
Now, I've recently added this little section in the left sidebar as well.

This is where I've hidden shared the breakdown of all of the money we're spending on this renovation project.  For me, that format is much easier than trying to figure out what percentage of the tub of joint compound I used per wall.  Math is not my thang.
And investing in a nice tool, versus supplies needed for a project get weighed totally differently around here for obvious reasons.  Remember that we opted for a hole saw to create our own closet rod supports vs. just buying plastic rod supports that cost about the same when we made our easy diy wall to wall closet?
In the budget breakdown I list all of the items we've bought and as projects are completed I link to the posts.  I literally just add receipts as they come in so that page is constantly changing.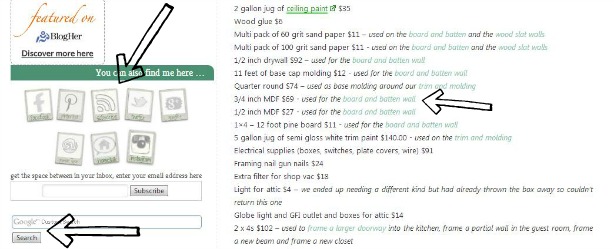 Also, I'm always mentioning different things I've posted on Instagram or Facebook, an easy way to make sure you get those little in between updates is by clicking those little polaroid picture looking icons, each one will take you to our profile on that social media outlet.  I'd love for us to be connected there, too!
And, that bottom left arrow is a search box.  If you're ever here and want to search for "curacao" or "pallet projects" or "stripper tools" just type what you're looking for in that box and you'll find all relevant posts on those topics.  (And a few online suggestions from Master Google so I apologize for what they recommend outside of this blog for your search "stripper tools".)  

And just a few words about this whole "budget" thing.  
We don't have a set amount that we've budgeted to spend on the project.  But we pinch ourselves everyday that while we were renting in Curacao for over three years we were able to save enough to make this whole experience possible.
As hard as it is to spend our stash o' cash, there really isn't anything else we'd rather spend it on.  Other than travel.  And dog treats.  And ice cream.
This whole deal really is our idea of a good time. Which isn't to say I don't have those moments where I'm all "man it would be nice to have a living room with a couch instead of a line up of things I need to paint".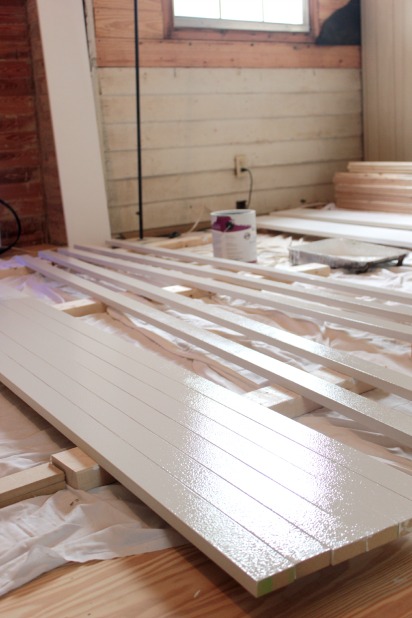 One day.
I'm convinced that one day that will happen.  

So, if you've never poked around a bit I highly encourage it.  We've covered a whole range of projects big and small and many are just waiting for their day in the spotlight in this house.  Like the pallet crate and diy silhouette art.*
*Just a little sidenote, when I reference old posts I will often link to them.  So when you see any text that's green you can click on that and you will be magically taken to the project I'm talking about.
Now's the time, head on over to the budget breakdown and let me know when you're available to invite me over for a drink so we can hug it out.  I'd invite you over here, but things are kind of messy these days.