This week is the week!
Remember in June when I let you know that OPC and their sister site The Better Half had invited tsb to participate in their Before & After Series?  It is their 5th anniversary of doing a wonderful series that benefits Habitat for Humanity.  A non-profit that is not only near and dear to OPC and The Better Half, but also myself and my in-laws.
My father-in-law has volunteered tirelessly for Habitat for many years, he's been his local chapter President and to this day collects cans for their cause throughout the year. Here's a picture of him in his local paper.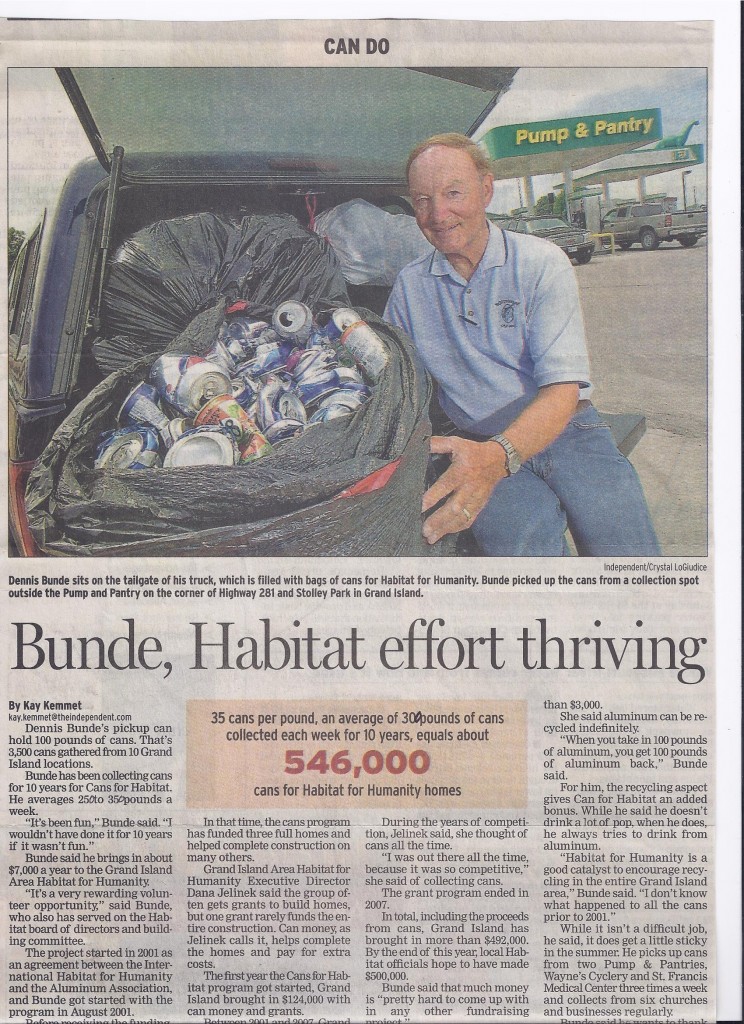 Yes, that says that my father-in-law collects between 250 and 350 pounds of cans each week and has been doing it for 10 years. And yes, my father-in-law had to correct the amount because they had misprinted it.  

 Pretty awesome work I think.  

The work that Habitat does is tremendous and the Before & After series is intended to help raise awareness for Habitat, and support their mission to provide decent, safe and affordable places to live.
This year, OPC has decided to run the Before & After series a little differently than in the past, and have invited a few other bloggers to join in the fun.
And this week is OUR week!!
You submit pictures and a story from a home improvement project you worked (no contracted jobs) sometime over the past year. Every week of the summer (June 20 – September 21), a winner is selected and their story is published online. Each winner gets a $50 gift card to either Lowes, Home Depot, or Amazon, and OPC makes a donation of $100 to Habitat for Humanity in their honor! At the end of the Summer, the best submission, as voted on by readers, wins a bonus $150 gift card to one of the three stores above.
The bloggers participating are (click on the blog name to see the winners already chosen that week):
June 17, OPC's The Better Half
June 24, Pretty Handy Girl
July 1, Beneath My Heart
July 8, ten june – I was totally going to pick this until I realized it had already won!
July 15, Southern Hospitality – another favorite!!
July 22, Charles and Hudson
July 29, House of Hepworths
August 5, the space between – RIGHT NOW!
August 12, Remodelaholic
August 19, DIY Showoff
August 26, My Blessed Life
September 2, Home Stories A-2-Z
September 9, Bear Rabbit Bear
September 16, Burlap & Denim
In the week we've been designated above, we will each be picking one winner from ALL of the submitted entries .

Here's How to Enter
If you want to submit a before and after story, email us your submission at beforeandafter@oneprojectcloser.com. Your entry can be in the email itself or attached as a Word document. Make sure to number pictures in order so it's easy for us to reconstruct the story, and please attach the pictures as JPEGs even if you also embed them inside the Word document.
Keep in mind that good before and afters include interesting pictures (before, during, and after) and a descriptive story. Here are some great examples from last year.
Also, OPC has a link party open for all the bloggers out there to submit your great transformations.
So, get on it, get yourself in the game … submit your most favoritest B&A and come back Friday, August 10th, to see who we picked as this week's winner!
And tell me, do you have a favorite charity?  A favorite before and after project?  A favorite way to kill time when you're not volunteering or working on a project?