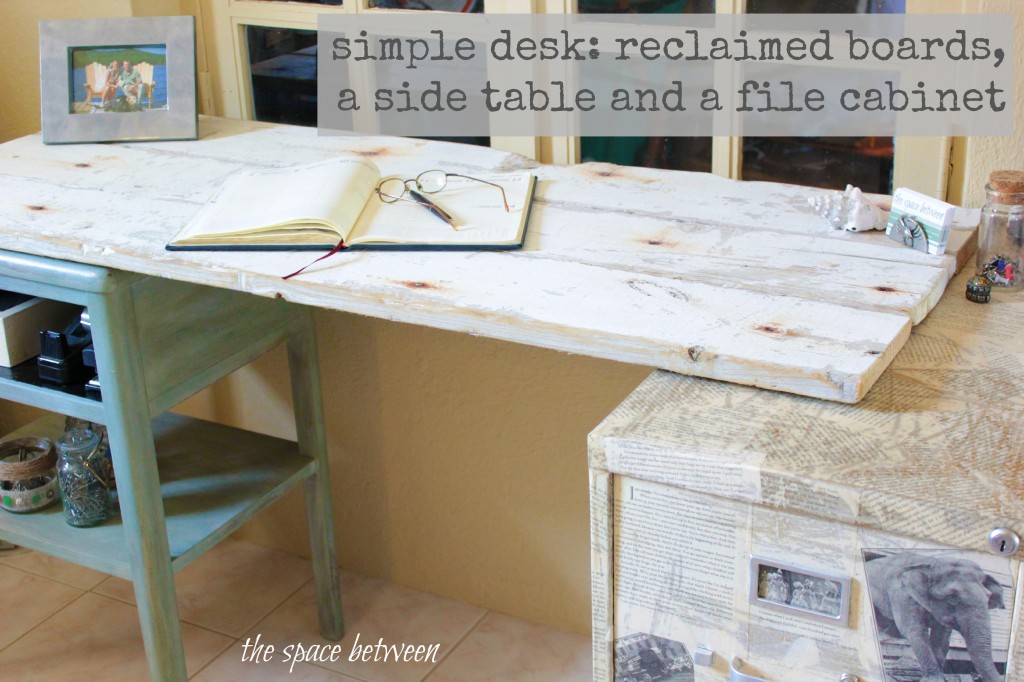 I'm not sure it's normal how much enjoyment I get from not spending money.
Seriously.
If I can accomplish something for free, I'm down right giddy.
It's quite the obsession actually.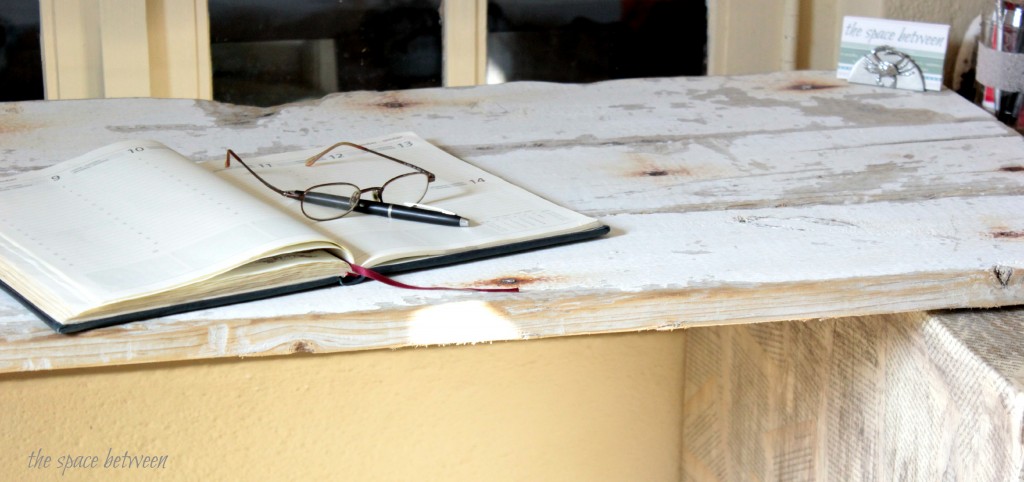 So, to have created a stylish, functional and totally free work space, that I now sit at everyday … just makes me smile at random times throughout the day.
Because I'm a loser.
And, yes, I know paint and file cabinets and side tables cost money.
But I have a desk, and it was originally just old wood.  🙂
And the paint I used for the side table were free samples of Annie Sloan Chalk Paint.  And the side table we bought for about $16 a few years ago (check out the before here), and my mom gave us the file cabinet that I upgraded with book pages a few months ago.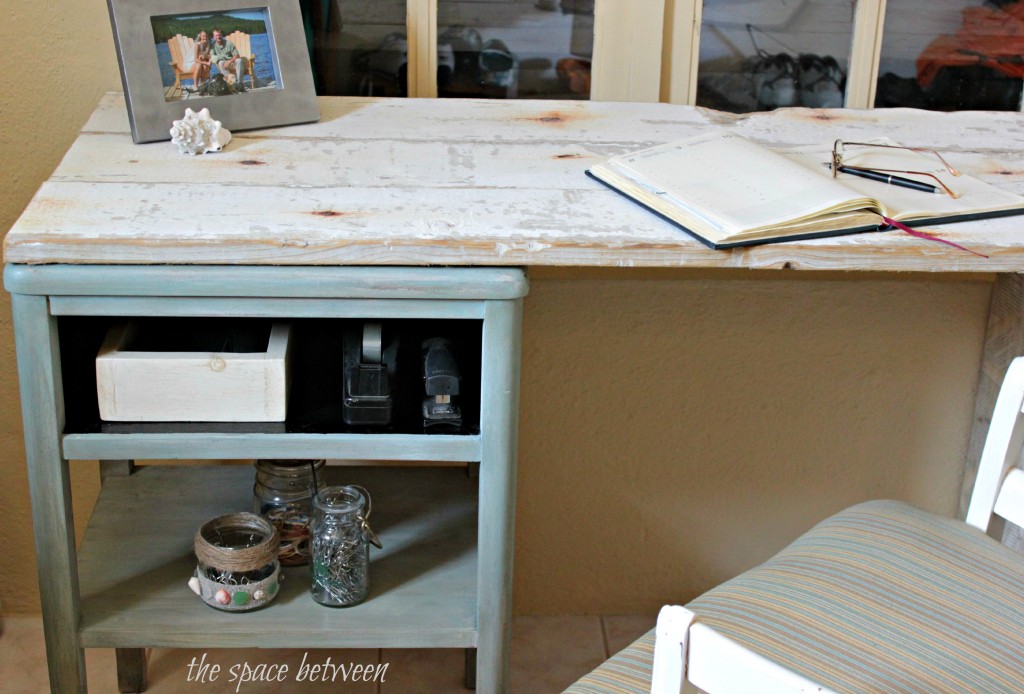 So, yes, there was money spent … a few years ago.
But, when I decided I needed a work space, and realized I could make a work space using items we already had … I was disproportionately (totally just spelled that right on the first try!!) excited.
Back in February I lugged home the beautifully chippy, 16 foot long, 1 foot wide board from the beach.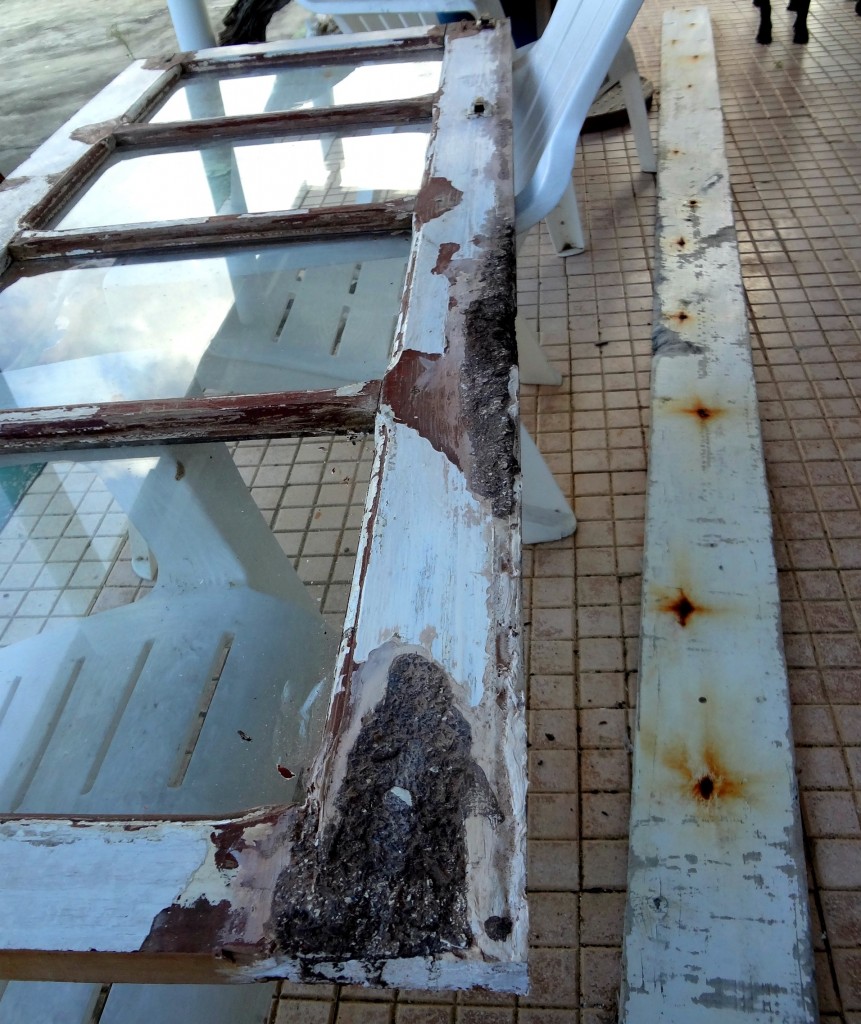 And it sat in about that exact same position for about 6 months because I am efficient.
I had thoughts of making it into a bench.  But this desk top thing is perfect!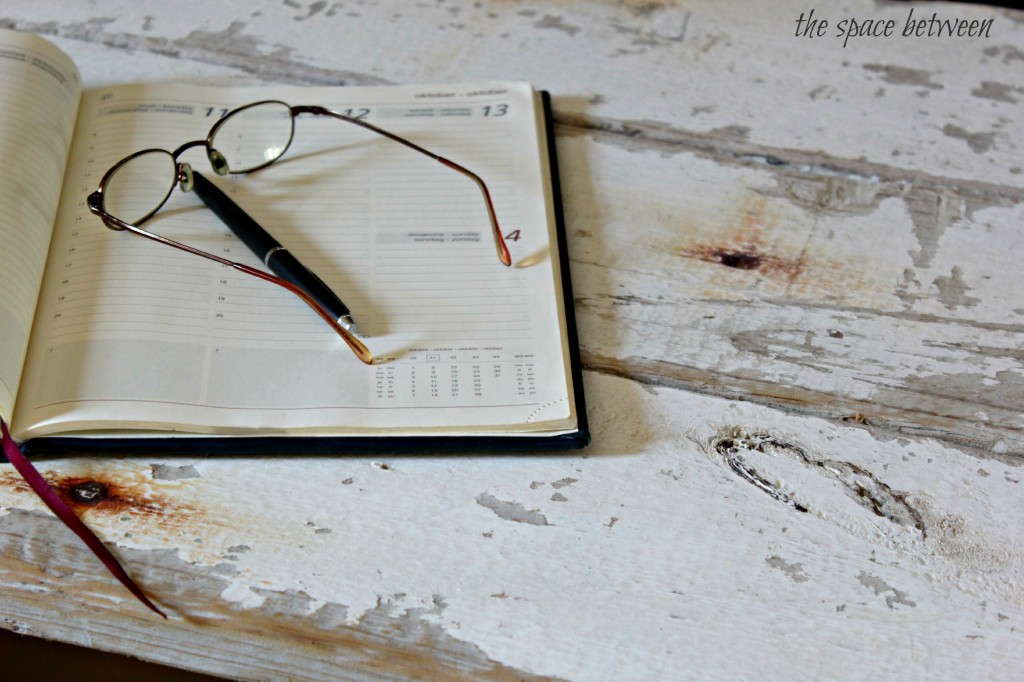 I just cut it in 3 equal segments.  And we can pretend I used the whole board, but truth be told I ran into a minor math snafu.  I measured it probably 50 times in 6 months … no joke.  But when the saw came out and I got to measuring, marking and cutting. For some reason unknown to me, I measured and cut the first segment 54 inches.
Such a nice cut, still a great length … but, to let you in on a little secret … 16 feet divided by 3 is 64 inches.  Oh snap!
On the bright side, after cutting three 54 inch segments I'm left with a beautifully chippy board that's 30 inches long … perfect for a new sign, I think.  🙂
Other than my math mishap, this a super simple idea.  Use scrap wood on the underside to attach the three boards together.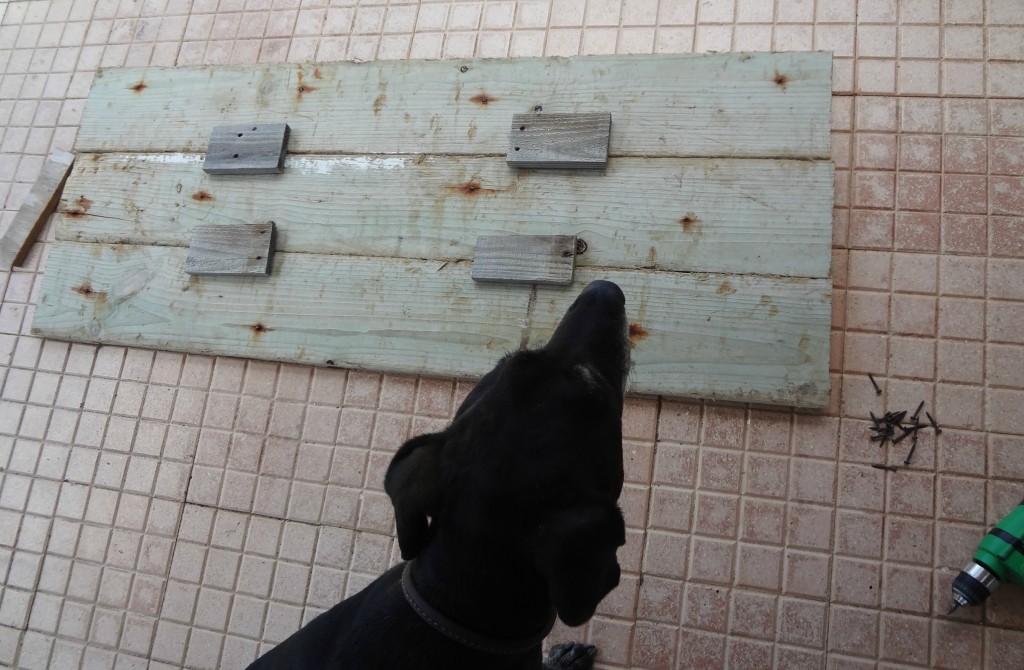 Then place on your bases.  And done.
And a bonus feature … since it's not attached to anything I can take her outside for photo shoots …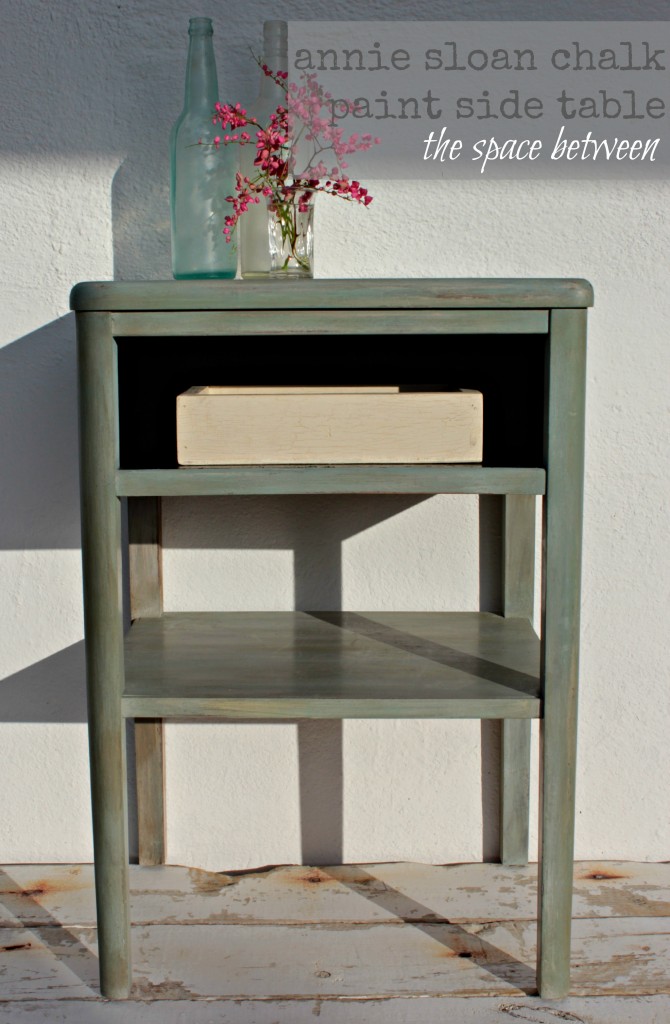 She covers up the unattractive patio tiles just perfectly. 🙂
This little diy desk has helped my daily organization exponentially.  I really can't even express how satisfying it is to have my own little space to be productive and creative. And I didn't have to buy anything new to make it happen!  #luckiestgirlever
If you want to see what I ended up doing with that decrepit old door in the pic above you can check it out here.  And if you think I've finished reupholstering that chair … well … you'd be wrong. 🙂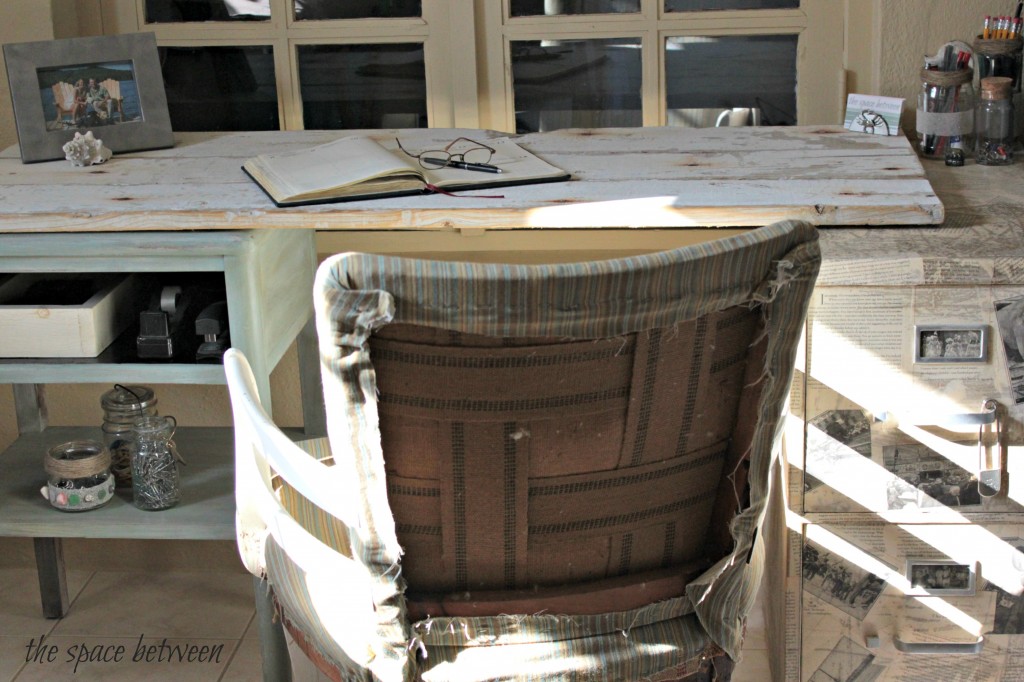 And now … to get your final installment of Organizing 101: Back to Basics, head over to Beckie's blog, Organizing Made Fun (Hello … she clearly knows what she's talking about when it comes to organization!) to learn about organizing your morning schedule.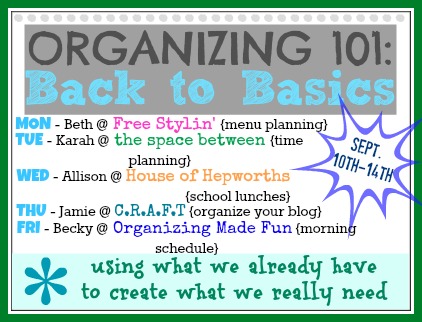 And tell me, what do you think of my desk?  Do you love free as much as I do?  Or are you a spender?