Thou cabinetree most fair and lovely.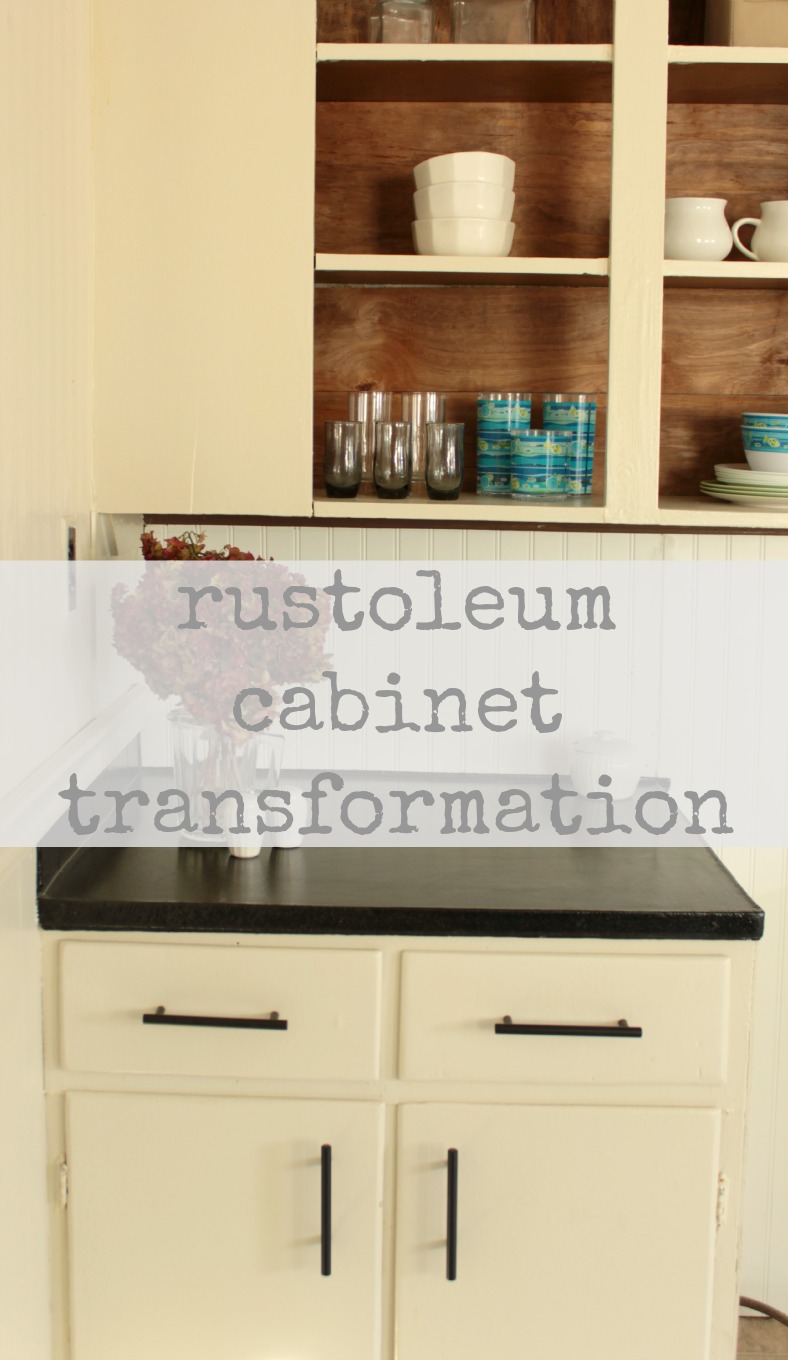 But, let me tell you, the cabinetry was not always that way.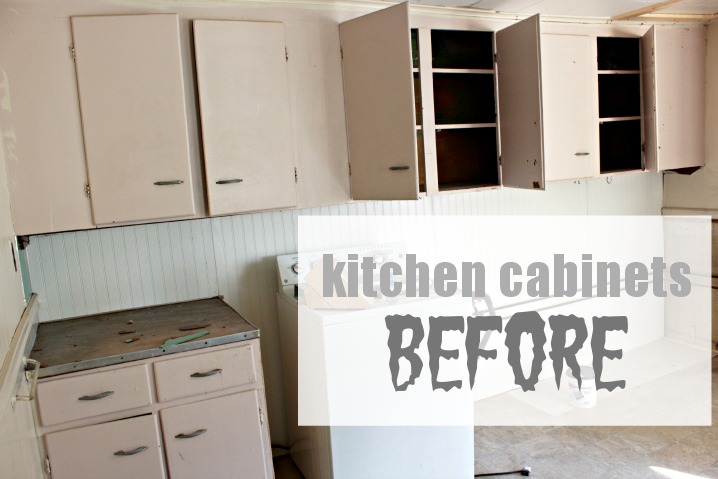 Yowza!
Thanks to one of our tenants we found ourselves with light pink cabinets in the kitchen at one of our rental properties.  No really, thank you previous tenants.
Combine that with the wood-stickered-but-actually-green-laminate counters and our kitchen was totally stylin'.  If stylin' actually means 'a total disgrace'.
But, with the wonders of paint, and paint specifically designed to transform the kitchen we find ourselves on the way to a kitchen with a lot of charm.
Enter the Rustoleum Cabinet Transformation Kit.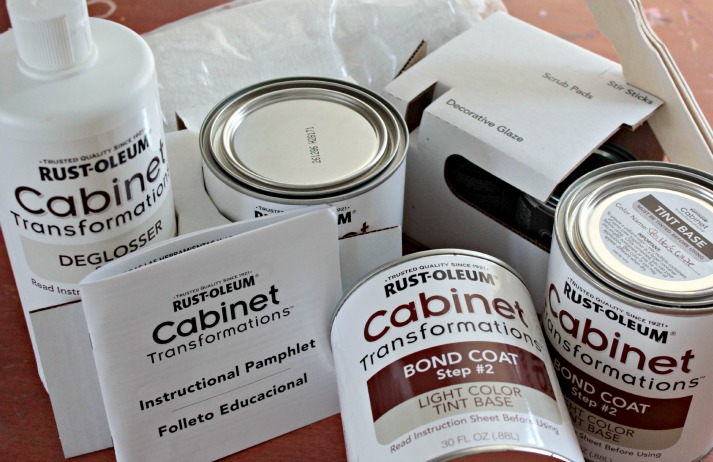 We actually started the kitchen upgrade with a countertop transformation.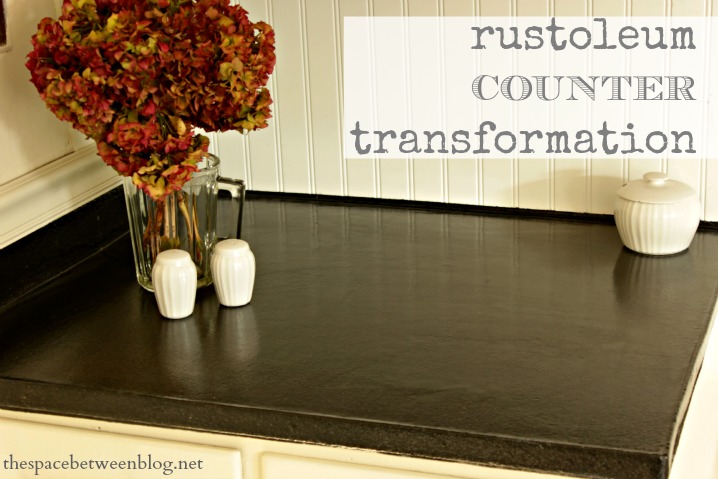 That one little transformation alone was already changing the whole look and feel of the dingy old kitchen.  I was super excited to see how things would shape up once the cabinets were transformed.  It couldn't get any worse, right?!?!
During the process we decided to just remove the upper cabinet doors for good.  They were hiding some pretty ugly insides but 1) we had a plan for that and 2) removing the doors for good was a huge time saver.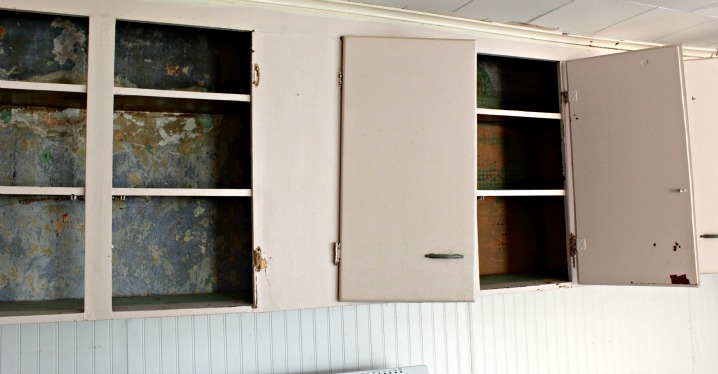 From there, here is how the whole cabinetry transformation process went down.
Step 1 – Prep and clean.  Since our cabinets were already painted we needed to make sure there wasn't any loose or chipping paint and we needed to fill in all of the holes left by the old doors and hardware.  Also tape around where cabinetry meets the wall or floor, I used one of my new favorite products, Frog Tape.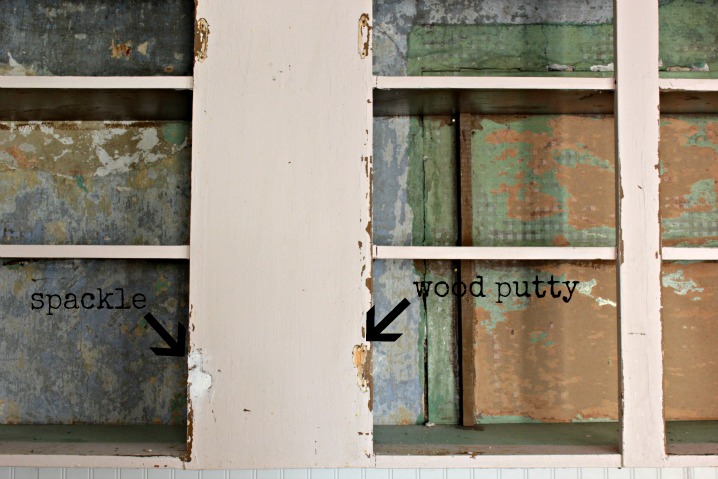 Money Saving Tip!!!  We use a combination of spackle and wood putty for filling the holes.  Spackle is much cheaper so we fill the hole with spackle and just do a top coat with the wood putty.  If you're not going to be washing the surface before you paint you can skip the putty all together … but spackle will wipe right away with a damp cloth.
Step #2 – Degloss.  The deglosser and scrubbing pads are provided with the kit and this step is more elbow grease than anything. If I've learned one thing over our many years of DIY … spend the extra time on a good prep job to save you from the headaches of needing to redo the whole job.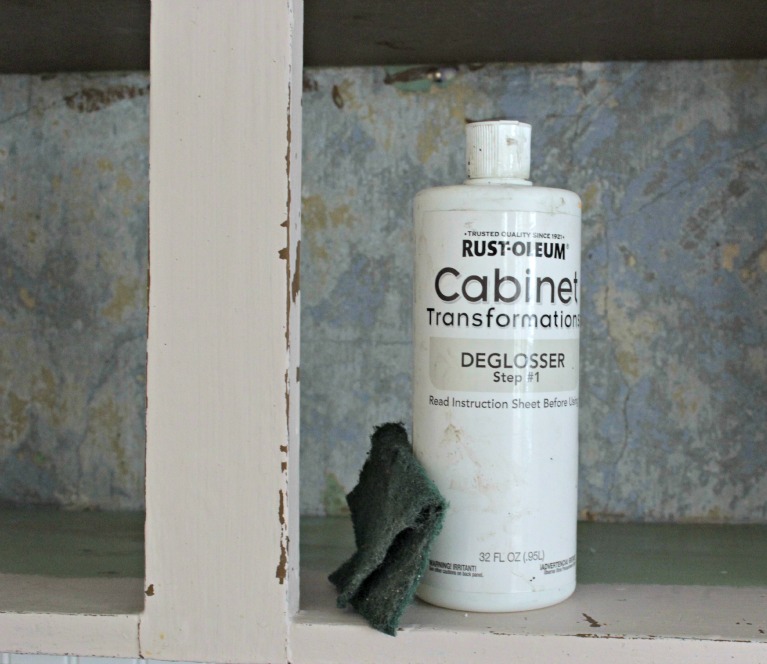 Step #3 – Paint.  The bonding coat paint comes with the kit.  It took me two to three coats to get the complete coverage I wanted. With a little online searching that seems normal with the lighter finishes.  The color I chose was Quilter's White … it's a nice very near white cream color.  And now hopefully all quilter's will feel right at home in our kitchen.  😉
Tip!!!  Paint all surfaces with a 4 or 6 inch roller first and then brush over in long strokes to prevent roller marks.  It's a huge time saver.  Brush around the edges and then finish it off with long horizontal strokes on the drawers and long vertical strokes on the doors.
Step #4 – Glaze.  This step is optional even though the glaze does come right in the kit.  I chose not to go with the glaze just yet for a few reasons.  1) I wanted to test the longevity of the bond coat on its own for a while … will definitely keep you all posted. 2) I like the look of the fresh white cabinets right now.  3) Maybe after a few years the glaze step will be an easy update to freshen up the look a bit.  Gotta love a simple update with items you already have on hand, right!?!
Step #5 – Top coat.  This is the final step in the cabinetry transformation and gives a nice, durable, matte finish to the whole look.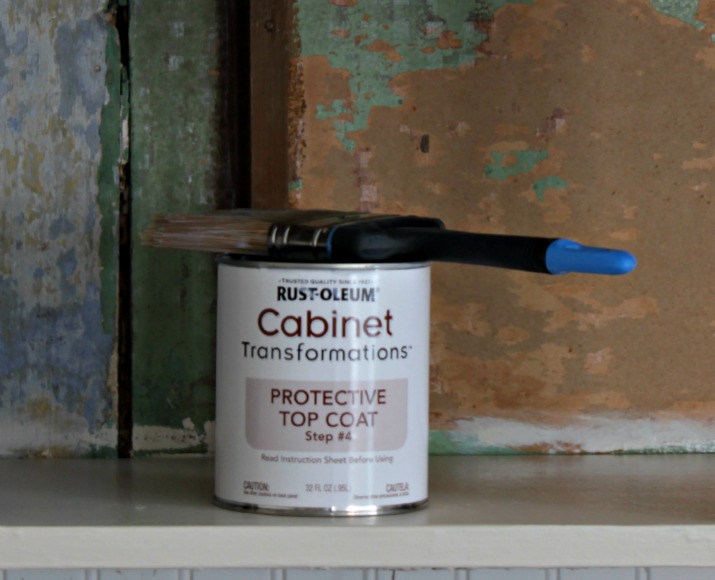 Overall, I am in love with the whole transformation.  It always amazes me what a little paint can do to the feel of an entire room. And yes, I do realize that the room is still a complete mess, so this ever elusive 'feel' I keep referring to might not be translating in photos.  But it's there, it really is.
A look back at the before.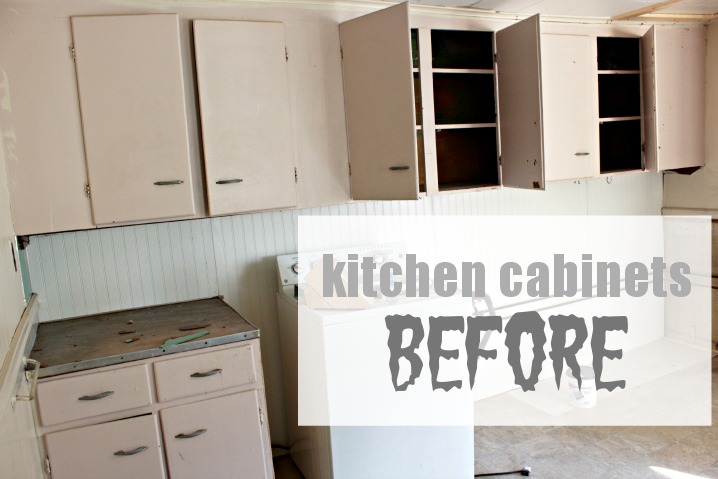 And what we'll call the during.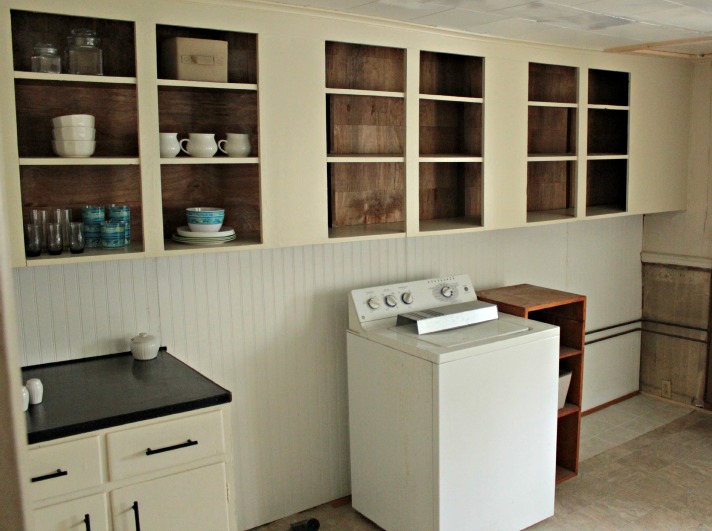 A couple of things with my transformation that are noteworthy for anyone looking to give this a try …
1) The kit isn't intended to paint inside the cabinets … you can use their measurement guide to find out what size kit you'll need. Since I decided to take most of the cabinet doors off I did have enough paint to use on the shelves … but I only did the front edge and top because I'm an impatient DIYer to save time.  For the same reason, I only painted the front panel of the drawers.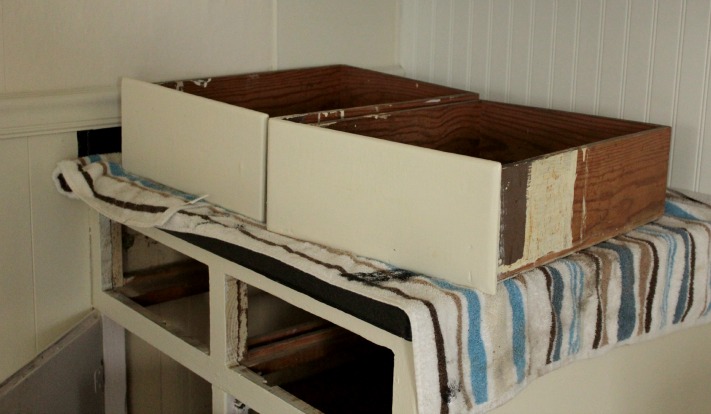 2) I didn't even bother to take the cabinet doors off that we were keeping and painting.  The design of the doors is so old that finding a new set of hinges to fit was proving difficult so we just painted away … and all worked out fine.
3) These babies were in pretty bad shape to begin with.  They don't actually recommend using this product on previously painted cabinets that are in bad shape.  But, we took our chances and again … it all worked out fine! The longevity of the coverage might be affected given our starting point, but only time will tell.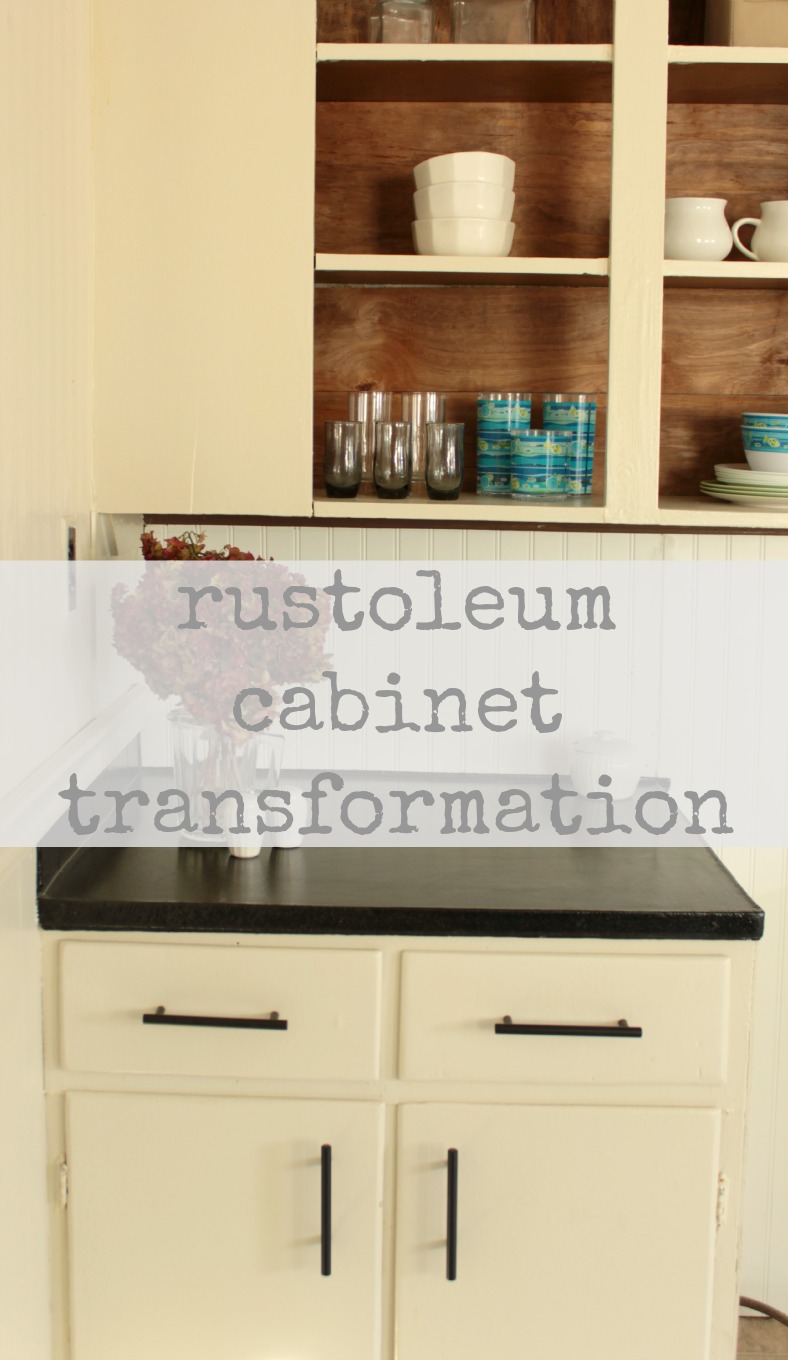 This cabinet transformation kit proved to be the perfect product for us to give a budget upgrade to a well-worn old set of rental house cabinets.  Beautiful and budget friendly, I'll take it!
As for the plan for the rest of this kitchen upgrade: counter transformation – check, cabinet transformation – check.
Still to come in this space: an easy tip for installing cabinet hardware, wood slat backing to open cabinets, how to hide water stains on a drop ceiling, beadboard magic, appliances (tenants can be so needy), maybe a new light fixture and definitely a good, solid deep clean.
Worked on any beautifully budget friendly upgrades lately?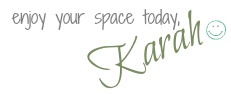 *I was provided the Rustoleum Cabinet Transformation product at no charge, but the opinions expressed are 100% my own … of course.  You can read my full disclosure here.