So, let me get this straight …
We went on vacation for 10 days.  A little rest and relaxation with my love.  A little exploration of a new country.  Our first trip to Central America.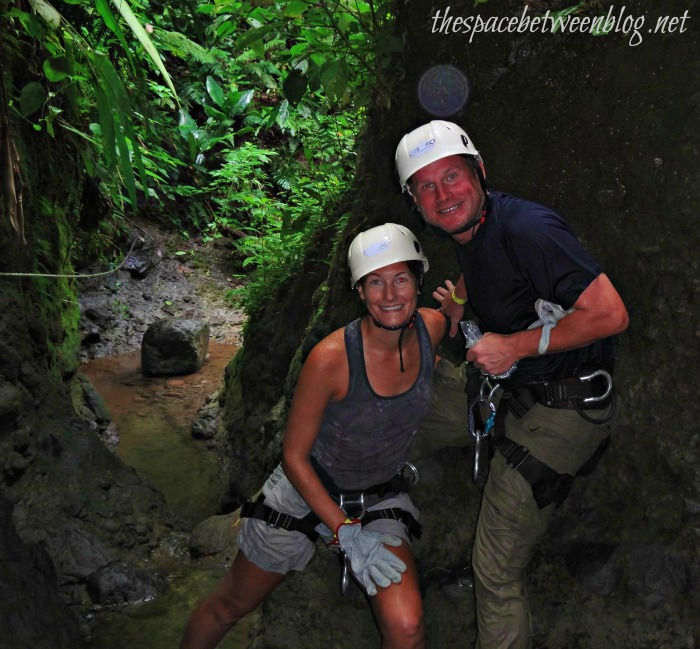 *sorry for the water spot on the picture, I guess that's what happens when you rappel down a waterfall with your point and shoot in a zip lock bag
And while we were hangin' in the rain forest, with hardly any connection to our real life, the World Series went down in 4 games, Taylor Swift and some Kennedy broke up (I feel a new song coming on) and a super storm took down the Jersey Shore, NYC and many other areas of the northeast?
Ay yay yay!!  Here's hoping you and everyone you know and love are safe and sound.
And here's to realizing with great clarity how insignificant some things can be, when real life is dealing with loss of power and light and fuel and everyday people are digging through grocery store garbage bins looking for their next meal.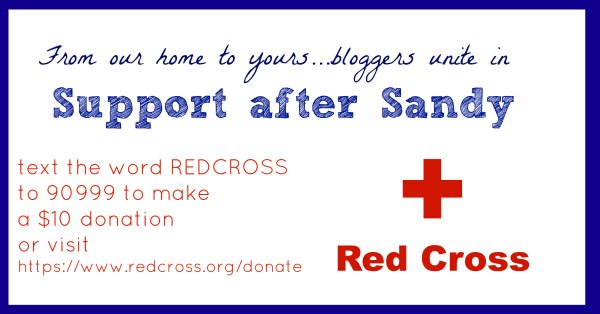 *regular texting rates apply
But blogging is what I do, and having you here checking it all out is one thing that makes me smile.  So let's say a prayer for those in need, help out if we are in a position to do so, and put one foot in front of the other with what gives us joy.  We never know when our Sandy is coming.
With that in mind it's time to take a minute and look back and see what it was we called October and how we spent it.  The month in minutes.
Projects!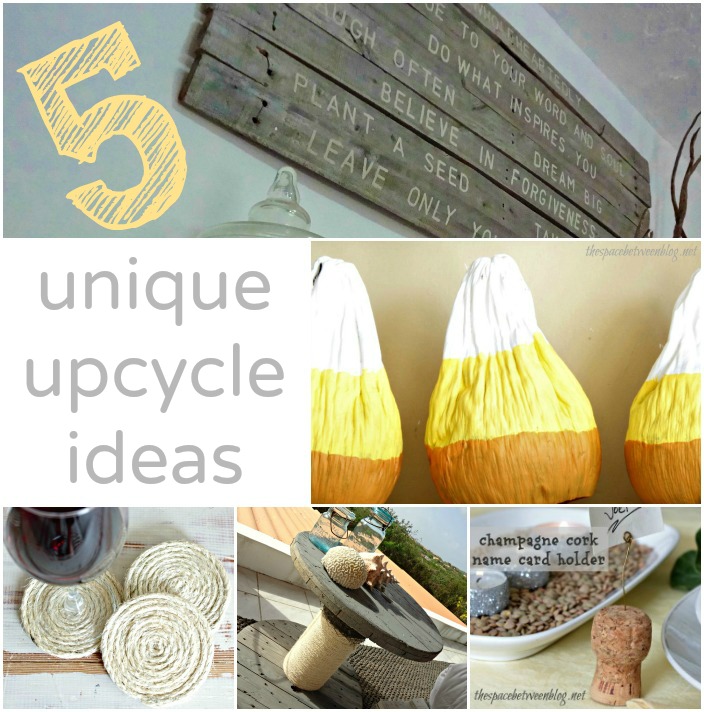 Pallet Word Art – no cutting, no measuring … the hardest part is figuring out what you want to say.  🙂
Coconut Candy Corn – no cutting, no measuring 😉 … and clearly no thinking as it appears I put the orange and yellow in the wrong spot.  They're still cute, right?!?!
Sisal Coasters – some cutting and measuring required … keep your favorite beverage close to make sure you make the first one the right size and then just use that first one as a template.  That's called measuring, right?!?!
Wooden Spool Side Table – I was surprised to see that most of you like her the way she is.  And maybe it's just the peer pressure but she's growing on me, too.  Rustic, nautical and finished.  🙂
Champagne Cork Name Card Holder – We were in a celebrating mood in October and these holiday dinner place card holders couldn't be any easier, or more festive.  My buddy Heidi pointed out how perfect they'd be for a New Year's Eve dinner.  She's so smaht!
Round-ups!
No, not round-offs.  But since you asked (you did, right?!?!) here is that ol' pic of me in my cheerleader days.  Such fond memories … and so many round-offs.*
 *I have never been a cheerleader but I can totally do a round-off!
But we're talking about round-ups here people.  Where we group a bunch of similar projects together in one post to hopefully give some inspiration.  And this month I shared 7 unique uses for old game pieces.
The challenge Erin waged with us for October was to use odds and ends from the hardware store in a unique way.  Check out all of those unique ideas here.  I found an old chain I was hoping to get crafty with, but then we went to Costa Rica.  #vacationtrumpschainprojecteverytime  🙂
Cooking Tips!
Right now, if Joel read the blog, he'd be saying that the biggest cooking tip I could give would be to not ever take any cooking tips from me.
But he doesn't read the blog, so I move forward with my fool proof secret for moist baking. 🙂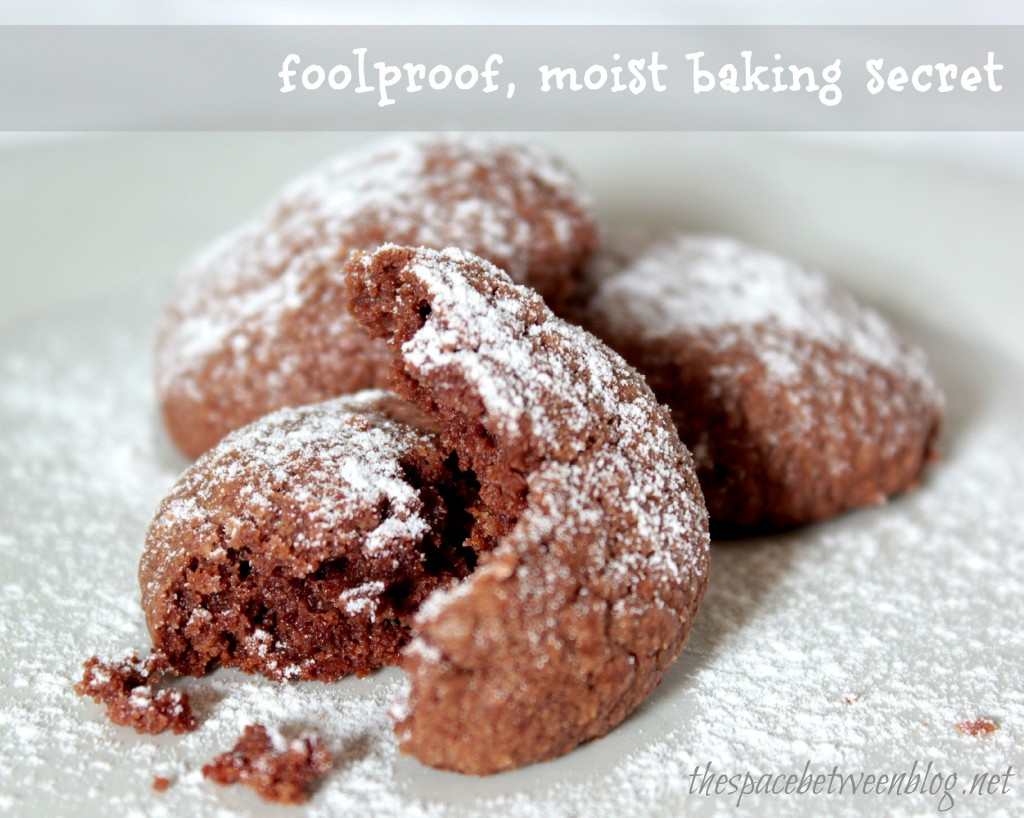 Life! 
I expressed my love hate of the best thing ever devil here.  #willnotfallbackunderthetrance
I publicly shamed my cousin for continually shaming her dog Barney here. #isolemnlysweartonotputcostumesonmypets
And I tried to pick you up at a bar here.
If you haven't filled out the quick little survey, there's still time.
Turns out going on a 10 day vacation only to turn around to get ready for 2 weeks of company and then a trip to the US JAM PACKED with rental house projects is time consuming.  Who knew?!?!
So yeah, you're not the only one who's noticed I'm only posting twice a week.  Hopefully that works for you.  It's been working for me.  Just trying to make it all work and keep it fun for everyone along the way.  🙂
And, speaking of my trip JAM PACKED with rental house projects.  It's no joke.  Who wants to come to Maryland to work like a dog for a week or two?  I'm in the process of putting together a to-do list … and you know I'm going to be blogging about it.  🙂
I'm actually excited about getting my big girl DIY panties back on … that is when I'm not getting nausea about the amount of work I'm going to be trying to accomplish.  It's such a fine line.  🙂
But tell me, did you have any highlights from October?  Do you have big girl DIY panties?  Can you believe Thanksgiving is less than 3 weeks away?