That's right.  This is that stage in any demolition where I feel like this old house and I have engaged in battle of wills.  But I am determined to win.
Right now nothing associated with this master bathroom remodel looks pretty.  Which stinks sometimes.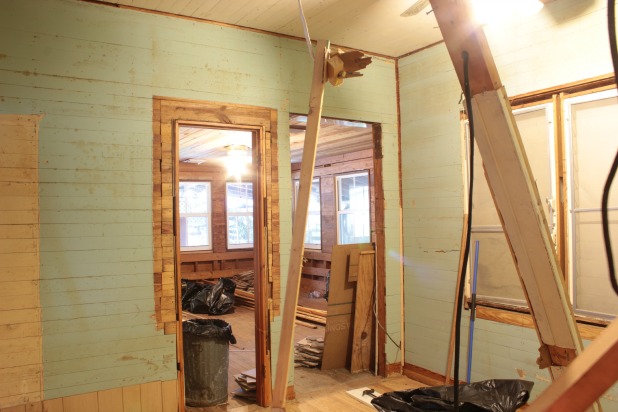 Many of the projects turn into multi-step ordeals that take so much more time that we hope they're going to. Like these old square nails.  #donotgetmestarted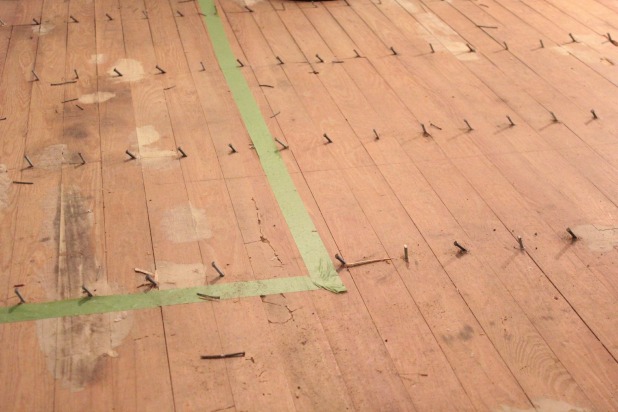 But I just try to stay focused on the days in my future when I'm relaxing in my new tub in our beautiful, functional master bathroom.  And take it one day at time in the process.
After the first day of the master demolition, when we brought in a few friends, it has seemed slow going since I'm pretty much a one woman wrecking crew.
Once again our hammer and pry bar have become my most used tools as I tackle a few projects like removing the drop ceilings and pulling up the tile that was in our old master bathroom.  It came up incredibly easy thanks to whoever laid it laying it directly to the hardwood floor and not a cement board underlayment.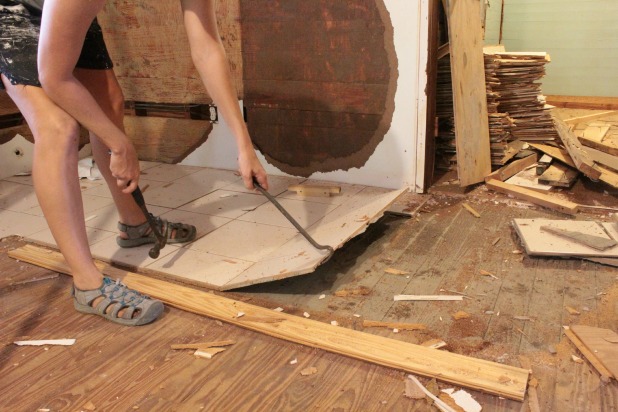 You can see the stacks of drop ceiling tiles just waiting to go out to the garbage.  We've found that they are light enough in weight that we can bag them in multiple trash bags, so no one bag is excessively heavy, and the garbage men have no problem taking them with our regular garbage, a few extra bags at a time. Probably a nice Christmas treat is in order for them from us as well.  

I also used the pry bar to remove the wood strapping attached to the wood slat ceilings.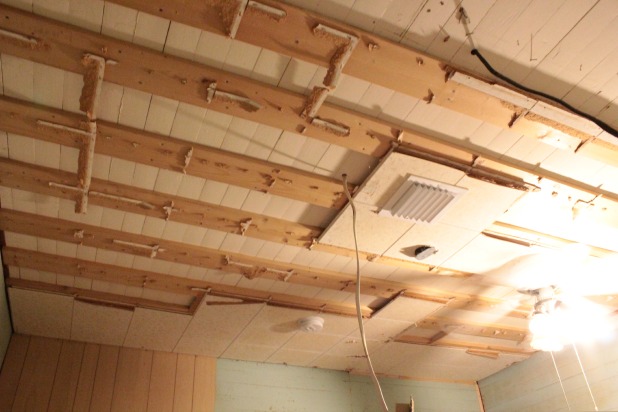 And over the weekend Joel removed the ceiling fans so the light situation has gotten a little dreary in there, but next on my list is to prep the wood slat ceiling in the bathroom, I'll have to use my trick for painting over cracked paint in spots, but it will feel like a small victory to get the ceiling primed and painted.
Remember back when we had a little water incident not long after we moved in?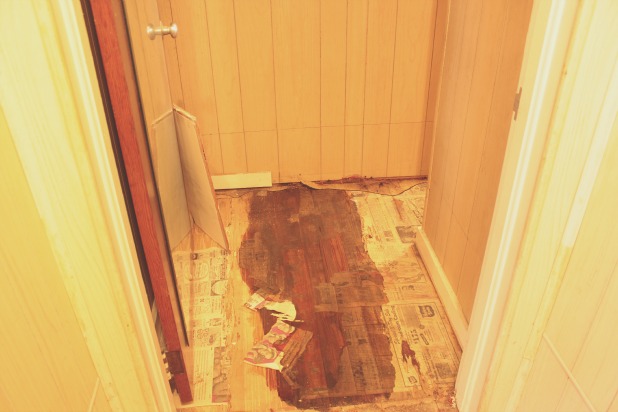 We discovered the water line to the old fridge had a leak, and had been leaking into this room for who knows how long under the layers of carpet and linoleum. That combined with some old termite damaged wood (common here in Key West) and the fact that I really didn't want a wood floor in the bathroom I put the hammer and pry bar to more use ripping up the tongue and groove floor.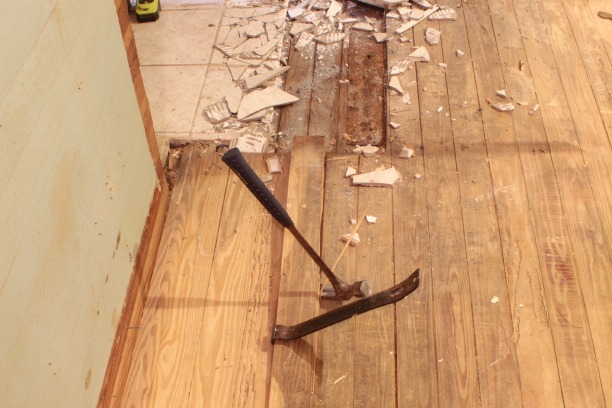 Previously in this house we've repaired tongue and groove flooring, added a new hardwood floor, refinished hardwood floors and learned the hard way why not to use a square buff sander.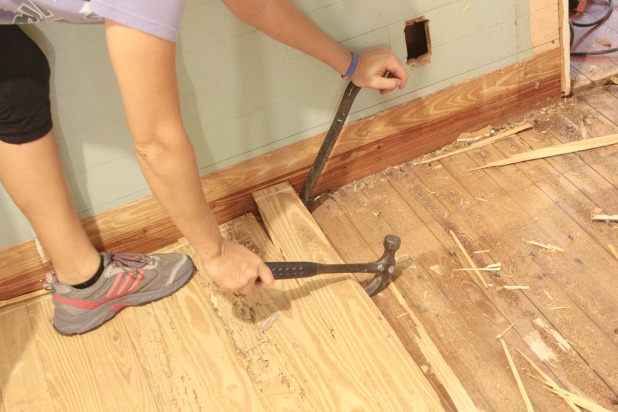 Turns out in this case we removed a hardwood floor to uncover … yep, another hardwood floor.  

 And you can see where I've used painter's tape to lay out our shower, vanity and new wall that will close off this room from the guest bathroom that will soon hold our washer and dryer.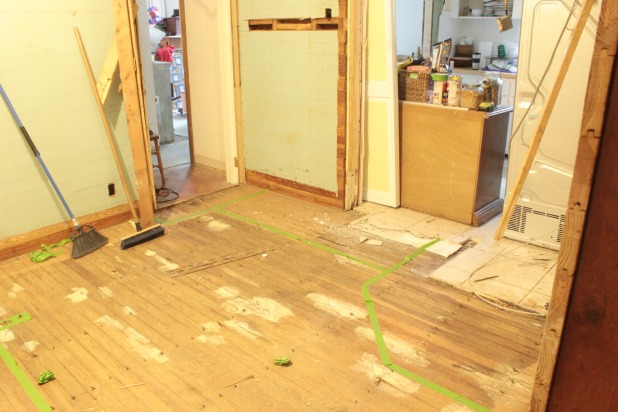 A few whacks of the hammer was enough to break up the tile for removal and we finally had ourselves a flat floor in the entire room.  And I made sure to remove enough of the tile into the kitchen so when we frame in that wall we won't trap any tile down there since we will be removing it from the kitchen when we get to that.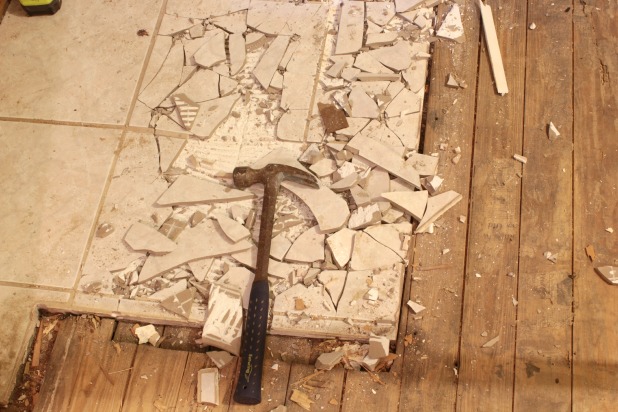 Luckily, this wood floor is in good enough shape to keep as a subfloor, so no more wood floor removal for me for now.  We can lay a 1/4″ cement board underlayment right on top of this floor and be ready for some tile.
Take that house, I will win!
Next up, the walls.  We uncovered more Dade County Pine wood slat walls.  And I know this much wood might not be for everyone.  But we love it.  And want to incorporate it wherever we can.  I don't really know what the final plan will be for them, maybe try white washing them?  But for now I relied on my old stripper skills (sorry mom!) and got to work.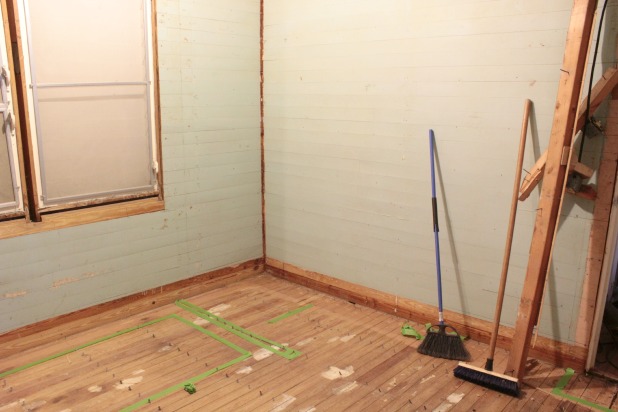 And for some bathroom layout reference, that is the corner where the toilet will be, with a half wall coming out pretty much from the edge of the window and a soaker tub under the window.  Even though I had done a scaled floor plan, the in-real-life visual really helps us settle on some final decisions.  Like Joel's new brilliant idea for where to put our desired built-in hamper and that we can't leave the opening between the bathroom and closet as big as we thought because the tub is just too close.
As for the wood slat walls, I shared a complete rundown of my paint stripping tips when I tackled this same project in the living room.  But here's a good visual for you.
This whole wall has been covered in paint stripper gel once over, with the top right side getting a second coat.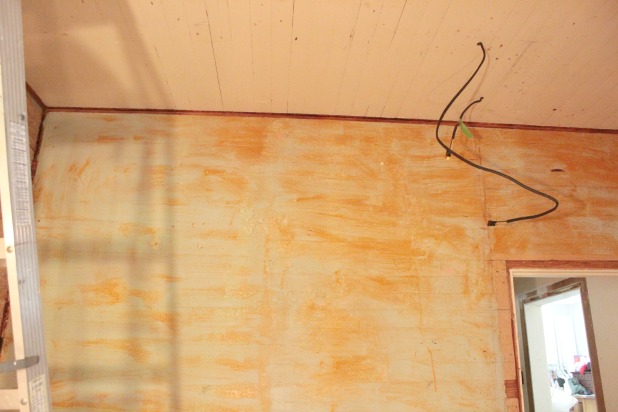 The wall color was blue, but underneath was a coat of pink and after the second coat of the stripper you could see the gel breaking down that coat of paint as well, which turned orange in the process.  When given the right amount of time to work, paint stripping is really not that labor intensive.
Two coats and about 20 minutes and you will see the paint bubble right off the wall, no need to struggle here, if the paint isn't coming off easy, add more gel and give it a few more minutes.  Again, house … you are no match for my competitive nature.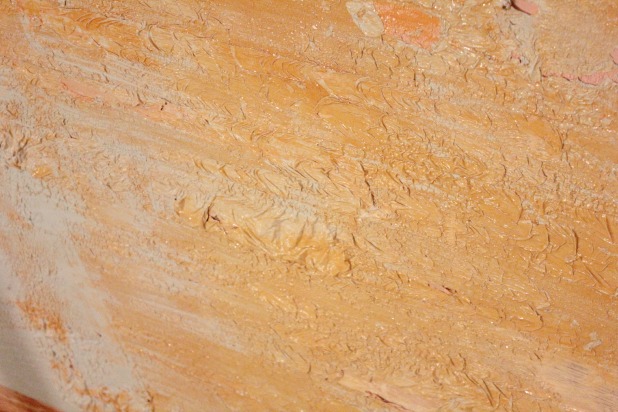 I also stripped and removed a few of the slats that were on the wall between the bathroom and kitchen.  We won't be able to leave them exposed since half of that wall had been cut out by a previous owner.  But, in an effort to resurrect as much of the old wood as possible I've decided to use the slats on the half wall we are going to build between the toilet and the tub.  We're always happy to find a use for something old over having to buy something new around here.
I count that as old house and Karah teamwork.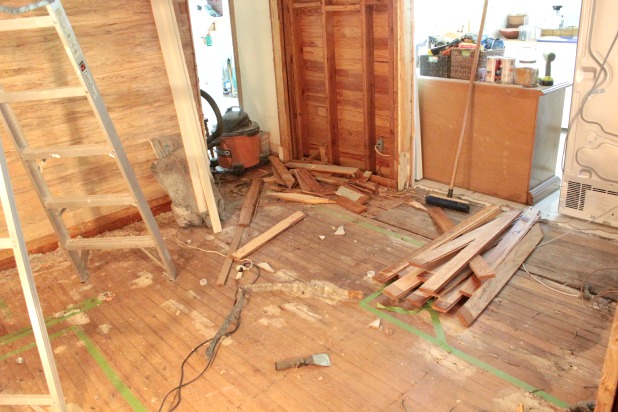 And then, true to form, I called in our contractor friend just to run a few ideas by him.  When I wrote about who can be a DIYer I shared that one of our favorite tips is to consult with professionals.  Although we like to DIY as much as possible we will hire projects out that are either beyond our scope of knowledge or beyond our desire, like the exterior painting.  And we like to be able to reference back to said professionals just to check, check, and double-check our ideas. Especially for projects as large as these, that have multiple components that we've never tackled before.
My list of questions included:
framing out a pocket door or three, how to determine which way the door should open and other general considerations?
how tall and long should the half wall between the toilet and tub be? (40-42″ tall and long enough to make the toilet space feel hidden)
is there a code requirement for how many lights and outlets we have in a bathroom? (not in this area, a set of outlets at either end of the vanity is sufficient and our lighting plan includes two vanity lights, a tub chandelier and a recessed light above the toilet and one above the shower, all CGFI and water contact compatible of course)
is there a rule of thumb to follow for which wall to run the shower pipes? (you want access from the back of the wall if possible for an access panel if anything goes wrong, but sometimes that is just not possible)
It was also this professional consult that let me know not to pull up the current wood floor.  We would have pulled it up to then just lay down a 3/4″ plywood subfloor to then attach the cement underlayment to.  That would have been filed under waste-of-time work so I was super thankful to get that little insight before we went down that road.
He also mentioned a 1/2″ sound board that we might want to consider using on the wall between the bathroom and the kitchen. Ever heard of or used a sound board to reduce noise traveling through the walls?  Ever feel like you're in a battle with your own house?  Or know you're making progress on something but not have any real positive visuals to show for it?
Hopefully the next update will include some "new" stuff like framed in walls, maybe a finished ceiling and it would be nice to get some real lighting back in there … I'm lucky to not strangle myself with the lamp cords I maneuver around in there all day.