Note:  First of all, seriously, we WON!  The whole BHG Outdoor Decor thing.  You and I.  We won.  I am verklempt, for everyone who voted, I love you for ever and ever, amen.  🙂
Now, I have to admit it, sometimes it is the most selfish of reasons that inspires a project around here.  But whatever it is that lights the fire you just have to run with it.  I guess.  🙂
We've moved into the guest bedroom in preparation for the full renovation of the master bedroom, bathroom and closet in one fell swoop.  If the term "one fell swoop" means to tear out everything existing in each of those three spaces to then, over the course of time, one little project at a time, build it back up that is. So this is happening.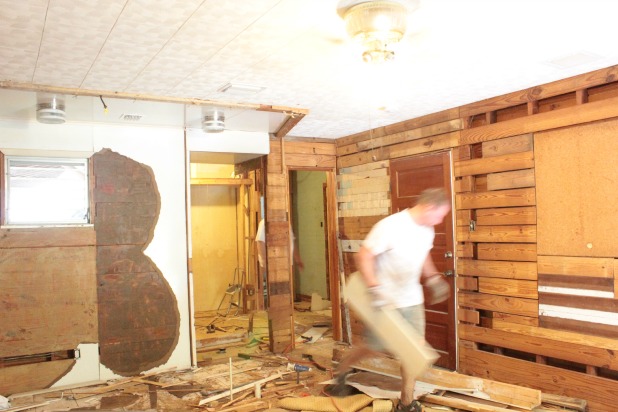 Much more to come on that hot mess very soon.  But it only took me about .3 seconds to find myself completely dissatisfied with the curtain situation in the guest bedroom … which looked a bit like this for about six months.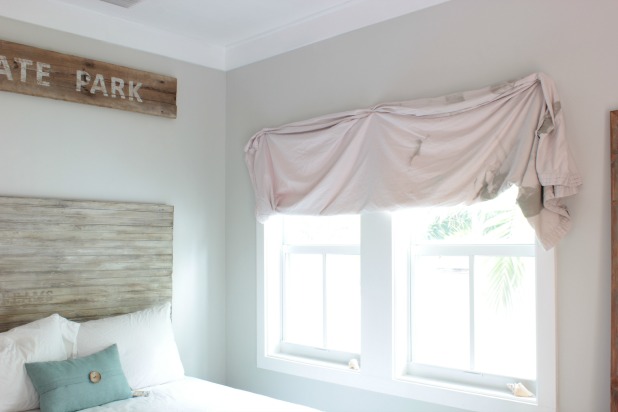 And this.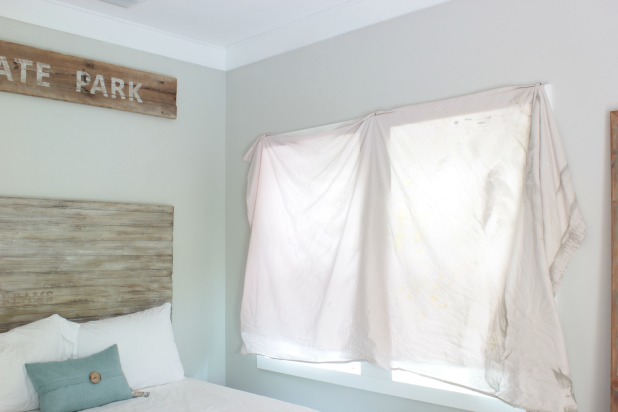 Sad, I know.  My standing joke when we show everyone the house is to proclaim them "custom curtains".  I would venture to guess they are one of a kind, but if you have something similar send me a picture.  It will make me feel better.
And one of the main differences in our guest bedroom and our master bedroom (other than the fact that one room has been renovated and one room needs to be renovated) is light.
As one of the people who takes up residence in this abode, normally in the master bedroom, I can admire all of the light in the guest bedroom from afar.  I often think I forgot to shut the light off in there since the natural stream of light is so bright and beautiful.
What is not beautiful, however, is the neighbor's light that he often leaves on all night.  And the crack of dawn light that creeps in every single morning.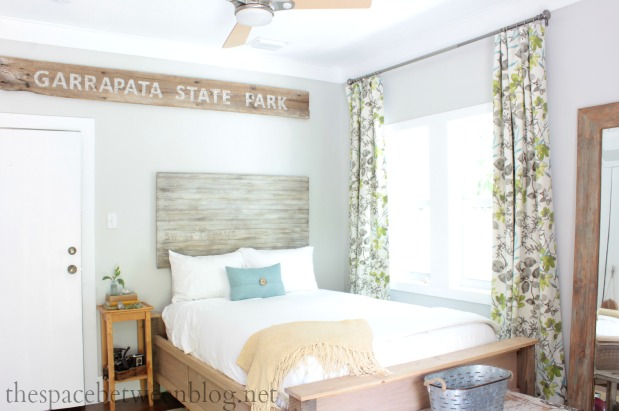 I kind of knew the light issue was there, but as the self-serving host I am, I never really cared too much, knowing that curtains would happen … eventually.
And then we started sleeping in there.  And curtains become el project numero uno on the ol' to-do list. Because no real progress is going to happen on the master if this girl can't get a good night's sleep.
So, I set about making curtains, and I was determined to have them end up beautiful, and not be long, drawn out process.  Seriously, you can so do this.
I know there are a ton of different tutorials out there with proclamations of the what you'll need to make professional looking lined curtains.  And I can attest that you really don't need any of the skills or knowledge even I thought were necessary.
Lie #1 – The ability to sew a straight line on command.  My curtains are proof that is not 100% required.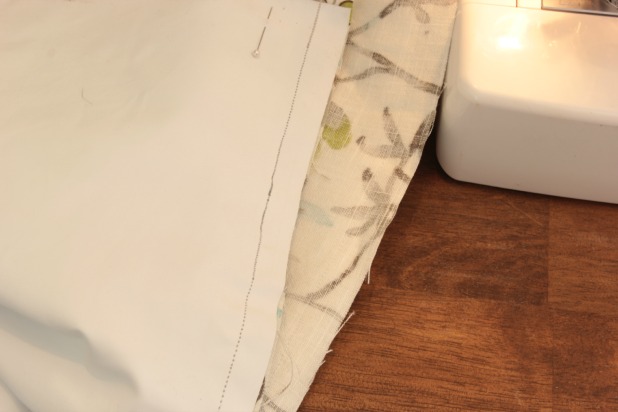 Lie #2 – You have to know exactly how tall you want your curtain panels to end up before you start.  Nope. Not true.
Lie #3 – You have to know exactly what size needle to use and what tension and stitch size to set your sewing machine on.  I have no doubt this would be helpful, but I have no idea, so I snapped this pic for anyone interested.  Maybe these settings mean something to you?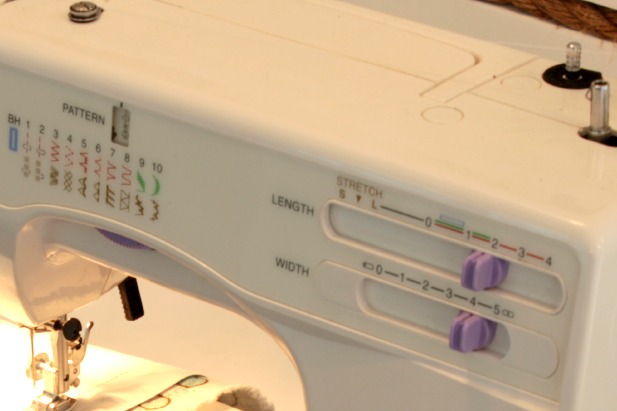 Lie #4 – You can't just wing it as you go.  Whatev!  I did, so you totally can, too.
So let's get started winging it.  🙂
Step One – Clean your floor.  Maybe you're someone that does this on a regular basis without a prompt.  Or maybe you're me.  🙂  You're going to need a lot of room to lay out your fabric so pick an area with a large, flat surface that you can maneuver around to reach your fabric from all angles.  Dog supervision is entirely optional.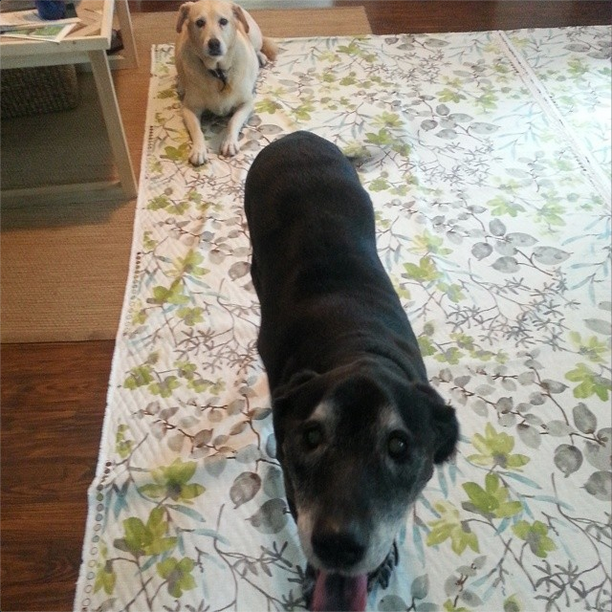 Step Two – Measure about how tall you want your finished curtains to be.  Remember, if you want to fake larger windows plan to make your curtains so you can hang your curtain rod high on the wall and not right at your window trim.
Tip!!!  Use the entire height of your wall as a guide.  If you use this measurement you will always have enough fabric, and have leeway for a curtain that puddles more at the floor if you want.
See, no need to know the exact measurement at this point.
I measured from the bottom of our crown molding to the floor and used that 104″ measurement as a guide.  If you don't have crown molding just measure from the ceiling to the floor.
Step Three – Depending on how much of a hem line you want, add some inches to the final curtain height.  I knew I didn't need a hem at the top so I just picked a number out of thin air and decided I wanted at least a 5″ hem at the bottom, nice and chunky.  So add a bit more than that to the total height of the finished curtain, I added 8″.  This will give you some wiggle room, unless you are perfect, then go with a more exact measurement.  🙂  Lay out your fabric and cut to size.  I just doubled over the fabric right off the bolt and made my cuts.  This beautiful fabric is the Braemore Gazebo Cloud from Online Fabric Store.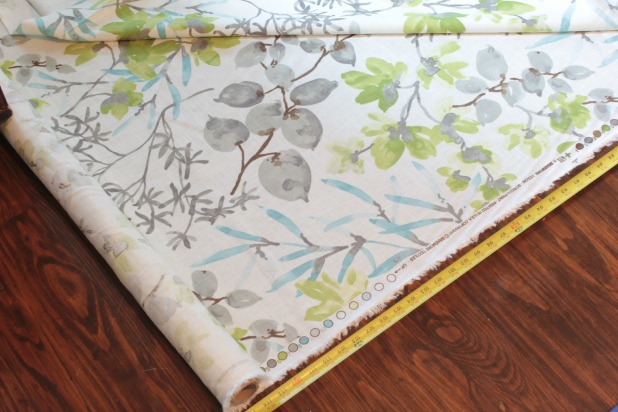 Good quality fabric sheers are key, I have these.  And that first cut was the hardest for me.  What if it's not right?  Too short?  I render this beautiful fabric useless?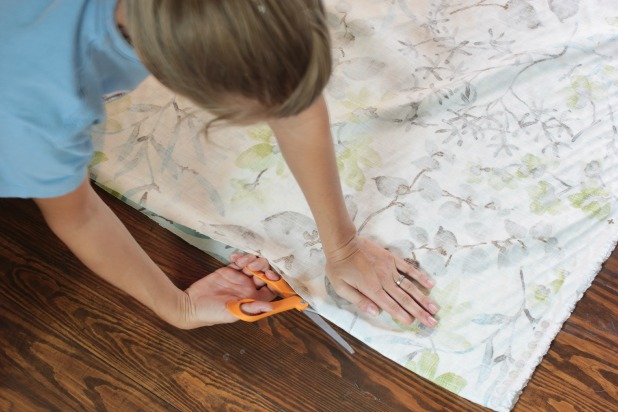 That's how I decided to go with the measuring tip above.  It took all of the questions out of it, no matter what, my fabric would be more than big enough for my room.
And I found comfort in making both panels at the same time, you know, just for the visual reassurance that they were basically the same size.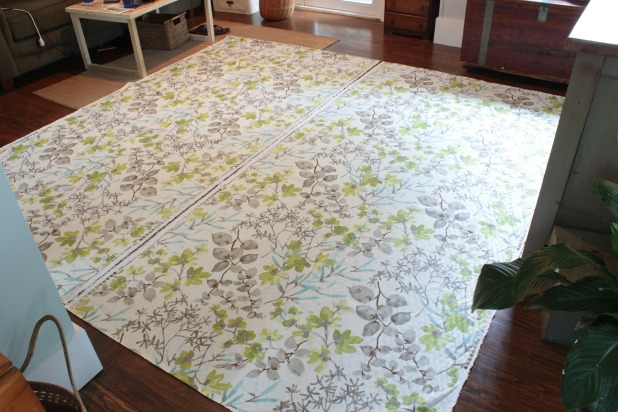 Tip!!!  If you're working with a patterned fabric make sure you have the pattern running in the same direction on both panels here before you start pinning anything!
Step Four – If you're making lined curtains lay out your lining fabric, the side that will face toward your window facing down, right on top of my designer fabric and cut to size.  I used this blackout lining fabric from Online Fabric Store.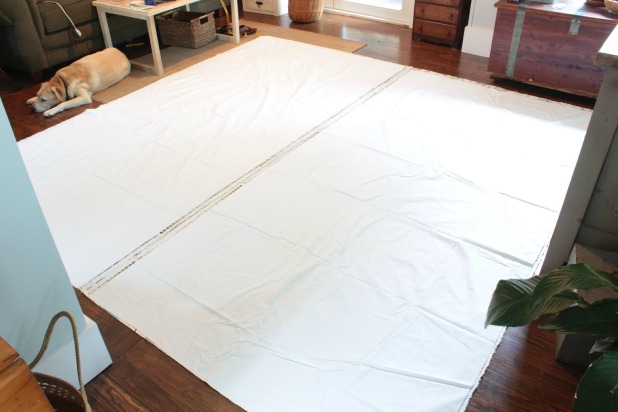 Truth be told, no measuring devices were used during this step.  Basically your lining fabric doesn't need to be quite as long as your designer fabric, so I just cut it an inch or so shorter than the curtain fabric.  Easy peasy.
For fabric buying purposes I will tell you that 6 yards of both the curtain fabric and the liner would be perfect for this size panel.
Step Five – Pin around the top and both sides of the fabric.  I lined the top of the lining fabric and curtain fabric together and pinned 1″ in from the edge and to make sure that the color index along each side of the fabric didn't end up showing I pinned 1 1/2″ in from the edge of the designer fabric.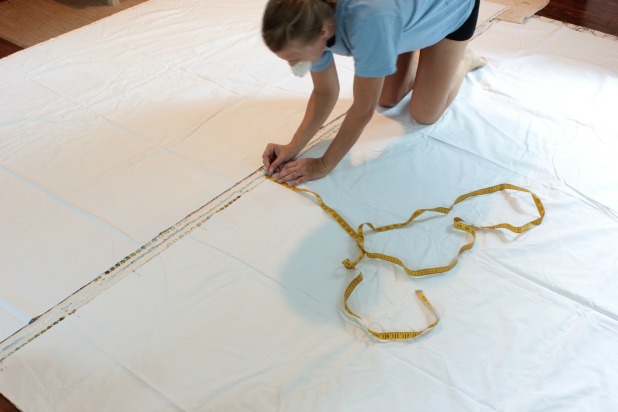 Step Six – Sew!  I first sewed along the top and then along each side.
Here are a few sewing tips for near novice DIYers like myself:
slow and steady works better than fast and out of control, trust me
always start and end a line of sewing with a little forward, backward, forward action to prevent the thread from easily unraveling
find a spot on your sewing machine to line up the fabric, or mark one right on there to help keep your lines straight, I used the edge of the metal plate on my machine as a guide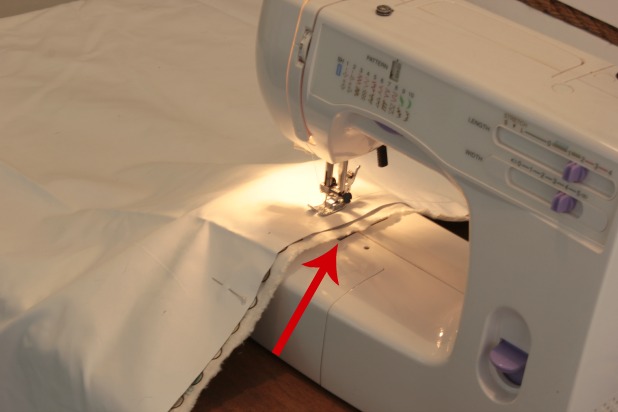 whenever you need to stop in the middle of sewing a line make sure the needing is depressed into the fabric, this will prevent it from slipping out from under the foot
have something close to toss the pins in as you take them out of the fabric, my great grandmother's antique tea cup worked perfect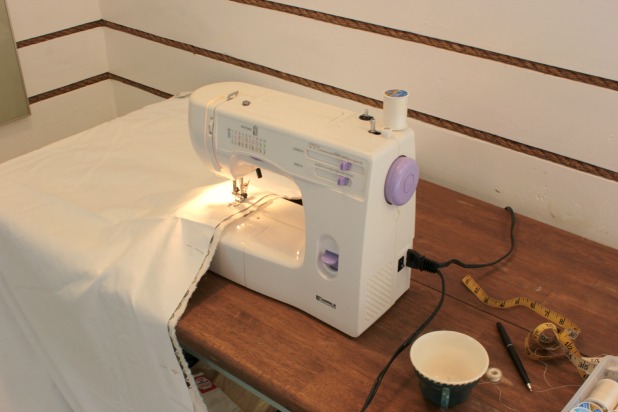 definitely take the pins out before they go under the sewing machine needle, I have learned this the hard time … multiple times before it actually stuck #becauseIamverybright
every once in a while make sure you're actually sewing, sometimes the bobbin thread or even the thread in the needle just doesn't cooperate and the needle holes make you feel like you're sewing but you're not #totalsewingbummer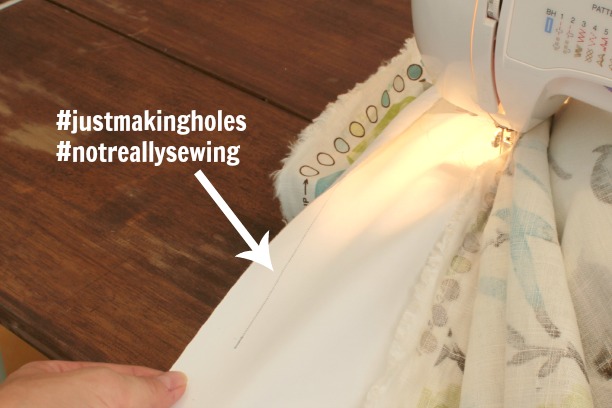 Step Seven – Turn your fabric right side out.
Tip!!!  Cut the inside corners of fabric off before turning them inside out to make it easier to create a nice, sharp corner point.  A pencil or other pointy object helps maneuver the fabric into place as well.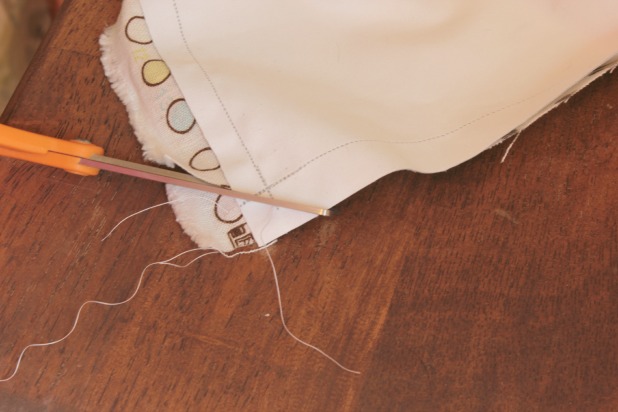 Step Eight – Iron.  No exclamation point here, because I don't find ironing one bit exclamation point worthy.
Tip!!!  Iron from the lining side of the panel, this makes it easier to have the fabric side overlap the lining just a bit on each edge.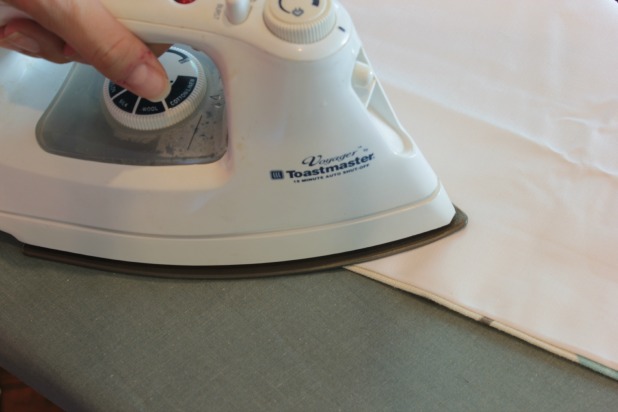 Step Nine – Hang!  Yep, we only have 3 sides sewn, but this is my way of avoiding having to take exact measurements.  With my rod hung and using clips for easy hanging, and a more casual feel (you could add back tabs or leave an opening to run the rod through your panels if you prefer that look) it's easy to hang the curtains and see exactly where I want to hem the panels at the bottom.  Just pin along the bottom of the curtain at the final length.
You don't need to hang both panels here, but I'll admit, I was tempted to call this project done-for-now since the bottom is hidden by the bed.  And I couldn't help but stop to admire the sheer beauty of the fabric.  Again, it is the Braemore Gazebo Cloud from Online Fabric Store.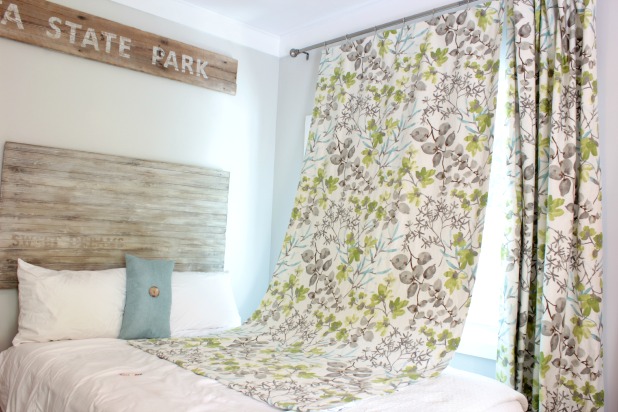 Step Ten – Hem the bottom to the final panel length.  I just unclipped each panel and measured from the top of the panel to where I had pinned the bottom.  Measure that same distance along the width of both panels and pin along the bottom.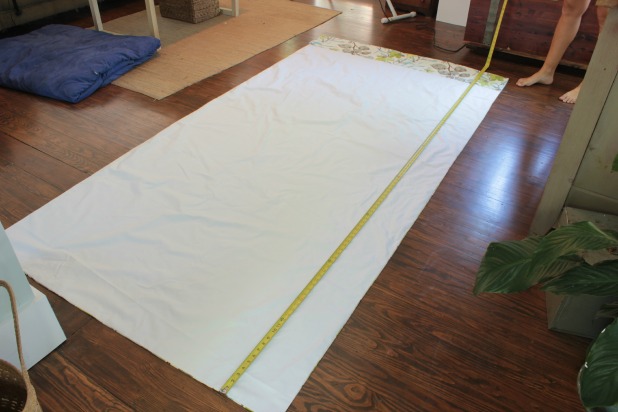 To create the bottom hem just measure your desired hem size, remember mine was 5″ (about) and iron the fabric over again with that much of a "cuff" of fabric showing.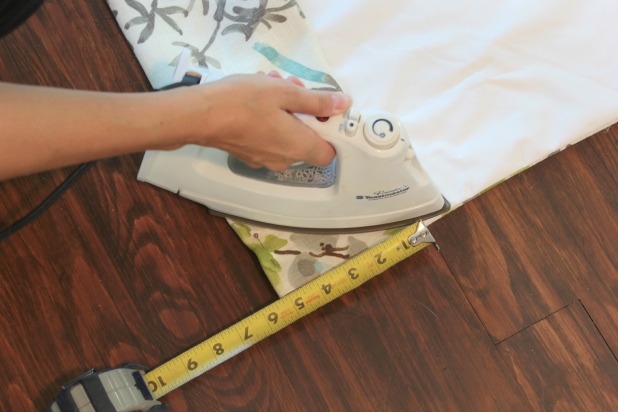 Then, just to hide any evidence of an unfinished edge, I folded the fabric over an additional inch or so and ironed again.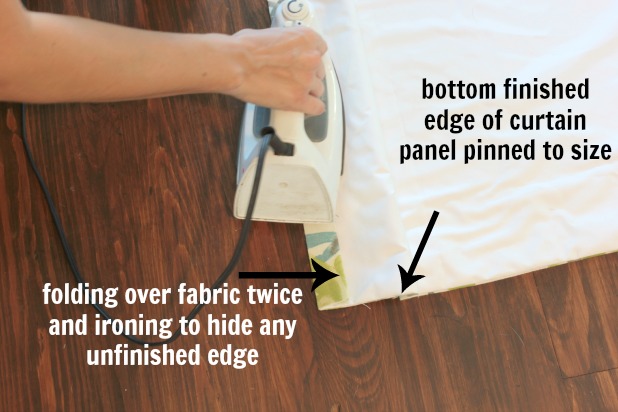 I first sewed that smaller hem to hide the unfinished edge, making sure it didn't peek out either end.  You can definitely call the curtains done here if you want more of the curtain fabric puddling on the floor.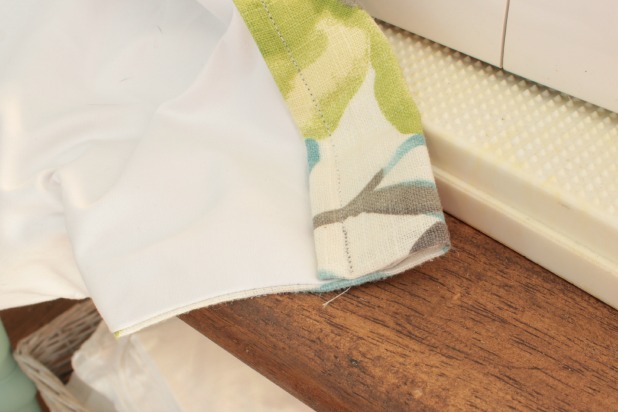 And then just one more line of sewing to bring the final panel size to your desired length.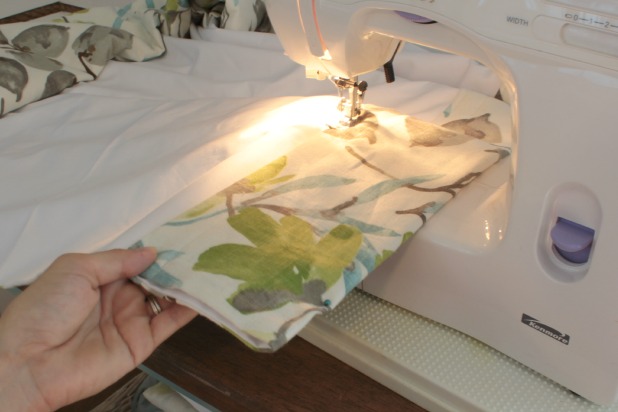 And for someone who went into this thinking "I'm not really sure what I'm doing" I could not be more thrilled with the result.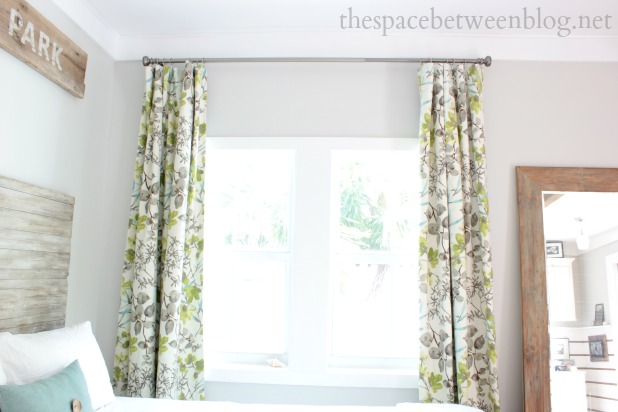 When Joel got home I proclaimed "you have to check out the curtains, and you have to touch them, they feel like real real curtains".  And they do.  They are weighty and bring such a focal point to the room.
I am definitely in love.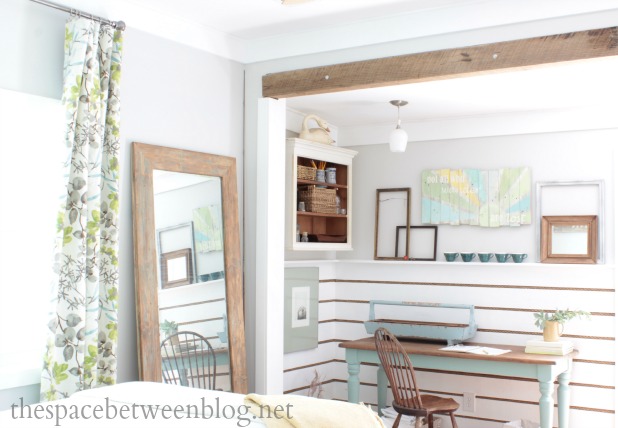 Here's a shot of what they look like on the floor behind the bed.  aka, proof I did actually finish sewing the bottom. 🙂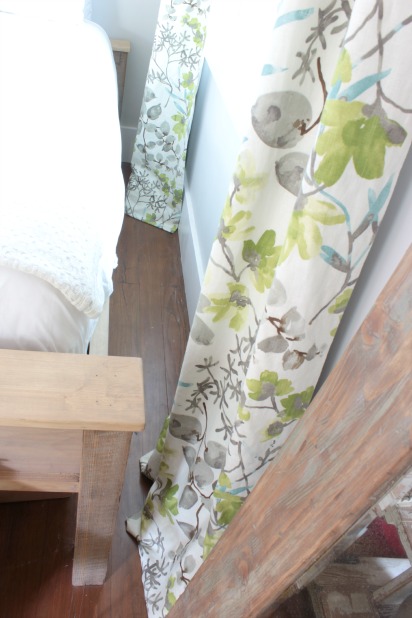 Needless to say the whole sleeping experience in the guest bedroom has just gotten a bit more luxurious!!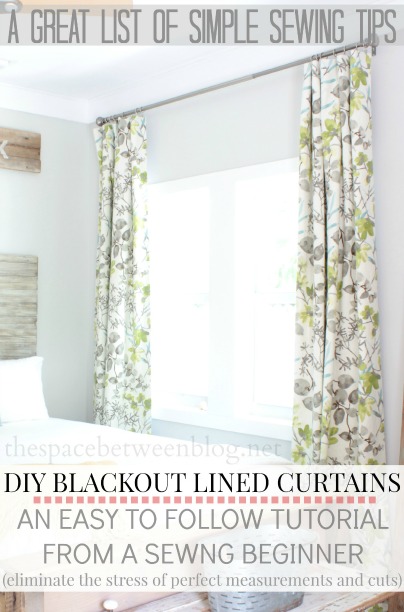 What about you … make any curtains this weekend?  Do any demolition?  Have you ever spent a night in your own guest bedroom?  It's … weird.  🙂
Update: A real life professional has added some invaluable tips in the comments.  Definitely take a minute to check them out if you're getting ready to make your own lined curtains.
Need a vacation?  Don't forget to enter the chance to win a 4 night stay in Anna Maria Island here.
And a larger than large thank you to Online Fabric Store for supplying me with this beautiful fabric and blackout lining, and even more for your incredible patience.  I have had this fabric since October and then instead of proceeding with the curtain making process I decided to write a book.  Your grace in this situation warmed my heart.