Ok, I'm going to have to start with a little confession here.
I am that girl who gets awkwardly excited about actually making my very own wood bed frame.
Buuuuuut, I may have enjoyed myself a little too much while 5 able-bodied men strutted around my house wielding power tools and making quick work of installing our new windows.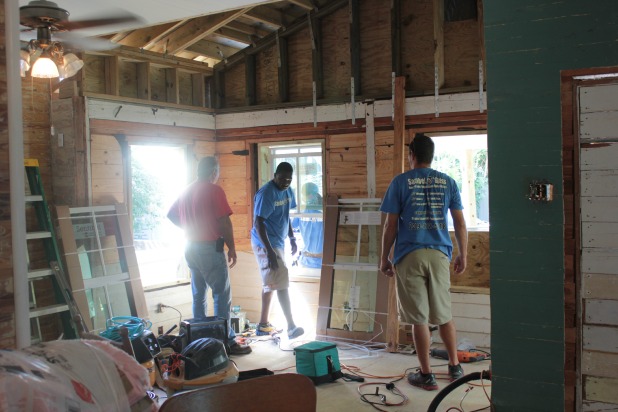 I actually surprised myself with how sad I was to see them go.
I mean, who knew things happened so fast with a real crew?
My two little hands (and 9 and 2/3 fingers) now seem so inadequate.
And I kind of want those boys back.
***sigh***
But, check it out.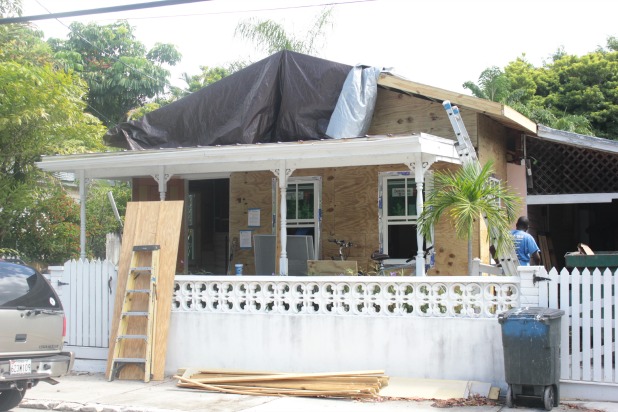 NEW WINDOWS!!!
These pictures might not seem all that pretty to you.  But to me they are down right gorgeous.
This is a huge step around here.  A game changer.  A project opener-upper.
I'm kind of fuzzy-brained about all of the projects I now have on my plate.
That brain can't decide between uber-excitement and borderline-overwhelmed-ment.*
*Like I said, I'm, fuzzy-brained.
In about 6 hours 5 guys installed 14 new windows.
And even though we had done what we thought we could in terms of prep, there was still more trim removal …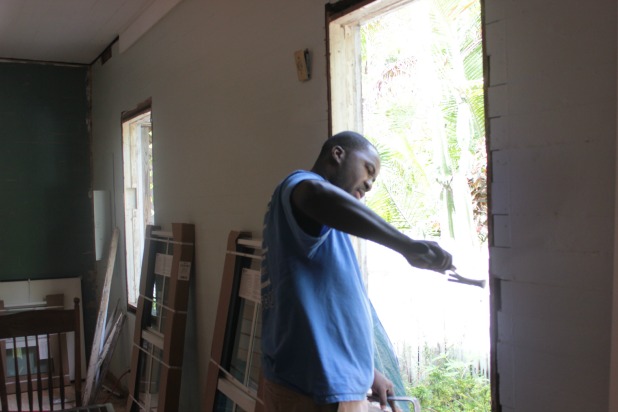 … and shimming …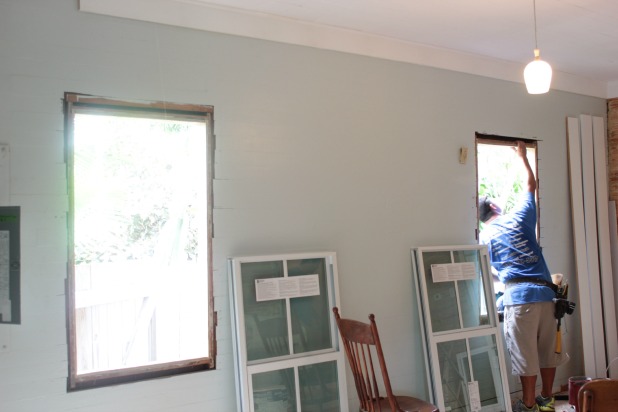 … and window cutting …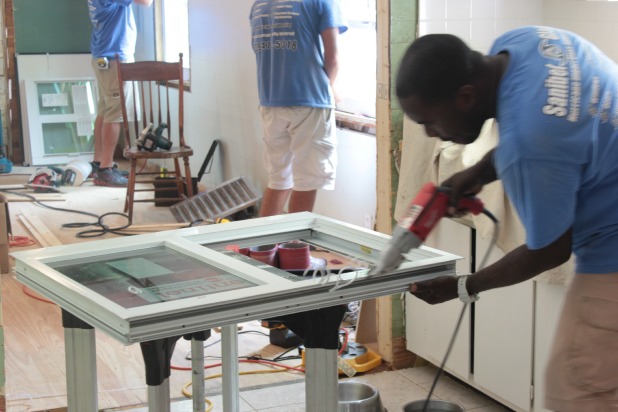 … and lots, and lots of measuring.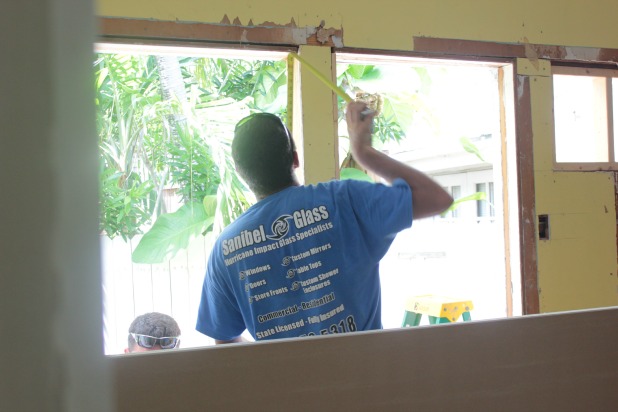 But they had a system.  And it worked.  They blew through this house in an assembly line of sorts, installing windows and taking names.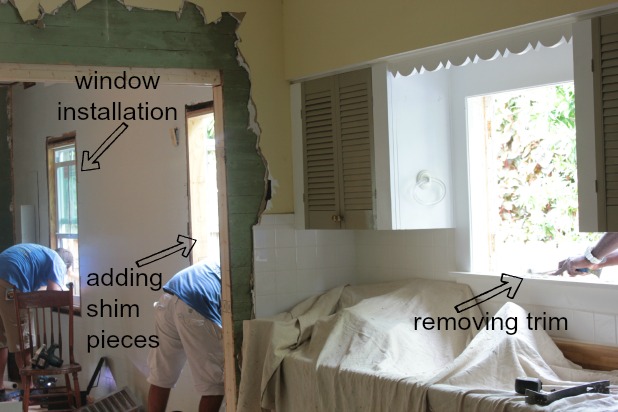 Have I mentioned that it was totally awesome?  😉
We now get so much light I can actually see the color I painted the wood slat wall in the dining room.  It's Rainwashed by Sherwin Williams mixed 50% lighter, the same color we used on the top of the board and batten wall.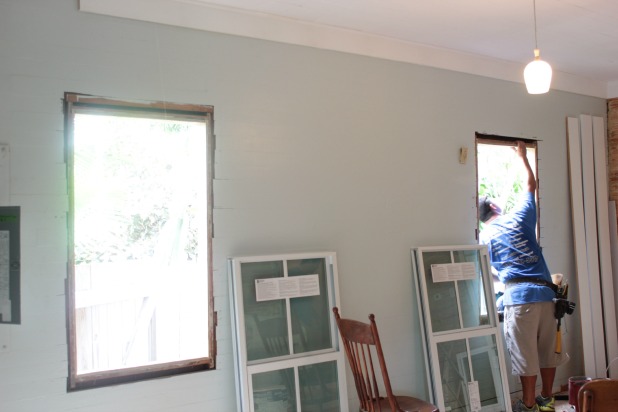 And it is going to be so awesome with the with the white trim and molding and we've got a big square mirror we're going to hang between those windows … which we can hang as soon as we get our window trim installed … which we can install because, dude … we've got windows!!!
Remember that I told you I was left in charge of measuring and marking the openings for the new size windows on the front of the house during our whirlwind Labor Day weekend roof raising extravaganza?
Well, I'm happy to report that the windows fit!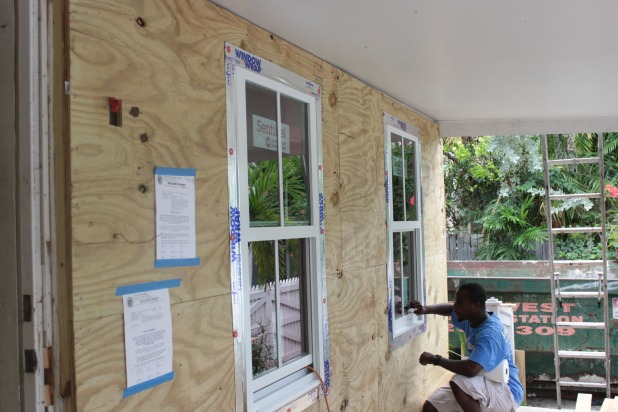 And just for a quick run down of what we did to prepare.  Also known as "what we asked to do ourselves to save a little dough".  There really wasn't much because the old style of window we had, called a jalousie, was installed inside the window opening so there was no need to remove any trim, I just went around unscrewing the windows from the trim.
And, every surface of this house is getting an overhaul so we didn't really view the removal of the trim that we had already worked on as part of this particular project.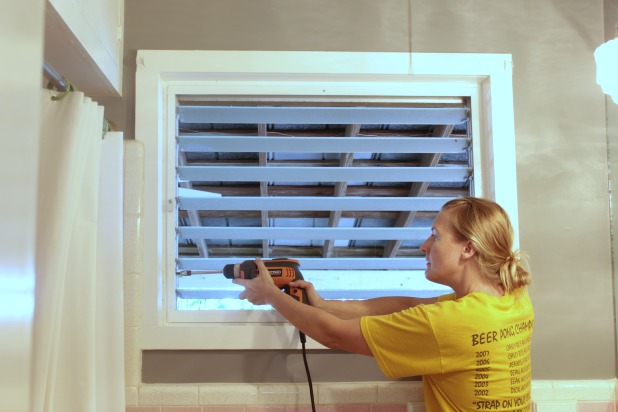 Why the picture I took was in the room with the least amount of natural light I will never know.  But I do know I have no shame since that hairdo is rockin'!  And there's that beer pong shirt again, Jena.  🙂
A few hours one afternoon was all it took for Joel and I to unscrew all of the windows so the guys could just slide them out.  In the dining room we had to remove a window AC unit that left a huge hole so we just went ahead and removed those windows a few days in advance.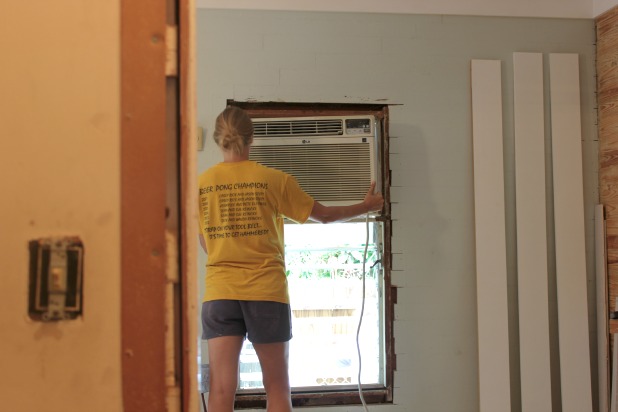 That AC removal is definitely a two person job.  Joel unscrewed everything that had it attached and then he shimmied it in from the outside as far as he could while I held it up with the help of the window, and then he came inside and we lowered it down.  And check out all that trim ready to be installed … as soon as we can get the electric run and drywall hung and spackled and sanded and a little priming and some painting.  #fuzzybrain
And because we are never lacking in ways to bring redneck to our neighborhood we covered up the openings with tarp and got lucky with the weather for the few days wait until the new windows came home.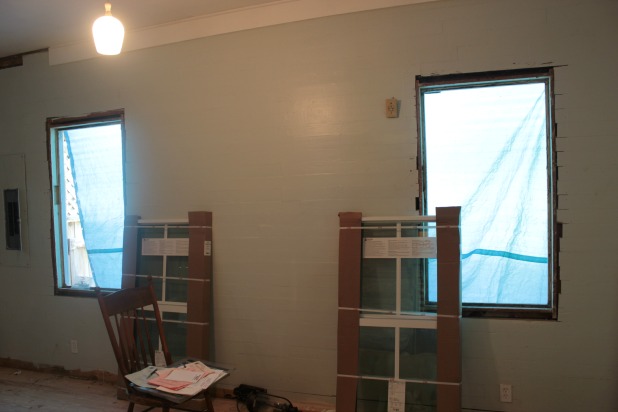 You're welcome neighbors.  🙂
We are still waiting on two new doors to arrive.  And I can't even put into words what a difference those doors are going to make.
A double french door here to go from the living room out to a side yard that we plan to make totally awesome.  (add it to the mind fuzzying list)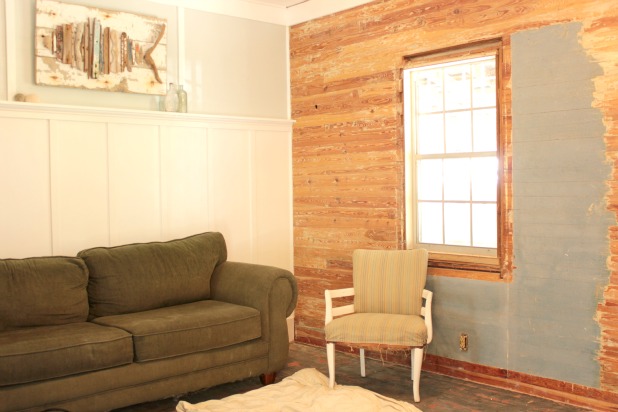 And a single door with a full window to lead into the back yard from our guest bedroom.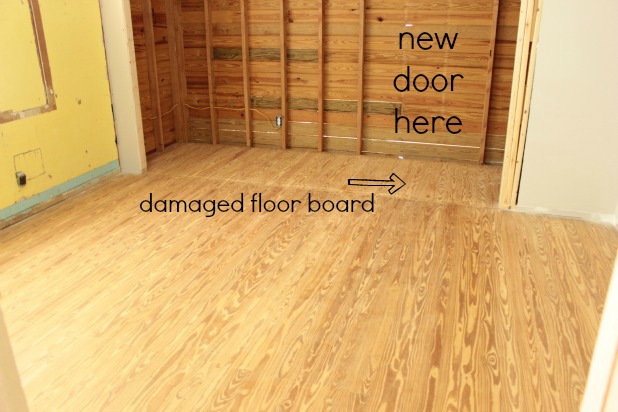 I think that door is going to line up perfectly to see a hibiscus tree we recently planted, and is going to bring so much light into that room.  And just be all around neat to give our guests direct access to the outside, which is very "Key West".
So, right now I'm putting my dad to work and we're trying to tick a few more things off of the always growing to-do list … and fit in a little fun, too.
On the short-term agenda are things like:
run electric for the lighting in the new vaulted ceiling and reconnect electric to the porch light and door bell
decide on new lighting for the vaulted ceiling
relocate the cable wire and outlet for the tv
insulate attic and new vaulted walls and ceiling
drywall the walls in the new front area and in the guest bedroom around the new windows
pray the new doors come soon so we can finish the guest bedroom already!
And I'm currently trying to talk my dad into helping with these:
installing new 6 x 6 posts on the patio
framing out the new double french door in the living room
installing new stairs outside where the new french door is going
installing a wood slat ceiling in the vaulted area
I will offer to pay him in food and adult beverages and a guided tour around Key West.  Wish me luck.  🙂
And that's officially as far ahead as my brain can manage right now.  I haven't received all of the final bills yet for this or the roof project, but as soon as I do I will update the budget breakdown.
And just for fun window facts, for those who find window facts fun.  Our windows automatically lock every time they shut, which means no more locking hardware and no more worrying about whether all the windows are locked.  And they are clear, energy efficient glass which is supposed to save us a bunch on energy costs and they are impact resistant.  Which means hurricanes beware, we will resist your impact.