Yeah, we got a little sidetracked.
It happens, right.
Clearly this blog is more true-to-life and in-real-time than even I realized.  

Thanks for indulging me in the 31 things series.
But how about a little state of the home renovation address?
The last real work you saw was when we secured our porch roof to the house and got started on the exterior siding.  I did give a few sneak peeks of the sporadic progress that was made while my cousin was visiting.  But I don't want to skip over the major details that have gotten us to where we are on the outside.
Which, as of yesterday afternoon, looks like this.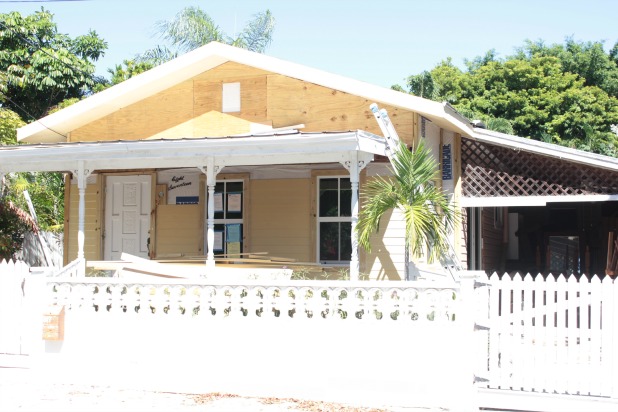 There are many noteworthy things about that picture.  Not the least of which is that the afternoon is the worst time to try to photograph the front of the house as it gets direct sunlight and it's nearly impossible to not get a lot of blown out areas in an attempt for the porch to not be too dark to see.  So I'm sorry about that.  

Something else noteworthy is that twice in as many weeks we've been asked by passers-by "where are you living during the project?".  Ummmm, yeah … that's our house.  That we live in.
***sigh***
It actually doesn't seem that bad, until we see other peoples' reactions.
So let's stay focused on the progress.  It works for us.  

The day we discovered that our porch roof wasn't attached to our house I ran out to the hardware store to buy joist hangers and other supplies for that imminent project.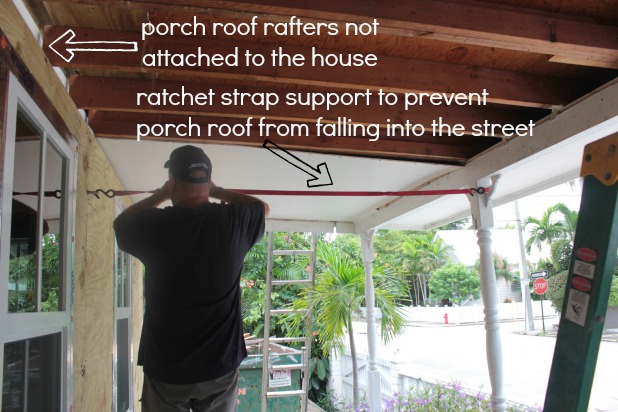 And because he's not one to just sit around waiting, I came home to find that my dad had removed our front entry threshold.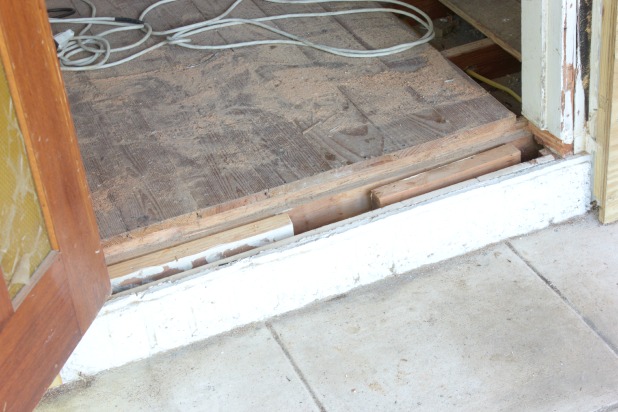 This was one of the many projects that came up during my dad's visit that was unplanned.  You know how that goes, I'm sure.
Once we had the build-out all in place that created the flat exterior surface for our new siding, and hid all of the old faux brick, we realized that the old threshold wasn't going to work with the new depth to our walls once the trim and siding was attached.
See the plywood build-out on the right side in that picture above?  The old threshold didn't come out far enough for it to look normal after all is said and done.
The only picture I could find of the old threshold was from way back when our central air was being installed in the spring.  And I can only imagine I took this picture because the girls are in it.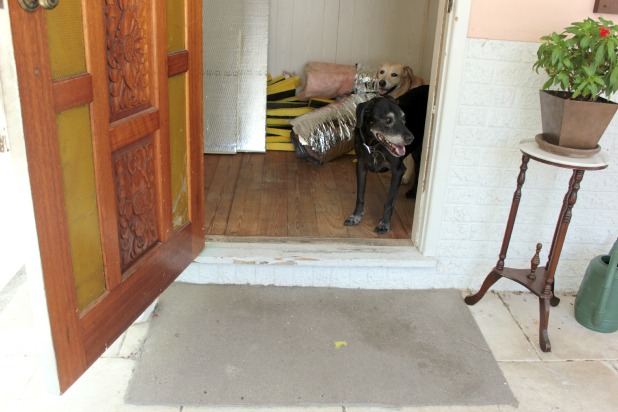 That poor plant is long gone, too.  #RIP
With one run of the circular saw my dad was going to cut it back so we could patch in a new piece that would overlap the new depth of the wall, but instead it just all came out in one piece so we were left with a clean opening to fit in one nice large piece.
Or so he told me that's how it went down, I was not a witness to this occurrence and can only report what I have been told.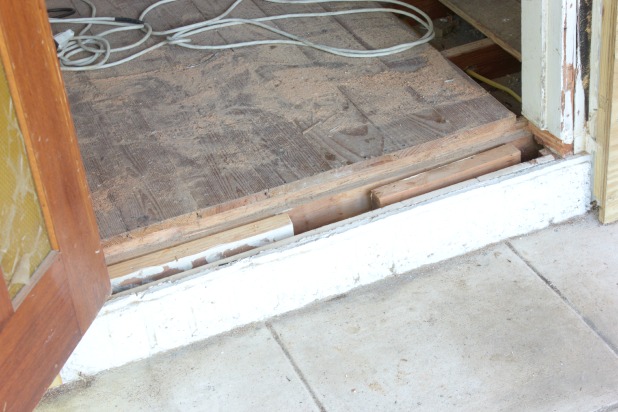 We actually had a scrap piece of 2 x 12 left over from the best weekend ever so my dad cut it to length, so it would line up with the build-out on either side of the door opening …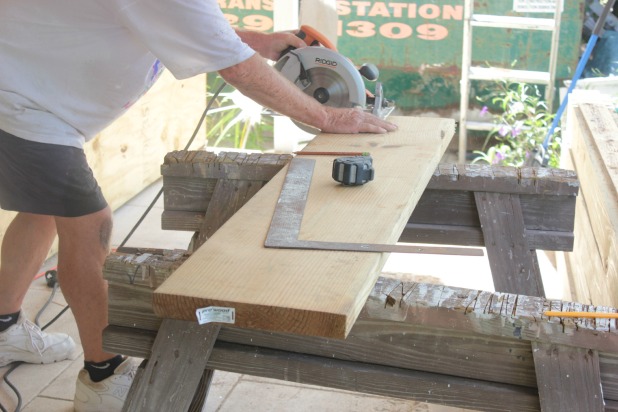 … and then he notched out the corners that needed to fit through the doorway.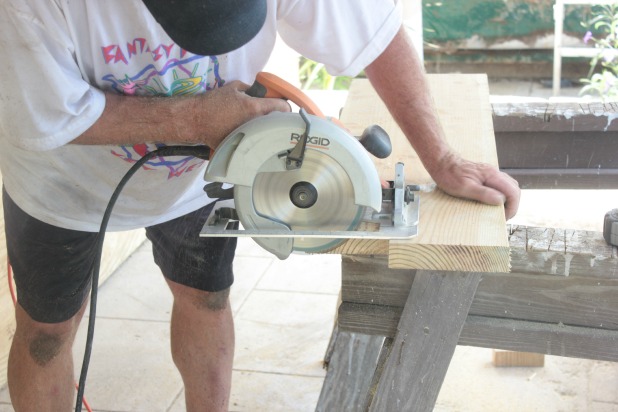 He used a block of wood to hammer against to nudge it into place and not leave any hammer marks.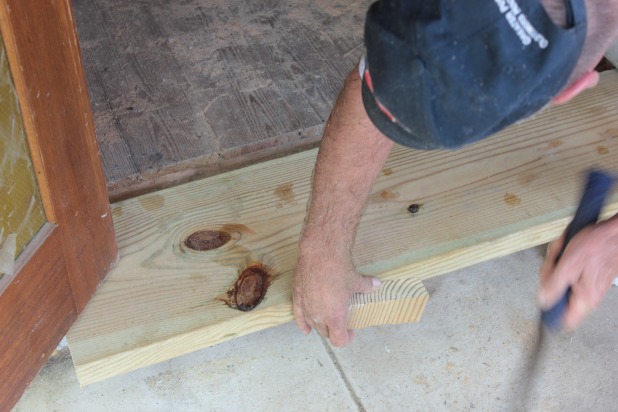 And we decided to add trim pieces below it instead of worry about running the new siding under there and notching around the door.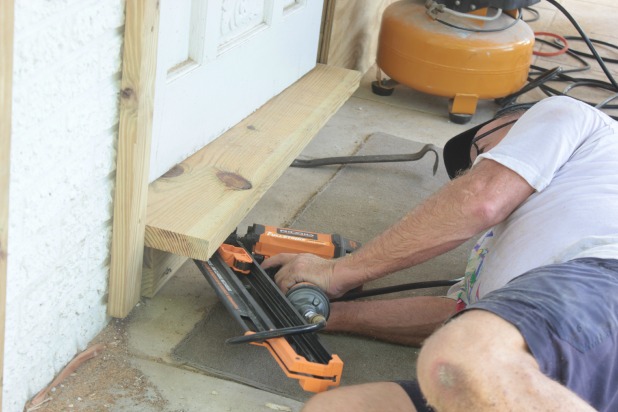 Yes, it was the easier solution.  But I also don't think anyone will ever look at it and think "Man, it would make such a difference if there was siding under the doorway.".
That trim piece will end up painted white with the rest of the trim.  And may end up being trimmed down a bit if we decide the length bothers us.  That's one of those, "I could trim down the new threshold which works perfectly good as-is or I could hang new drywall so our house feels like it has walls" decisions.
But the threshold, that is the current household debate.
The old one was white (albeit disgustingly dirty), ours in our previous house was white, but Joel wants to stain it.
What say you?
As for the to-do list for this exterior project, here's where we stand:
raise the roof on the old porch, details on that here
build-out exterior to create flat surface for new siding, details here
install new windows, details here
trim out windows, doorways and corners, details to come
install new siding – partially complete … we're waiting on the one last window that is above the porch roof to arrive so we can get that trimmed out before we finish the siding
finish the roof … just waiting on the roofers
caulk all new siding – partially complete … I just do a little bit here and there
power wash entire house exterior
scrape off any loose and chipping paint
caulk all necessary areas
prime
paint
paint trim
Then, and only then, will we bring some pride to our quaint little Key West neighborhood.