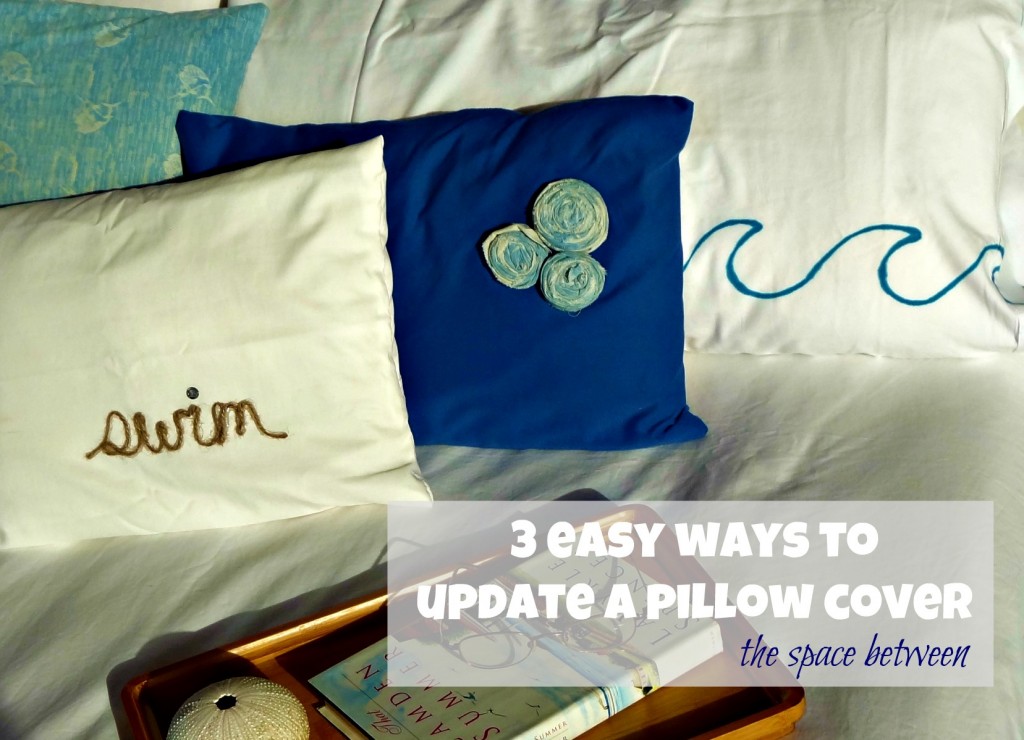 Hey y'all.  Yesterday we were talking pillow cover making and today we're giving those little covers a little extra umph with 3 easy ways to update a pillow cover.
Let's jump right in and start with the white pillow covers.  You may recall we didn't work with any white fabric yesterday.  Those beauties in the back are just regular white pillow cases updated with a blue sharpie.  Easy peasy, right!?!
Update #1, sharpie embellished pillow cases:  hand draw stencil on old manila folder, cut out stencil, put another old manila folder in the pillow case so your sharpie doesn't bleed through and trace stencil.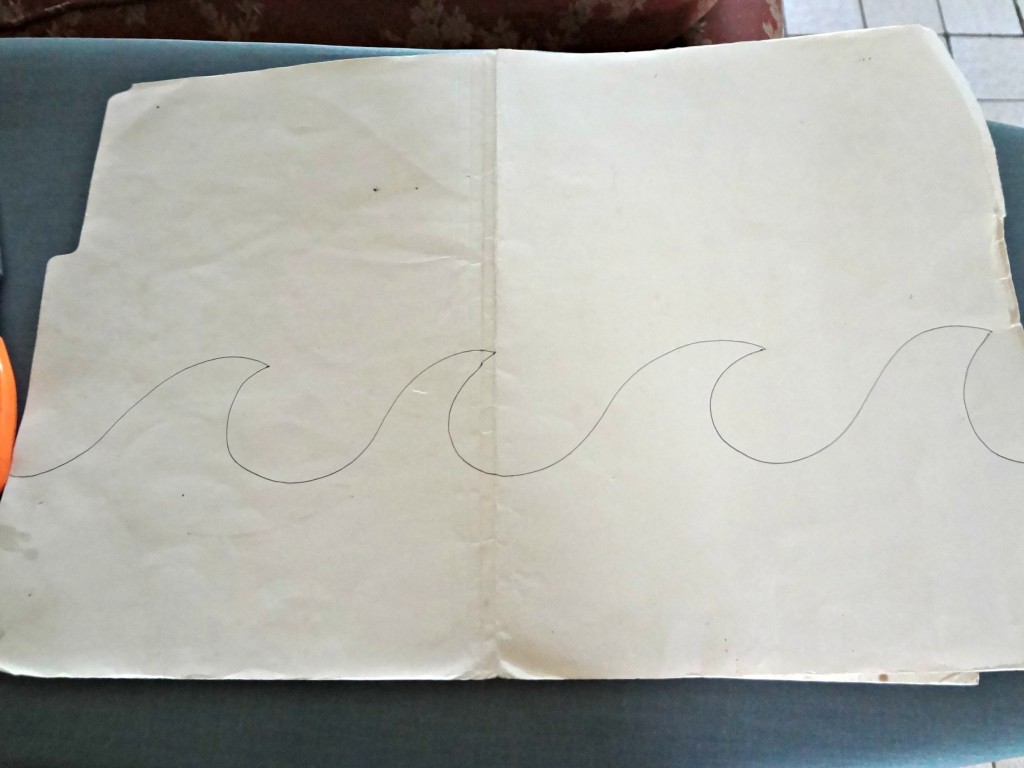 TIP!!!  Don't test your technique on scrap fabric so when you screw up the first pillow case you can use the back half of that case to make another small pillow cover with an envelope opening.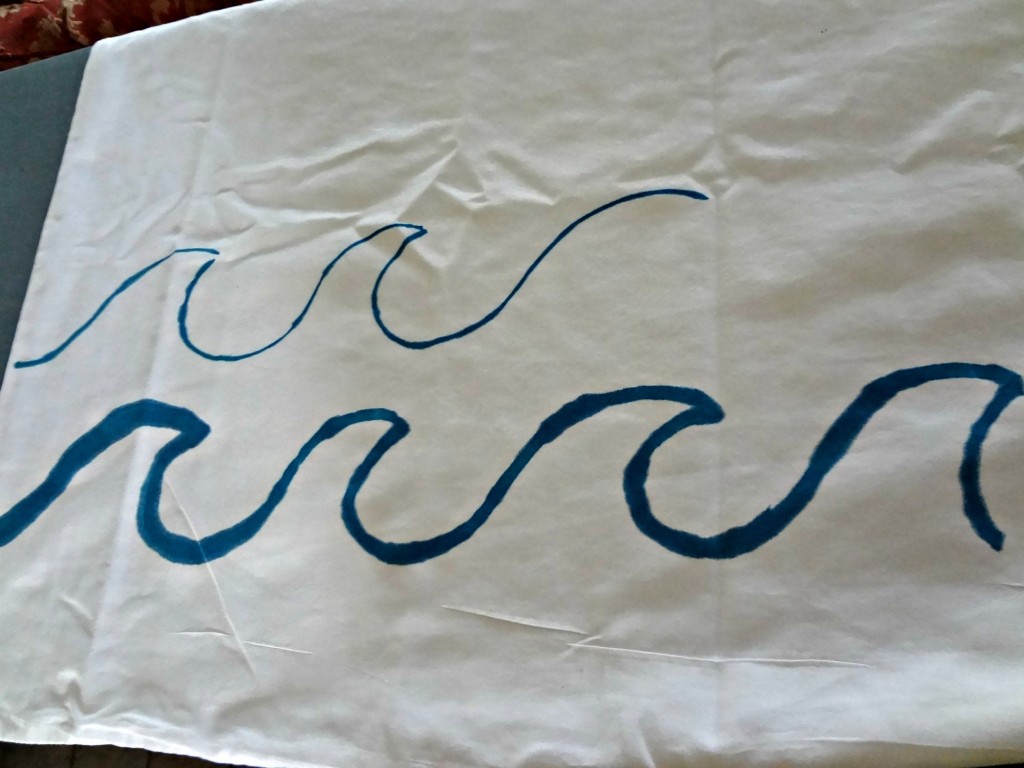 TIP #2!!!  Move your sharpie smoothly and fairly quickly to prevent ink build up and unsightly thick lines on your fabric. 
I recommend this technique to anyone looking for a super simple, washable upgrade, and is OK with the character that comes with the imperfect nature of the ink bleeding on the fabric.
Update #2, jute twine wording:  Hot glue your wording of choice on your pillow cover and create a textured word using jute twine.  For an 'i' or a 'j' use a small button.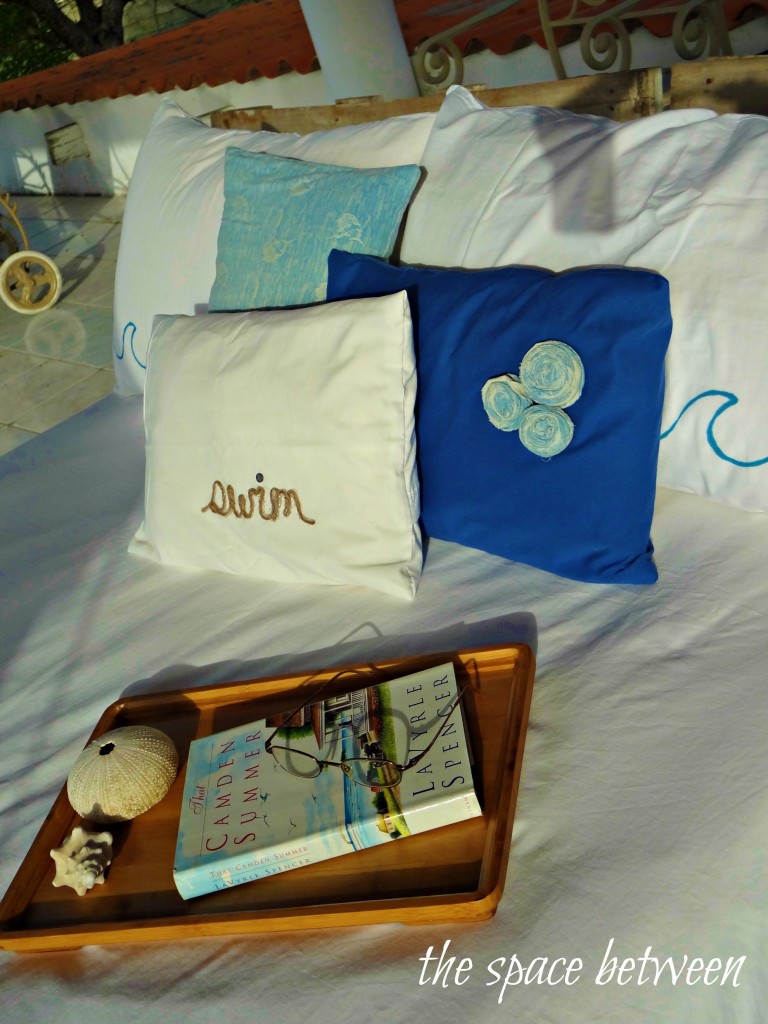 I don't actually have any in process pics of this one.  Between the hot glue and the jute I had my hands full.
TIP!!!  Hot glue small sections at a time and don't over glue.
You can actually see the glue on my pillow, and I thought of re-doing it, but it doesn't bother me for some reason.  It goes with the casual nature of the space, and since the word is 'swim' it kind of feels like water to me.
I would recommend this technique to anyone looking to add a little bit of whimsy to a pillow that will be in a casual space.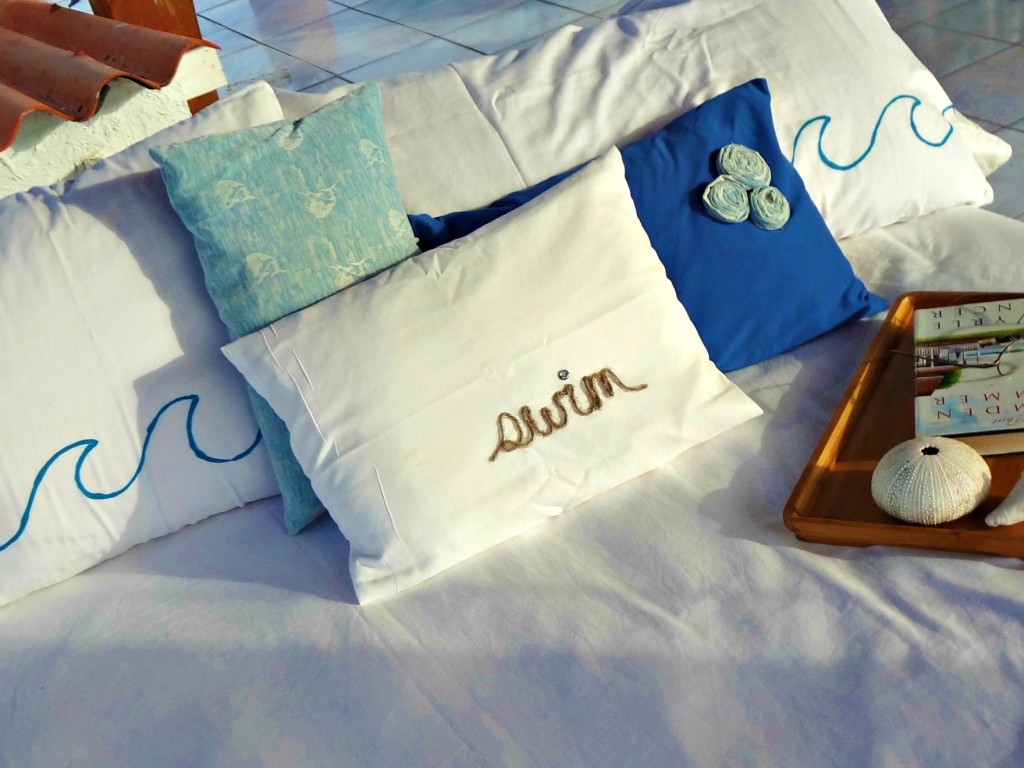 Update #3, no sew fabric rosettes: follow the tutorial here to make fabric rosettes and then use a no sew fabric hemming product to attach them to your pillow cover.
I had lengths of fabric that were about 20 inches long, but I knew I wanted a small, medium and large rosette.  For the small one I just tied two lengths of fabric, ripped to about an inch wide, together and used that as the center point.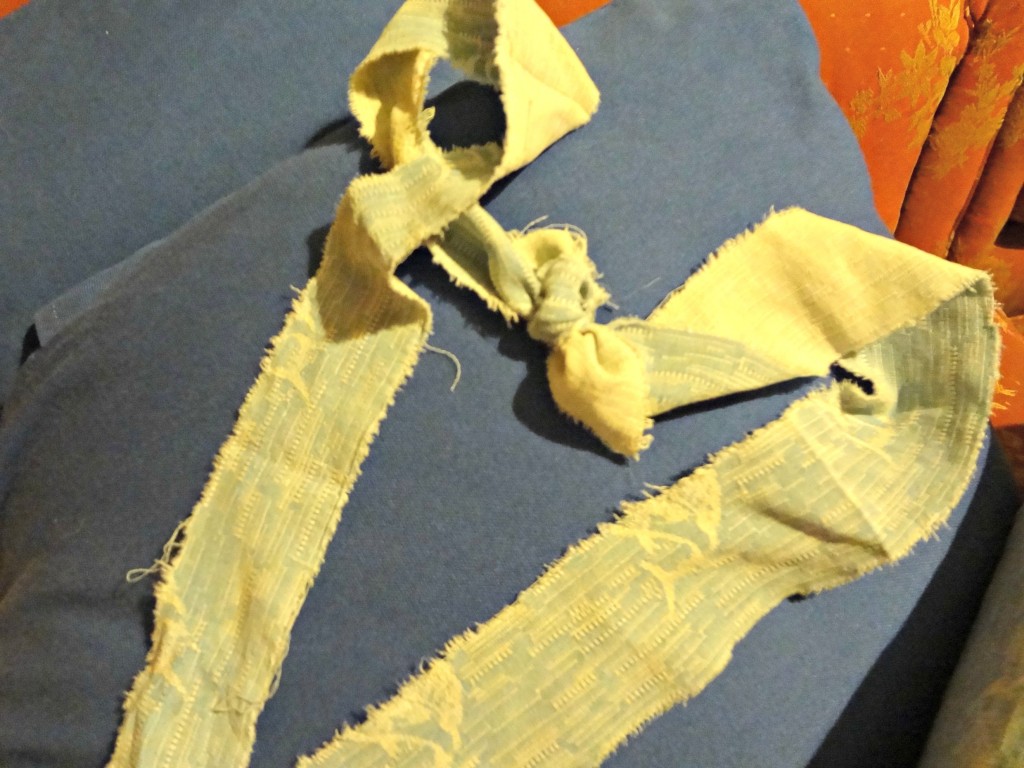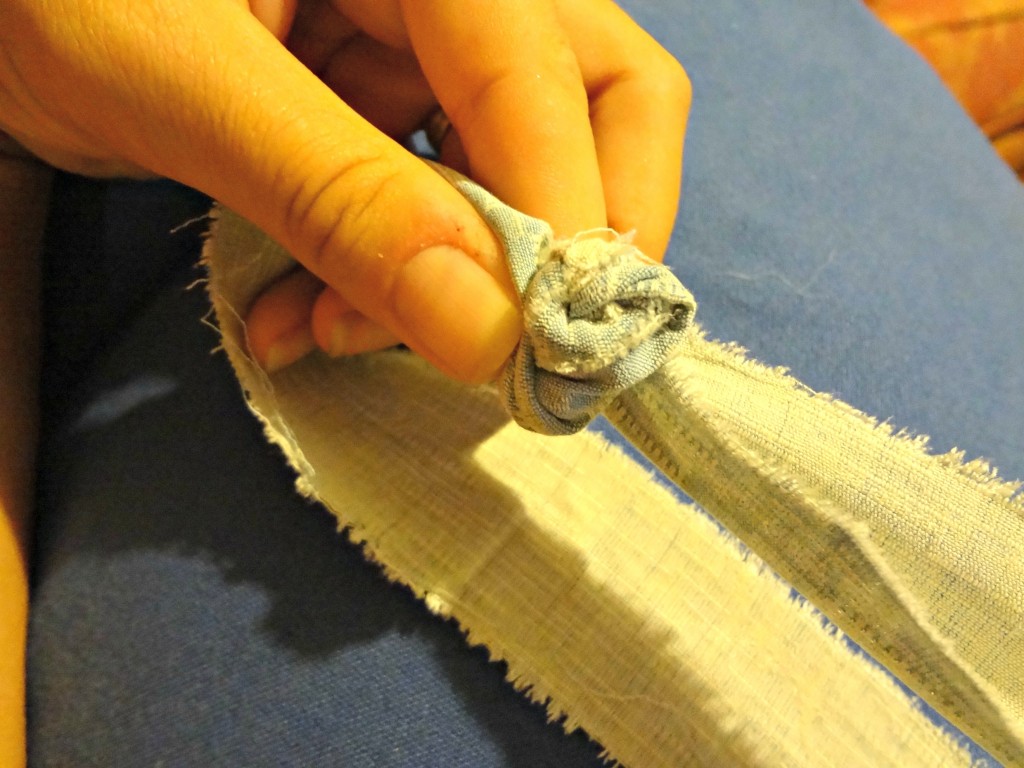 You just fold and turn your fabric as you wrap it around the center knot.  This is the perfect project for those of us that like some intentional imperfection.  🙂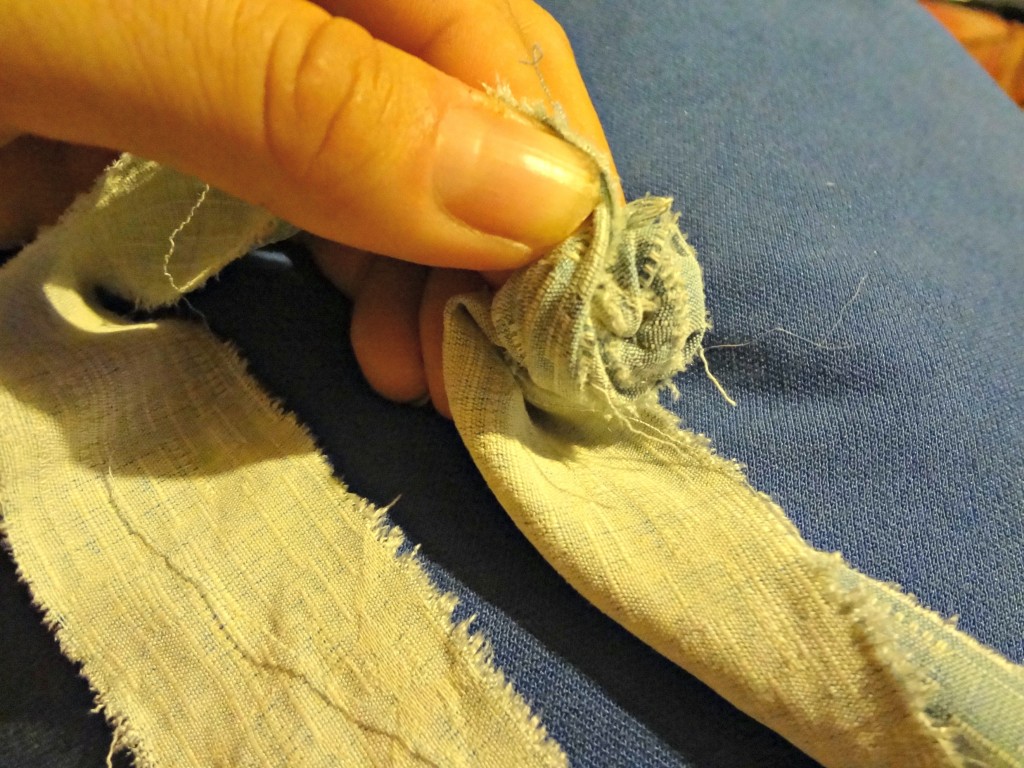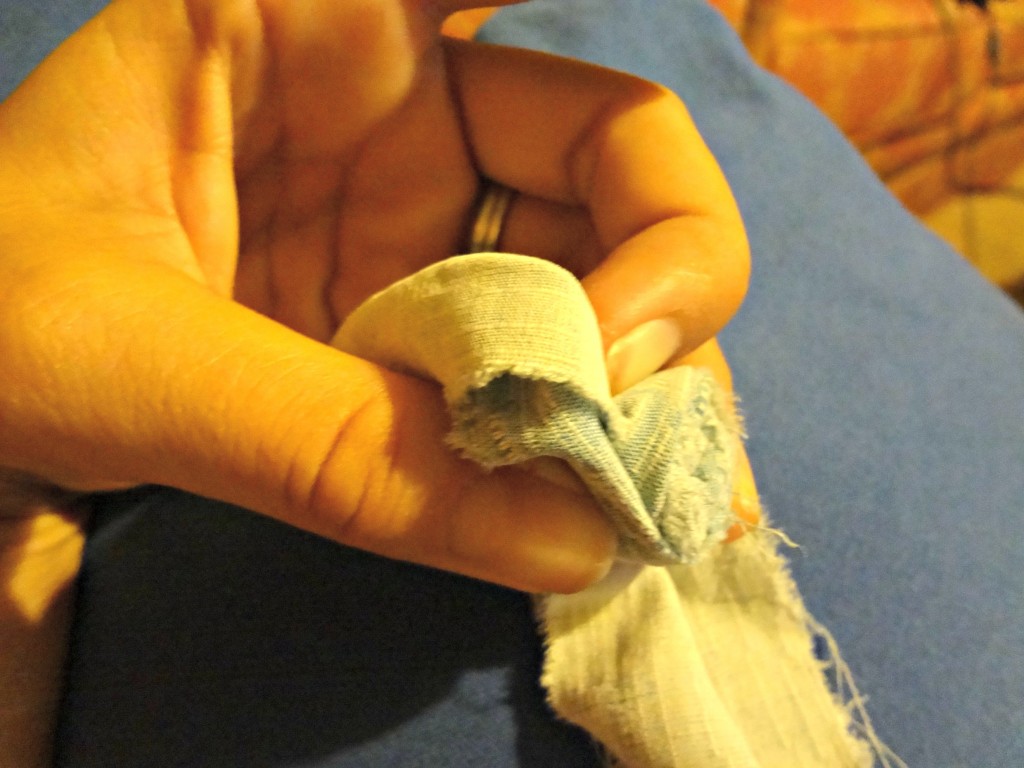 And when you get to the end of the first strip of fabric, just fold the beginning of the second strip of fabric over that end and keep folding and turning and wrapping.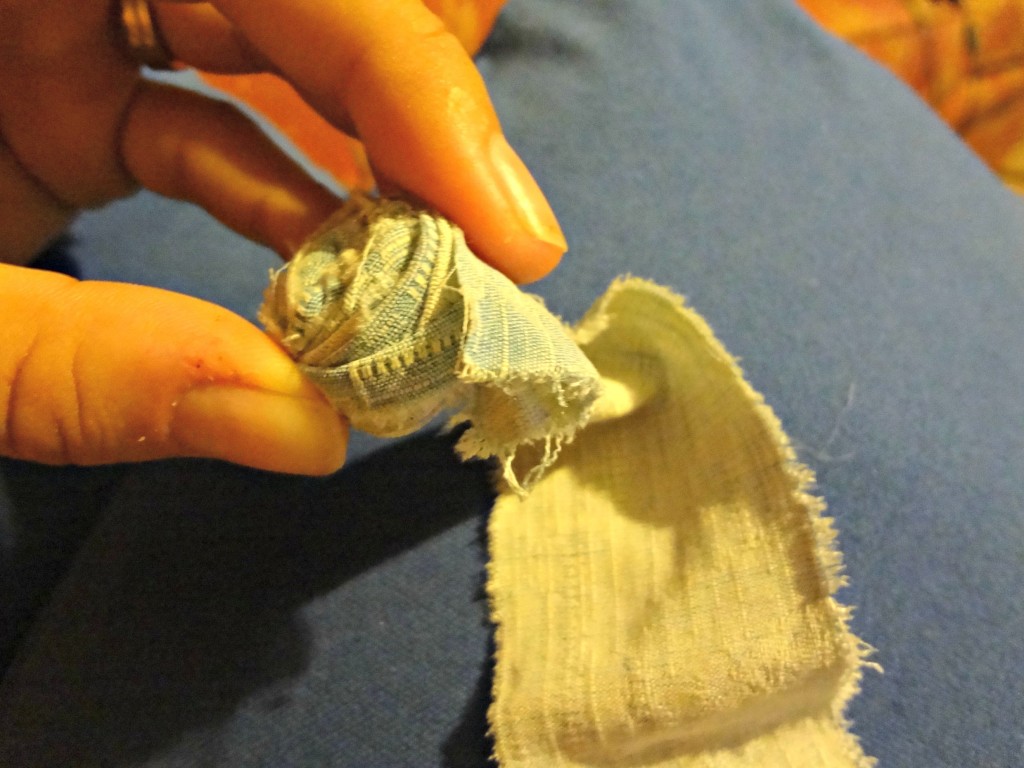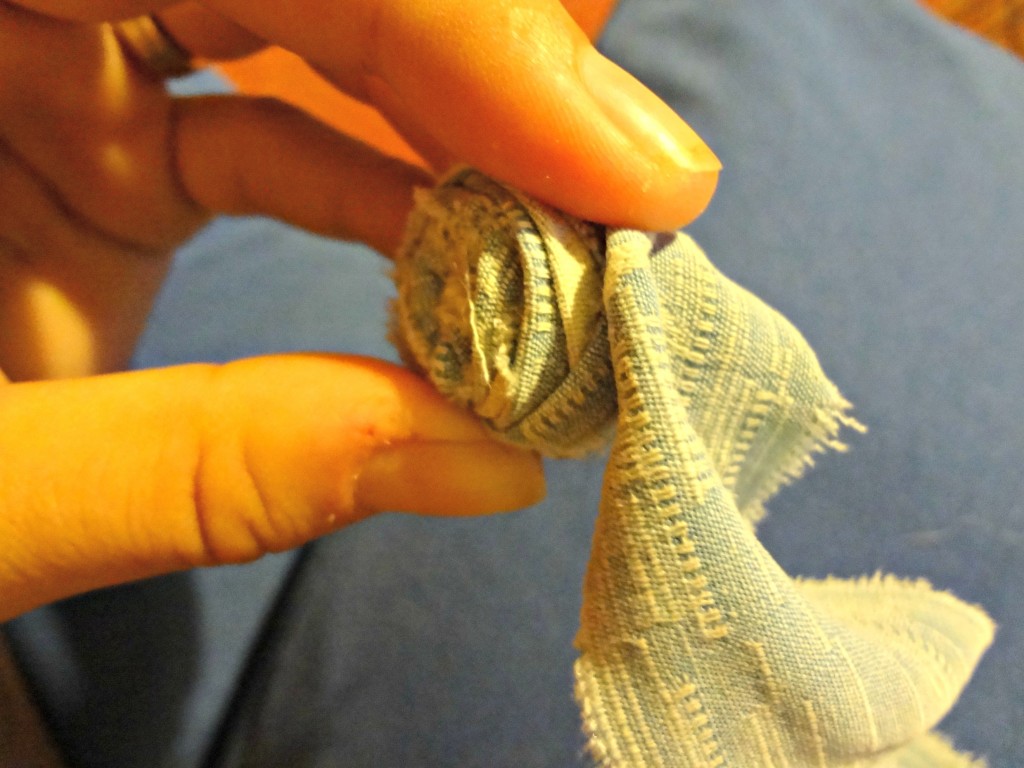 Then if you want to continue to make your rosette bigger, when you get to the end of that strip of fabric, just underlap (not a word?  it's the opposite of overlap) the new strip of fabric under the end of the strip you just finished, fold it up and continue with the flipping, folding and wrapping.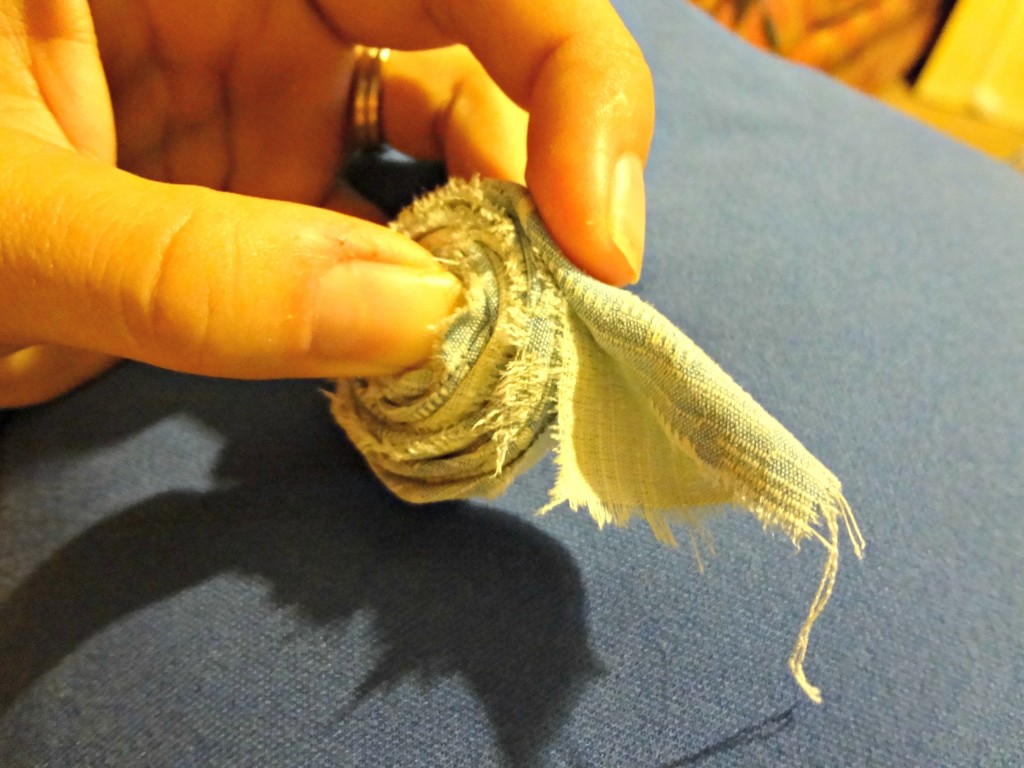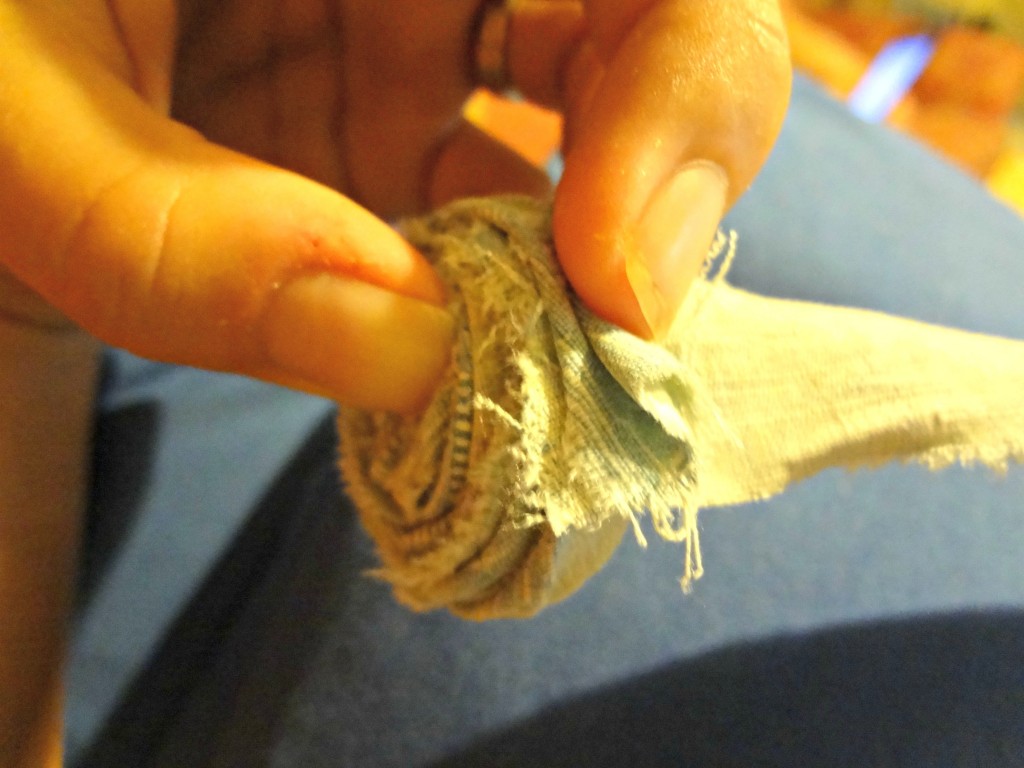 And there you have it.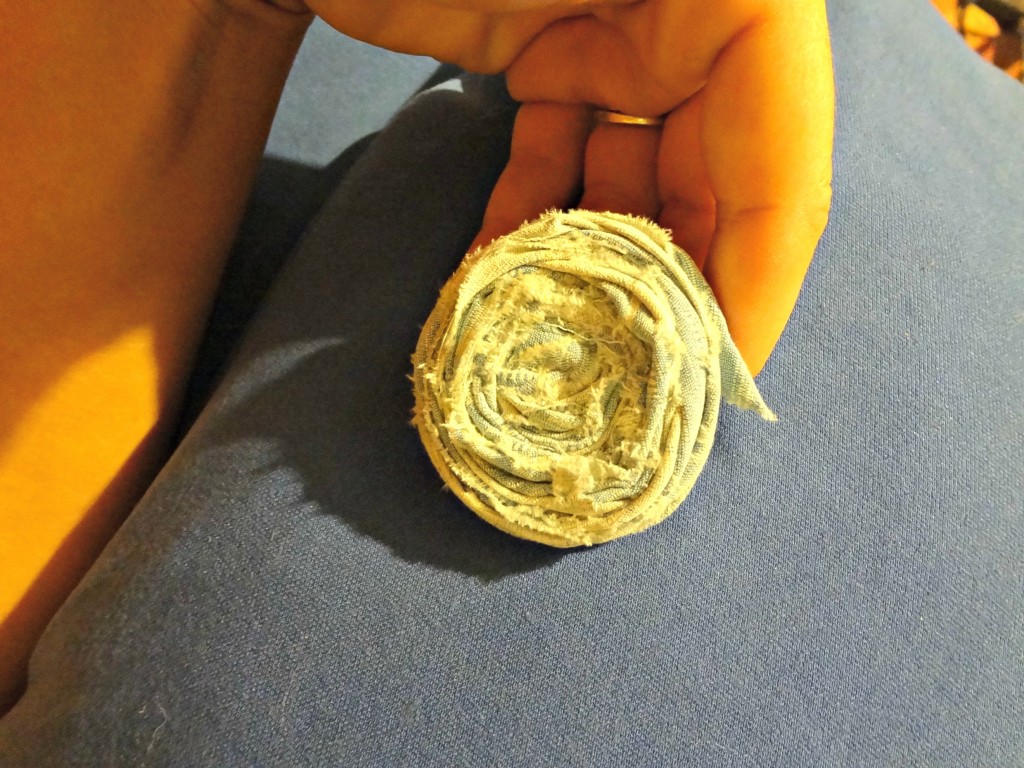 Now, I have no idea how anyone else has attached these kinds of things, but I had some Steam-A-Seam on hand so I tried it.  And it worked! I even used a little piece of the Steam-A-Seam to essentially glue the end of the fabric strip to my rosettes.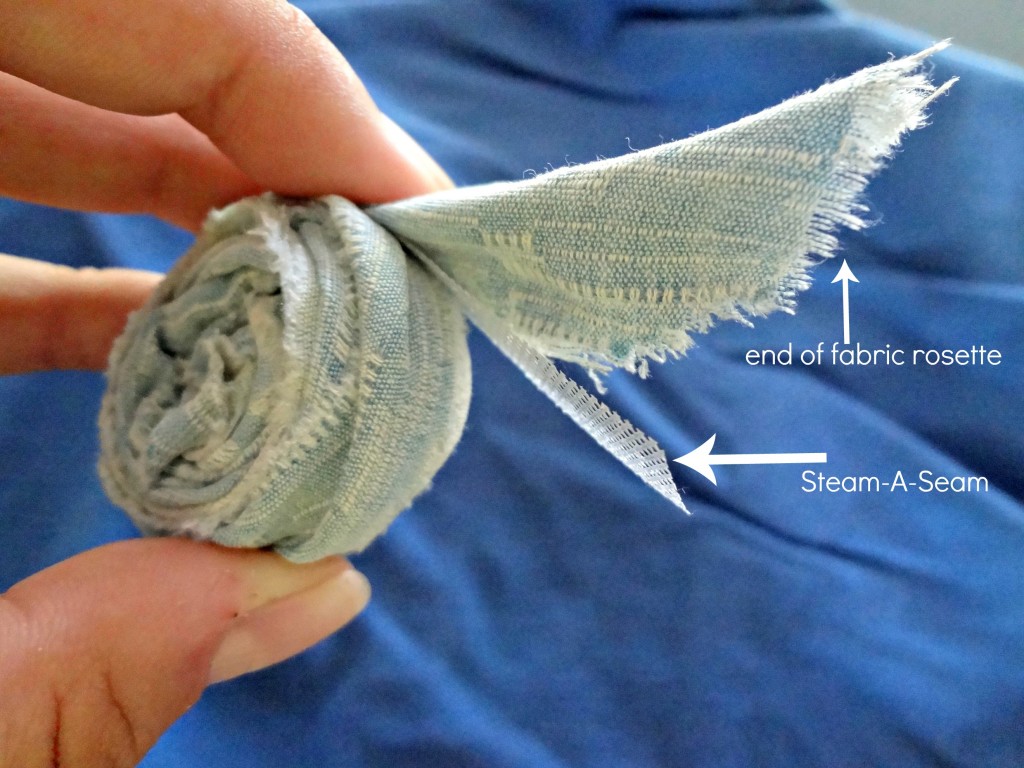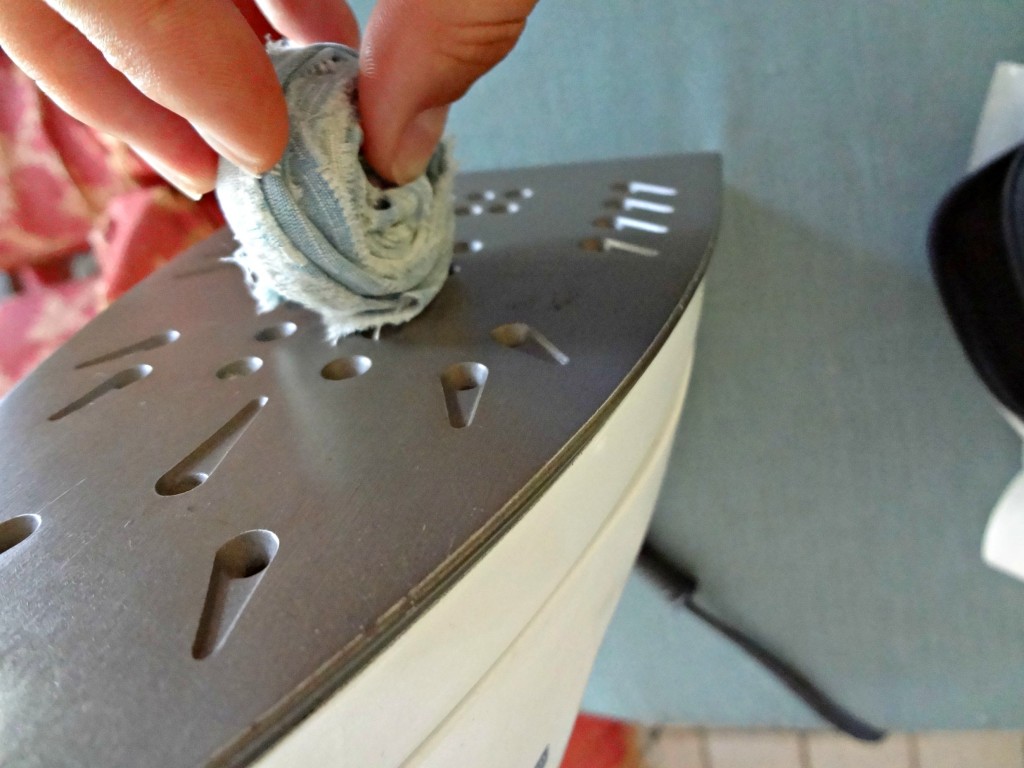 And then, to attach my rosettes to my pillow cover, I just cut little strips of the Steam-A-Seam and eyeballed where I would want the rosettes to be on the pillow cover.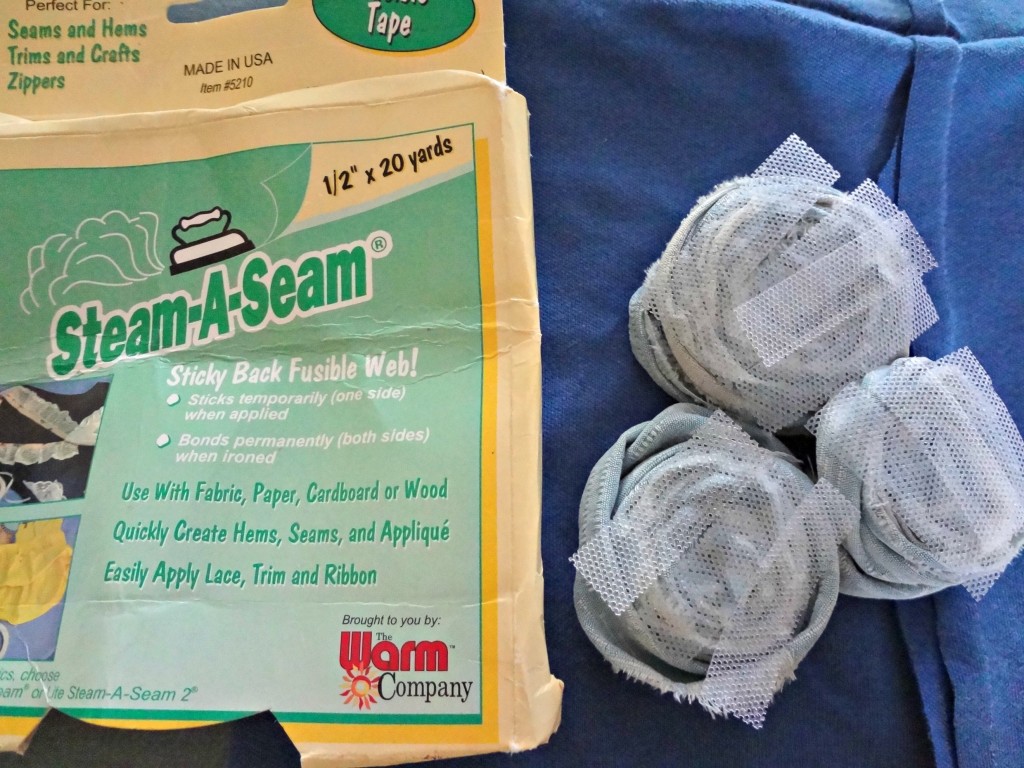 The hardest part of this technique is that you have to flip your pillow cover inside out to iron on and active the Steam-A-Seam. So you really have to do some educated guessing on where your rosettes are going to end up.
This looks right, I think.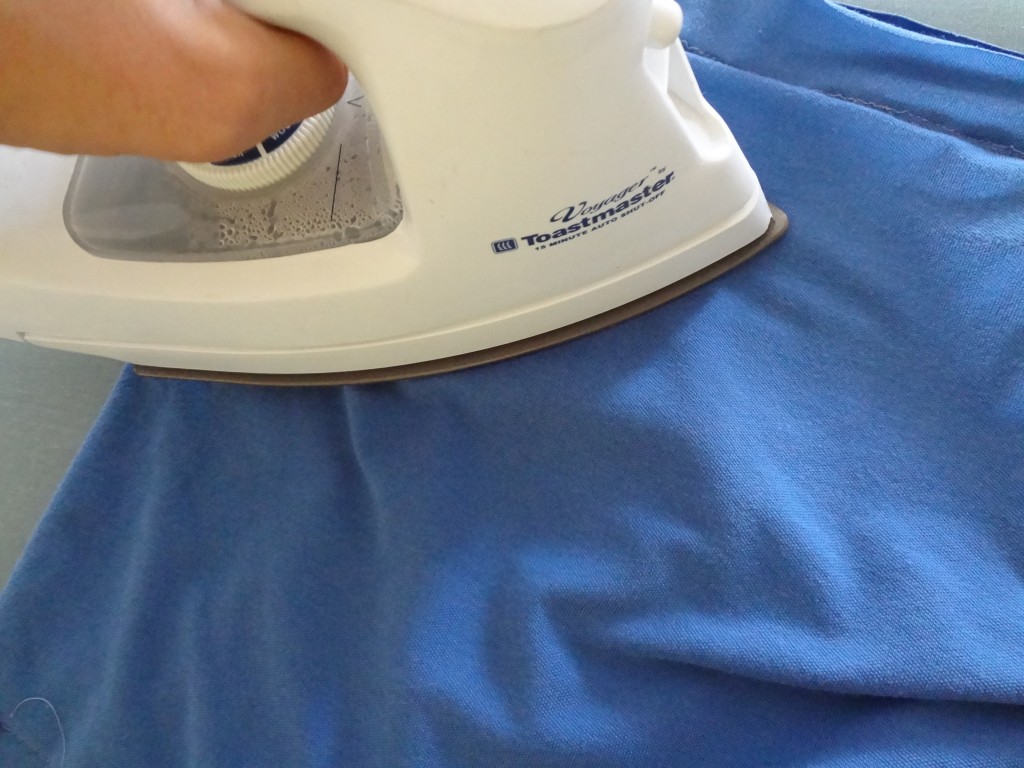 Once your first one is ironed on then just snug the next ones right up next to it and cross your fingers.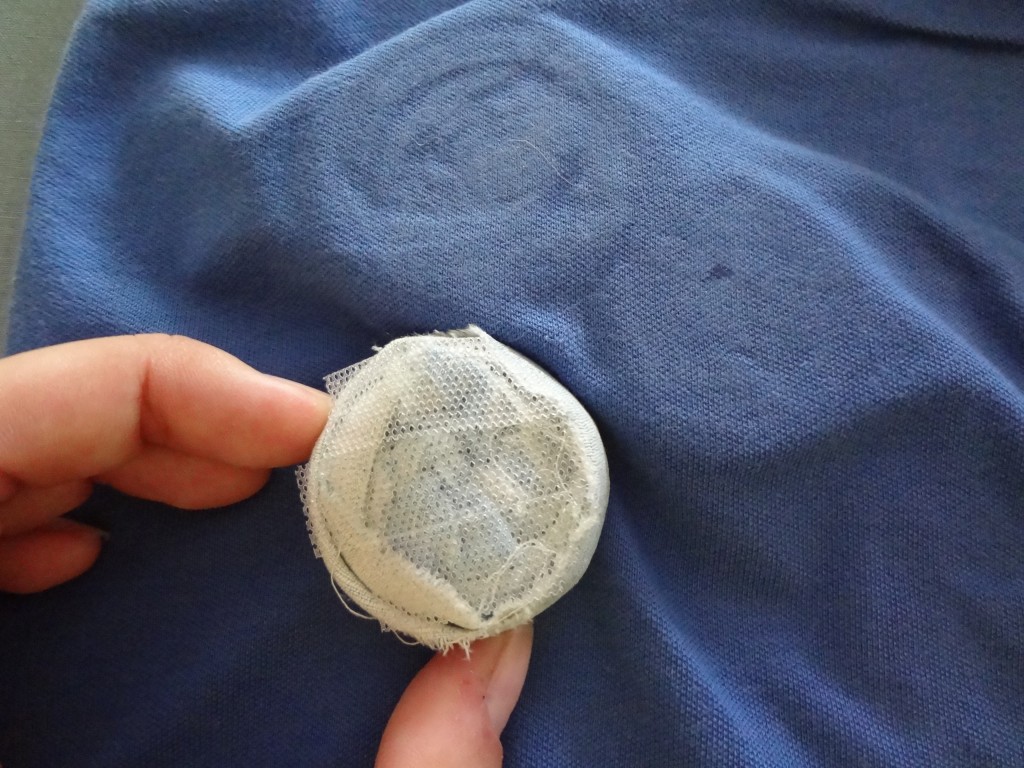 I would recommend this technique to anyone who is OK with having to redo it if you need to machine wash the cover, Steam-A-Seam is not washing machine friendly.  And I wouldn't think these would hold up to serious prodding and pulling for those of you with unruly children.  🙂
But, for not necessarily being a rosette kinda gal, I think they add just the right amount of umph to my plain blue pillow cover.
Any way you look at 'em, they are pretty inviting up there on our rooftop pallet bed.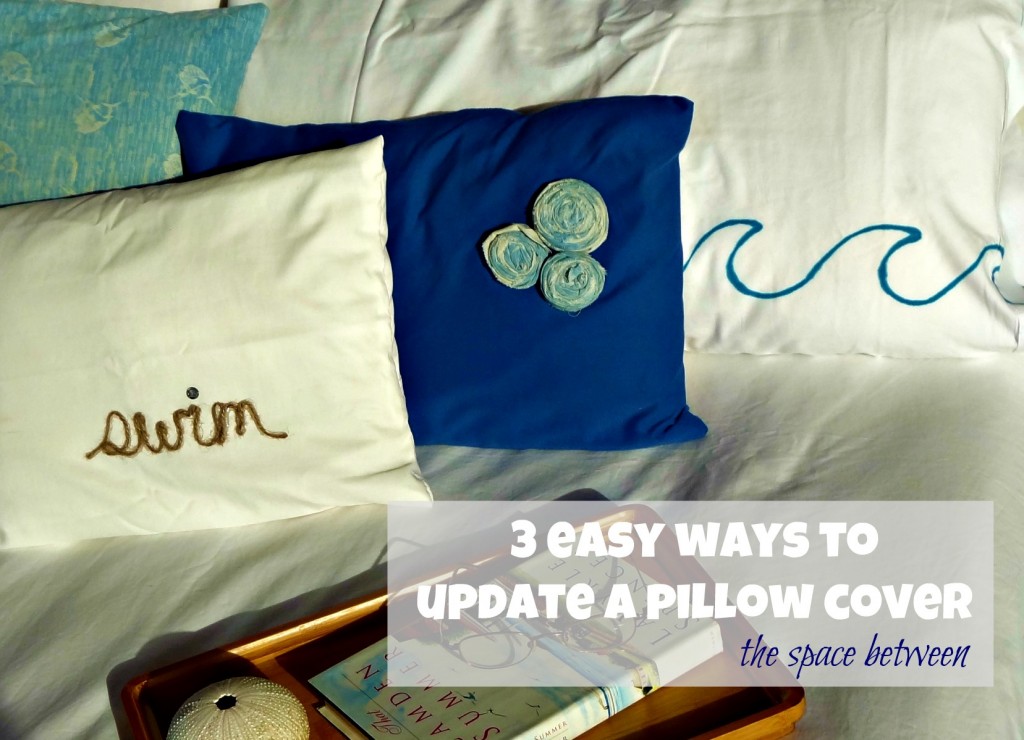 So, tell me, do you have any favorite pillow embellishing techniques?  I might just be in the market for some new ideas as part of an upcoming project I am trying to get the nerve up to do.  Eeekk!
To see all of the envelope closure pillow cover making deets please check out yesterday's post.
And, to see more rooftop bedroom eye candy click here.
I am sharing this project here and at: BNOTP, DIY Show Off, Home Stories A to Z, Savvy Southern Style, Remodelaholic, Today's Creative and Sugar Bee Crafts.