Hey y'all!  I found a pretty easy way to get my new cabinet hardware attached, lined up, centered, level and lookin' good so I thought I'd share it with you.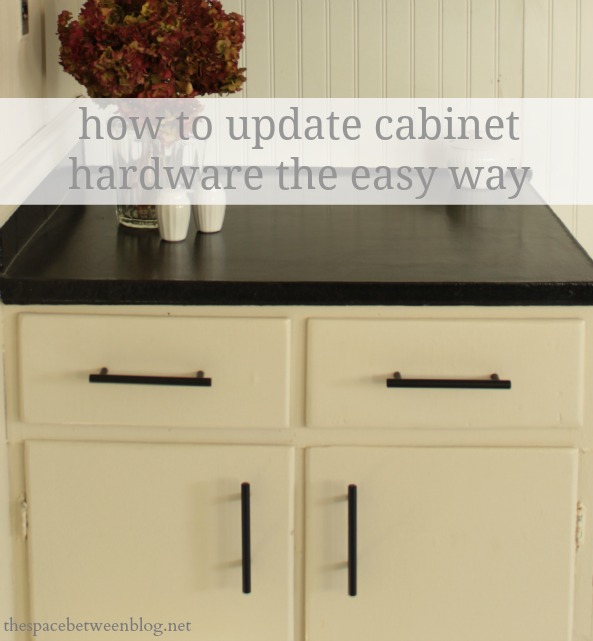 And really, doesn't all of that just depend on how accurate a measurer (not a word?) you are?
But, I had just resurfaced my cabinets with the Rustoleum Cabinet Transformation kit so I really didn't want to go and screw them up.  So, when it came time to attach the hardware here's what I did.
1 – Measure height of drawer to find halfway.  Mine are 6 inches tall so I put a mark up 2 1/2 inches from the bottom on the side of the drawers and ran a piece of Frog Tape at the mark.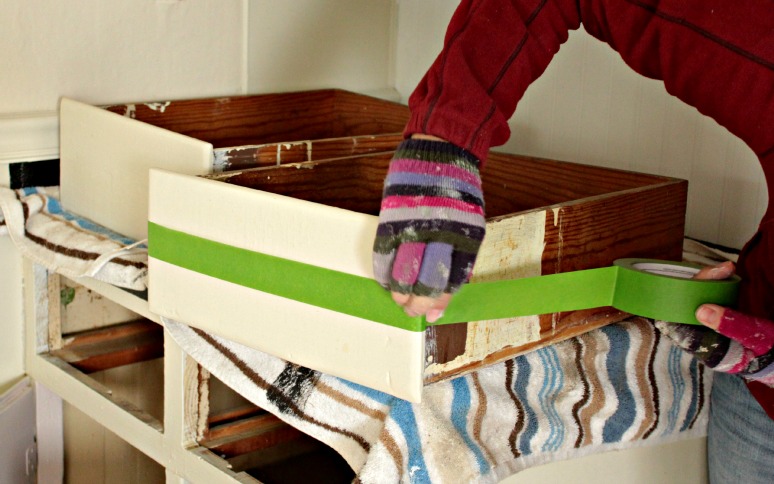 Like my work gloves?
2 – Make a mark on the tape where the tape lines up with the edge of the drawer.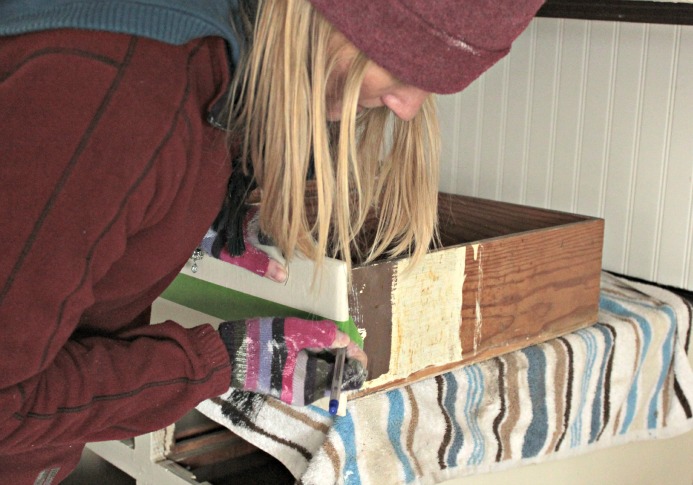 And my hat?  😉  Yeah, it was kinda chilly that day.
3 – Make your necessary measurements to get your hardware centered.  This always takes me a few tries.  I go from the top down, from each side in and then line up the hardware to make sure the marks line up.
The tape made sure I could mark away and not worry about messing up my 'new' cabinets and drawers.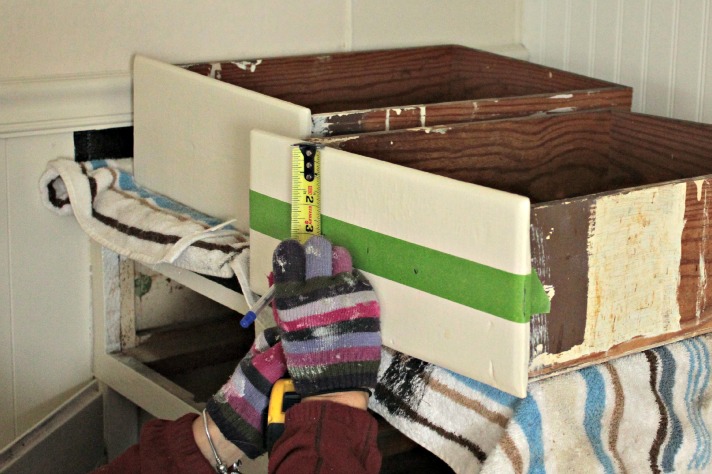 4 – Then just drill right through the tape on your marks.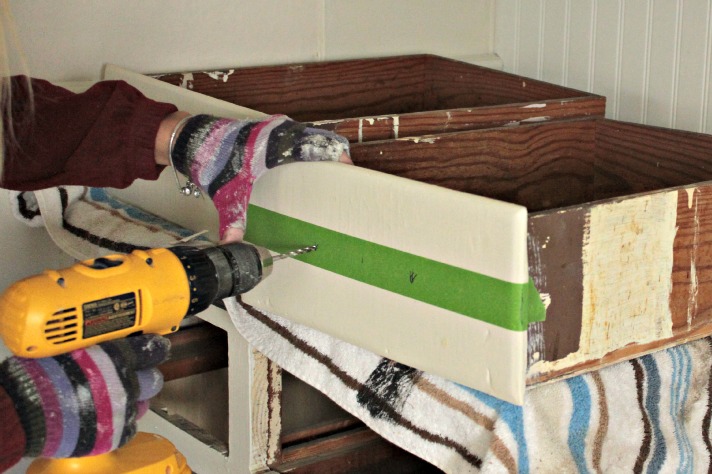 5 – Remove tape carefully to prevent peeling paint around your newly drilled holes.
6 – Attach hardware.
Now, if you have multiple drawers of the same measurement, just use the same piece of tape.  Mark up the same amount (2 1/2 inches) on the sides of each drawer and line up your tape with the marks.  Remember, you have a mark indicating where to line it up with the side of the drawer.  Easy Peasy!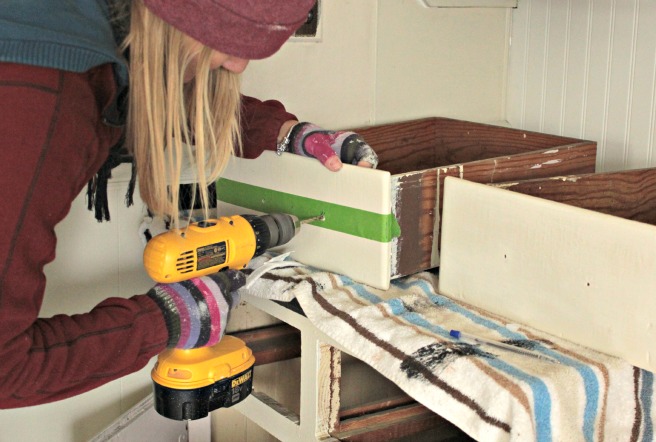 And there you have it.  New cabinet hardware and no stray marks on your cabinets.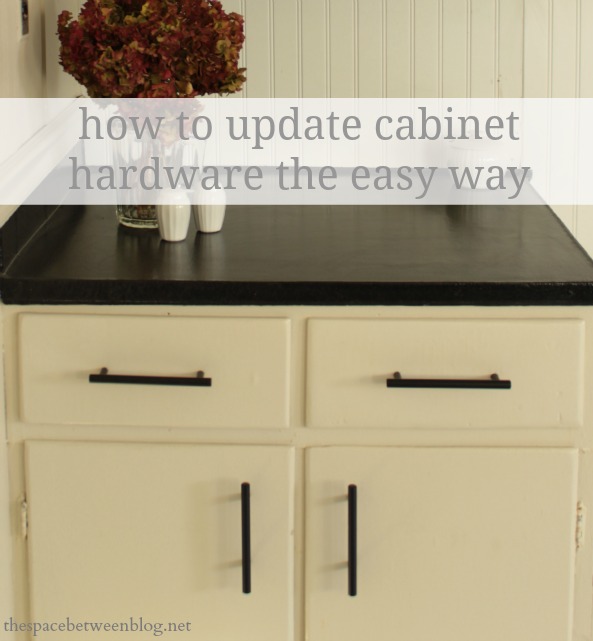 And, I don't know if you ever check the random clearance shelving at your hardware store … but I got these handles for $.50 a piece … about 4 years ago.  There was a whole table of random sizes so I just made sure to buy the sizes in pairs.  Bargain!!
You can use the same technique on the cabinet doors too, just measure down from the top edge of the cabinet, and I used a strip of tape to create a 'template' for measuring in from the side of the door.  There's a ridge in the door you can't see in the picture that the tape is lined up with.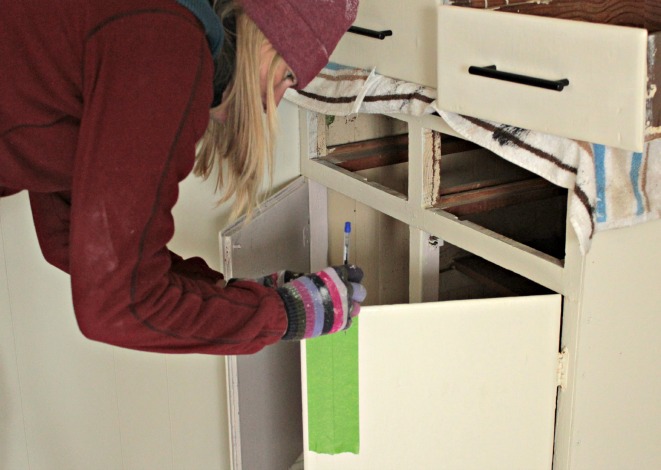 I also used the very scientific strategy of just holding up the new hardware to see where I thought it would look good before I picked the final measurements.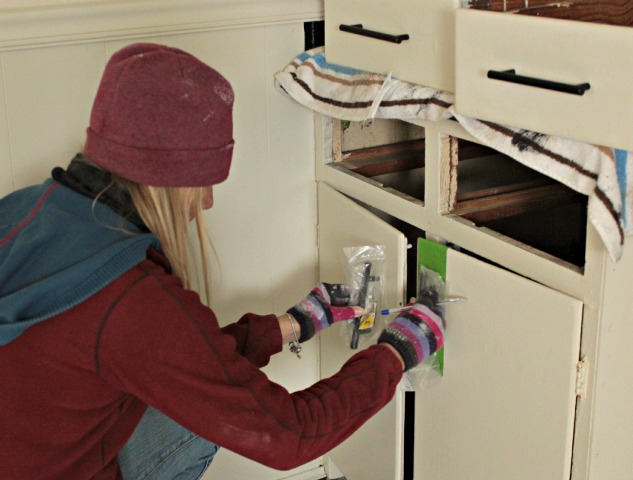 And because we had decided to remove all of the upper cabinets when we completed the cabinet transformation we only had the 2 drawers and 4 lower cabinet doors to add hardware.  Extra easy peasy.
So, here's where we stand in this kitchen:
an easy tip for installing cabinet hardware – check
how to hide water stains on a drop ceiling
beadboard magic
appliances
maybe a new light fixture
deep clean
So, are you handy with your hardware? 😉