It's that time again.  The first Monday of the month where we share an easy peasy, super simple, somewhat silly to post about project.
And today, my friends, we are going step-by-step into my rooftop pallet bed making process.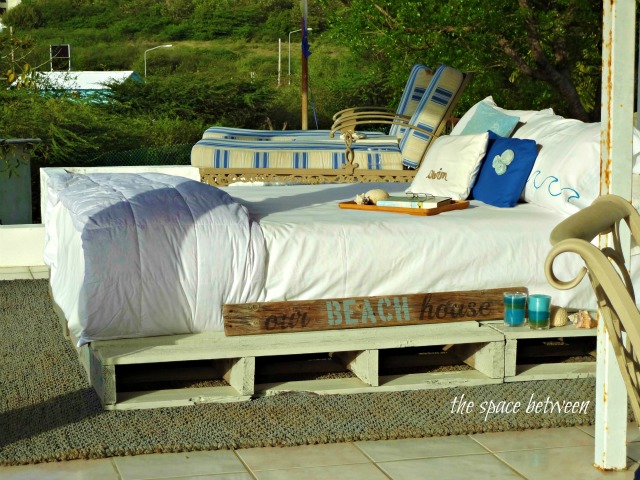 But honestly, because that process is soooo simple.  We're going to start with the jute rug.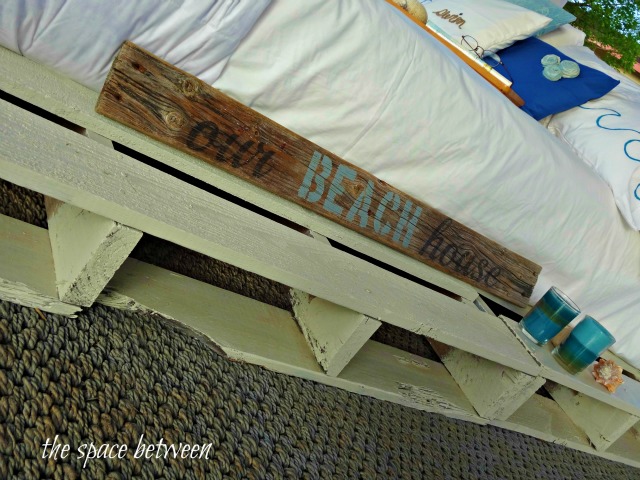 We've had this rug for about 8 years and she has long ago reached her peak and is waaaayyyyy past her prime.  I must warn you, this before photo is not for the weary.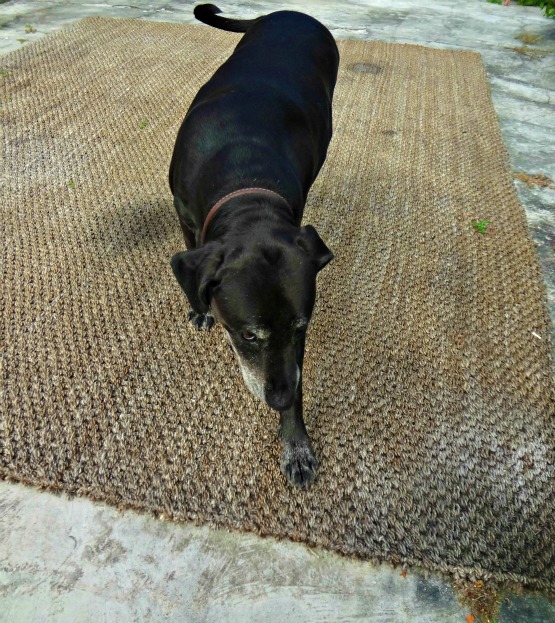 (Yes, I had left the rug outside to self clean in the rain and intense sun … long enough for a weed to grow through it.)
Let's digress here for a minute so I can give my one and only biggest tip of all times.  This will hopefully help everyone who has been kind enough to express concern about nature getting the best of my rooftop bedroom.
Biggest Tip Evah!!!  Don't decorate outside with anything you are not willing to lose in a battle with mother nature.
Simple.  Right?!?!
Ok, back to our 8 year old, has seen better days, experienced an unfortunate series of events involving our dogs and vomit, jute rug.  This cat is clearly on her 10th life.  But, with a little spray primer, she's the perfect base for our new rooftop pallet bed.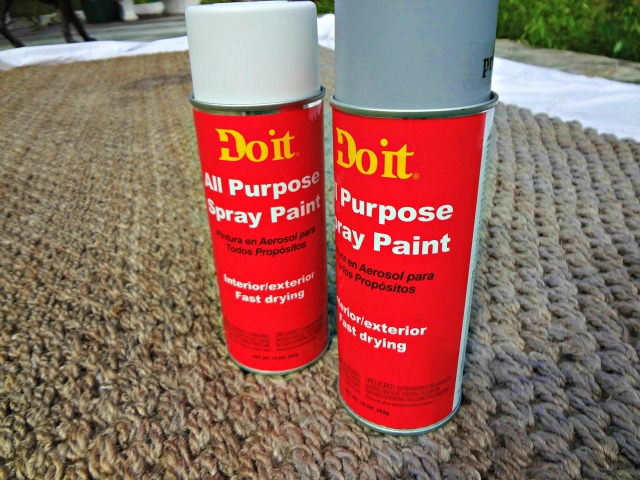 That's right, I just used spray primer, not even real paint.  I knew it was cheaper than my spray paint options figured that'd give the best coverage on the discolored spots I created in an attempt to clean previously mentioned dog vomit.  And, it worked. Score!
It actually took about 4 cans, more than I had expected for some reason.  And, I only went around the perimeter.  Why paint what's just going to get covered anyway, right?!?
For some frame of reference, the rug is 8′ x 10′ and I painted about 20 inches on 3 sides.  Ummmm, sooooo, you do the math.  🙂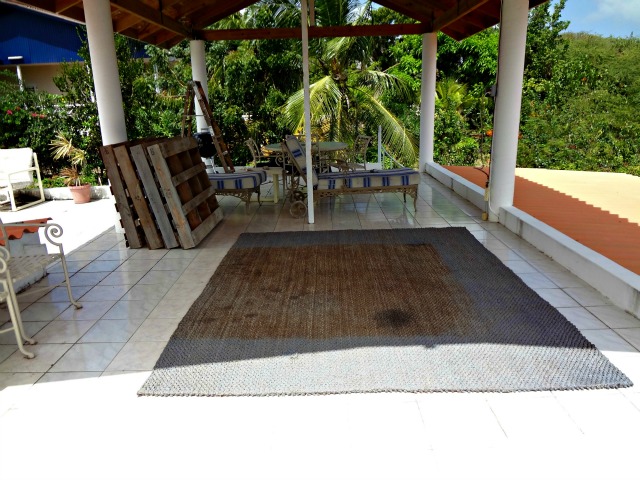 Once the painting was complete and the husband helped me schlep her up to the roof, the real easy hard work was ready to begin.
Here is how to make a pallet bed in 3 easy steps.
1. Ask a friend who is in the process of building a house and has a nice pile of construction debris if you can have some pallets.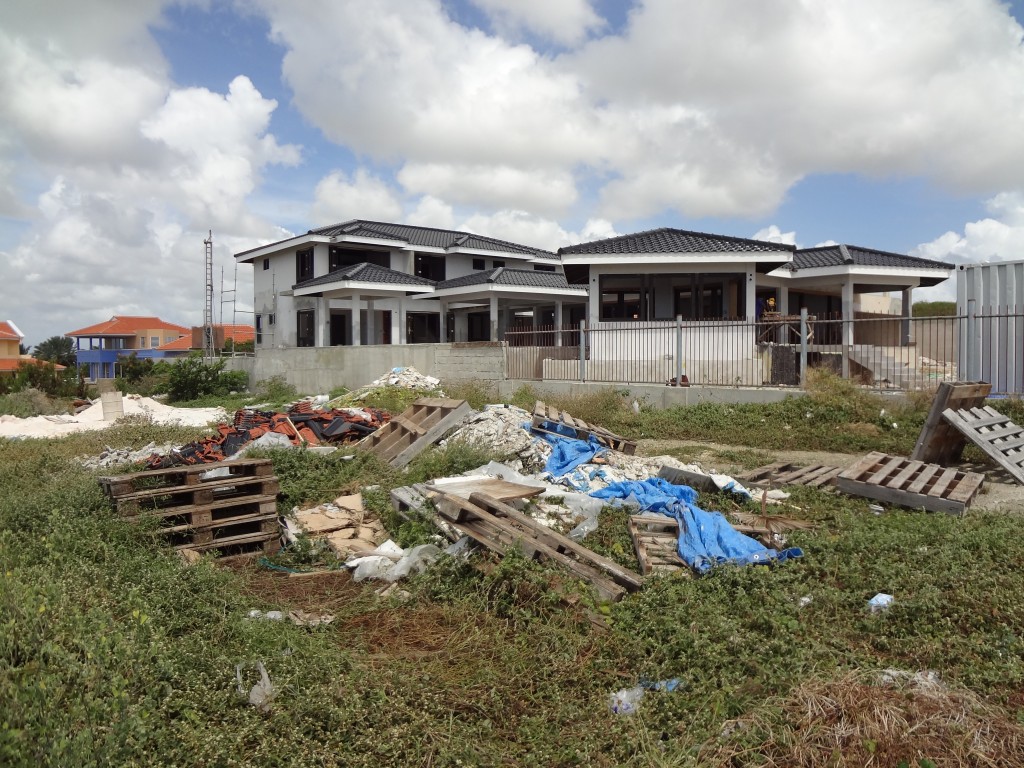 2. Lay pallets in a square formation over your newly painted old ragged ass rug.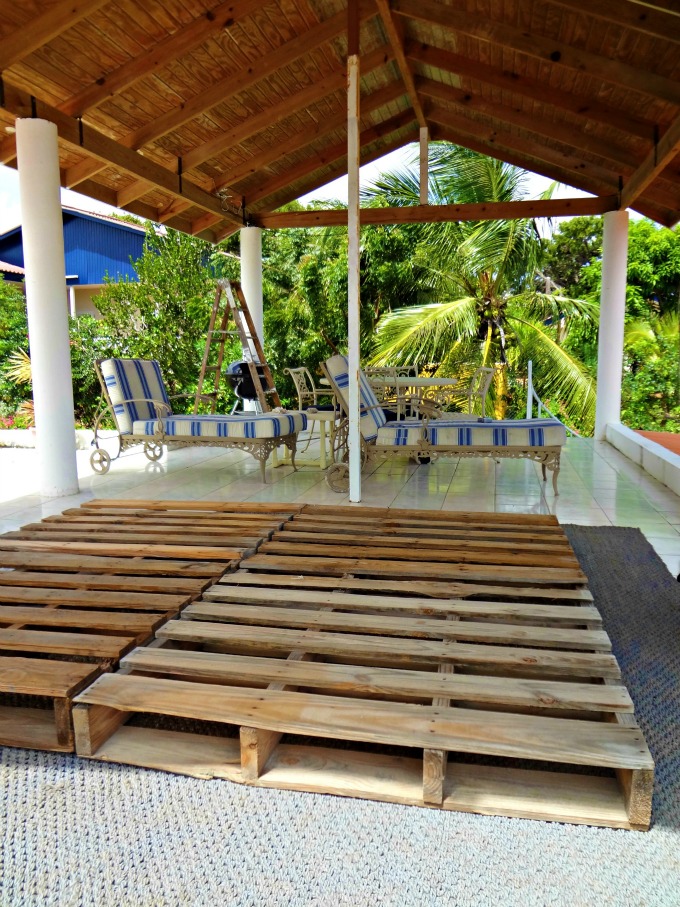 We actually waited through a few rain storms to make sure our placement was in the driest spot possible.  But, please refer back to the Biggest Tip Evah!!! before proceeding.
3. Place mattress on pallets.  Ta Da!!!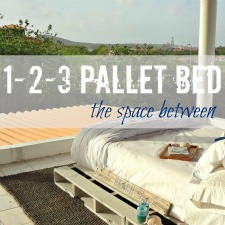 And, if you really want to get all fancy pants you can do a very poor thorough job of painting the exposed parts of the pallets.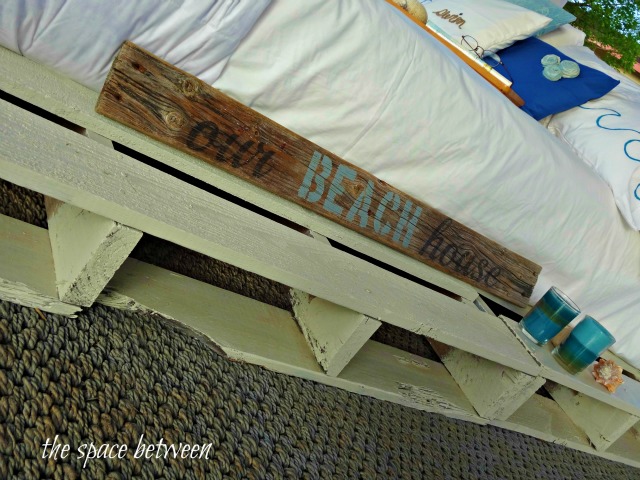 So … basically, this was a very long winded way to say lay a few pallets on the ground and … if you like it put a mattress on it.  😉
And, to see more pics of my new favorite room, our rooftop bedroom you can go here.
And, to learn how to make those little jar candles go here.
Aaaand, to see how to do an image transfer like the one on the 'our beach house' sign go right here.  🙂
Now, head over and see what these gals have been up to on the cinchy front.  🙂
And, just one more thing, I want to say a big Thank You! to Construction Management Degree for including this here blog in their list of the Top 100 DIY Sites.  I'm proud to be sporting their button in the right sidebar, and you can click on it to check out the amazing company we are keeping on the list.  🙂