I did it … finally.
I have been wanting to make my own homemade laundry detergent for a few years now. I was all ready to take the plunge earlier this month. But, as happens now and again when living on an island, I couldn't find all of the ingredients.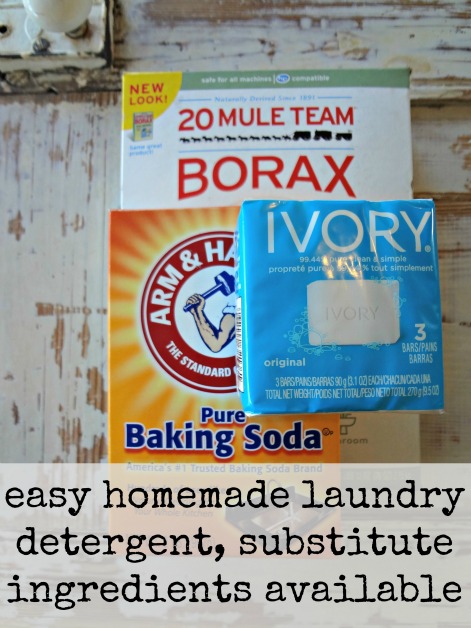 Yes, it is true, there are only 3 necessary ingredients.  And I couldn't find Borax or washing soda.  Such is island life, it was a fun scavenger hunt for a few days, though.
Update:  We've moved back to the US and you can easily find Borax here and washing soda here.
Lucky for me, I'm at least smart enough to have smart friends.  Smart friends who, when they find Borax they know it's not always available so they buy what they consider to be a '5 year supply' and are happy to sacrifice a box for the greater good. Thank you Anita!!!
And, still without washing soda, I looked into it a bit and learned that the difference between washing soda and baking soda is that baking soda is almost half the pH of washing soda, rendering it a gentler product while reducing a little bit of the cleaning ability.
Update:  I do know that it is super easy to making washing soda out of baking soda.  But it converts back to baking soda when it is exposed to air so that wouldn't work for this recipe. One of the best parts of making your own laundry detergent is how long it lasts!!
But, I just so happened to have some Oxy Clean on hand, so I thought that would add back in an appropriate amount of cleaning power.
Seems logical, right?!?
For everyone who has been asking, that little beauty of ours, Mico, is doing amazingly well … and keeping a closer eye on me than ever.  Just how we both like it.  Thank you for all the kind thoughts.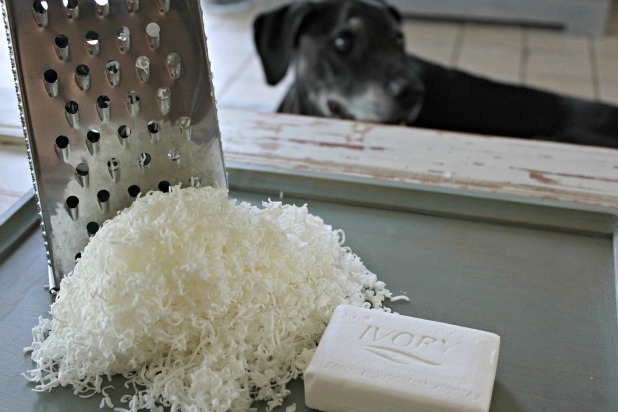 My ingredients of choice for homemade laundry detergent:
1 cup Ivory Soap grated (you could use any natural soap, ie. Kirk's Castile, Dr. Bonners, Fels Naptha or Zote)
1/2 cup Borax (there are alternatives using a pure glycerin soap if you prefer to not use Borax)
1/4 cup Baking Soda*
1/4 cup Oxy Clean*
*if you have washing soda you can substitute 1/2 cup for the 1/4 baking soda and 1/4 Oxy Clean.
Here's my understanding of the purpose for each ingredient in homemade laundry detergent:
Ivory Soap – main cleaning ingredient
Borax – whitener and deodorizer
Baking Soda – stain and odor remover
Oxy Clean –  additional cleaning umph
And, the two best parts of this project in my opinion, you ask?!?!
Unless you live on an island and have trouble sourcing ingredients, this is a super simple project.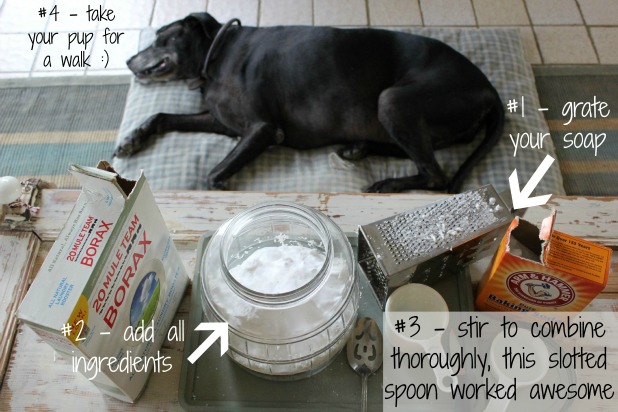 Grate the soap and combine all ingredients.  Easy peasy.  Feel free to multiply the recipe as desired.  My three 3.1 oz bars of soap were about 3 cups total and I combined the other ingredients accordingly.
And, use 1 tablespoon of the concoction for regular loads and up to 2 tablespoons for your nasty laundry heavily soiled loads.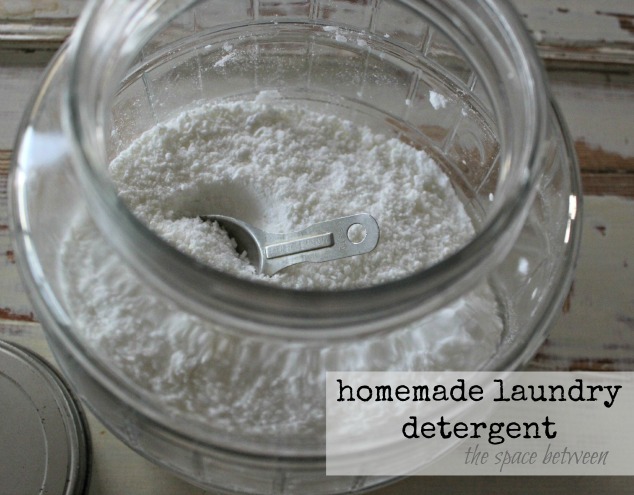 And the other best part … the cost breakdown vs. store-bought powdered laundry detergent.
No, I don't have a mathy breakdown because I didn't actually buy all of the ingredients and yes, my comparison would be a Curacao cost breakdown. But, word on the street is this is cheaper.  🙂
And, it is low suds so can be used in HE, front loading units.  Bonus!
Update:  You can make a diy desiccant to prevent your homemade laundry detergent from clumping, the recipe is here.
Tell me … have you ever made your own laundry detergent?  Anything else homemade that I should give a try?  Wish I actually had a mathy cost breakdown?  I do.  🙂
And … the winners for the Homezada.com giveaway were picked, find out if it's you here.

*post contains affiliate links