Well, it seems as though this week is the week.  Our closing is scheduled for Thursday.  Can I get a knuckle bump?!?!
We're pretty darn excited to get this new chapter in our journey started already.  And somewhat cautiously optimistic that this closing date will actually happen.  So maybe it's best to hold off on the knuckle bumps until the weekend.  🙂 #nojinxiesplease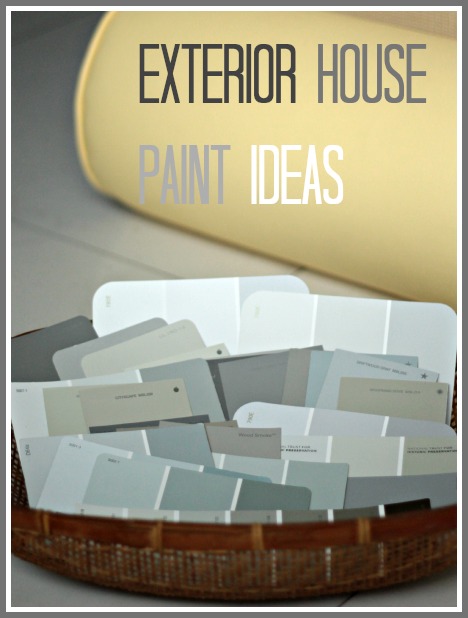 And, as it stands today, I'm actually kind of surprised the current residents of the house haven't filed a restraining order against me yet.  I seem to be able to find any reason under the sun to drive, walk, jog and otherwise meander by the house.  🙂  There are so many exterior house paint ideas that run through my mind that I find myself thinking of them and then thinking …
… "I'll just go by the house to remind myself where we're starting … I need to run a few errands anyway" or …
… "I need to take another look and make sure that would work … I'll just walk by on my stroll with Marley" or …
… "I wonder if they've packed up everything in the car port yet … let's drive by and see".
I have restrained myself from becoming even more paparazzi-stalker-like and actually taking pictures every time I happen by.  But along the lines of exterior house paint ideas here is the current topic up for discussion … I'd love for you to weigh in.
How do you decided what color to paint the exterior of your house?  We know that changing the color of the house will have an immediate and dramatic impact.
When I asked Joel what he had in mind for exterior house paint ideas he said "something fun, like blue".
So, in my loving, I'm-sure-I-understand-what-you-mean-and-I-take-your-opinions-very-seriously-at-all-times-voice I responded pretty quickly with "if by blue you mean grey … then I totally agree".  🙂
Turns out, he did mean grey after I convinced him that's really what he meant.
So let's talk a little bit about this exterior house paint idea, can we?!?!
For starters, grey is the epitome of versatile.  If we go with a shade of grey than we can go with a more fun color on the shutters and front door.  I say let's do fun on the smaller accents instead of ending up with a house that screams "WELCOME TO THE CIRCUS".
I think grey is enough of a color that it is a color while still being enough of a neutral to go with a wide variety of other colors. Make sense?
I mean, we're not strapping ourselves down to any specific color scheme with grey.  We're going to want to bring in color with flowers and patio furniture and other fun outdoor accessories.  I don't want to limit those fun little additions by having too defined of a color in the form of a big a$$ house.  🙂
Also, grey is a color that is very 'coastal' feeling to me.  By going with grey we can create a beach house vibe without being too Florida beachy, I want a subtle beach vibe, not pinks and palm fronds.  ifyouknowwhatimean  🙂
But, within this net of grey are still a lot of options.  So we're working on trying to get it narrowed down.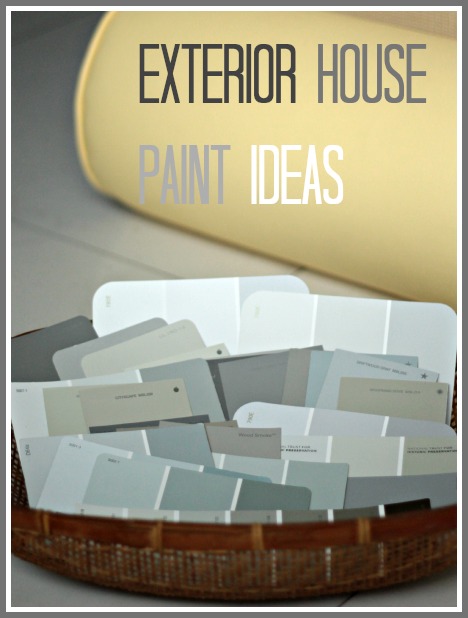 I'm thinking a lighter grey, but dark enough to really pop off the white trim.
And I'm thinking a grey from the bluish-grey family, as opposed to a taupey or greenish-grey.  Hopefully this helps tie in the desires of the man of the house and make him realize this color was actually his idea.  Good idea, honey.  😉
Seems like a fair compromise, no?!?!
And if you're interested in getting caught up on how we got to this point be sure to check out how we moved from one island to another in 23 days, how we decided whether to rent or buy knowing that we are only going to live here for a few years and see some ugly fun before pictures of our soon to be house.
Update:  See the color we chose and how we're using a paint sprayer to apply it.
And if you're looking for some general inspiration about choosing your own color scheme for the exterior of your house you might find these articles helpful: