Hey there!  Happy happy Friday!  If you're here with the #EclecticallyFall House Tour from The Wood Grain Cottage, welcome!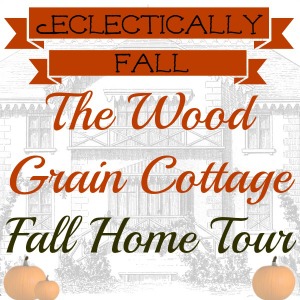 If you're a regular around here, welcome!
Heck, if you typed the space between in Google looking for the lyrics of the DMB song, welcome!  It's a good day to be here because I'm hosting a party on my porch.  And I promise to play you some Dave Matthews Band.  🙂
You can see all of the homes participating in the Eclectically Fall House Tour by getting started over at Eclectically Vintage.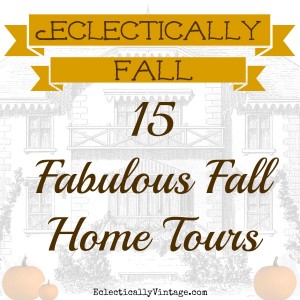 This is going to be one of those parties where I do a lot of deflection of what is really going on around our house to try to keep your attention focused on the wine porch.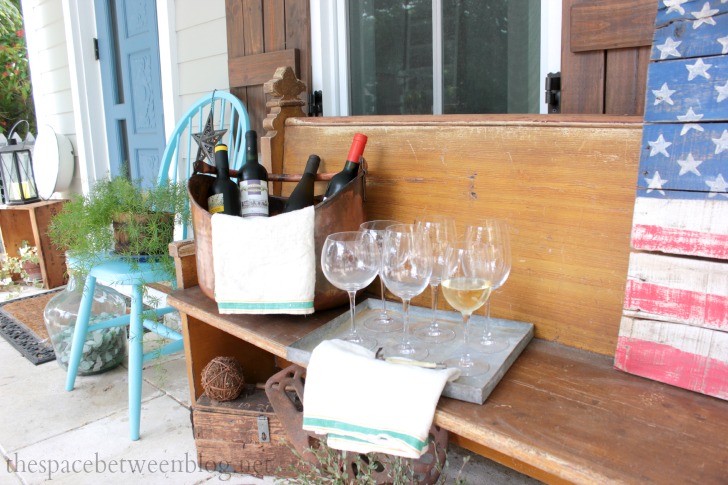 See, we're 85% complete (if I were to toss a random number at it) with a master bathroom renovation project that also has our master bedroom and closet tore down to the studs.
So really, you should just have a seat right here on this old church pew.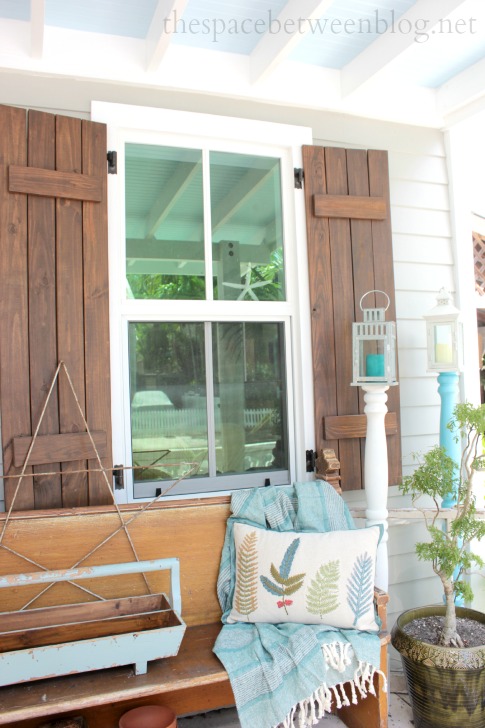 I'll light those lanterns which are super easy to make.
And you can cozy up with my new lumbar pillow and throw blanket from World Market.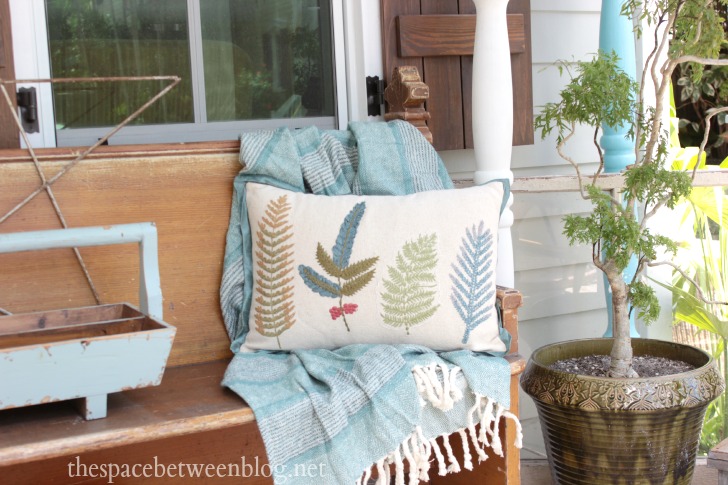 Even though we are in Key West, I am dreaming of the nights in our hopefully near future when that throw will come in handy.
Can I offer you a bite to eat?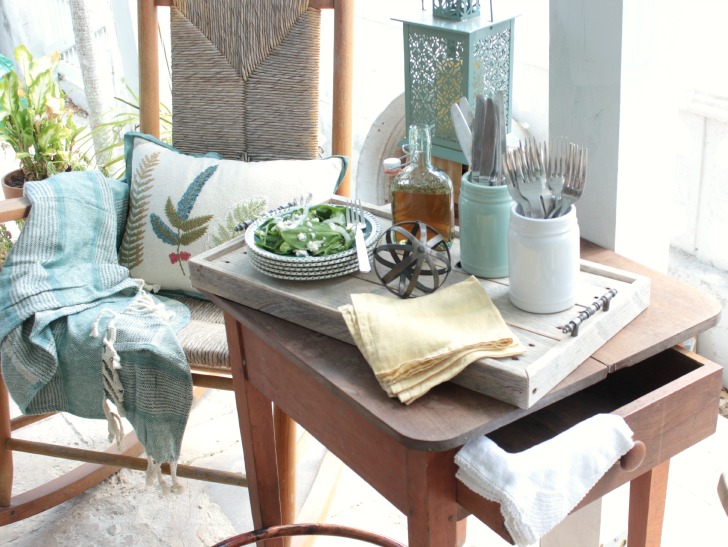 I thought these ceramic mason jars could come in handy on many occasions, and today they're perfect for holding the silverware for our little shindig.  And that little glass flask might someday hold bubble bath next to my new tub that still needs to be installed in our new master bathroom … but right now it makes the perfect container for our favorite home-made vinaigrette.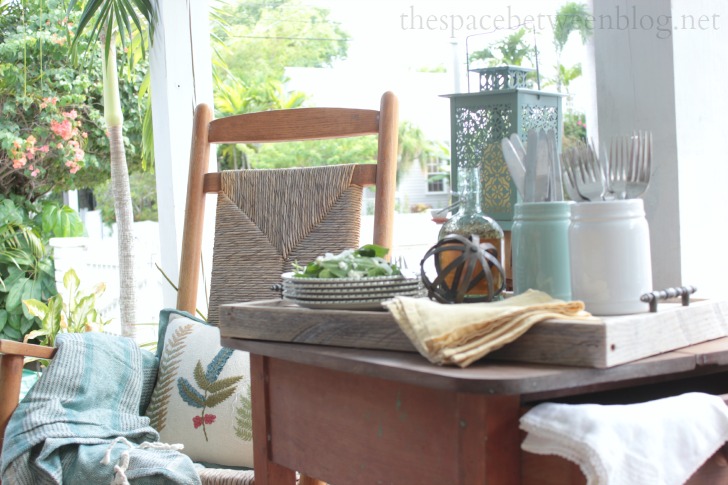 I usually like to spice things up a bit around the house for fall, which is potentially the best season of them all.  Who doesn't love to put on a sweater and boots after a long, hot summer?  But this year decorating is taking a backseat to home renovation.  Sometimes life just works out that way.  But this little tour was the perfect excuse for me to whip out the pumpkin craft I made out of a palm frond a couple of years ago when we lived in Curacao.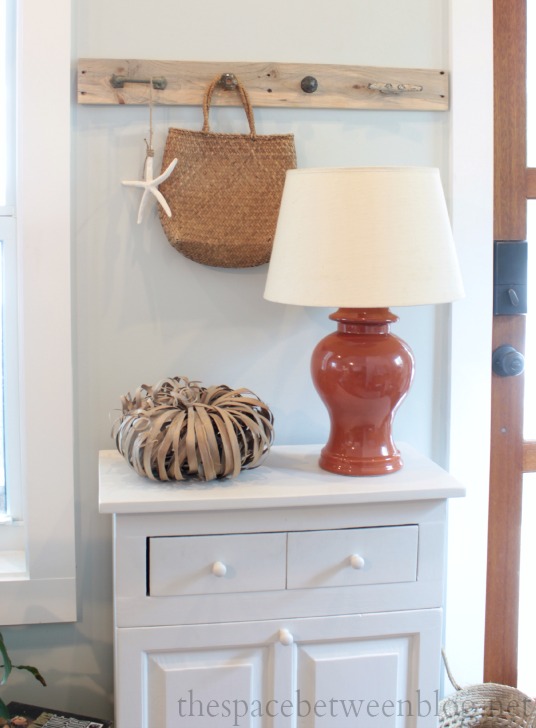 And accessorize with a few large pine cones I brought home as a souvenir from a trip to Lake Tahoe about 12 years ago.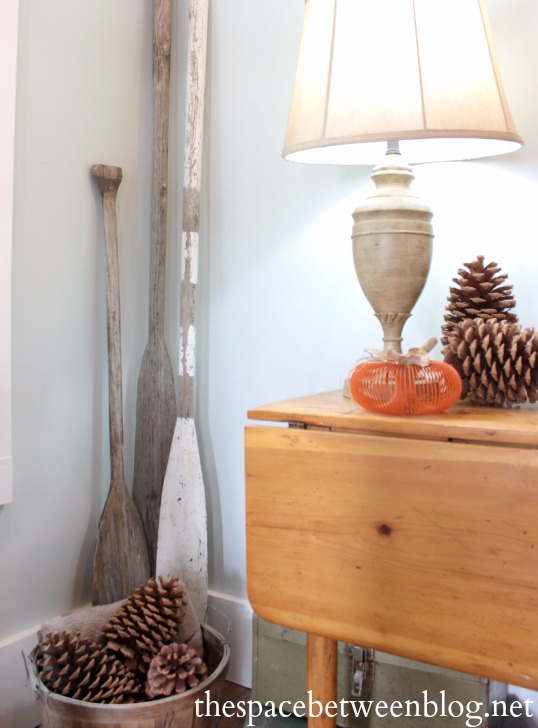 And yes, that's a another little pumpkin craft from yesteryear.  But let's get back to the party, can I offer you more wine?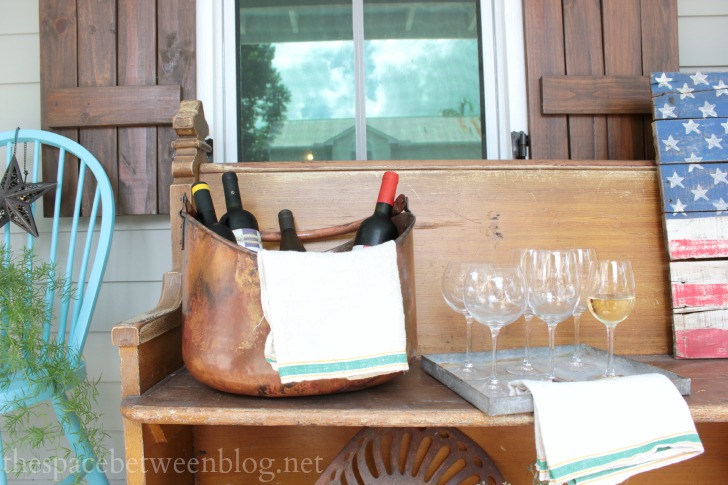 This hammered copper tub is perfect for toting around all the necessary party beverages … and might also be perfect (or maybe one of these baskets) for holding towels in the new bathroom.  It's not hard to see what is on my mind these days.
That pallet slat flag is a project I made for my book that is all about pallet projects, and just released yesterday!  You can find more details here, enter to win a copy here and order a copy here.
And really, I would invite you in and show you around, there are a few presentable spots, and I'm loving my new clock found at World Market.  I oogled over many of their lanterns and may have found the perfect one for our upcoming kitchen renovation.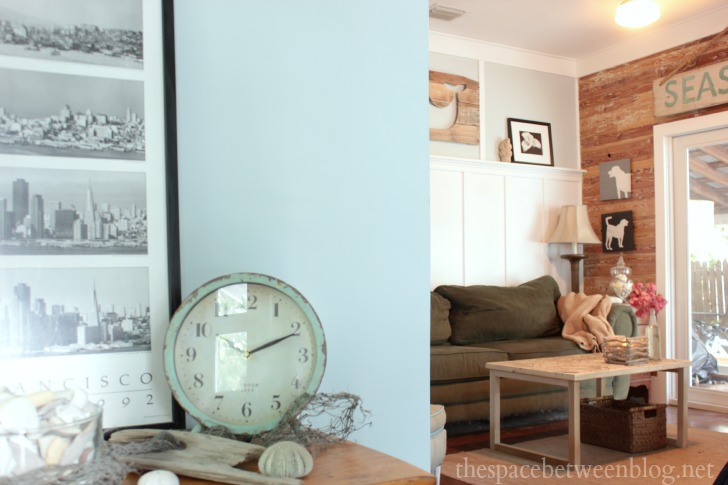 But let's save that for next time, you might trip over an air compressor, toilet or some other random thing that is in our living room at the moment.  😉
Now head over to the final stop on the Eclectically Fall tour at The Decorologist.  And have a great weekend!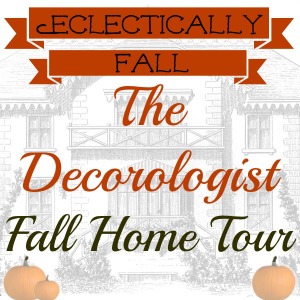 Huge thanks to World Market for the gift card to purchase a few fun fall finds!  Please check out and follow our Eclectically Fall Pinterest Board with World Market!
AND … I just wrote a book all about DIY Pallet Projects and a few friends of mine are hosting giveaways.  Enter for your chance to win a copy here, here and here!  And you can order a copy here.