Hey, hey!
We are ticking along in the ol' blog room.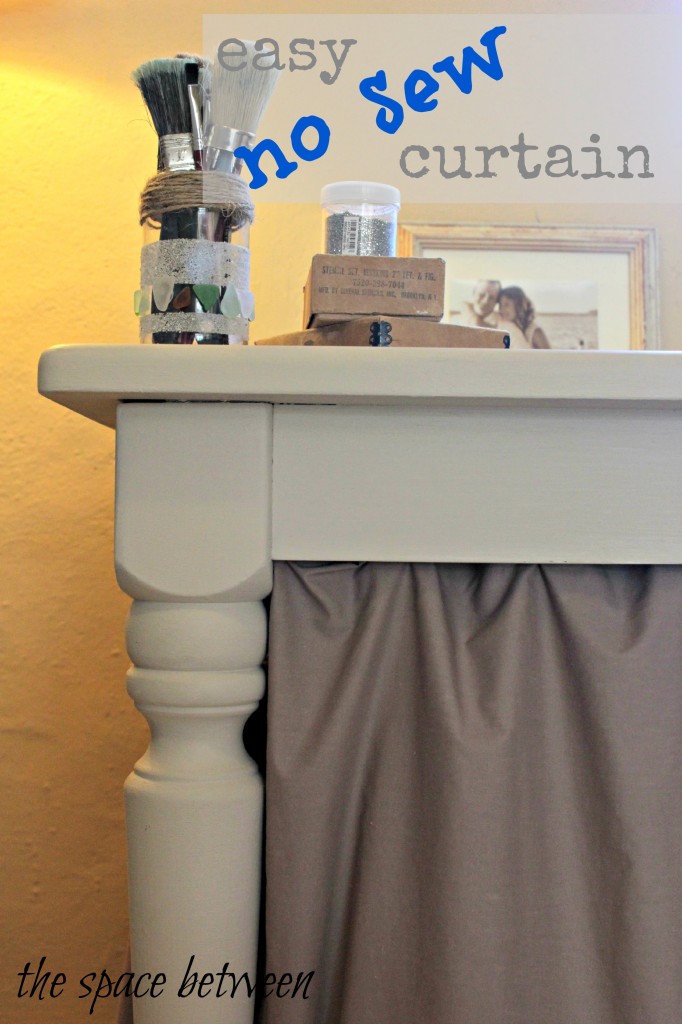 It really is awesome to have my own little space.  Even if it is the hottest room in the house.  Seriously sweltering, I tell you.  And we only have AC in our bedroom … which we hardly ever use because of the awesome breeze that comes in from the side of the house where the bedroom windows are.
But I just keep the fan close by in blog room … which will be very interesting when there's a project calling for some glitter.  haha  I have found that shells and coral make great paperweights, though.  🙂
And nowadays when I'm not sitting at my chippy new work space, crossing things off my new dry erase wall calendar, I'm most likely working on a project or three.
And I was smart enough to bring on our Curacao adventure a table we bought at an auction in MD for one whole dollar.  It seemed like a fair gamble to risk leaving it in Curacao forever.  Even thrifty ol' me can handle subtracting $1 from the bottom line.  😉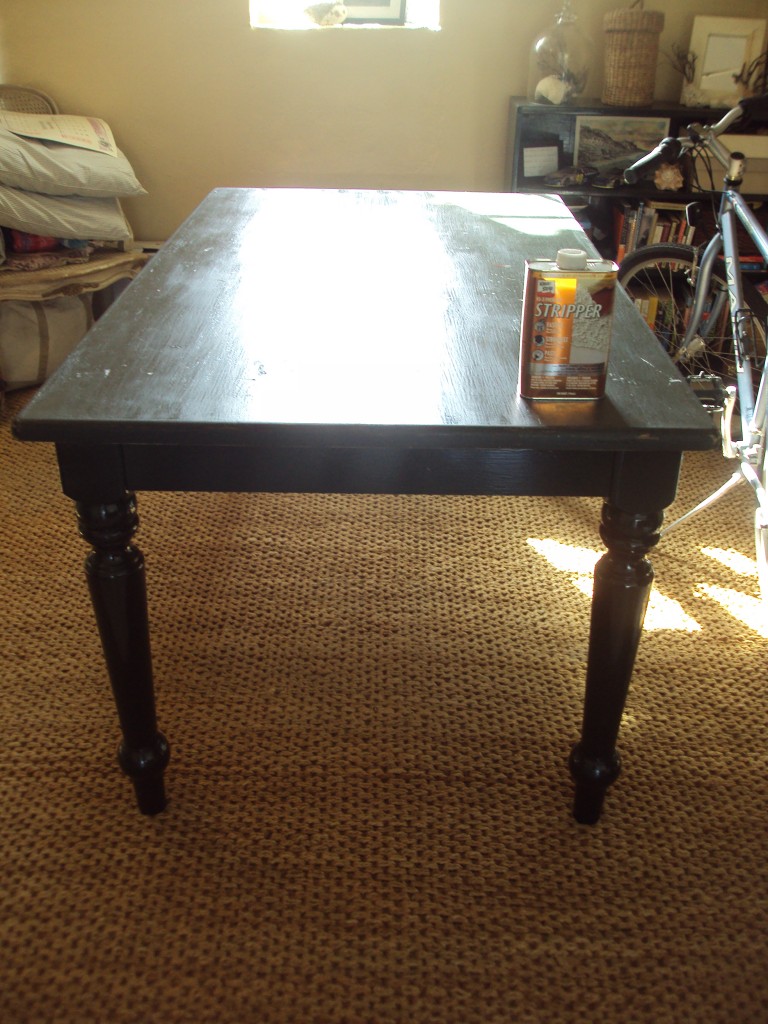 And, I actually don't have a before-before picture of the table.  The above pic is from April 2011.  The table was au natural and I decided some glossy black paint would be fun. I hated it immediately, and something was wrong with the paint, so it never quite dried.
Nothing inhibits productivity like a tacky in more ways than one project table.  🙂
But, because I'm lazy I hate stripping paint, I decided I would just do the top, and maybe have gloss black legs with a beautiful stained top.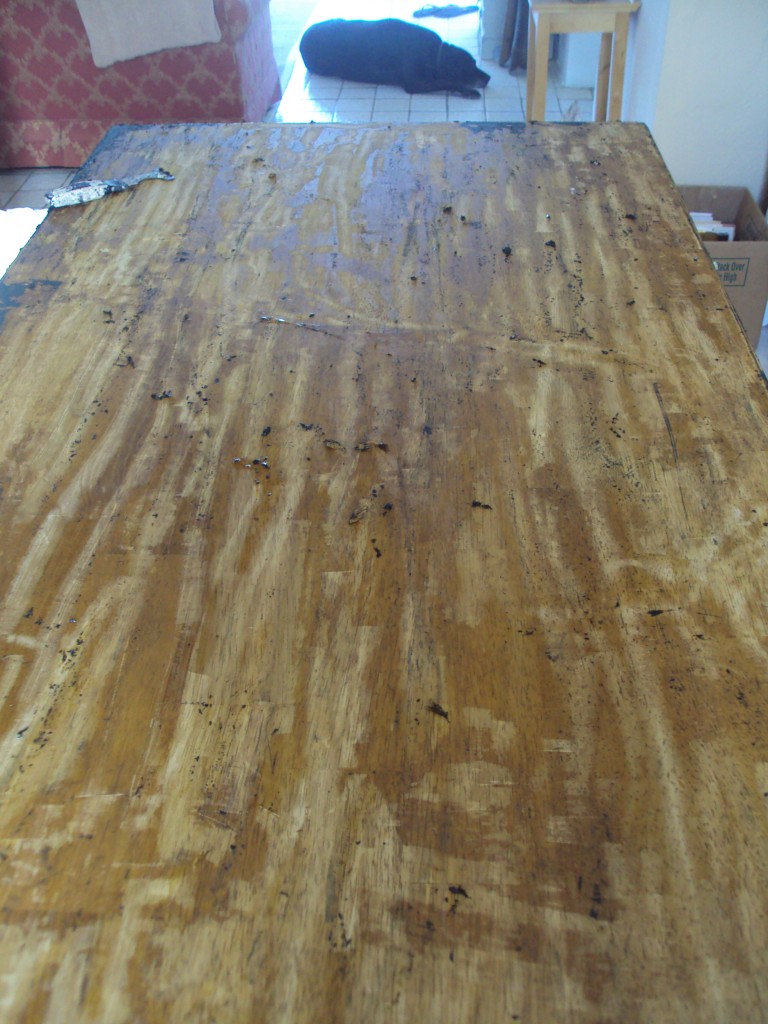 But something about this was just not screaming 'beautiful stained table top'.  Ack!
A couple coats of a cream colored oops! paint later and she's back in business.
The work space she provides is really awesome.
The openness underneath … not so much.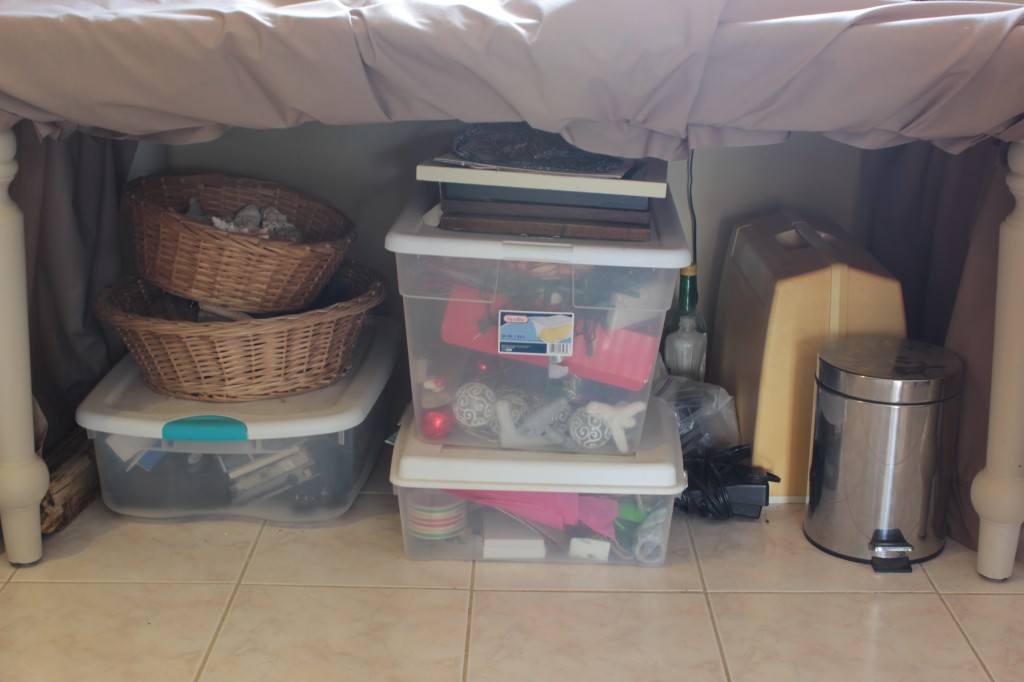 And because I'm always looking to find more places to stash stuff, and I love an easy diy, I thought a super simple no sew curtain would give her some style and functionality.
I used 2 matching tan twin sheets I bought at Goodwill back in January.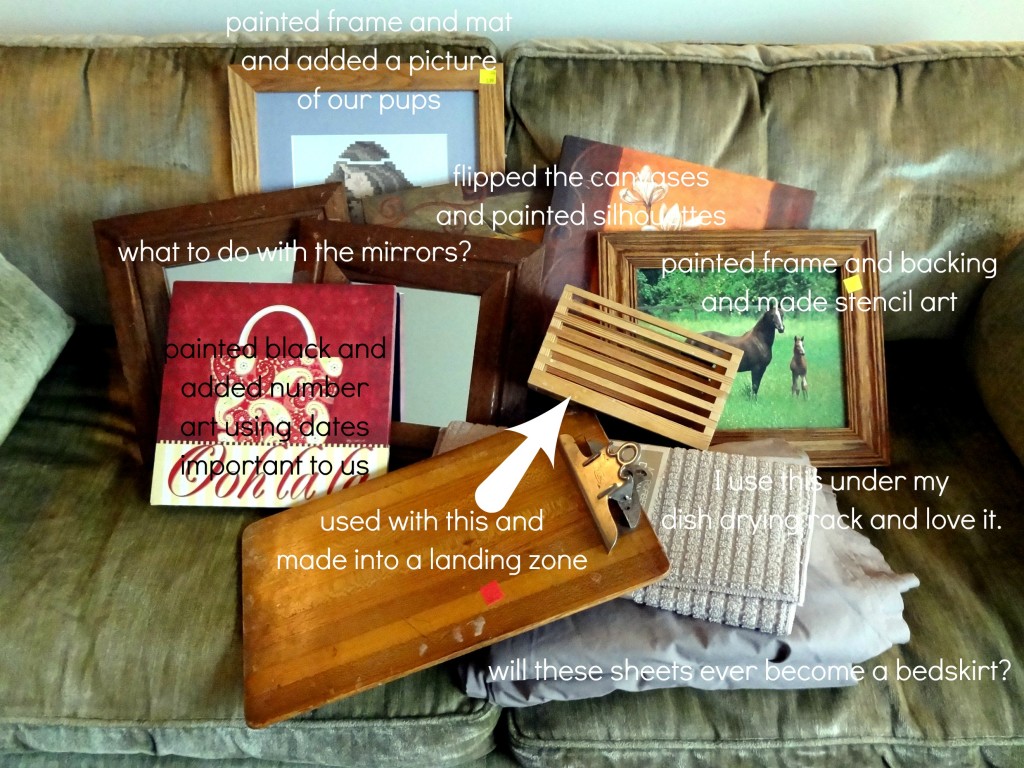 I had thought I might make a bed skirt with them.  But our bedroom has become much more about the function than about any kind of pleasing aesthetic.  And trust me, our bedroom is not one bit aesthetically pleasing.  But it's just how we like it … for now.
So, a no-sew-curtain-below-my-project-table-to-hide-all-kinds-of-crap they will become.  🙂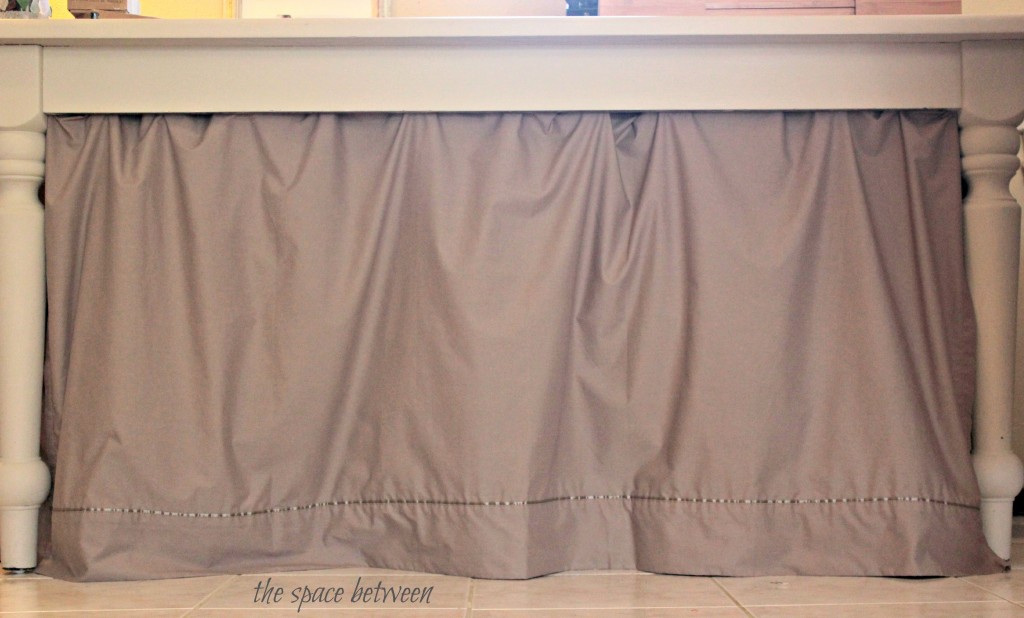 I just measured the height of my table from the floor to the under side of the table top and measured the same distance down from the top of the sheets and cut.
Turns out my table is 51 inches long and the width of one twin sheet is 65 inches.  Perfect for a little ruffling!
And the depth of my table is 26 inches.  So I just cut the width of one of the sheets in half, making it 32 1/2 inches.  Perfect for the two side of the table.  (I just put the side with the unfinished, newly cut, edge on the back side by the wall.)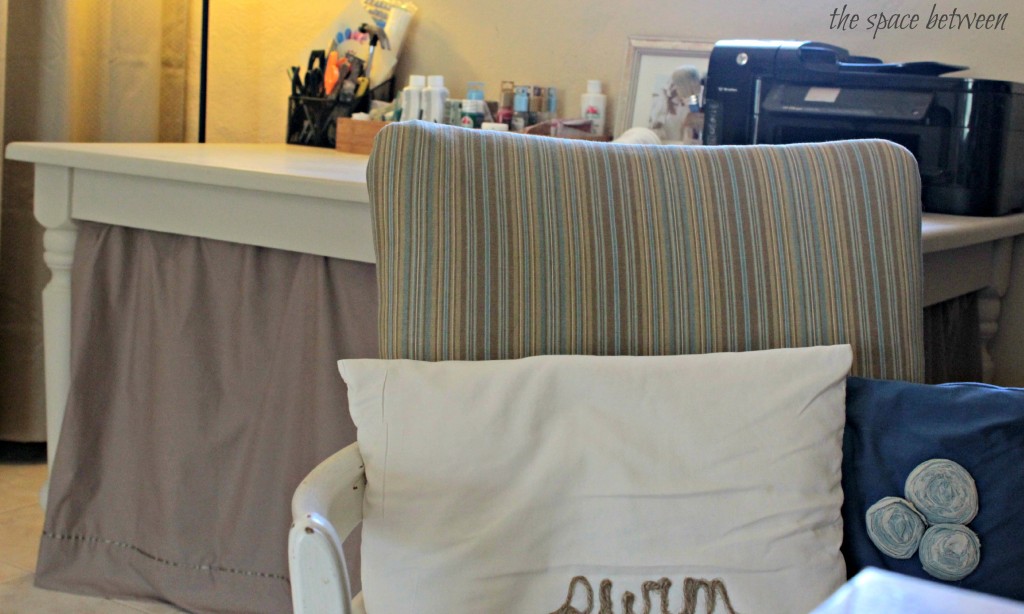 And I hot glued the sheets to the back side of the trim piece under the table top.  I didn't even bother to finish off any of the cut edges.  I could tell you I'm planning to do that at some point.
But I'm not.  🙂
For the gluing, measure the center points of the table and the sheet for the first bead of glue.  Then glue each end, then just continue to glue about every 4 inches eye balling how much of a ruffle you want. I didn't exactly measure anything but the center point, but it worked.
Umm, yeah, I see that one weird spot just right of center … hadn't noticed that until I saw it in the picture.  It was just draping funny, it looks fine in real life.  Promise.  🙂
Funny what a picture will show you that you don't see in real life.  🙂
Like, that I guess I could have styled the table for the photos.
But, having everything I use regularly right at my fingertips has been awesome.  And the table is big enough to keep a few bins of items out, and even our printer/scanner and leave me enough surface area for projects.
And look who's also made herself right at home with me in the new space.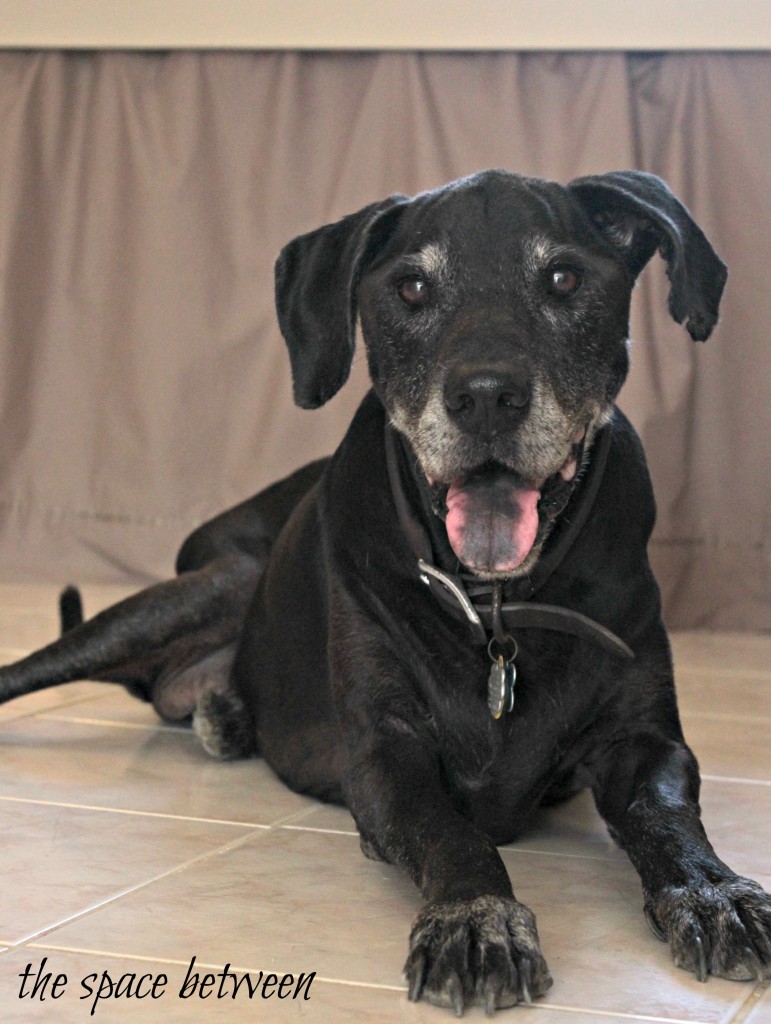 Love her.  🙂
In case you want to get caught up on the blog room projects so far, here is the start of the blog room overhaul, the diy dry erase wall calendar, the layered paint side table and the new salvaged wood desktop.  Earlier this year we also covered the file cabinet with book pages.
And having a newly defined space has definitely helped me get my time more organized, I shared my top time management tips here.
And if you're feeling really adventurous and want to see the reality that is our function over form bedroom check it here.
And did you see those two pillows in my chair?  Those are two handmade pillow covers with DIY embellishments.  I'm happy to report those little no sew fabric rosettes have held up great … you can find out here how I attached them to the pillow cover.
Well, is that enough links back to old posts for you?  😉  Have any no sew curtains of your own?  Have any other easy tips for hiding that unsightly yet mostly necessary junk that tends to pile up?