We're going to be gearing up to make some major changes in the kitchen of our new house, what they will be I can't even get my mind around yet, but I'm back in Maryland now trying to wrap up some things with our rental houses.  Seems like a good time to me to take a look back at our first do it yourself kitchen we tackled in the house we call "The Tank".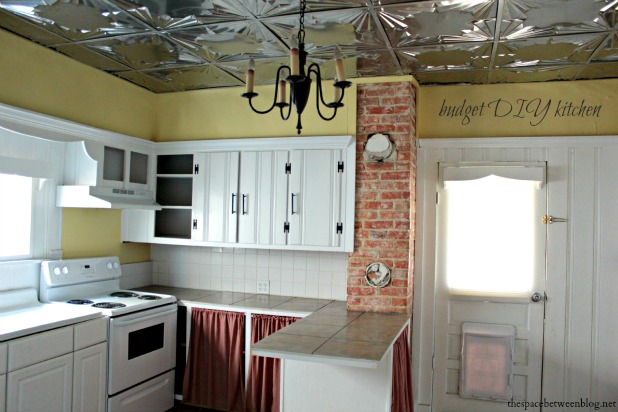 We definitely didn't have any thoughts that I'd be posting any kinds of pictures of this space on the world-wide web, and there are absolutely some things we might have finished off a little better (maybe covers for those old fireplace holes for example … maybe), but this room holds a special place in our DIY memories and I would have to say is one of our favorite DIY projects to date.
In large part to this tin ceiling!!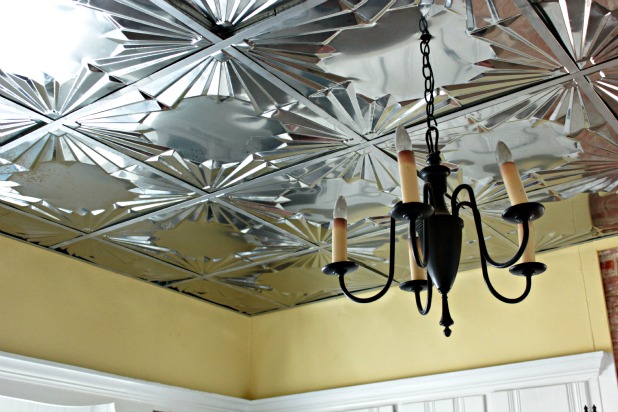 One of the things I love so much is that I can look at these pictures and remember how we took a dark and dingy space and gave it texture and life.
Here's a little "during" picture.  But even here we'd already install the tin ceiling that we got for a steal of a deal at a local auction house.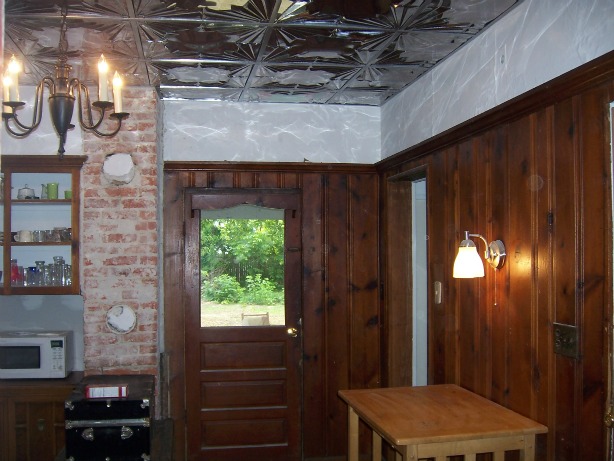 We had to get pretty creative to hang the tin ceiling because it didn't come with any brackets, only the tin squares.  Thanks to my husband's ingenuity and some spray paint we were able to rig up a more modern bracket system in the wrong color to match and function for use with these old tins.
We just cut a small hole to hang the chandelier right up through to the ceiling above.  These tin panels happened to be all unused construction materials at a local business who gave them to us for FREE!!!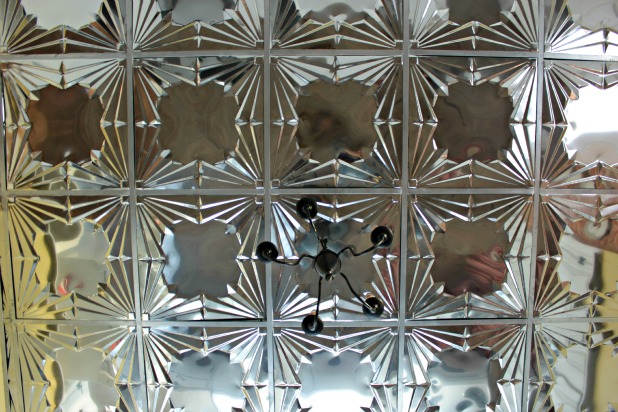 In the few year upgrade process we had to repair an area of the cabinets above the stove that had been destroyed in a fire. We used peel and stick tiles on the floor, which I would highly recommend for anyone looking for a budget flooring solution.  And with a little help from my dad we built the lower counter area.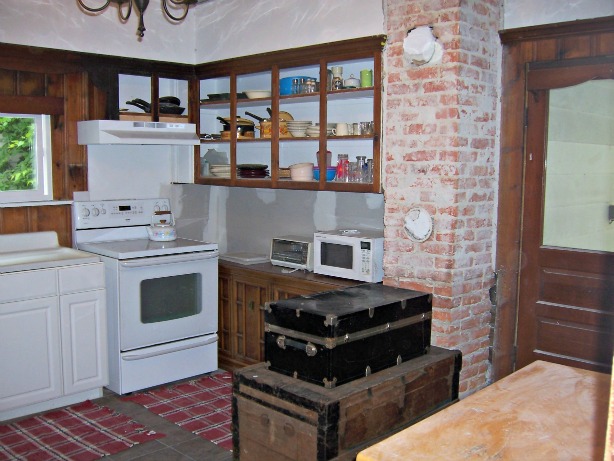 Yes, we did actually rent it before we completed the upgrade.  Don't judge.  We had an opportunity to rent it to a group of interns, young kids fresh out of school who couldn't have cared less about our make shift counter system and unpainted drywall.
After they moved out we primed and painted all of the dark wood a high gloss white, painted the walls a yellow I had left over from a room failure … just too much yellow for a whole room, but just the right amount with the high white wood walls here.
We then spray painted the cabinet hinges black to match our new $0.50 handles that may look familiar from this counter project, tiled the counter and back splash with tile we got at the same auction house for … wait for it … $1!!!  And I have 3 more boxes of those little white tiles left over.
Who doesn't love a weekly auction where you can buy boxes of tile for $1?!?!?!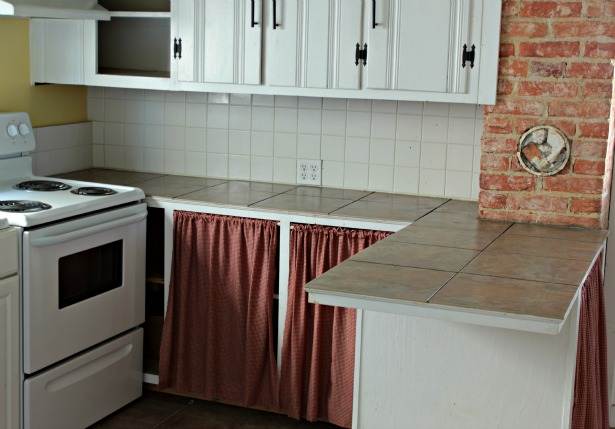 And we were able to buy a stock cabinet at Lowe's that was a perfect fit for this fabulous old sink.  Apparently we buy houses because they have cool old sinks … remember this one?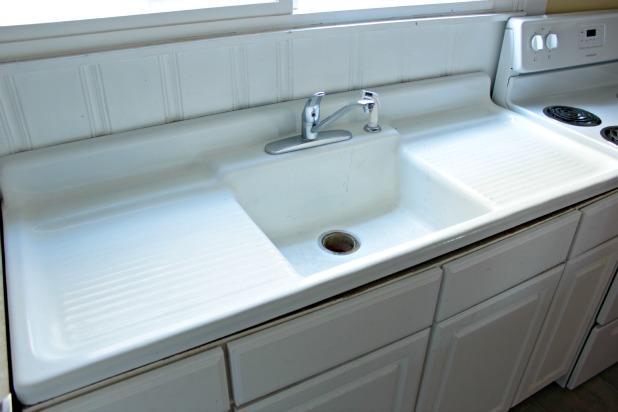 Ummmmm, yeah … we just set the sink on the counter … and didn't bother with any hardware.
What was that about things we might have finished off a little differently if we thought these pictures would make their way to the interwebz?
I really wish I had some before before pics for you.  They were so far before I actually have them on film (whaaaaaaaat?) somewhere in storage.
And I can't pass up the opportunity to thank my friend, and former tenant, Brianna for making the cute curtains and leaving them on the lower cabinets.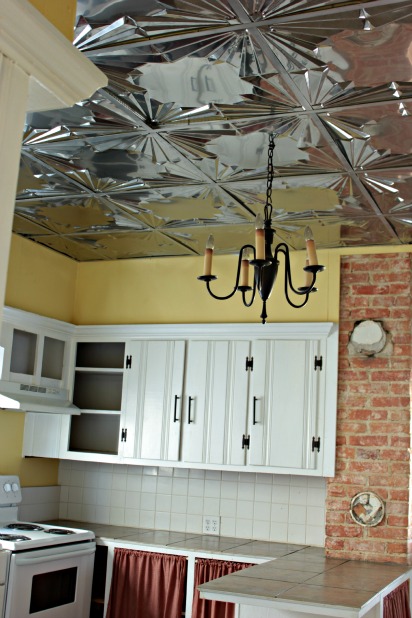 Oh, and that chandelier was another $1 auction find.  She could probably use some shades, but oh well.  😉
The more I look at the pictures the more I think I love her just as much for all of the great memories of updating the space as I do for the final look of the space.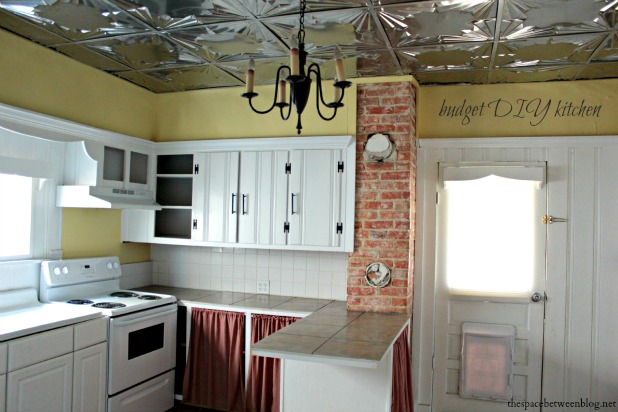 But that tin ceiling is pretty cool, right?!?!
If you had to pick just one all-time favorite DIY project that you've completed what would it be?