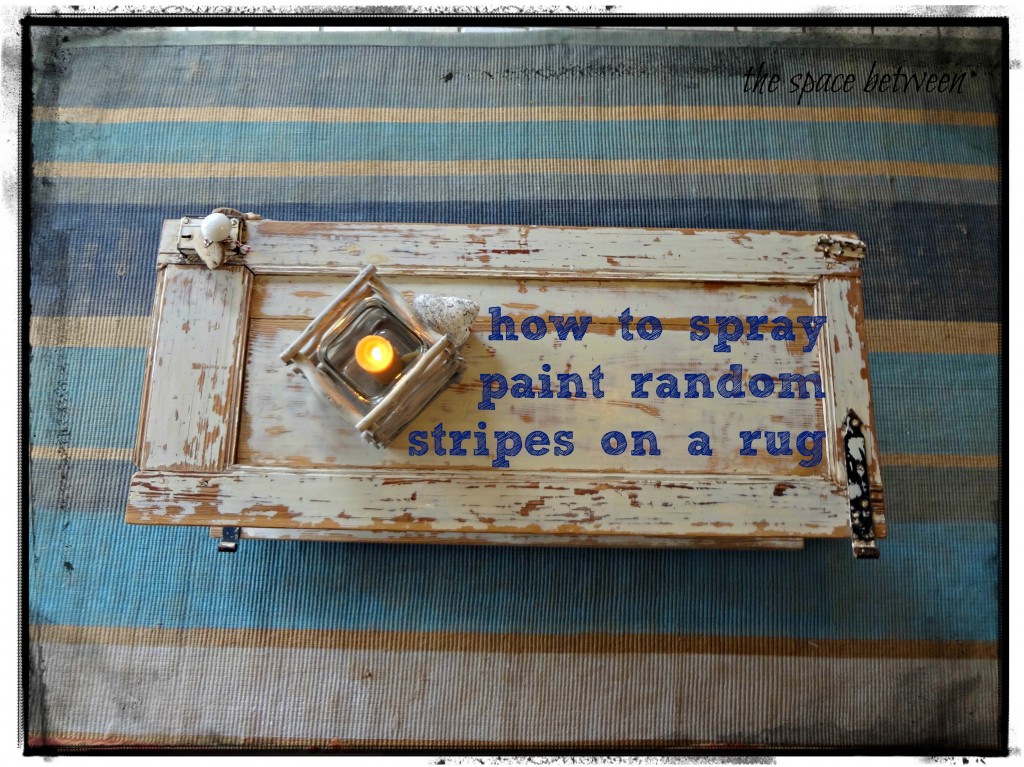 You know when your husband goes away on a business trip.
And you're just itching to get a project or two done around the house.
And you have about a half a dozen projects already in mid-stream.
But then you can't seem to take your eyes off a little eye sore that's been pulling at the back of your brain for a few months now.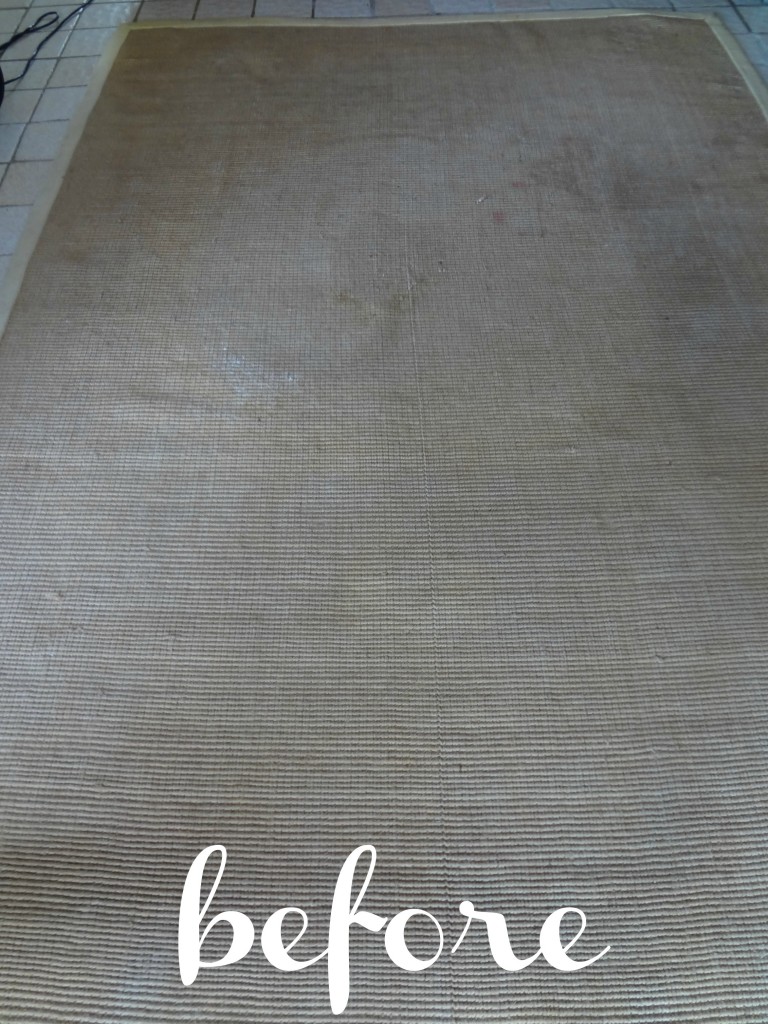 A not-that-old sisal rug with a few unsightly stains.  Yes, there might be some splattered black paint from the infamous back-of-the-couch-experiment-that-Joel-still-doesn't-know-about.  I put those in the bottom right corner out of the picture.  If Joel does check the blog he's only looking at the pictures.  #totallyhavemyhusbandfiguredout  😉
And then you think paint plus the sisal rug could be a good combination.
And you know what would be perfect?!?!  If you envision that you have neutral colored couches and an island blue coastal theme going on in the room where the rug lives so you grab paint colors for your rug accordingly.  Aqua, tan, gray and white.  Painted rug here we come.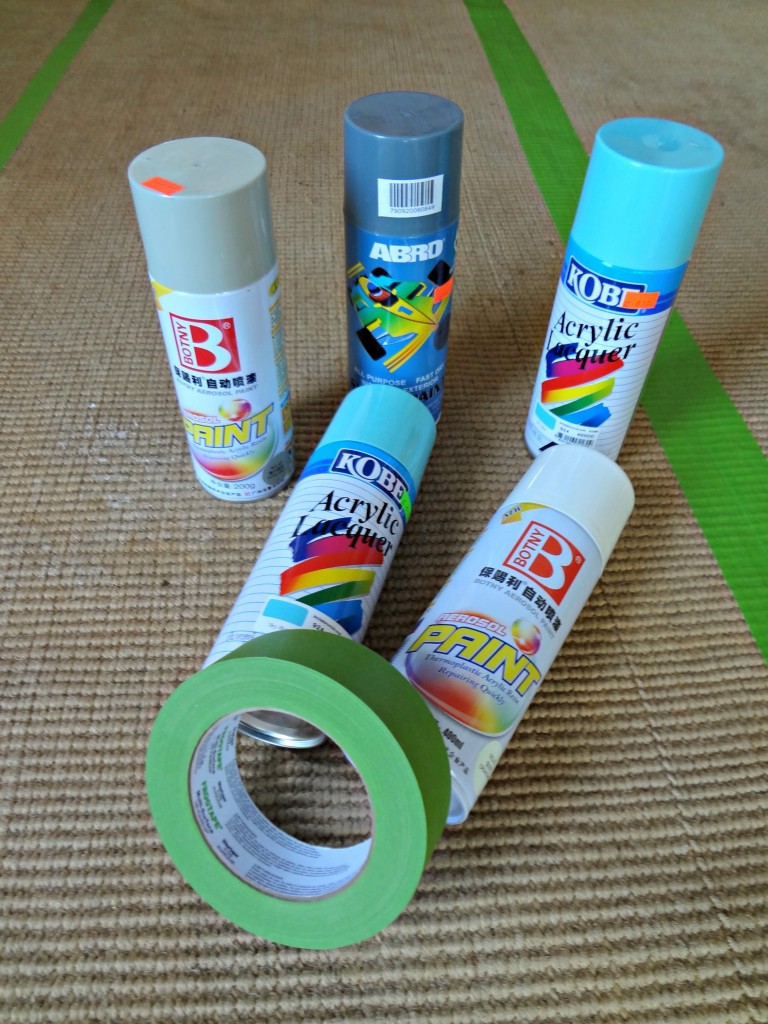 And you whip out your Frog Tape from your swag bag at Haven and you use the sisal for a straight edge because you're too lazy to get the tape measure.  And frankly, sisal is like "Measuring for Dummies".
It totally worked for me.
That was redundant. 😉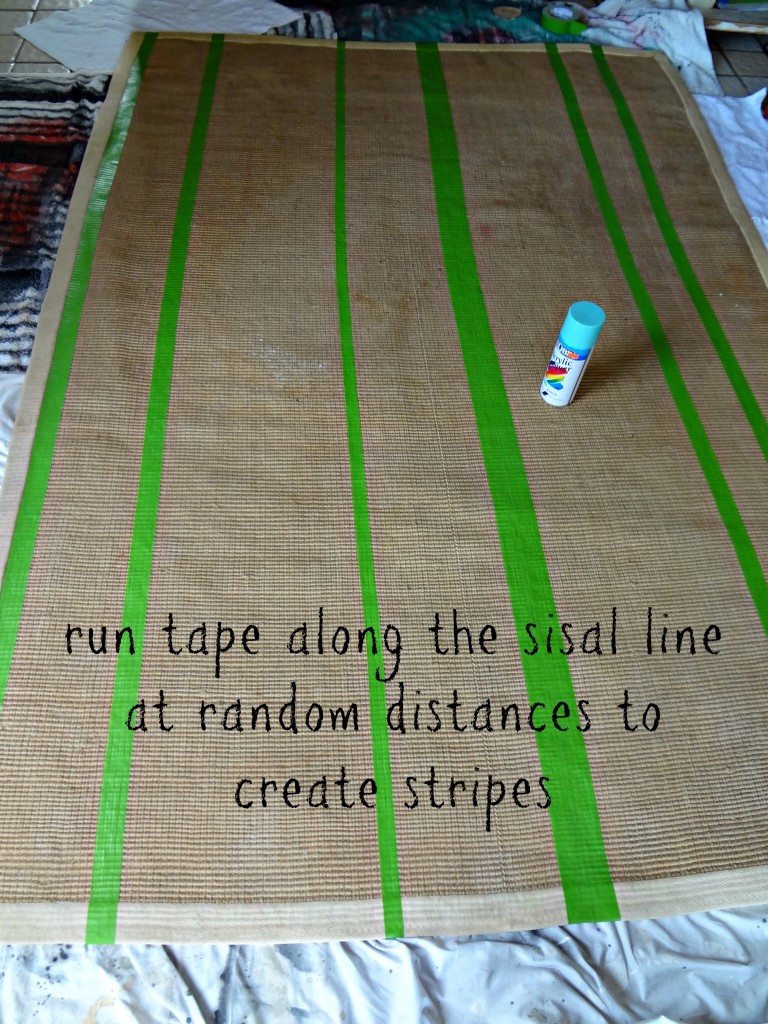 And you paint random colors in random widthed stripes.  (Sounds like a band.  The Random Widthed Stripes.  Haha  Now I'm reminded of Layla at Haven … who remembers why?)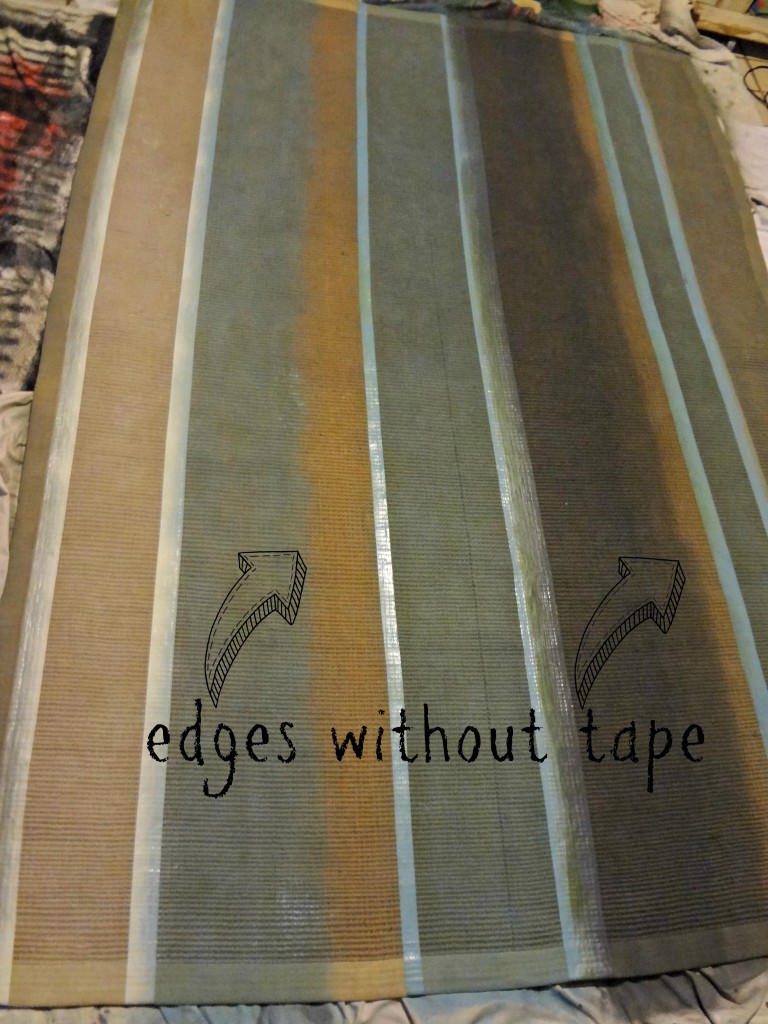 And, because intentional imperfection is the best kind, you try something a little different.
Ok, here's what I did.  (This third person business is confusing me.)  🙂
I taped totally at random, leaving two extra wide stripes.  Only paint part of that width with one color, let the paint dry and then …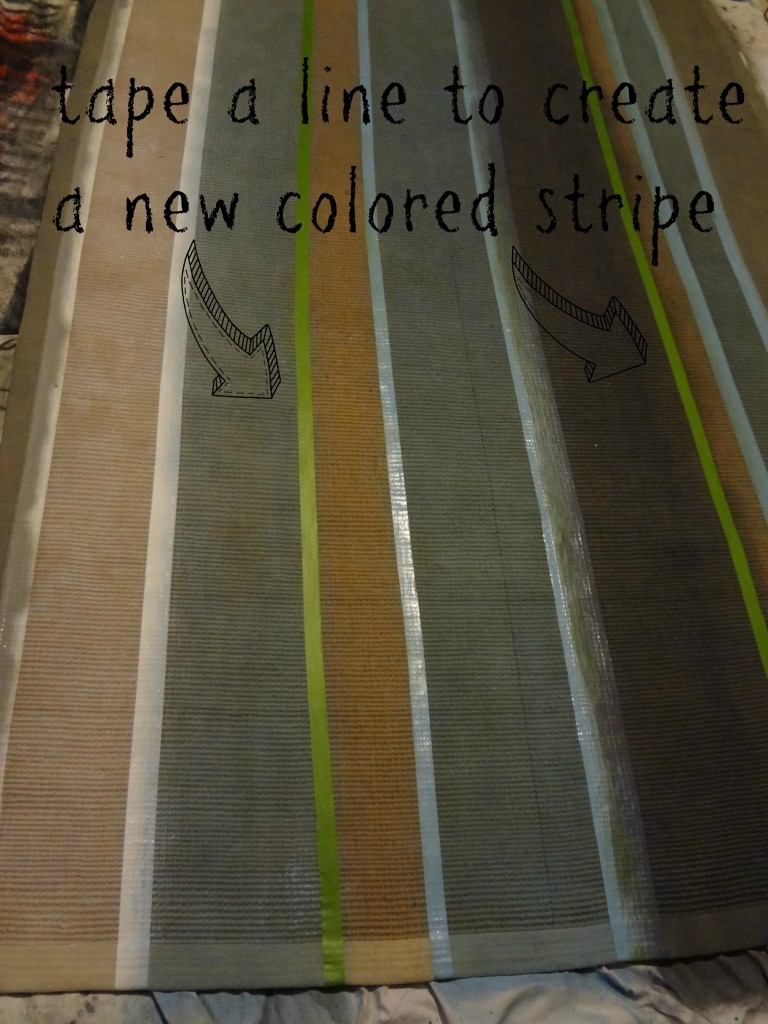 … run another strip of tape along the painted edge, and use a piece of cardboard when you get close to the edge to prevent over spray on the color you already finished.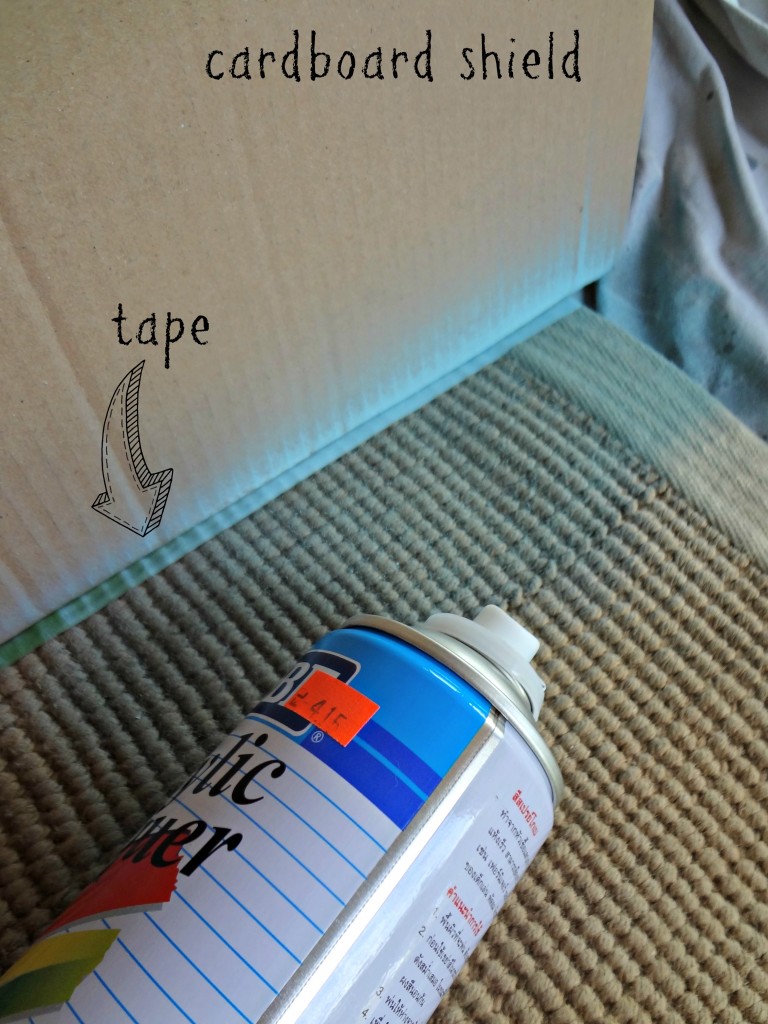 Have rug immediately tested by the supervisor.  🙂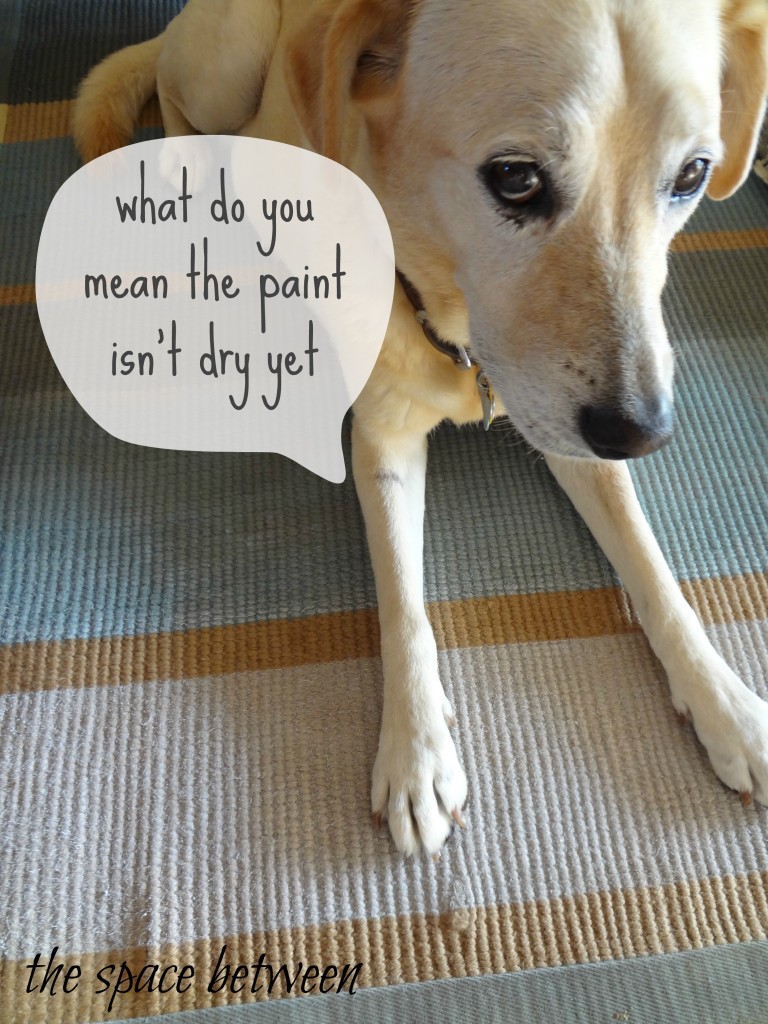 TIP!!!  The stomp technique on the Frog tape worked for perfectly straight lines.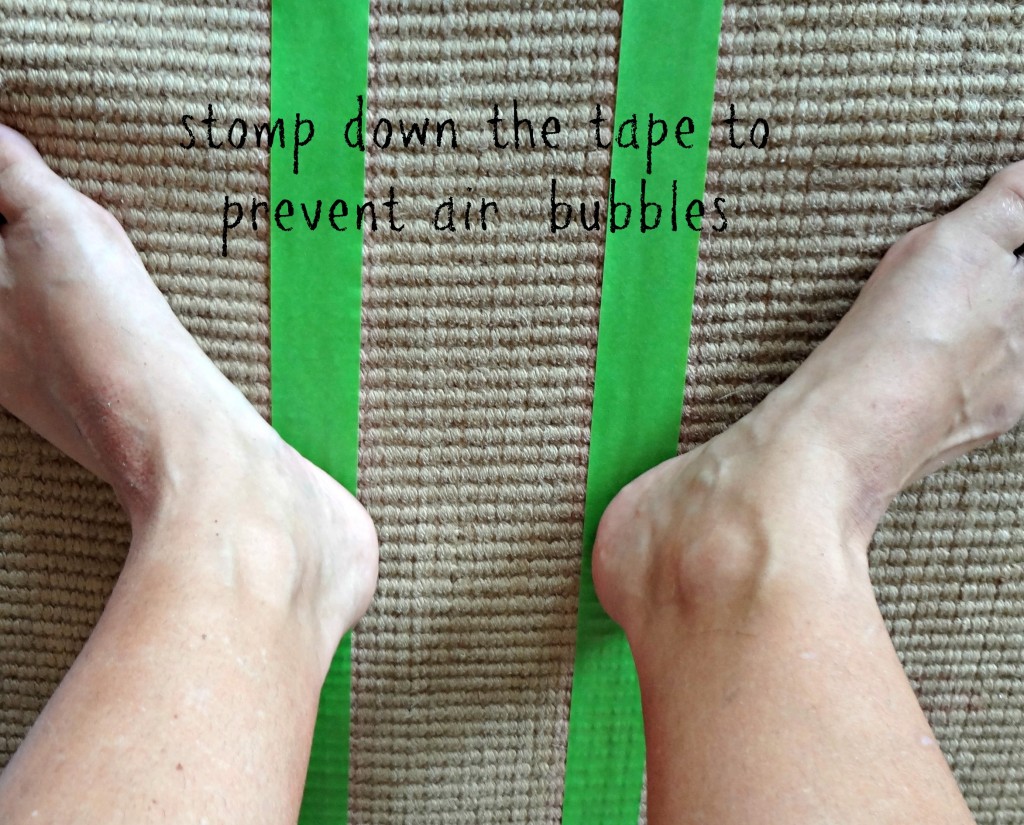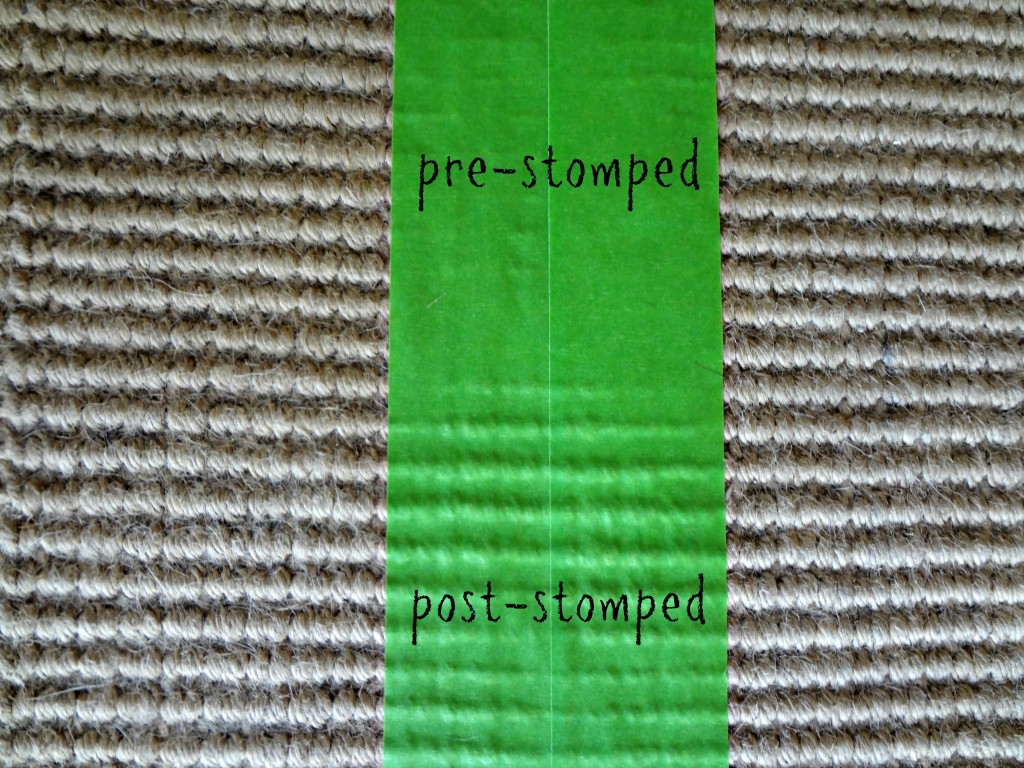 I have no idea what that white line on the Frog tape is in the second picture, sorry.
And here's a close up of our new nautical rug and a random red thread.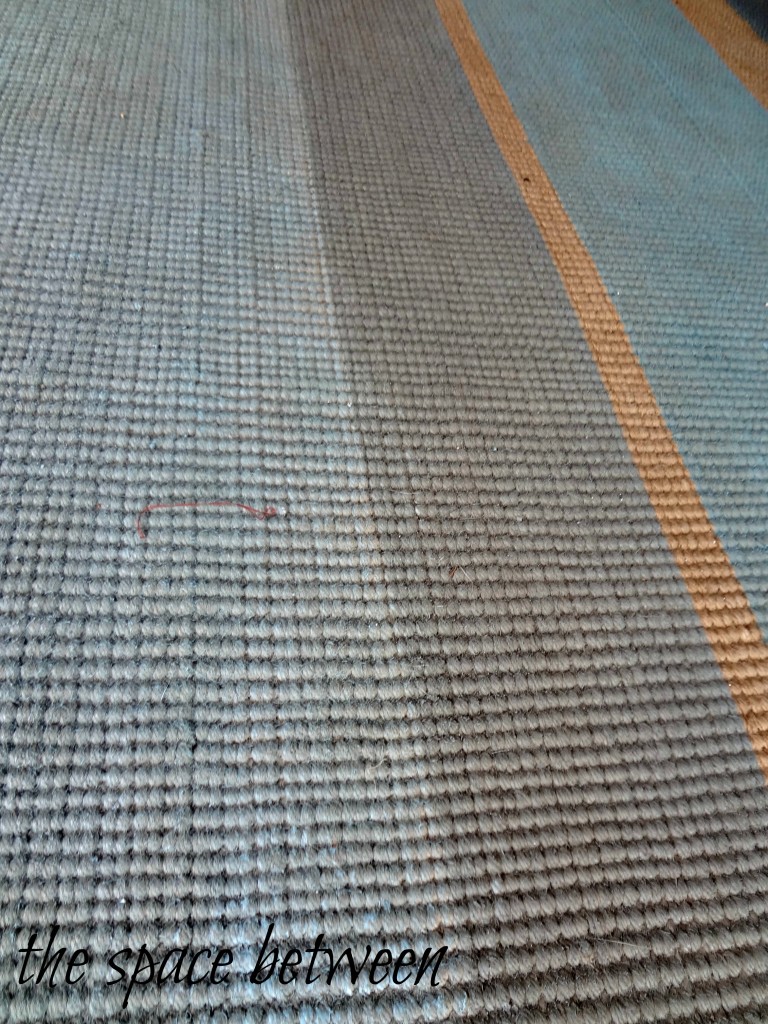 And here's a picture of the rug from me standing on the couches.  Because, in reality, it turns out the couches are these hideous red with gold viney flower designs and not a neutral color and your pretty new rug totally doesn't go with them.
Who knew?!? 😉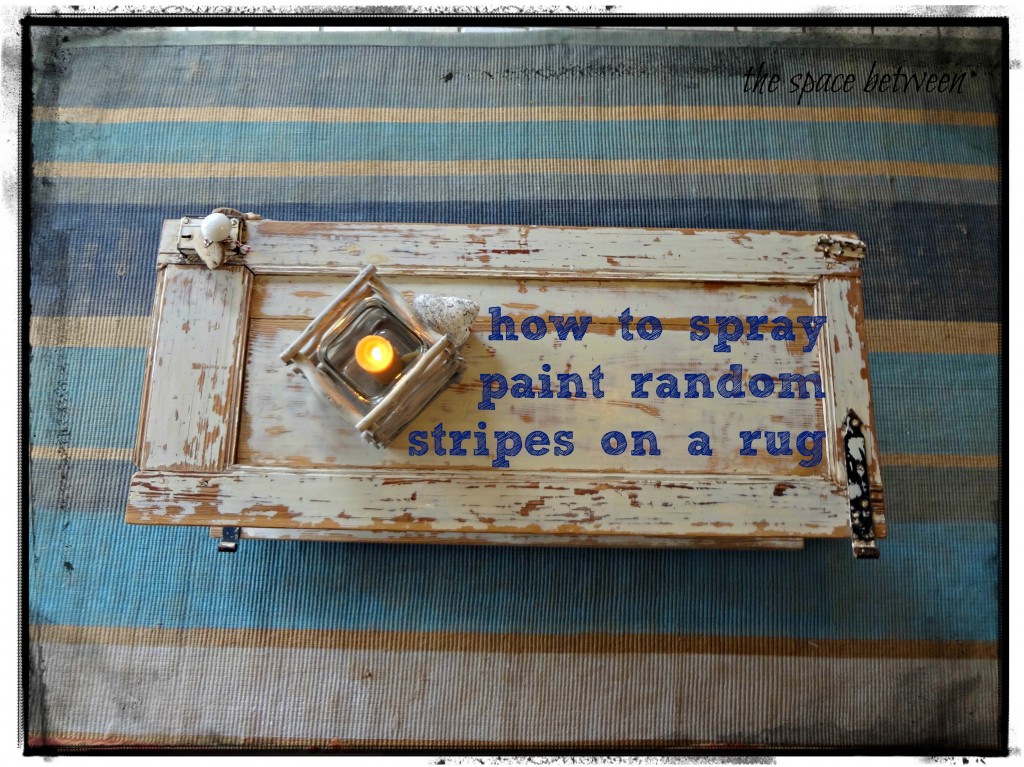 There you have it, the story of how I … or was it you … spray painted a rug when your husband was out of town and it totally doesn't work in the room with the current couches but there is a dream that one day those couches won't be that hideous red with gold viney flower thingys, and the new rug will be perfect.
One day.  🙂
As for budget and materials, I ended up using about SEVEN cans of spray paint.  Mostly due to it being really poor quality paint I think, and using all of the different colors, I have some left over of each color.  And, it has been a few weeks and the gray paint has dried different shades giving it a nice, distressed look.  You can kind of see it in the final picture.
TIP!!!  The colors will look a little different on the sisal than their intended color … be ready.  🙂
And that, my friends, is the conclusion of what has been Blogging without Borders.  I had really hoped to end the summer with a fun, full room reveal.  It would be the first on the blog.  And, honestly, I'm not sure this little breadbox is capable of the 'full room reveal'.  But we will just continue to work towards it and see where it gets us.  K?  🙂
And check in here if you want to see how we started this Blogging without Borders series,  or our new wall decor in the living room, how we made a floating shelf, and our new coffee table.
Now, don't bypass taking a look at the awesome projects the others Blogging without Borders tackled this summer.  Sure was fun going down this road with you girls.  xo
Heidi @ Décor & More, Tisha @ Delectable Home, Kirby @ Kirb Appeal, Holly @ Life as a Thrifter, Cassie @ Primitive & Proper, Jessica @ Stay At Home-ista, Karah @ the space between, Laura @ Top This Top That and Kelly @ View Along the Way.