Have you ever done a project that was so easy it was almost embarrassing?  Like, can this really even be called a project? And, really, should I even write a post about this 'project' or will I just look like a bit of an idiot when everyone reads the post and has the same reaction?  "Duh, Karah!"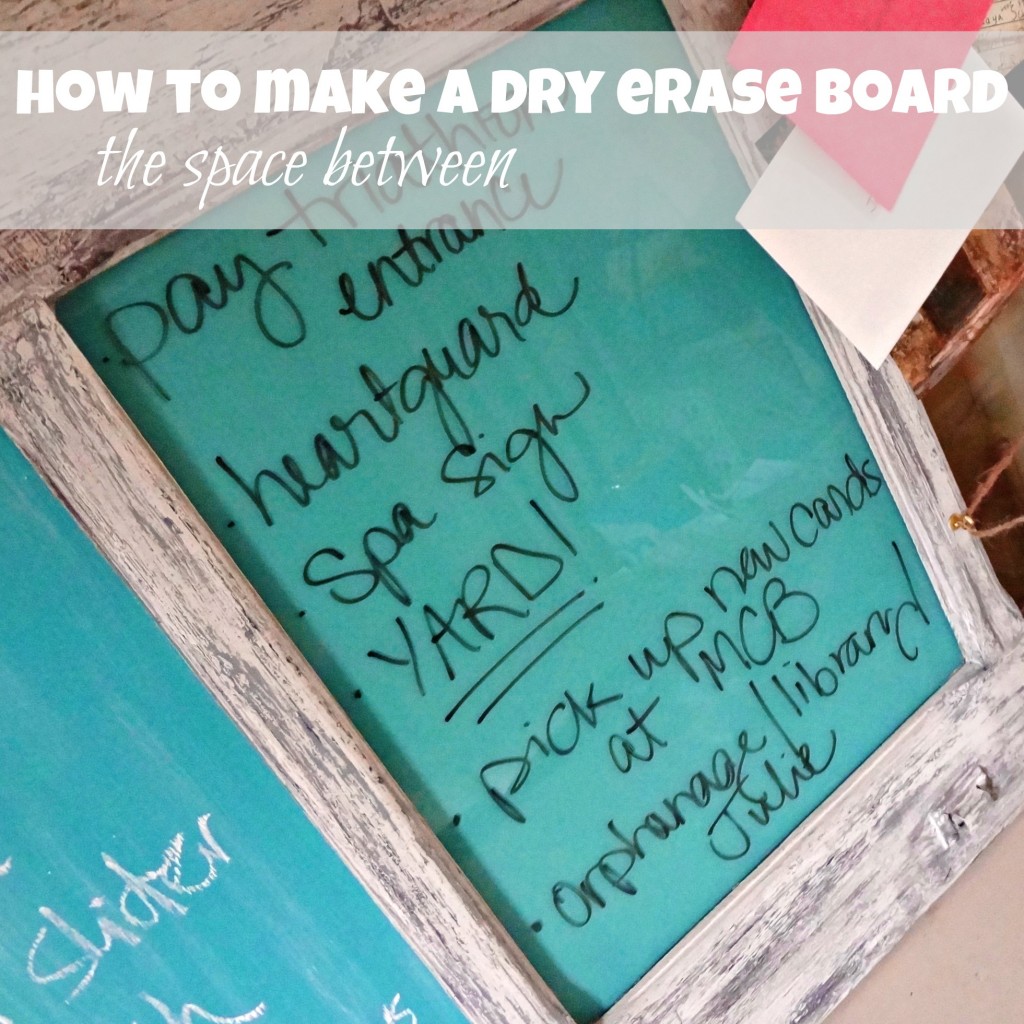 Well, lucky for me, we had so much fun with the It's a Cinch projects, and it seemed that all of you are also big fans of the super simple, almost-can't-call-it-a-project projects, that we've decided to dedicate one day a month to those easy peasy ideas!  Yippee! (Said in a kind of sarcastic, rolling your eyes, even though you know it's a great idea kinda way.)
So, I now have the perfect excuse to post about how I took one of the window panels in the dumpster dive door I found, painted the backside and now use a dry erase marker to write directly on the front side of the glass.  And, with my new aqua backing call it a "DIY dry erase board".
Did you catch all of those very specific project details?  😉
Let's take a closer look, shall we?!?  And I warn you, this picture is not for the faint of heart.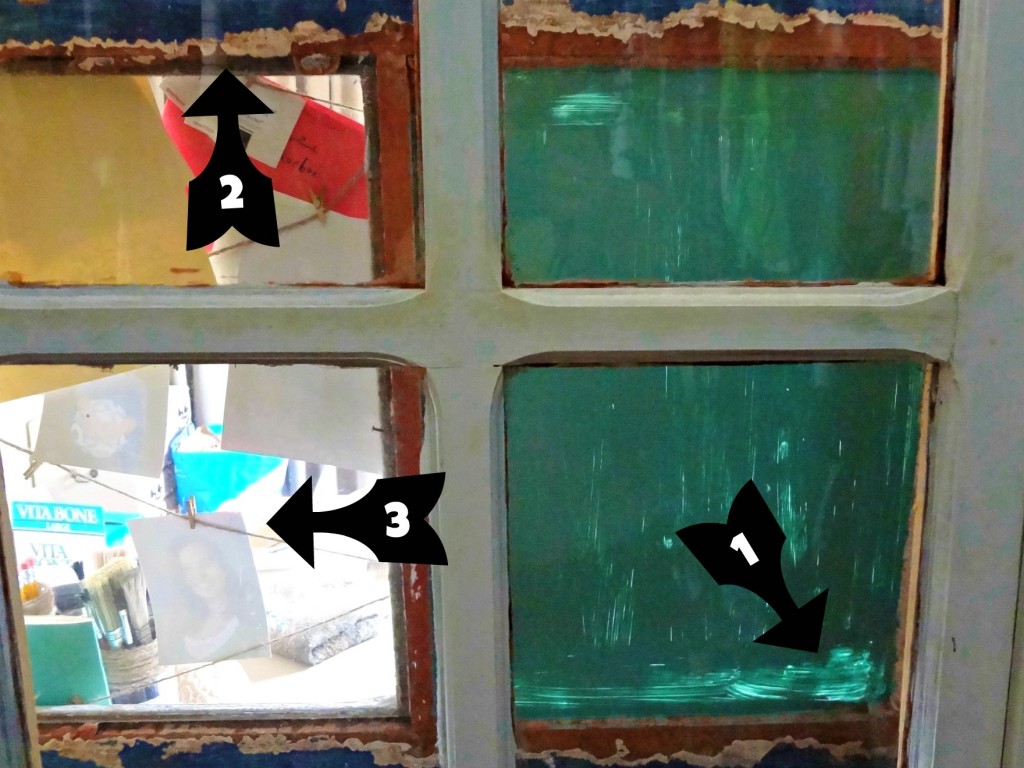 I'll point out the 3 most noteworthy parts of this photo.
1) Apparently you don't even need to put a complete coat of paint on the backside of the window for it to look like a pretty background from the front. #intentionalimperfectionismybff
2) No, I did not bother to re-finish the backside of the door.  I haven't shared with you the horror joy that was the actual door upgrade process yet.  Another warning here, that post is definitely not for any woodworking purists. #lazydiyeratyourservice
3) Yes, there is all kinds of randomness going on on the floor and desk.  #keepin'itreal
I was definitely surprised to see all of the bad painting action going on when I went into the closet since it really does look great from the front.  Let's remind ourselves how great.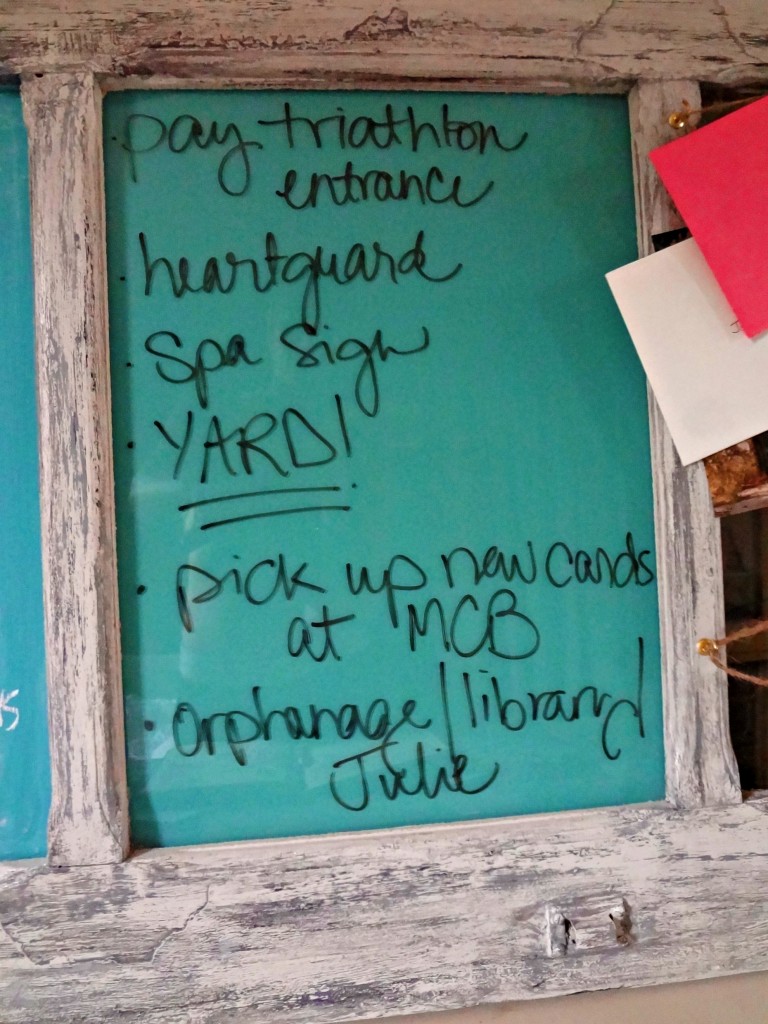 Seriously, not even a hint of the bad paint job hidden behind my fancy dry erase board.  Phew!  🙂
And, uhhhh, yeah.  I'm not one of those people with pretty penmanship and do kind of begrudge those of you who are.  Grrrr. (Did I really just growl on the blog?) :/
And, I'm definitely not It's a Cinching it again on my own.  Click on the pictures below to see what my Mission: Possible gals tackled this time around.  We'll be posting a new It's a Cinch project the first Monday of every month, cause who doesn't like to start the month with a little somethin' simple.  🙂  Especially after a weekend with a holiday dedicated to drinking margaritas. Am I right?
And one more look at the DIY dry erase board … try not to notice the laundry that needs folding in the chair and the papers that need filing on the desk.  Thanks!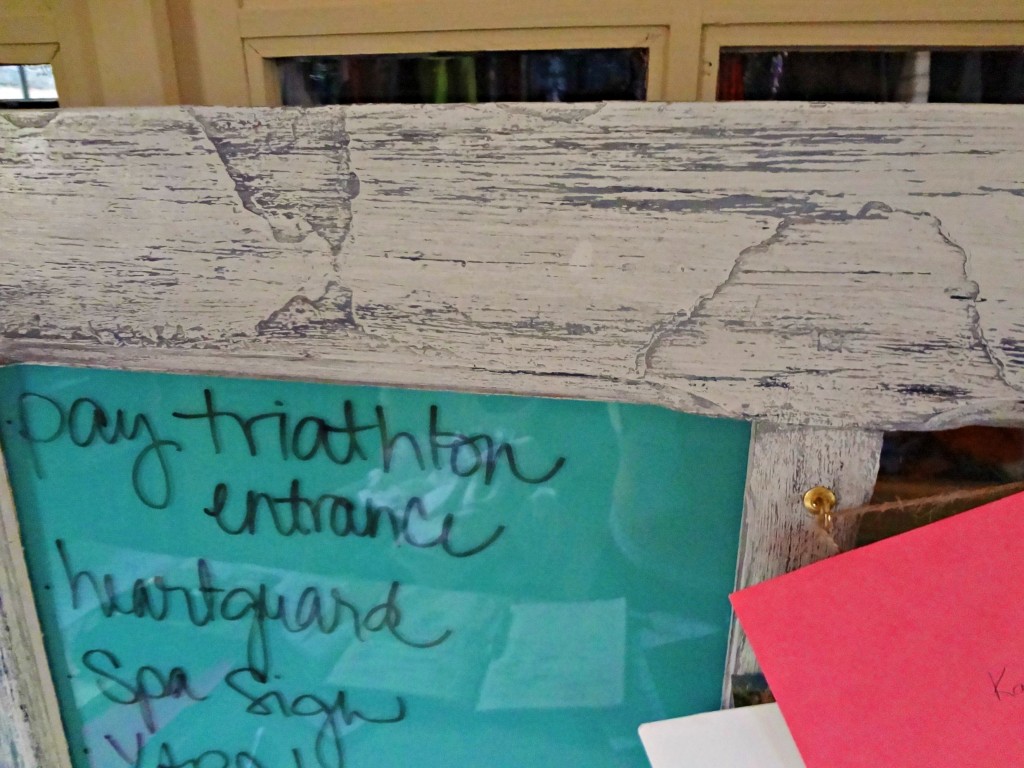 If you, too, love a simple project and have one you'd like to share please include a link in your comment to this post.  I'd love to check it out and add it to our group It's a Cinch pin board.
And, you can find the details of how to make the homemade chalkboard paint (to the left of the dry erase panel when looking at it from the front) here.  And see more of the entire door here.
So let's see it.  What really easy projects have you tackled lately?  Or, have you pulled anything fun out of a dumpster?
I am sharing this here and at: BNOTP, DIY Show Off, Home Stories A to Z, Savvy Southern Style, Remodelaholic, Today's Creative and Sugar Bee Crafts and My Uncommon Slice of Suburbia.