What do you get when you combine daily hot temps with tall candles that aren't ever burned?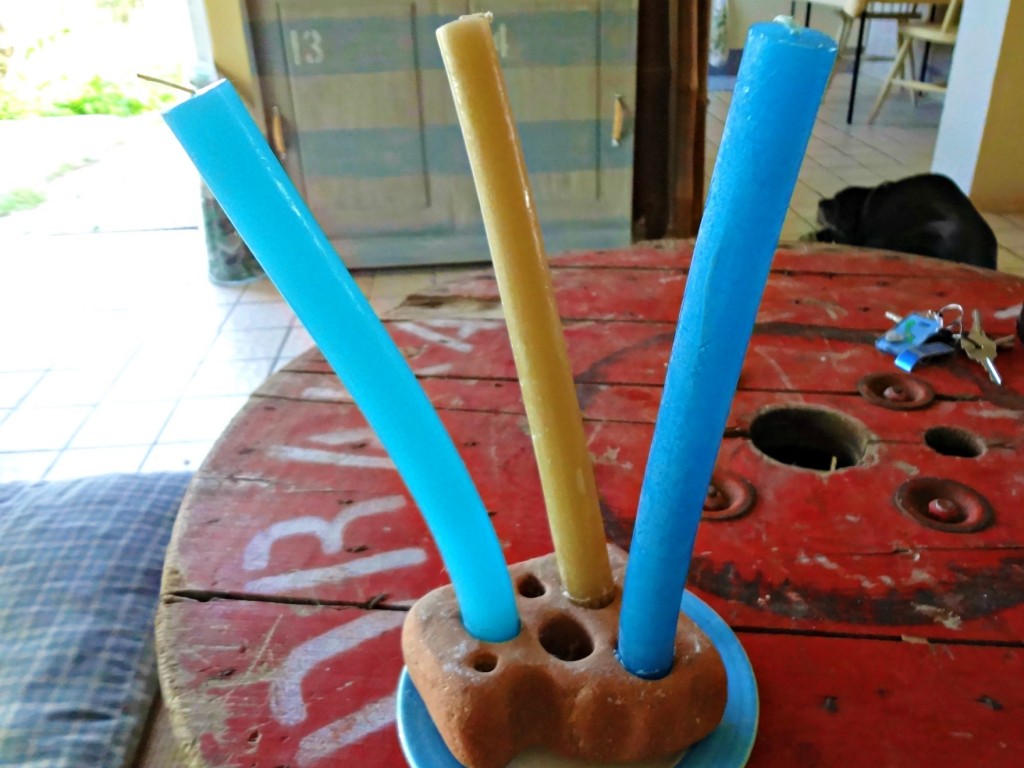 A hot wonky candle mess.  haha  I'll be here all day.  😉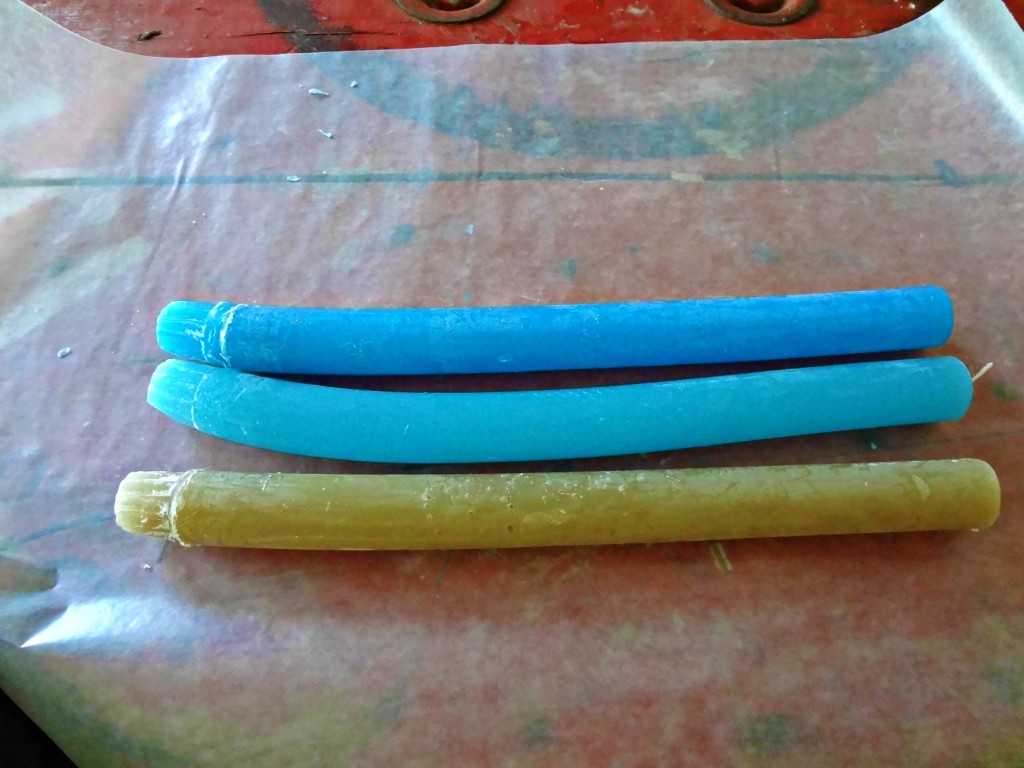 I bought these candles about a year ago on clearance for pennies … and have just never burned them.  I love the colors and other than their new and not improved shape, there isn't anything wrong with them so I figured I'd try my hand at making them into functional candles.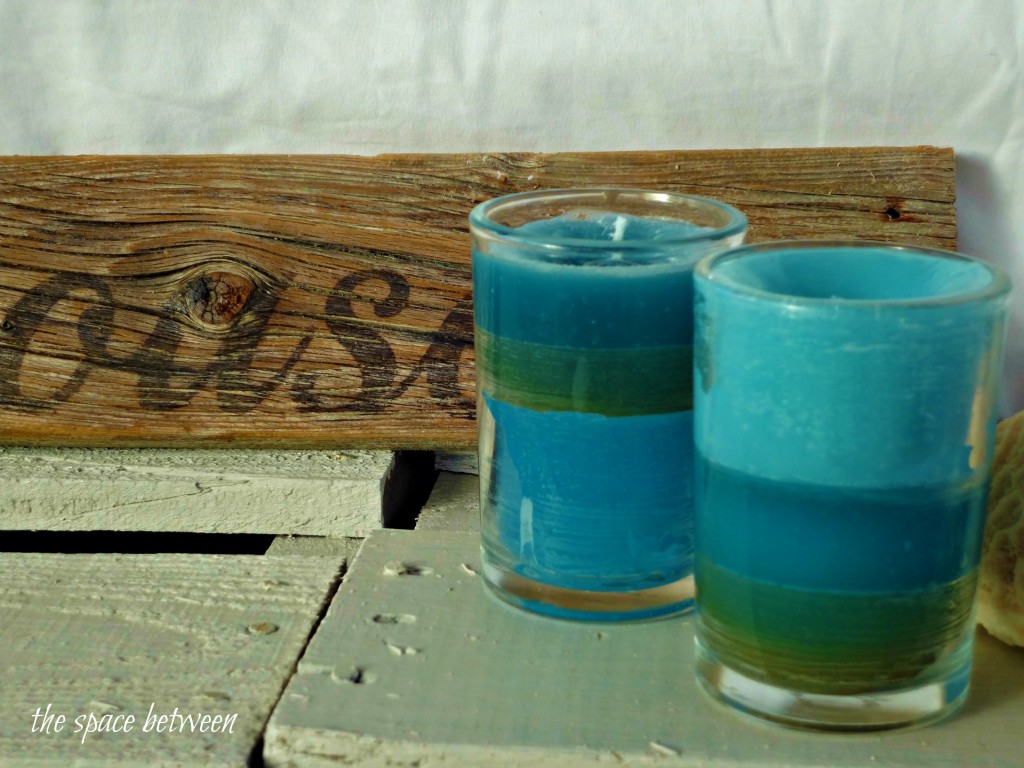 Insert lots of internet searching for wax melting tips links here.  I first read all of the safety tips and down right scary wax melting deets here and had second thoughts.  Things like double boiler, candle thermometer and the ever scary 'flash point' aren't really anything I'm familiar with.
But then, I read this apparently easy step by step tutorial here and with some safety goggles, gloves and maybe head to toe clothing, I figured I'd give it a go.
First things first, I was able to salvage the wax and the wick from my wonky candles.  Booyah!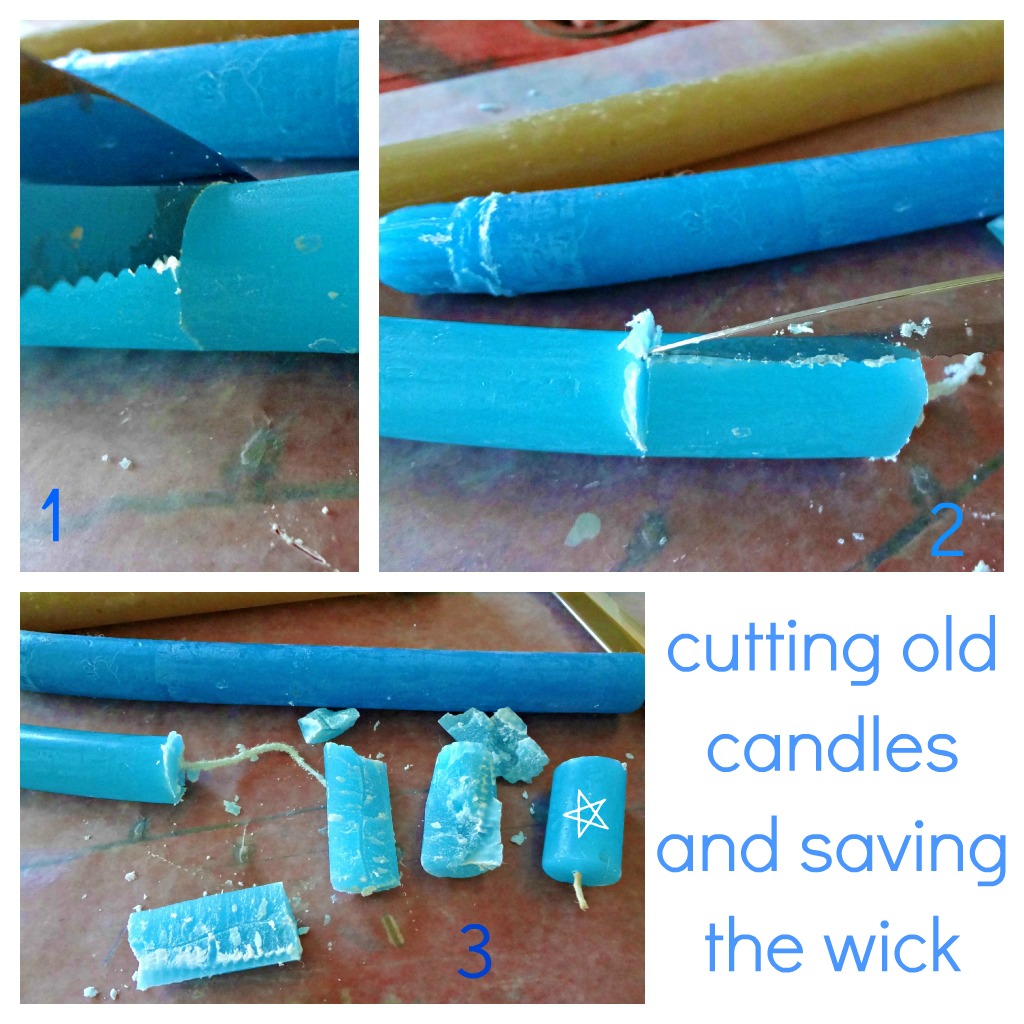 1.  Using a serrated knife, slowly cut into the candle perpendicular to the wick.  When the knife is almost halfway through, the wax will break on its own.  STOP CUTTING.
2.  Now, cut the candle down the middle, in the same direction as the wick, again, until the wax breaks all of the way through.
3.  Pull apart the wax from the wick.  Please note the little starred piece, my first failed attempt at muscling my way through the wax.  I pretty much just got a little wax nub.  Nice.
Ok – now that all of your wax is ready it's time to pull out your double boiler.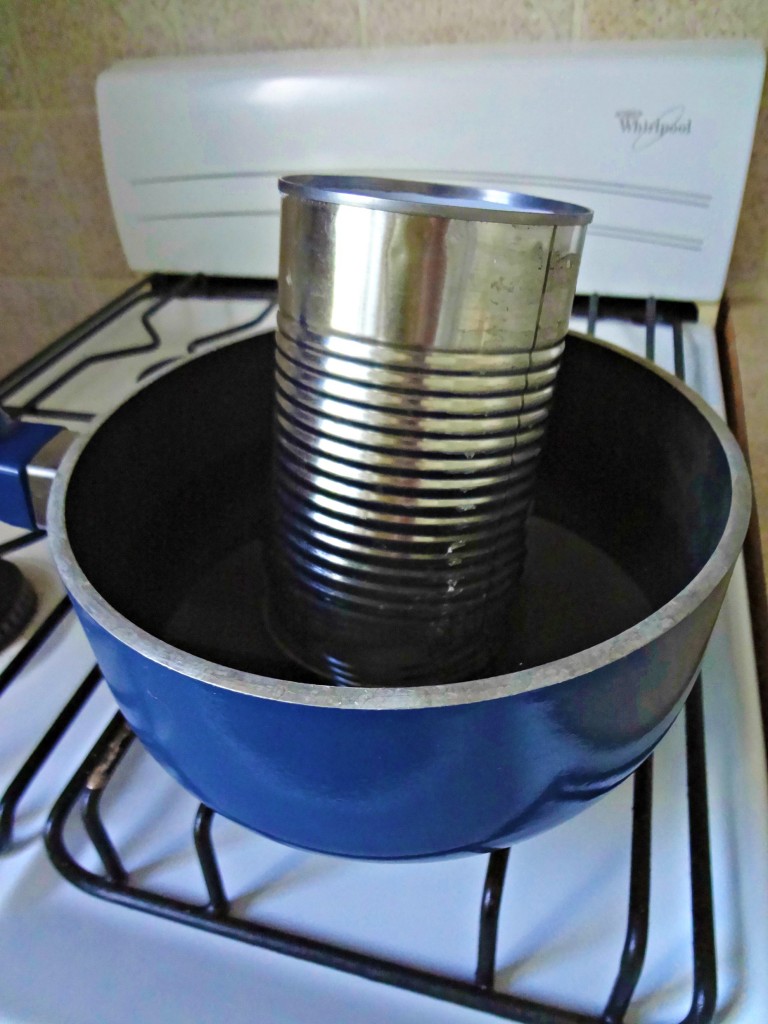 Yeah, I don't have a double boiler either, so I used a cleaned out aluminum can and sauce pan that we rarely use.
TIP!!! No matter how careful you are, be prepared to get wax in your saucepan and not ever want to use it again for food.  It might be a good time to pick up an old saucepan at a thrift shop. I'm just sayin'.
This part, the actual wax melting part, was the step that made me the most nervous but it proved to be harmless.
With a watchful eye on my slowly melting wax …


 … I prepped my clear little glass jars I was going to make into my new cool candles.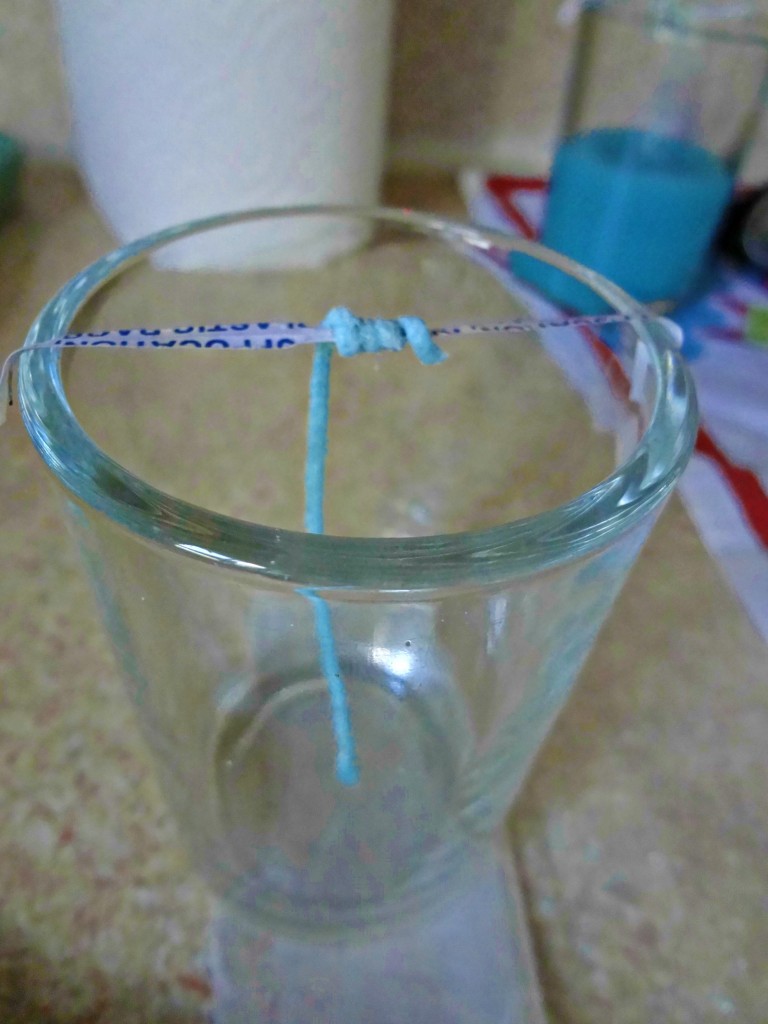 Truth be told, this wonderful little tip came in a little moment of panic and impatience after I had already poured my first batch of melted wax, had started melting batch #2 and still needed to hold onto that silly wick because it's not like the wax re-hardens in seconds.
You can see the first part of the first candle setting in the background.
TIP!!!  If you don't have a wick with a little metal stand to hold it up, wrap it around a twist tie laid over the top of your soon to be new candle so you don't frustrate yourself just holding the silly wick.  😉
Follow-up TIP!!!  If you have any spare tea lights floating around those usually have the little metal stand for the wick.  (Too bad I didn't learn this until after I made my candles.)
Turns out I didn't take too many more in-process photos.  Once your water gets hot enough to melt the wax things move pretty quickly.
Melt wax, pour wax, rinse and repeat.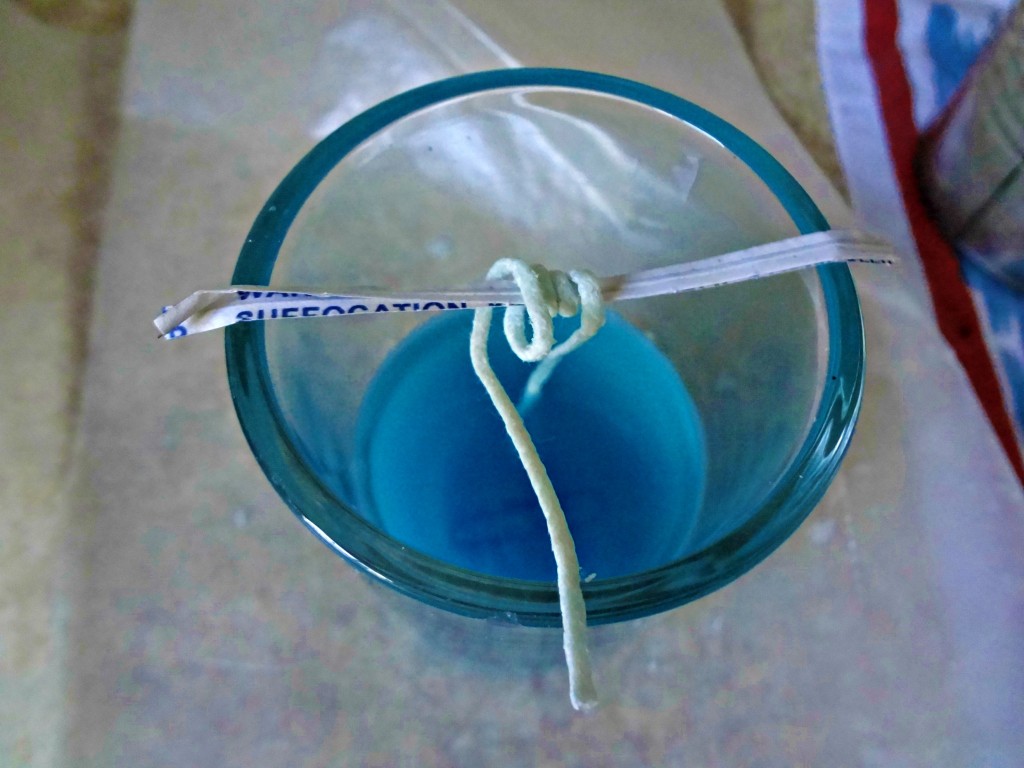 I wanted my new candles to be slightly different so I layered the 3 colors I had at different levels.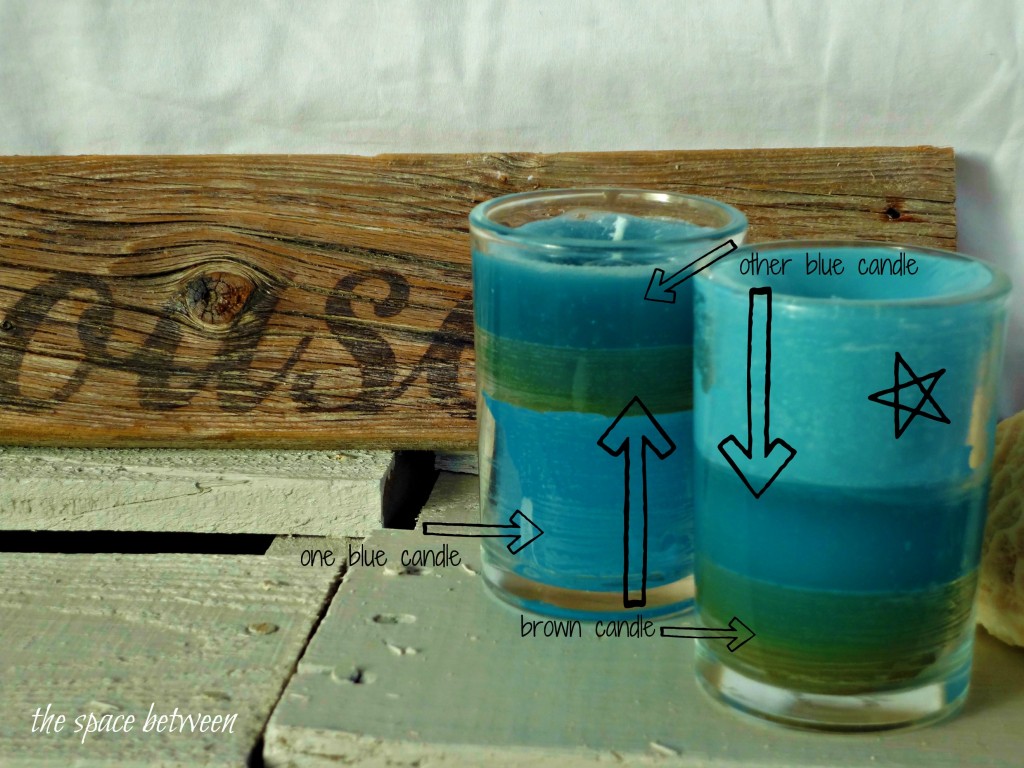 When it turned out I didn't have enough wax to fill my two little jars, I reached into my tea light stash and melted down a bunch of white tea lights. A couple things to note here.
1. This is when I discovered the tea lights had the metal stands for the wick … too little too late.  And …
2. When you pour melted wax over not entirely melted wax it takes on some of the color.  Score for me since it created a nice lighter blue color … the starred section above.
Once the wax does melt entirely, it will be sunken a bit in the center around the wick.  It doesn't bother me at all, once they get used a few times it will all even out.  But you could add more wax to fill it in if you so desired.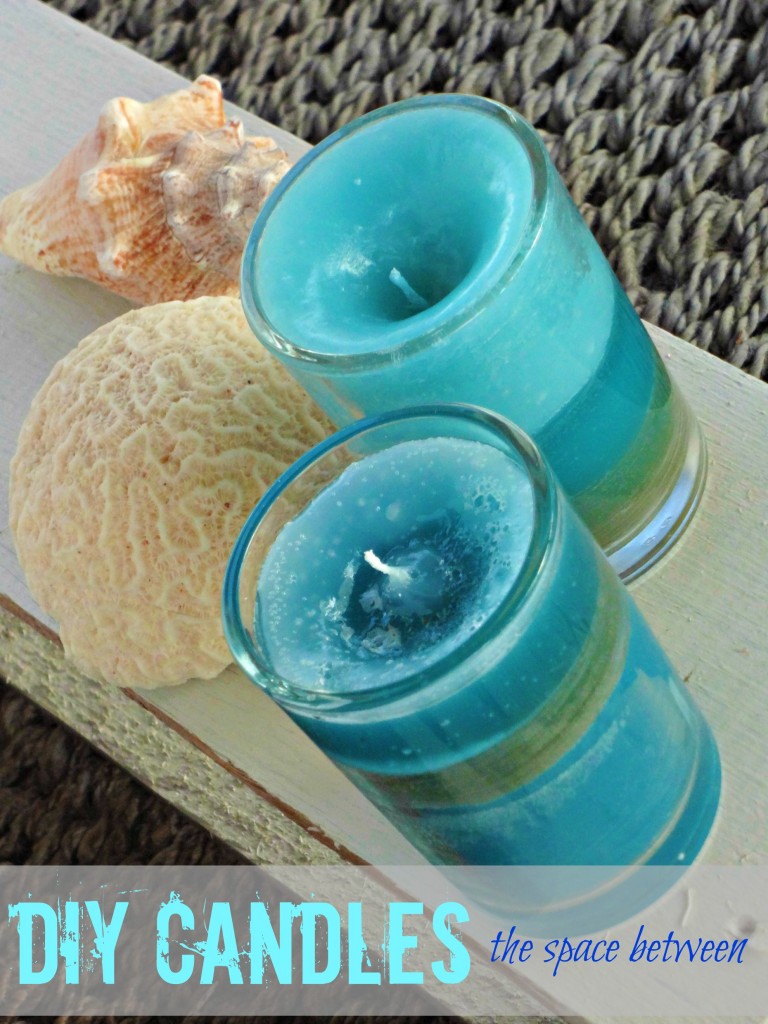 I am pretty smitten with these guys, and love how they look in our new rooftop bedroom.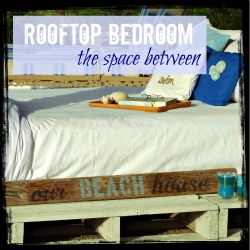 How about you, have you ever made your own candles?
And, if you haven't seen the whole of the rooftop bedroom pretty please check it out here.