I'm here today following my dreams.  🙂
Remember the dream?  The one for this blog to be in print.  I talk all about it here.
And, since I'm one to follow my dreams, and I just happen to have a new shelf ready for some new decorations, and I wasn't blogging last fall … I present to you now a little fall decor.  🙂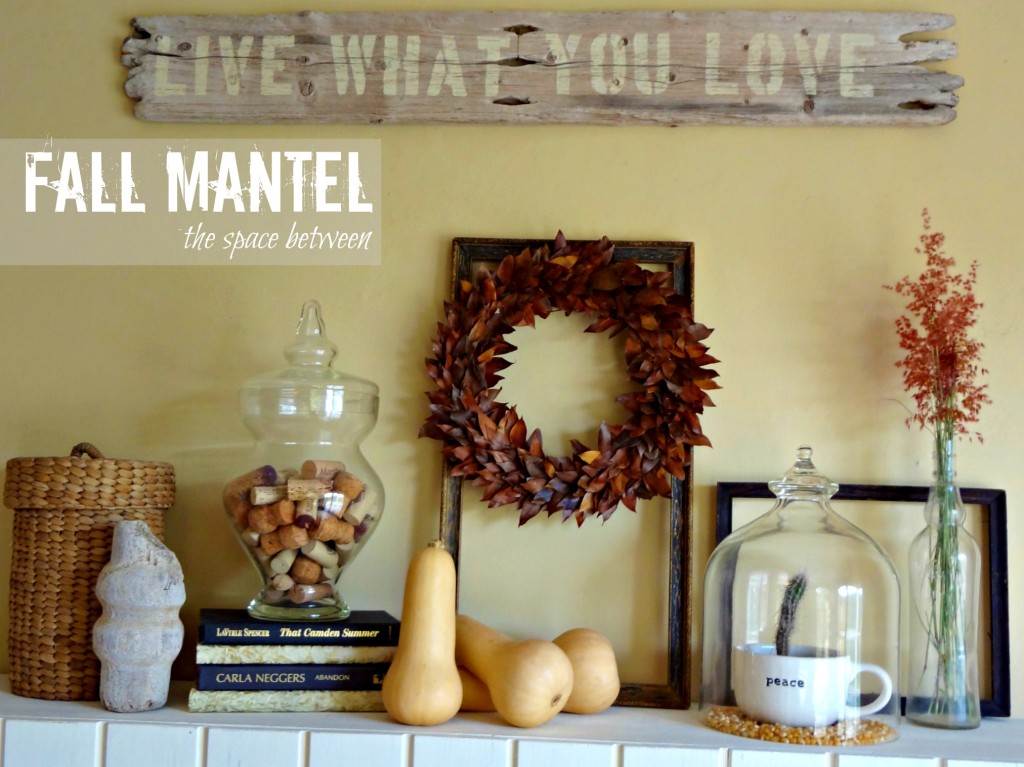 Fall in July … it's sure to be the new Christmas in July.  I'm sure of it.  😉
But, really, what's a girl to do?!?!  The call to action came …


… and I have to give it a go, right!?!?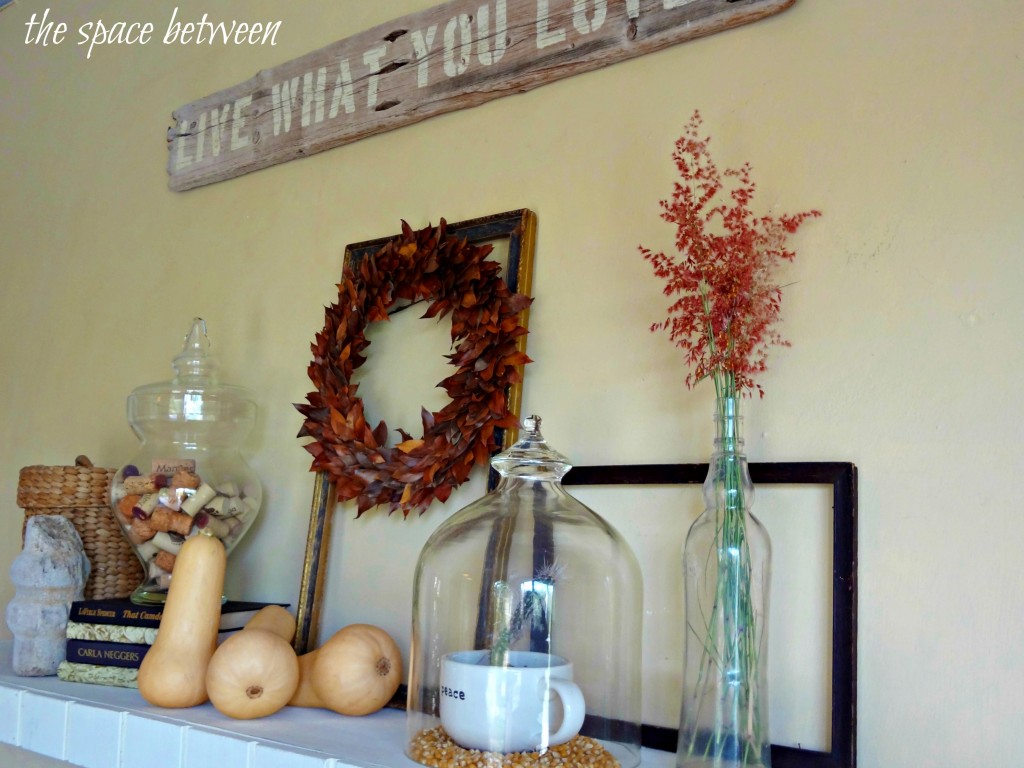 And, you know I'm going to try to use what I've got.  Even better if I don't have to spend any money to follow my dream, I say.
I started by hanging one of the stenciled signs I made here above the vignette.  I love the message and the monochromatic shades of cream and tan.  I knew right away I was going to go simple, understated and 'natural' if you will.
I then used a couple of the empty frames I had on the one screw gallery wall as a backdrop.  More browns with a hint of gold.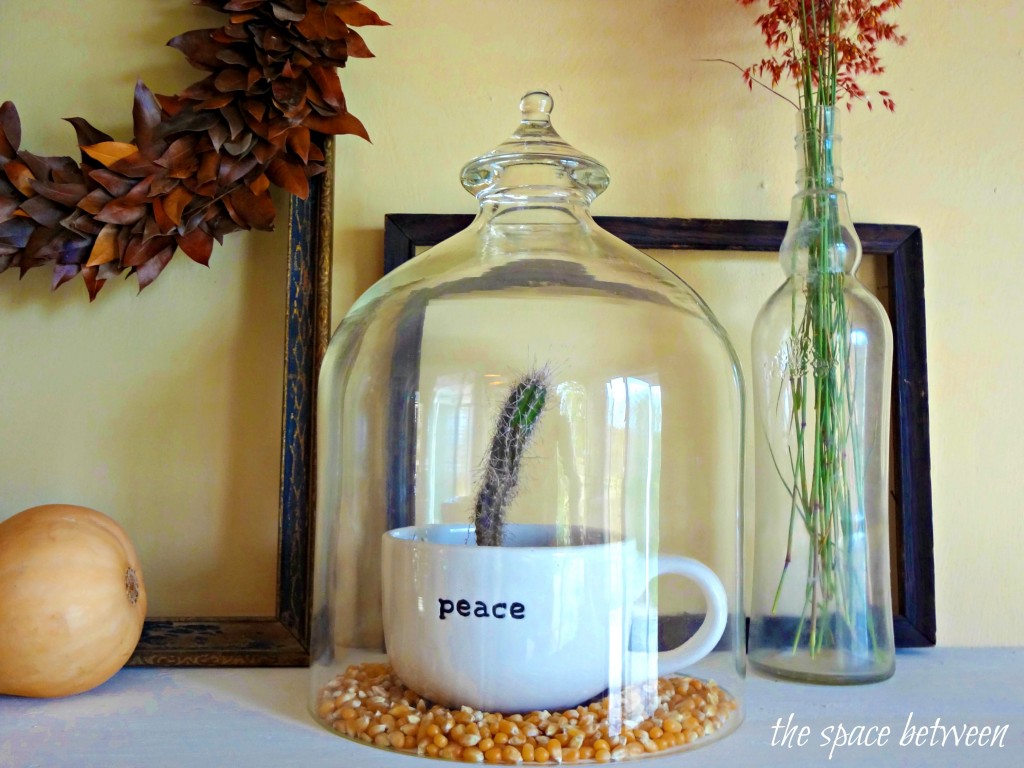 I planted a small cactus from our yard in the 'peace' mug, surrounded it with with corn kernels we keep on hand to make stove top popcorn and put a cloche on it.  (If you like it then you shoulda put a cloche on it.)  Adding one more touch of gold to the mix.
While I was in the yard I noticed these red topped weeds … when I was clipping some I'm sure the neighbor's thought "FINALLY she is getting that mess under control".  Nope … just decorating my fall mantel, here in Curacao … in July.  🙂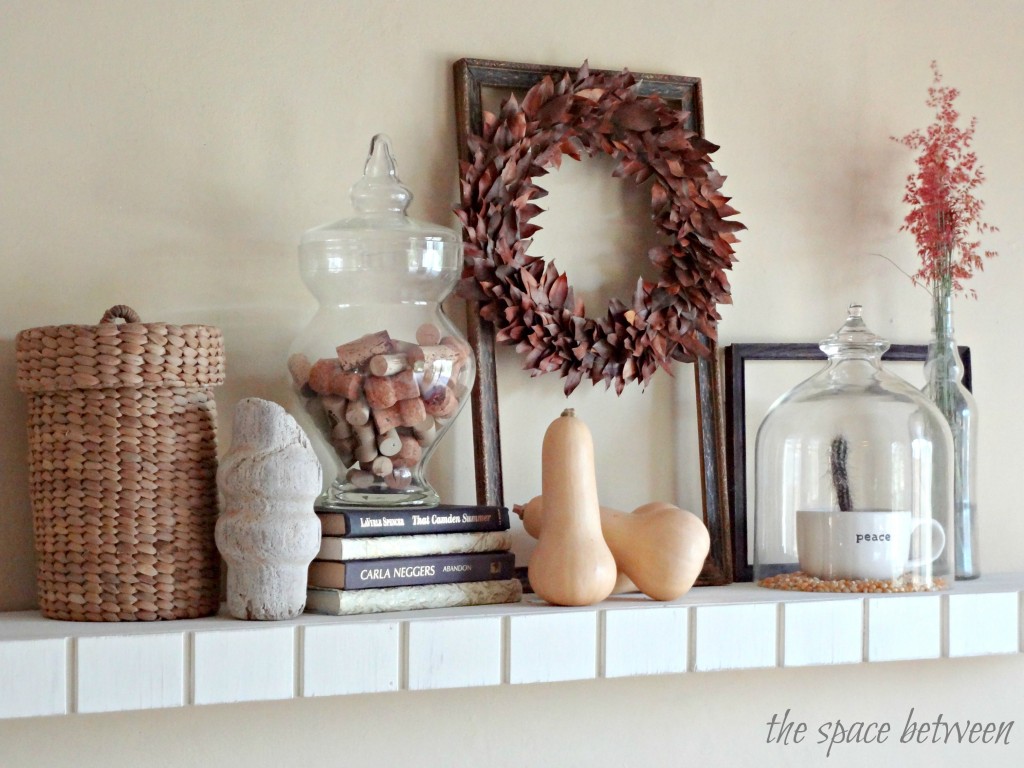 The bottle is one from my summer mantel, a beach find … of course.
The basket I picked up shortly after we moved here … it was on sale for about $6.
And the wood thing beside the basket is another beach find.  I do love me some beach junk.  And a few more shades of brown/tan.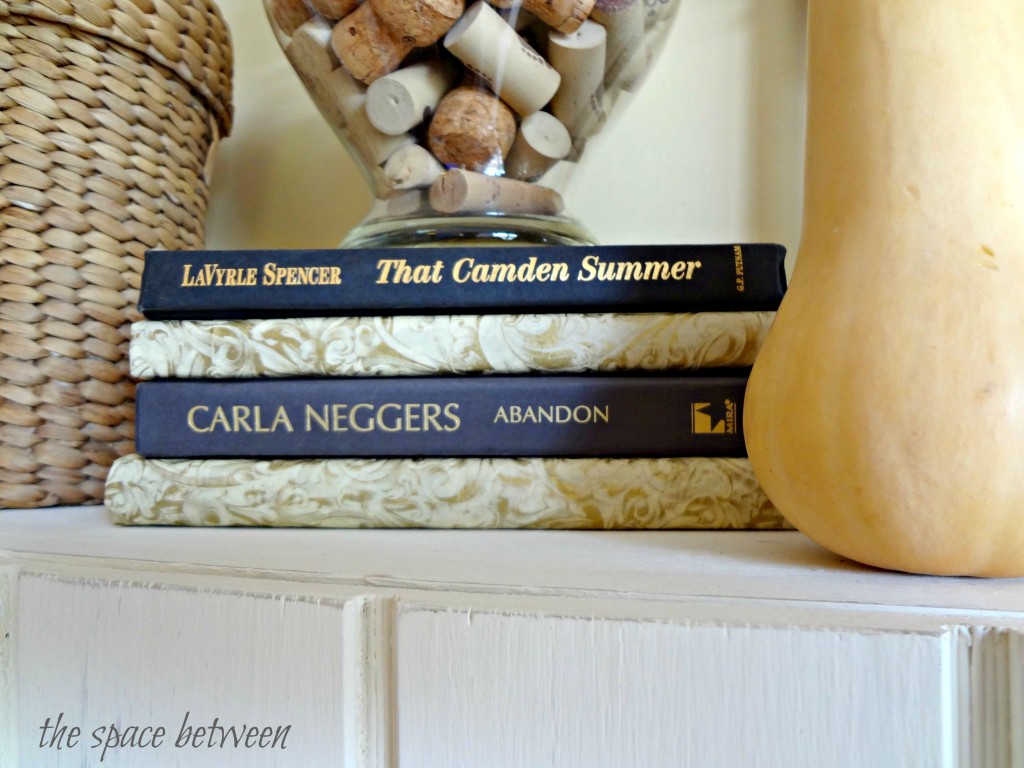 I wrapped 2 books in a gold, decorative tissue paper I had in my gift wrap stash and then picked two other books that were black with gold lettering.  I am really liking the more muted color scheme with the one pop of red, or is it maroon … or burgundy?
For some height, I put the corks (yep, more muted, natural looking color) I've been accumulating to try to finish the cork board on our message center in an old apothecary jar and stacked it on the books.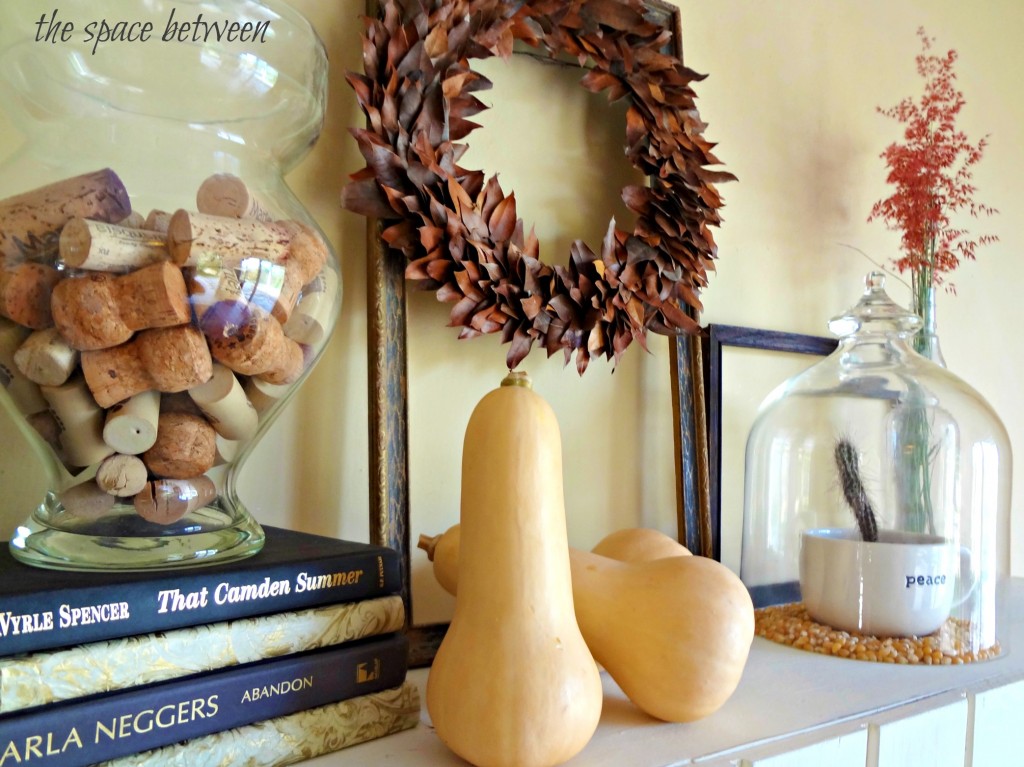 And who doesn't love butternut squash?  I did buy a couple extra specifically for the display, but we will eat them.  Much to Joel's dismay.  😉
Oh … and the leaf wreath!  I made a leaf wreath.  An easy peasy leaf wreath.  More shades of brown.  More natural.  More fall decor goodness.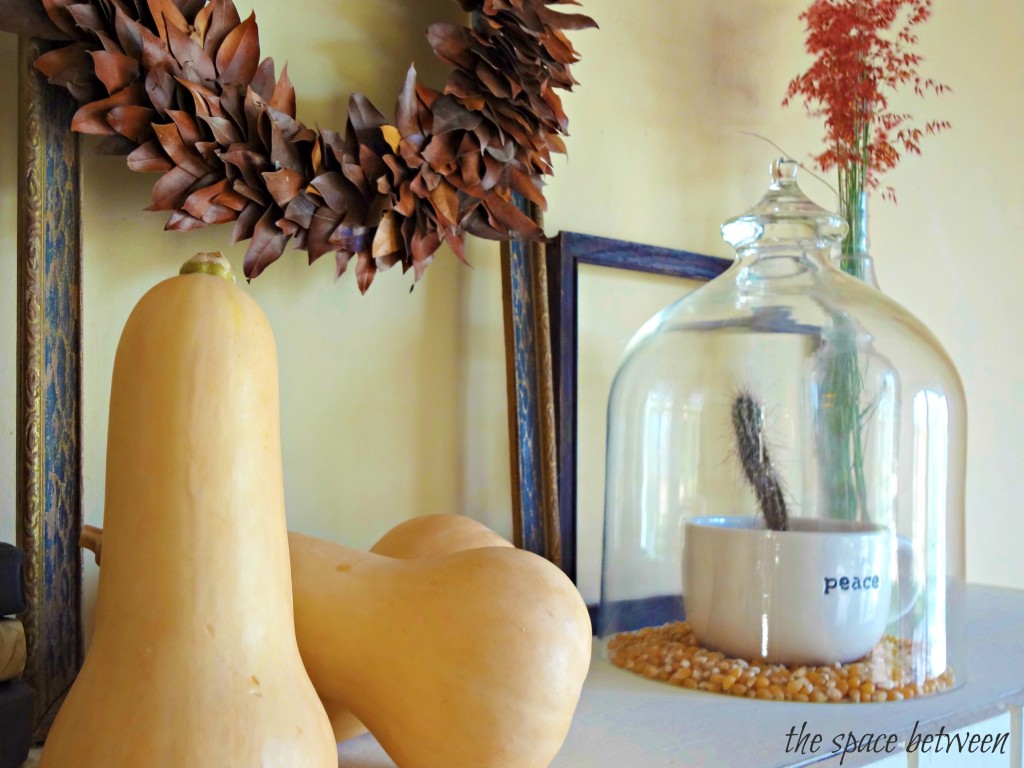 I have a feeling this is just the beginning of the fiddling with decor that will happen on our new shelf. 🙂
Here is what the listed criteria is for consideration for the magazine feature.
Innovation – Have you ever put weeds from your yard in a bottle you found at the beach and called it decor?  Or planted another yard find in a mug with a nice message on it and surrounded it with corn kernels and put a cloche on it?
Usefulness – I guess I could pop the corn kernels and then read one of the books while eating my popcorn.  Or maybe decor itself is useful.  It helps us feel connected to our home and generates feelings we are trying to portray with the decor we choose. Right?!?
Adaptability to any cottage style – I think so.
Budget friendliness – Ummmm, hello!  Besides the butternut squash, which we will be eating, nothing was spent specifically to put this look together.  I've never met a friendlier budget.  😉
Quality of the project/craftsmanship – Have I mentioned that I made the floating shelf, too?  And it's level.  🙂
Quality of the photos – There's always room for improvement on this one, but I've seen much worse.  🙂
Entrant follows all party rules – check, check.
And a few more pics just for fun.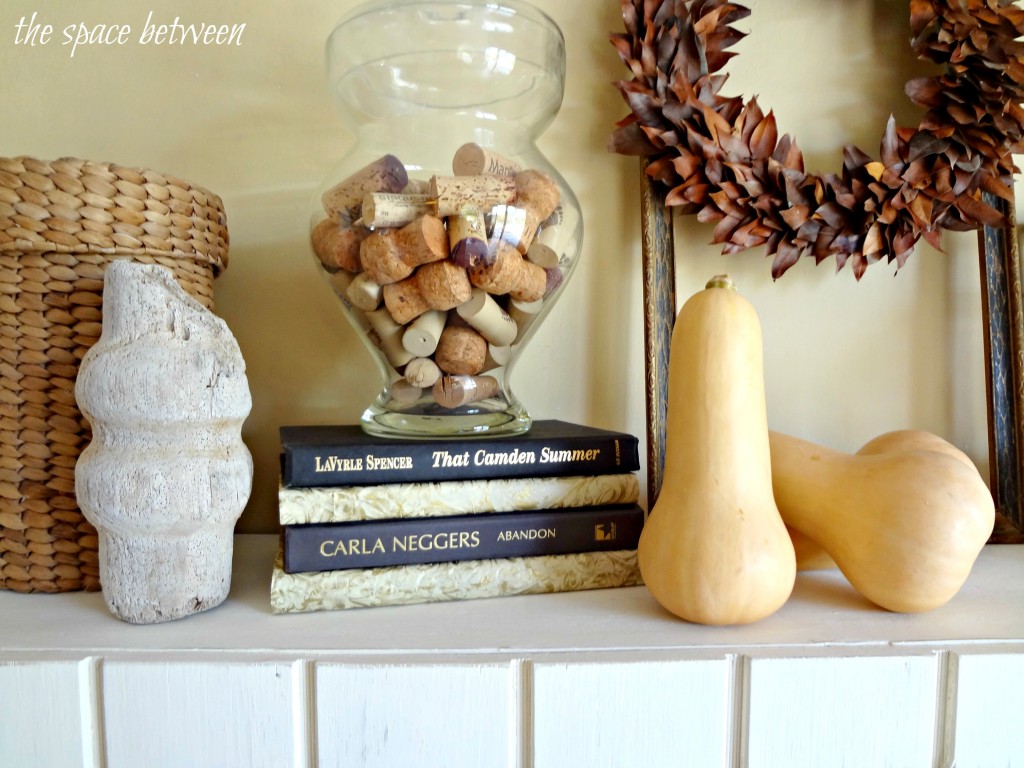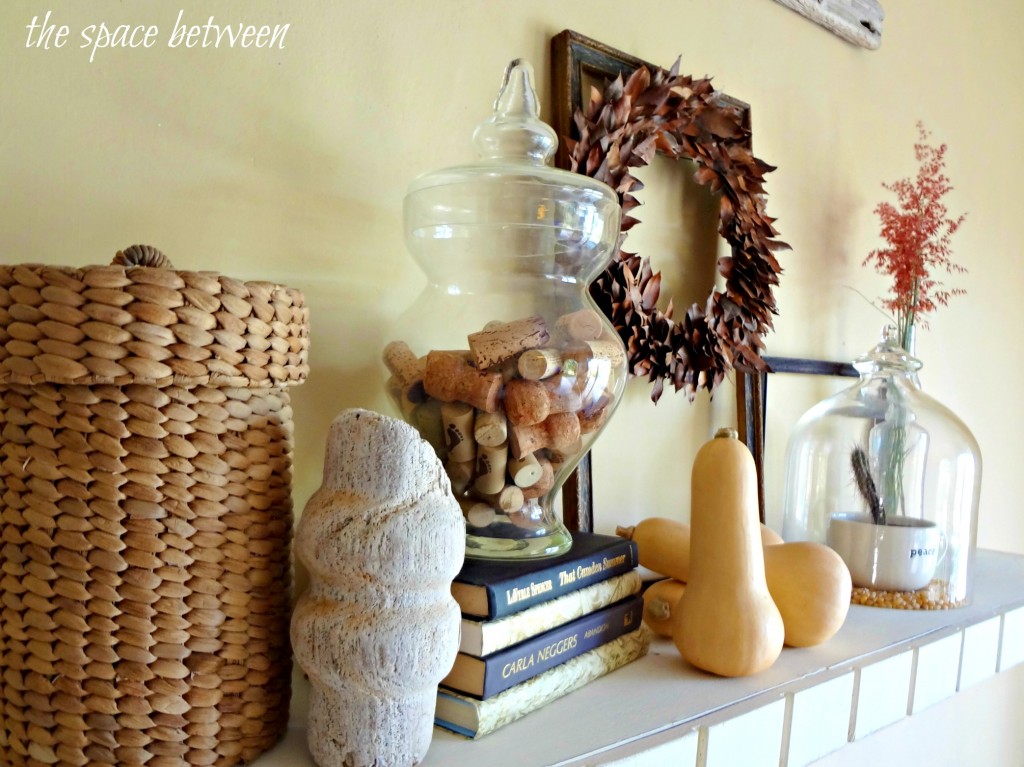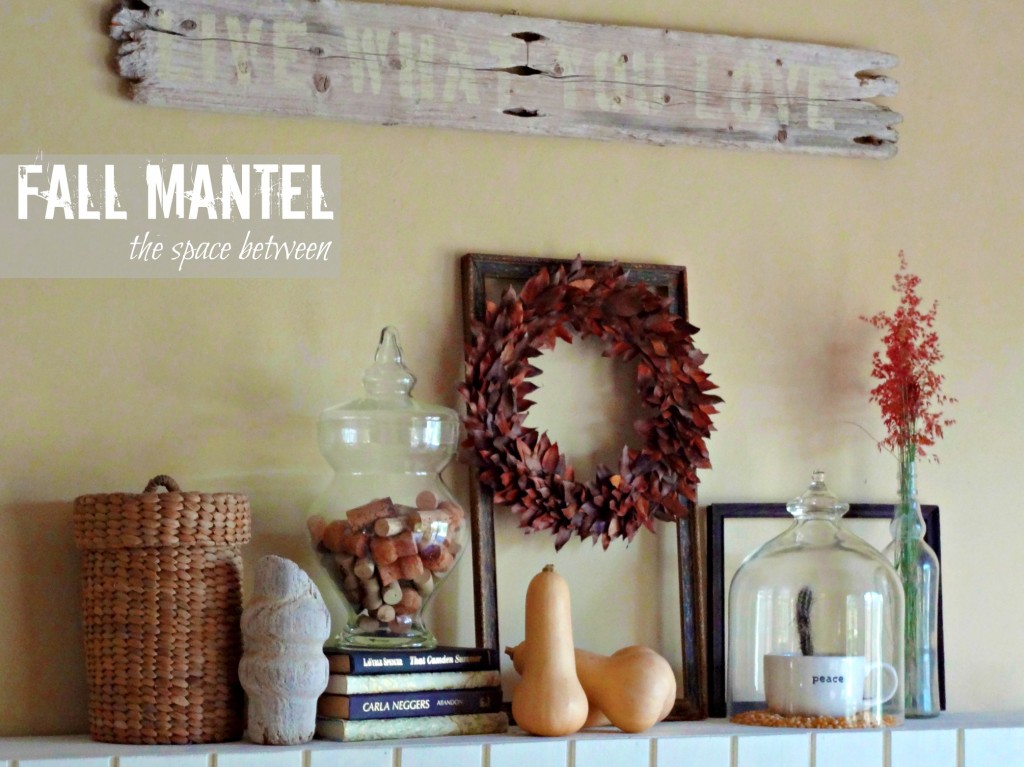 Update: The leaf wreath tutorial is here.
What do you think?  Print worthy?  Too many weeds for one little mantel?  Just too early for fall decor?
Now, if you're looking for something that says SUMMER, check out my 10 favorite FREE things to do here in Curacao.
And, I've got a couple of fun, and a little out of the norm, things for Monday and Tuesday.  Are you watching the Bachelorette?  Do you know the finale was filmed here in Curacao?  Do you know the show finale is Sunday night?  If you can, check it out … and then check in here Monday and Tuesday to see a closer look at a couple of things you see on the show!!!  I'm wicked excited about it.  🙂