This page is a work in progress, I hope to go back and pull out some fun pictures of our Curacao space and highlight a few of the major things that impacted our home life while we were there from October 2009 to January 2013. It was a transition for us, going back to renting after owning our own home for over 8 years.  And the whole living on a Caribbean island for the first time thing was new to us, too.
The highlights include that we sacrificed many modern conveniences (think dishwater, hot water and guest bedroom or bathroom) to live in a location we loved with a yard bigger than any other we ever did encounter on the island.  Click around below for now and hopefully this page will the bigger and better the next time you stop in.
So for now let's start out with a blurry 5am photo I took to memorialize the last time we saw her as we were walking away, or more accurately as we were shoving about 7 bags, 2 large dogs in dog crates and ourselves into a taxi van to head to the airport to move back to the good ol' US of A.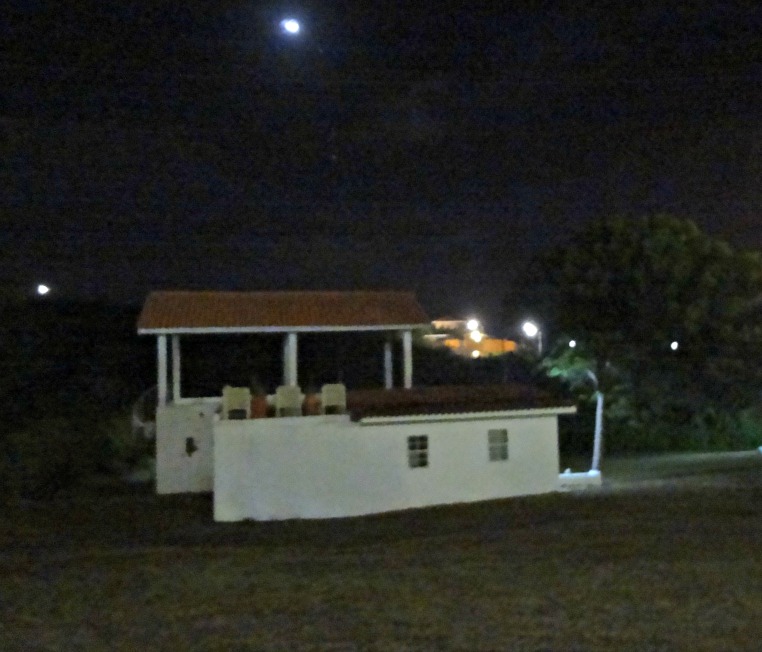 You will find details of how we decided to rent this house here.
And I show you some fun (read: depressing) pictures of the inside here.
Now, here's the kitchen.
And, here's the living room BEFORE.  And let's be honest, for the most part any "after" was pretty much the same.  Although I did make a floating shelf out of scrap wood that stayed with the house here.
And, here's the 'master bedroom', and more importantly the story of why (even today) we have our mattress on the floor.
Now, from Curacao, we quickly transitioned to Key West, FL in January 2013 … it was a move that came quite sudden and unexpectedly (you can read a bit about that here) but has embraced us with open arms.
See our Key West (and for now, current) space here.