Update:  Just a huge thanks to Better Homes and Garden for entering my porch in the Outdoor Decor category of their Summer Bash and an even huger (totally a word!) thanks to everyone who voted for us.  We won!!  Thank you all!

Consider yourself forewarned, I might just declare each newly finished, or even nearly finished, room "my new favorite space".  I think when you're facing a full house renovation you have to celebrate the little successes.  🙂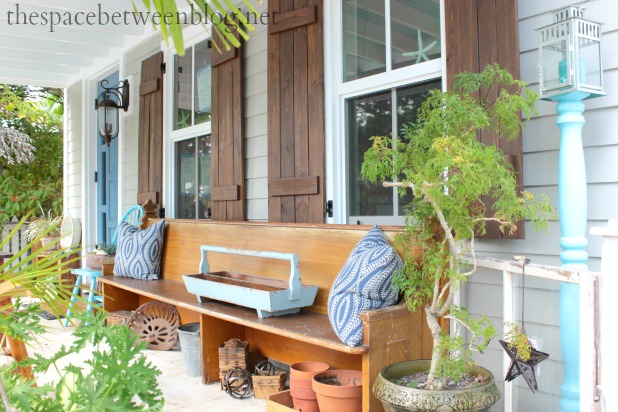 And clearly it doesn't even have to be a room inside my house for it to qualify.  To get the street side finds countdown started, I found that old window a few blocks away on an evening dog walk one day.  It's perfectly chippy and a nice filler for that bare corner without blocking the view to our newly painted hardiboard siding.
Even though there are still a few little things to tick of the front porch to-do list like patching the cracks and painting the new posts (they're only primed right now), covering the concrete floor with wood decking (maybe eventually) and making some sort of house number (maybe with sea glass?) I decided to skip ahead to the decorating anyway to polish off the process of creating curb appeal.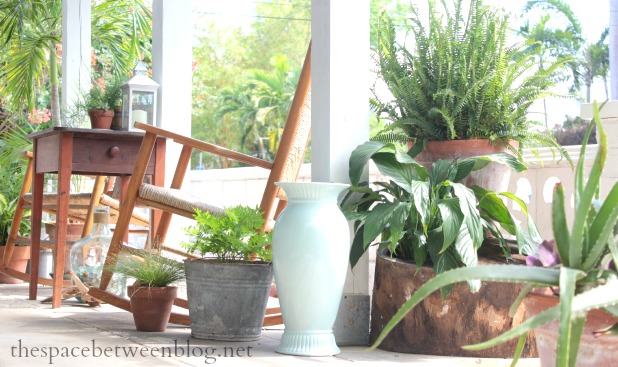 The timing worked out perfectly for a little front porch piddling (as my mom would call it) since my mom was actually on her way for a visit.  And you know you can't visit us without being put to work.  But rest assured I try hard to assign you projects I think you'll like.  So my mom and I arranged and rearranged furniture and shopped for accessories and plants.  But that stump was picked up along the street shortly after we moved in, Joel texted me a picture of it one day after he saw it on his way to work saying "I saw this and thought you might want it".  Now that's love. 🙂
And when Joel's mom was here she picked the right pots and placement for the plants, the perfect little project for an avid gardener. You're welcome moms!!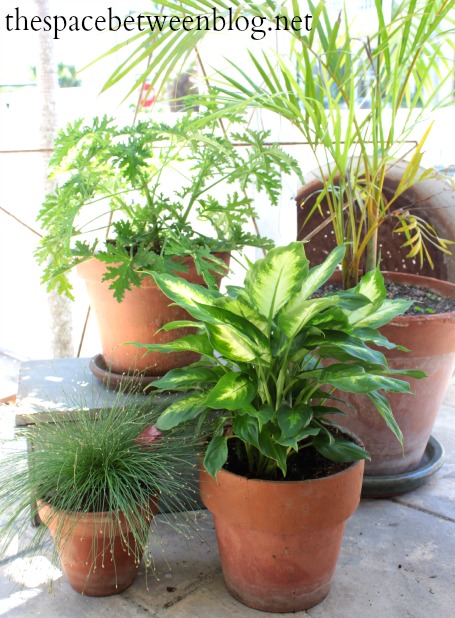 I found that metal star behind the plants a while back along a road in down town Key West and snagged that rusty old galvanized bucket in the background from my neighbor. She had drug it out of her crawl space so of course it was meant for my front porch decor. 🙂
It was perfect to get a new set of eyes on the front porch because I seriously would have never thought to keep the church pew and the rocking chairs all on the porch together.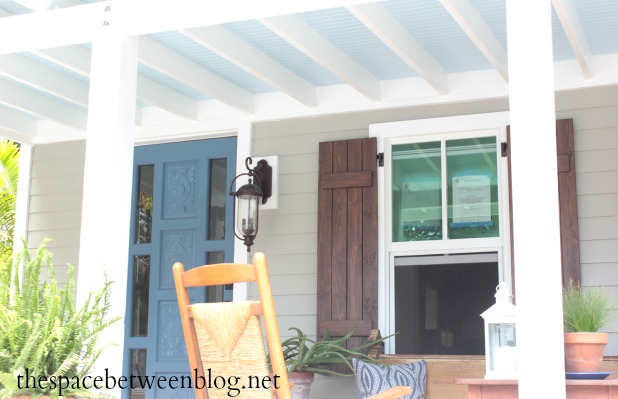 My mom arranged the chairs to face the house and the church pew and it creates the perfect little sitting area. Seriously … I would have never thought.
The space doesn't actually photograph well from far off since the bright sunny daylight and the shade of the porch is a hard contrast.  But the wall that runs across the front of our property also serves to block a bit of the view from the street.  Which I can't say I mind at all.  🙂
The rocking chairs also serve to add just a bit of separation from the street.  And that large glass bottle that now holds our sea glass was a random Ross find, it was perfect since the tall glass vessel we had the sea glass in broke on the move here from Curacao.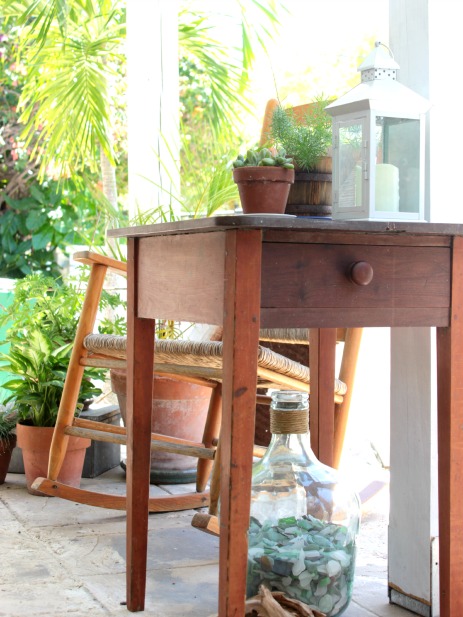 Note to self: add some trim around the new, chunky patio posts to hide the brackets.
Even though I didn't end up going with aqua for the front door color I wasn't willing to give it up entirely.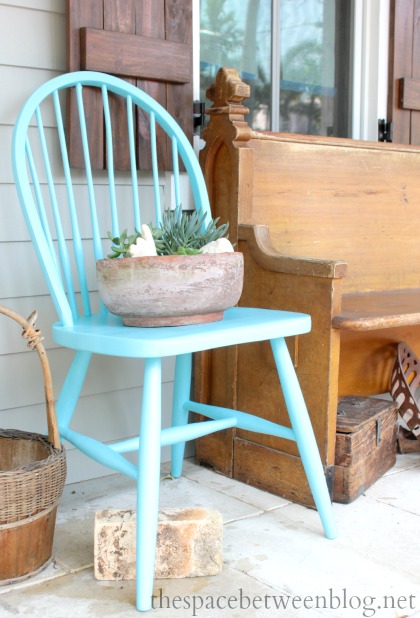 A few coats of spray paint on an old chair makes the perfect seat for my new little succulent garden with a few pieces of white coral mixed in.  And that basket to the left of the chair, yep, street find … and that brick was washed up on a beach in Curacao.
I also spray painted part of one of the old patio posts the same aqua color, I used this one (affiliate link), and it makes the perfect pedestal for a new lantern I found on clearance at IKEA when we were in Tampa.  It was marked down to $6 because the box it was in was damaged.  Reason #289 to never skip a quick walk through the clearance section in any store, you just never know.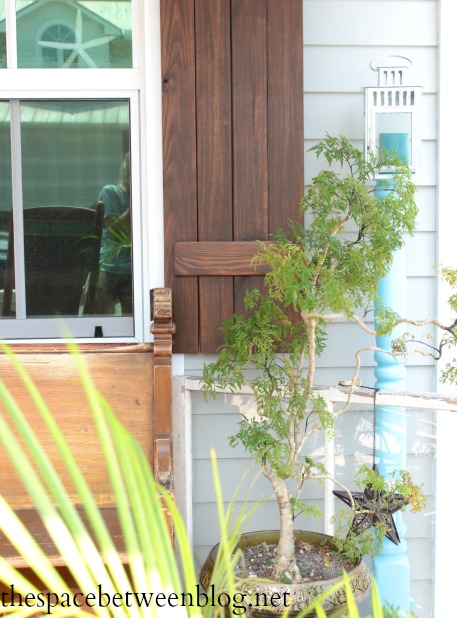 Under the church pew was the perfect spot for Joel's grandfather's old tool box and a rusty tractor seat that came from my grandfather's farm.  I found the blue pillows on the church pew at Ross and they almost perfectly match the new front door color.  My mom and I also picked out some fabric so as soon as the pillow making fairy gets here they'll be added to the mix.
Who can sew and wants to visit?  There are a few days available.  😉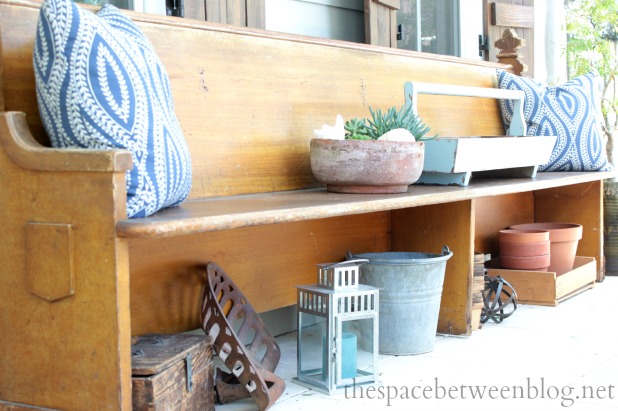 And for no other reason than I wanted to put this enamel bowl that was left in this house when we bought it somewhere a few more plants and an old crate found a home to the left of the front door.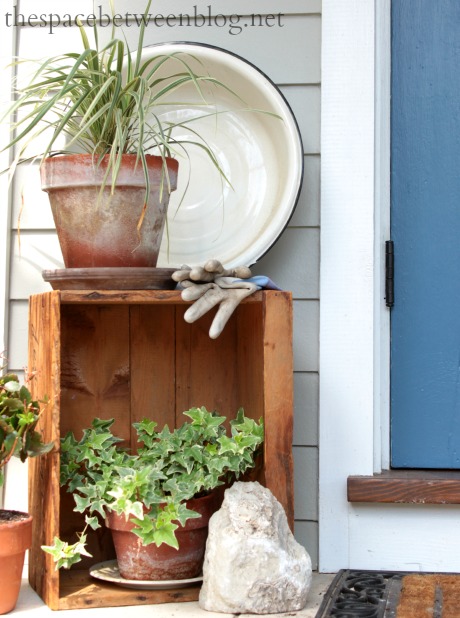 Those gardening gloves are my mother-in-law's, she accidentally left them there, but they make for pretty pictures so we'll just keep them there ready for use on your next visit, Carole.  🙂
Overall I can't even believe where we started.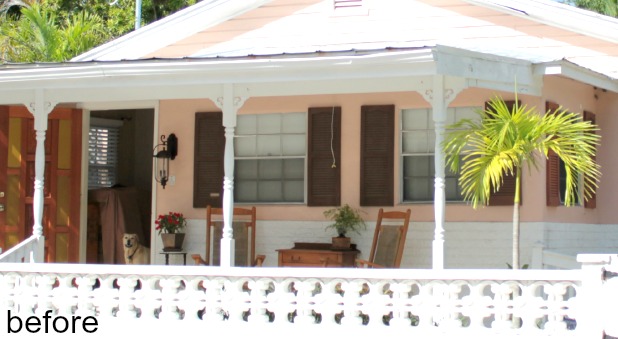 The new window sizes alone makes such a huge difference.  Or maybe it's that we had to get rid of the old faux brick to enlarge the windows.  Hmmmm …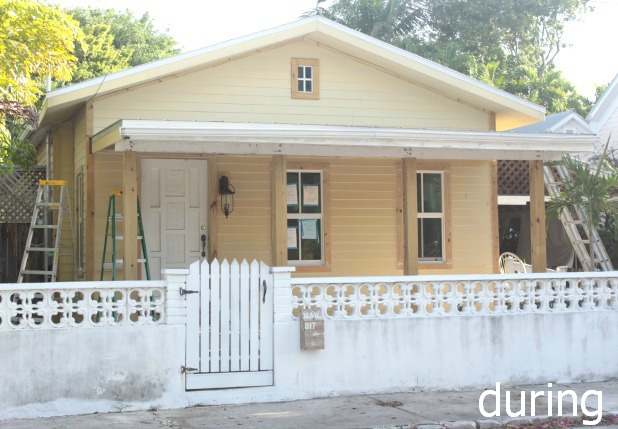 With a few random rain storms that have been coming through my progress on finishing up the caulk all around the new siding and trim has been slow, but we're getting there. All of our family and visitors are gone so that actually freed me up to work on a fun little project for the back part of the guest bedroom.  I posted all about it on instagram.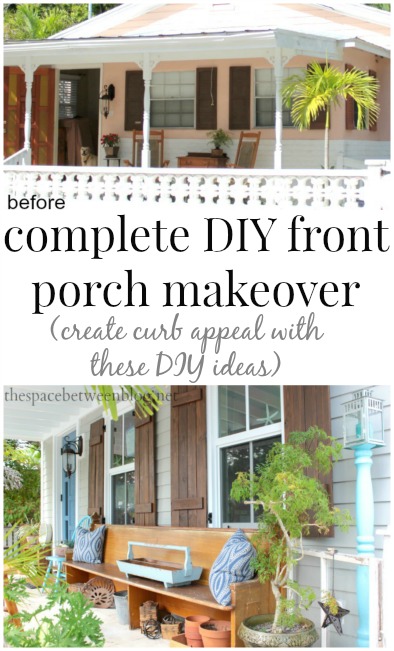 See how many updates we've tackled and what a difference in the whole look of the front of our house it has made by checking out the 14 curb appeal ideas I first posted about right when we moved in.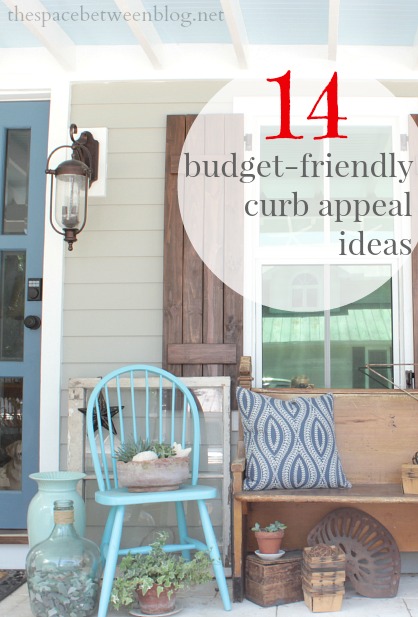 If you're looking for more of the how-tos you can check out how we got rid of the faux brick, about the hardiboard siding installation, how the new windows went in (and more here), about the new exterior trim installation, the day we discovered the porch roof wasn't attached to the house, replacing the old posts with chunky patio posts, caulking, painting, learning how to use a paint sprayer, adding glass door panels to the front door, picking a front door color with some Key West inspiration, installing beadboard on the ceiling and why I am in love with our new keyless entry system.
********************************************