Hey hey!
I am still working my way around finishing up the front part of the exterior of the house. More paint, primer, caulk and then more touch-up paint than is reasonable for one small house, really.  But with a few cloudy/rainy days postponing progress I shifted gears and decided to put together a little space in the guest bedroom just for creating.  But here's a sneak peek of the exterior progress that I shared on Instagram.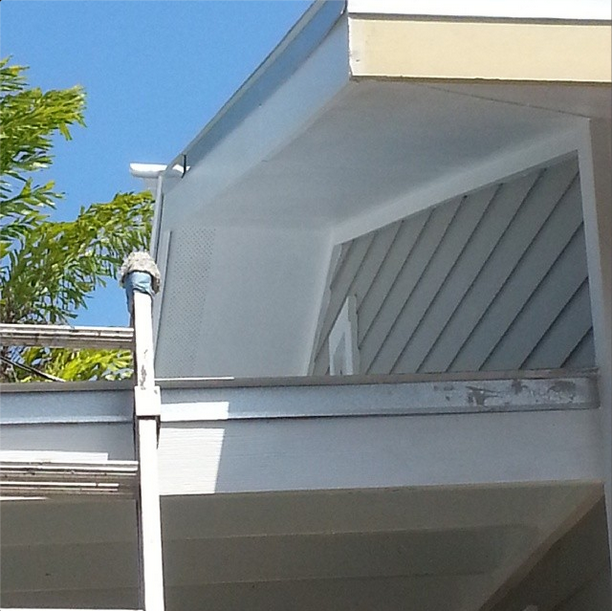 And then I walked by this doozy of a remodel that made me feel like my little project wasn't so bad.  🙂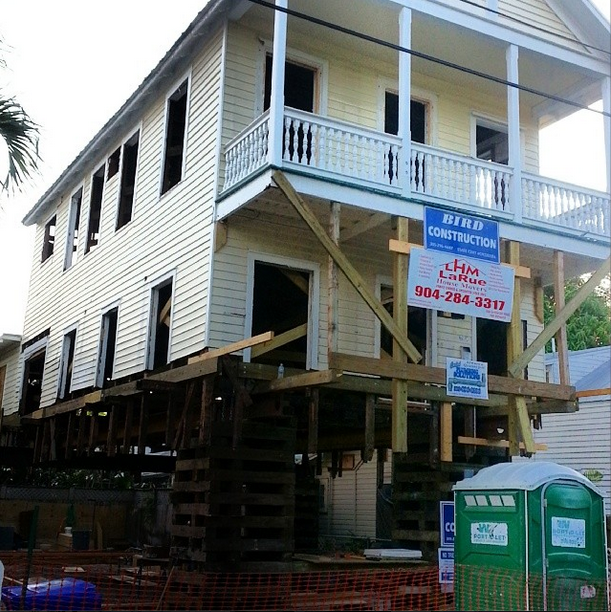 But still, every once in a while an indulgent little project is just the right thing to re-energize the ol' DIY mojo.  I recently read Kristi's article about remodeling depression and could totally relate. Sometimes it's nice to just step back and make some reclaimed wood wall art, or beautify a little space that I plan to use for crafting, sewing and all things creative.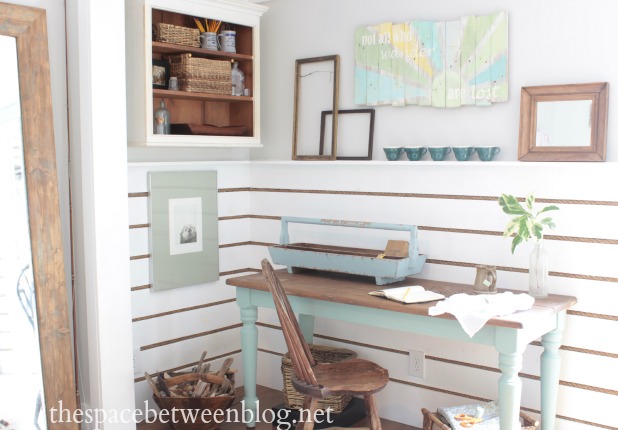 I'm realizing I haven't given you all the low down on the board and rope wall that is now complete.  We actually used boards that we removed when we were in the demolition phase of the guest bedroom renovation.  Definitely more to come on those because they are my favorite DIY accent in the house (not to be confused with our favorite room) and you'll never guess where Joel found the idea.  He's always thinkin', that guy.
You might remember that we actually removed the old closet that ran the entire length of the back of the room so we could install the new door to go out back.  It's a really popular Key West home feature to have access to the outside from every room.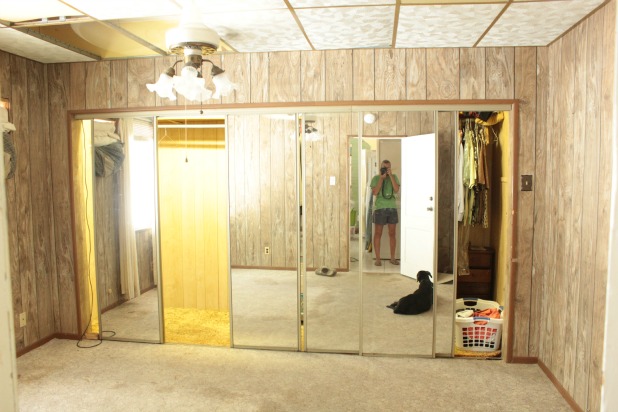 And then we raised the opening up to the height of the ceiling of what used to be the closet, which is about a foot lower than the rest of the room, and installed an antique beam divider.  The new craft corner is where the insulation is in this picture.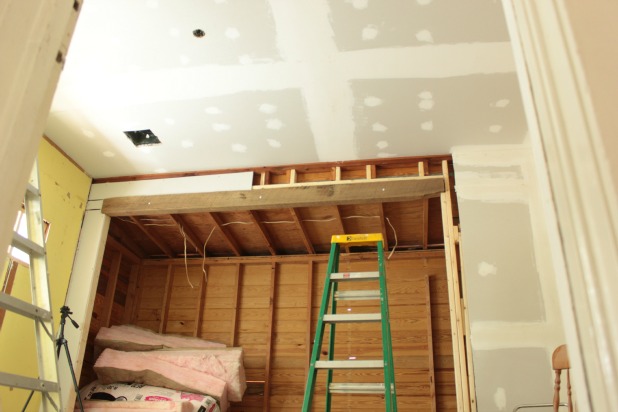 Setting up this little corner has been on my mind for quite a while now, but this space is also where we've had to put a spare bed for some visitors, so I held off until all scheduled company had come and gone.  I guess this is a warning that next time 3 or more people visit someone is going to be sleeping on the couch.  Sorry.
But you're more than welcome to craft with me.  😉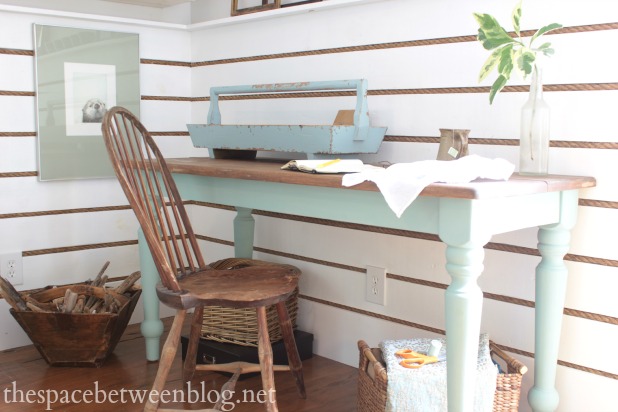 Joel and I just decided it made sense to design every space in this house for how it will be used the majority of time and not the minority.  And luckily all the company we keep is pretty laid back and tends to think the idea of a slumber party in the living room, or even outside sounds fun.
So I folded all of my fabric scraps neatly in a storage basket under the table in hopes that seeing it regularly will inspire me to actually sit and make the pillows for the front porch. I put all of my adhesives and other oft used crafting supplies in the rustic willow milk crate that is on top of a scrapbook box that hides all kinds of unsightly scraps and materials.  And I took all of my random pieces of driftwood and put them in this beautiful antique inspired rice bucket.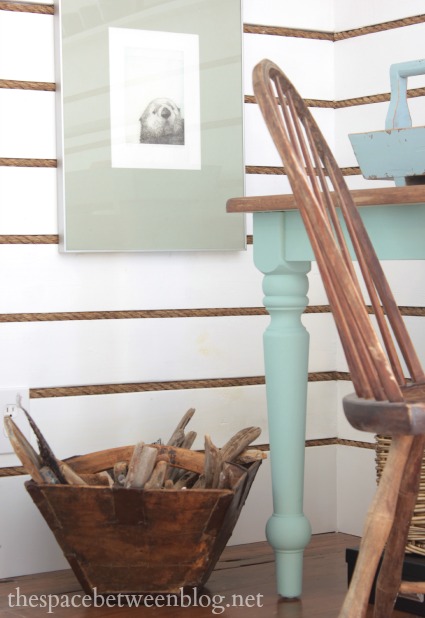 That framed otter picture is one of my favorites, we've had since we lived in Carmel, CA and it always reminds me of that beautiful area.
I've also had that white wall shelf unit since I was young, it's part of a three-piece set that I had in my bedroom growing up.  It could probably use a new coat of paint, but I kind of love the aged white paint.  The shelves are the perfect spot for more baskets and a wooden boat tray that is perfect for keeping my craft paint brushes and accessories at the ready.  Craft paints are hidden in the basket on the middle shelf and paint chips aren't a noticeable mess hidden in a basket up high.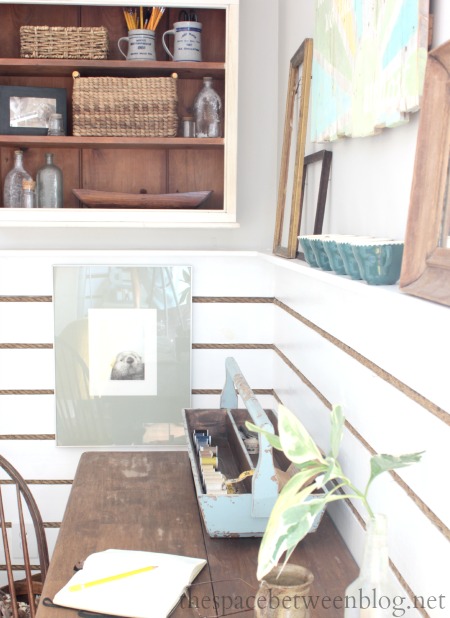 A few empty frames give the feeling of an empty canvas, a reason to create, a blank slate to fill with new creations.  And an old pallet word art project reminds that we are just forging our own path, no matter the direction.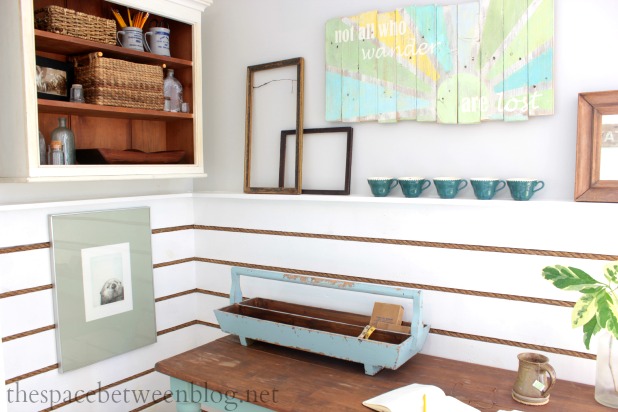 One of my favorite upcycling ideas in the space is the use of those tea cups.  They were my great grandmothers and instead of stashing them away they are the perfect color for the room and the perfect size to hold supplies like paper clips, thumb tacks and erasers. I need erasers because I am infatuated with pencils these days.  No idea why, I just love them, so why not fill an old (the date on is says 1985) award I won in 4-H with them next to another with some scissors to help organize this hopefully stylish yet functional little space.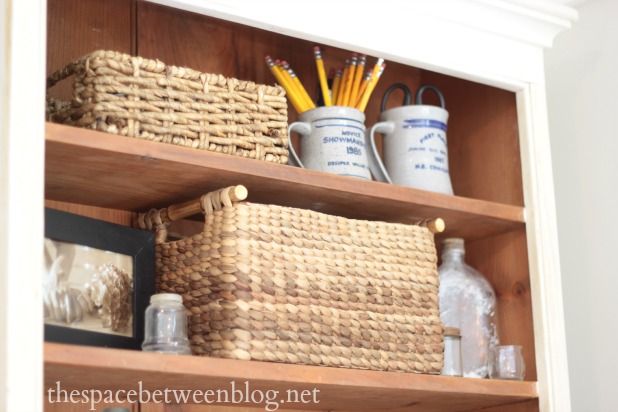 And isn't this aqua, distressed double wood tray phenomenal?  You might recognize it from when I had it on the front porch.  But then I thought it would be the perfect spot to corral my thread and pins and fabric tape measures.  You know, because I am going to get to sewing something sometime here soon.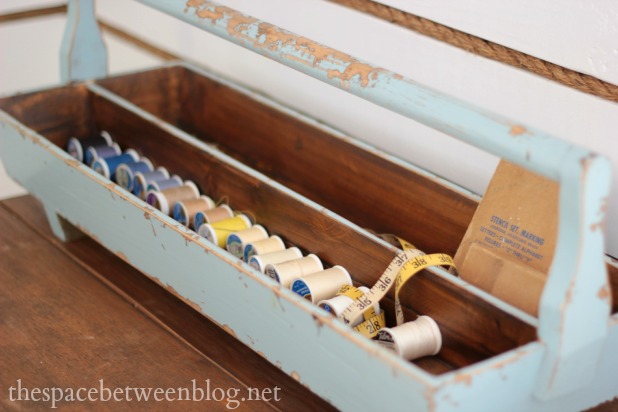 And I'm going to tell you something that is going to blow your mind.  All of those beautiful accessories … like the rice bucket, boat tray, set of baskets, willow milk crate and even the double tray … they are all from Staples.
Seriously.
I was not only blown away by the item selection available, but the item quality I received is also incredible.  Solid wood, sturdy construction, and they add just the right amount of style to a space that can often get filled with design-less items needed to hold all of the little accessories.  Staples is a great place to go for all of your office (or craft corner) supplies, not just paper and pencils … although you now know how I feel about pencils.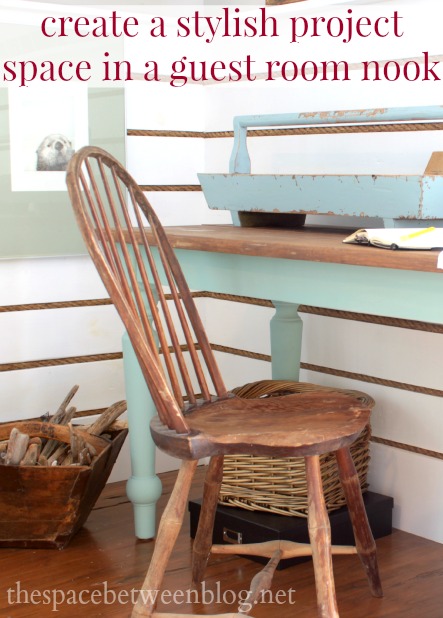 **********************************