Too soon?
Did my post on Friday, the little recap of all of the Christmas crafts we did last year, not imply that I had already started the countdown to Christmas?
It was supposed to.  😉
And, by countdown to Christmas I actually mean countdown to Christmas crafting.
And that countdown to Christmas crafting actually came to zero about a week ago. Would that make it T plus 7 days?  I don't know. 🙂
I'm actually teaming up with a few other incredible bloggers and we're banding together to bring you 4 creative ways to countdown to Christmas.  We're talkin' about advent calendars and in my case, an advent tree!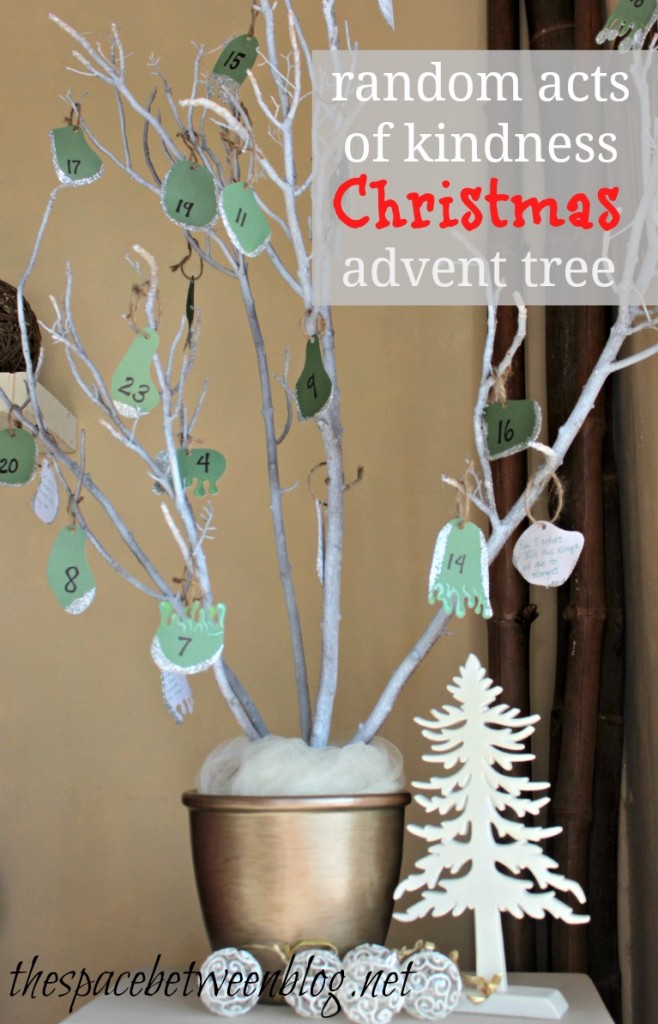 My idea actually came to me in July.  And I blame it on Joel.  He was cat sitting for a friend and asked me to go over one day he got stuck at work.  And I just so happened to see the perfect branch just laying there on the side of the road begging me to take her.
See, if Joel hadn't needed my cat sitting help I would not have been on that road that day, and I would not have seen this branch and I would never have had this idea. (There's really no way to prove that last part, but I'm sticking with it.  He's used to it … and should be thankful I didn't make the advent tree in July.  You're welcome, Joel.)
*the photo shoot in front of the shed didn't really work out other than this pic of a cute pup.
Anyway, 4 months later, a dusting of white spray paint, green craft paper cut in random shapes and glittered in random patterns, a plant pot painted with metallic gold paint and filled with driftwood covered in my wedding veil …
… because veils aren't just for weddings and driftwood isn't just for trees anymore.  🙂
And we have my take on an advent tree.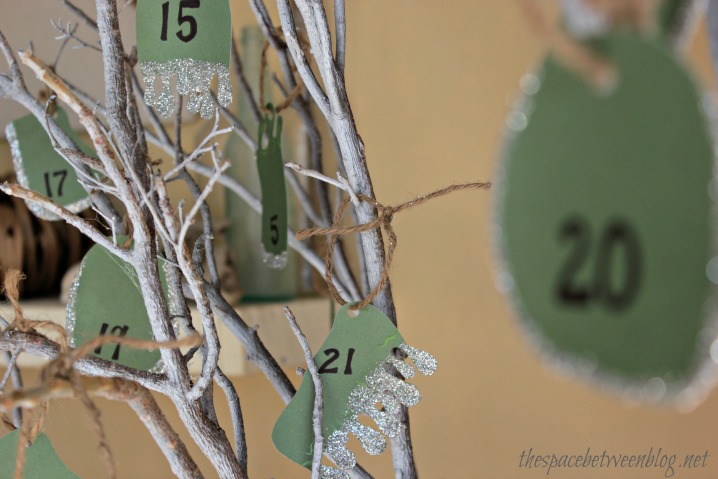 And you know what we're doing to count down the days?
We're doing random acts of kindness.
That's right people!  We're passing it on to random people we don't know and who will probably give a sideways glance as I try to explain in a language not native to them what the heck I'm up to.  🙂
You might remember that we had 12 Days of Kindness last year.
This year we're stepping it up a notch and we're doing 25 random acts. BAM!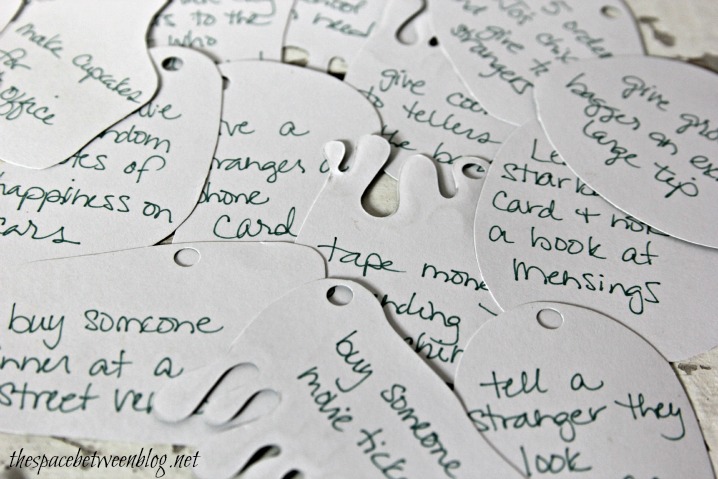 In all truth, I mixed in a few random acts of kindness for myself, and my husband, and some people I know.  In the vein of spreading the holiday cheer I didn't want to leave the ones I love out.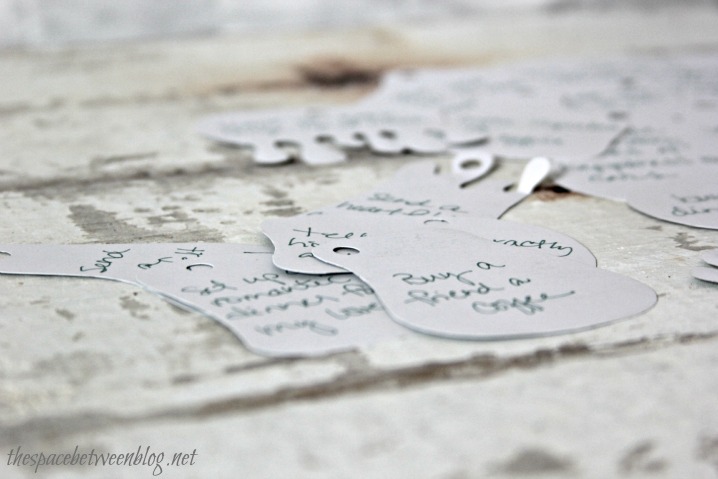 And here's how I put it all together.  I wrote my 25 acts of choice on the white side of the craft paper and then I separated them into piles.
Pile #1 – the acts I would actually want and be able to do on Christmas Day.  I flipped them over, shuffled them around a bit, picked one and used a sharpie to hand write a 25.
Pile #2 – (add the cards not chosen from pile #1) the acts that made more sense to do on a weekend.  You know the ones, pretty much anything that required a store to be open was out … bank tellers are not getting cookies on a weekend here.  Flip 'em over, shuffle 'em around, pick 8 because there are 8 weekend days in December before Christmas, number accordingly.
Pile #3 – all remaining cards flipped, shuffled and numbered.
And then I used a single hole punch and jute twine to hang them.  And done.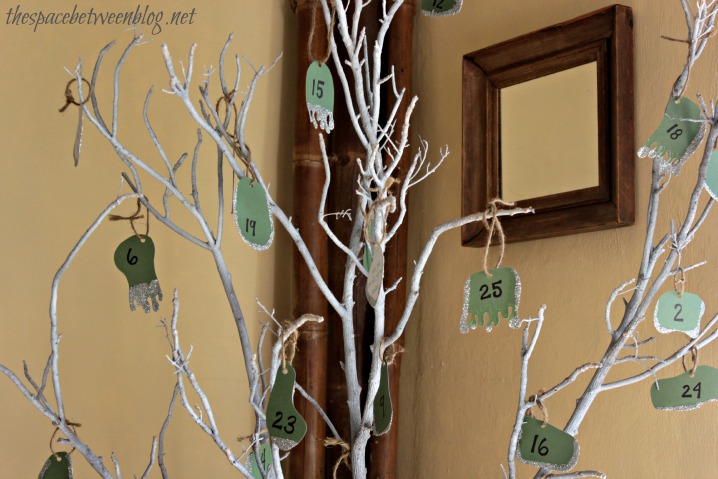 I like that there is still some surprise to it even though I personally picked all of the acts.
I think this would be really fun and rewarding for older kids, who are old enough to understand it and benefit from the experience.  Knowing there are a few in there that are just for me (spend a few hours on the roof, go for a long run, set up a candle light dinner for me and my love) is pretty sweet to look forward to, too!
Now, this is just one of 4 advent ideas coming your way today!  Be sure to click on my friends' blog names to check out their blogs or the pictures of their projects below to go directly to their super creative advent ideas!  These are some seriously talented ladies.  🙂
Taryn from Design, Dining and Diapers, Carmel from Our Fifth House and Carrie from Making Lemonade.
And if you missed Friday's recap, here you'll find 11 DIY Ornaments that we made last year.  That link will also answer the question that you might be asking "what does she mean driftwood isn't just for trees anymore?".
And if you don't know why I would think it's fun to hang out on my roof, you can get the story on that here.
And tell me, is it too early to countdown to Christmas?  Are you into the whole advent calendar/tree thing?  Do you think some of those tags look like green and glittered ghosts?
Update:  Get the complete list of the random acts of kindness here.