Seriously, any Breaking Bad fans out there?
I'm hooked. My cousin has already watched the whole series, but she's watching it again with me. And I'm in love.
In a I'm-kinda-creeped-out-and-totally-disturbed-and-just-want-Jesse-to-be-smarter-than-he-really-is sort of way.
But remember the Tortuga? Admittedly, things didn't end well for him. But, I'm kind of feeling at a turtle's pace right now with house progress and thought I owed you a little update.
And because the whole 31 Things series plus company for over a week multiplied by 5 straight seasons of a Breaking Bad binge equals my idea of a good time, I'm making an executive decision and taking the weekend off from the tips series to really soak in the last couple of days of my cousin's visit.
Buuuuut, tell me, do you think this wall is primed?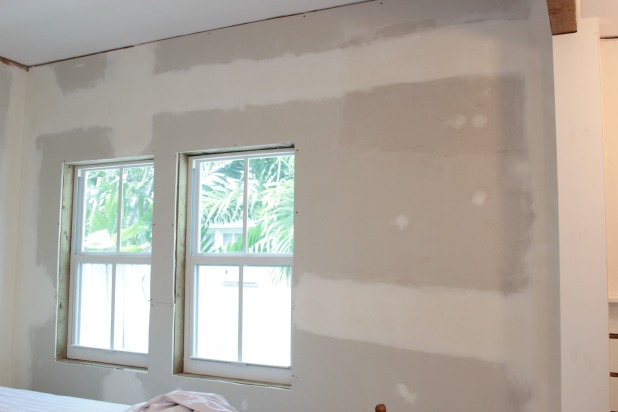 IT IS!!!!
Can you believe it?
I can't.
Like, I was there when it happened and I still don't believe it.
(I say "I was there when it happened" because free room and board around here isn't exactly free … if you know what I mean.)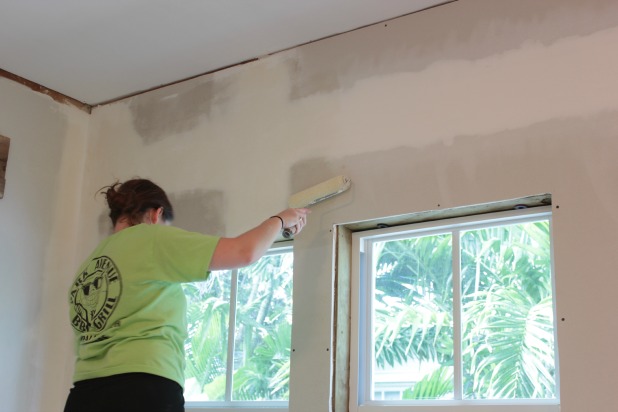 I can't wait to tell you all about it!  Seriously.  I'm amazed by this stuff.
So there's been some priming and a new door and more drywall and spackling (not in that order) …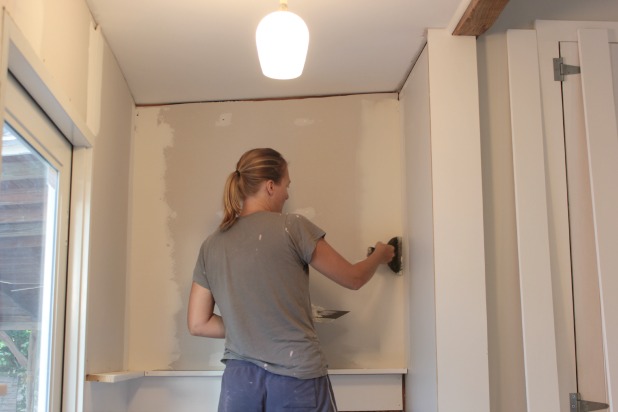 … and a new accent wall and new trim and all kinds of sanding …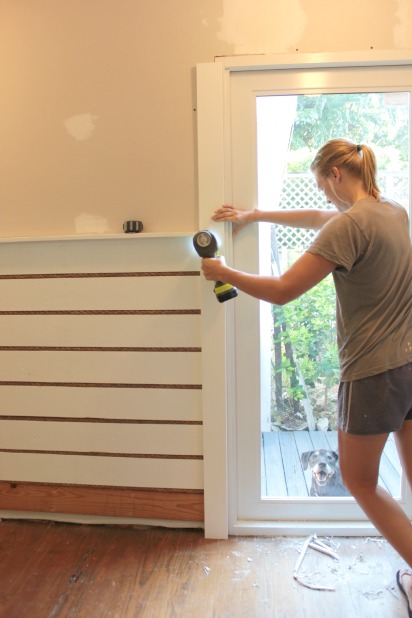 … and apparently a dog who always seems to find herself on the wrong side of the glass.
But there just hasn't been any extra time for writing and photo sizing and sharing it all with you as we go in addition to the 31 Things series.  I'm super sorry about that.  :/
But cannot wait to get you all up to speed.  We're getting to the good stuff here!  I'm even going to try my hand at curtains … and cutting down a table to make it into a work station (sewing machine, crafts, etc) that will fit in the guest bedroom … and I need some help figuring out what exactly to do with my office nook.
Here's what I'm working with.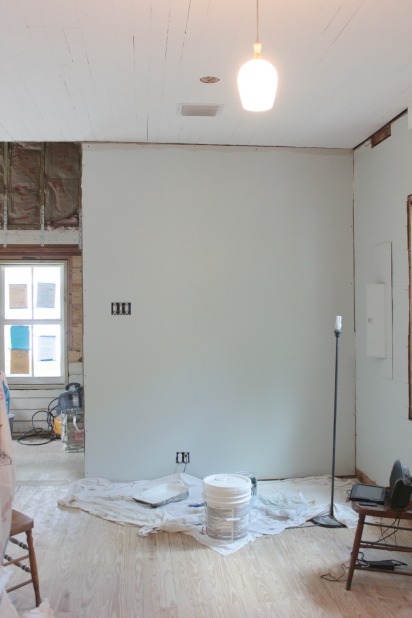 It needs to be functional and beautiful because it's in the middle of our main living areas. I'm thinking some closed cabinet storage and some open shelving.  Should I go cool desk or cabinet bases with a butcher block or maybe even poured concrete desktop?  Should we go built-ins or a little more free-flowing, organic type of set up?
And what to cover that stinkin' circuit breaker box with?
Decisions, decisions.  All coming up around here soon.
Until then, rest assured that the only connection I have to Walt, the Chemistry teacher turned crystal meth cooker/dealer on Breaking Bad, is our affinity for good quality primer.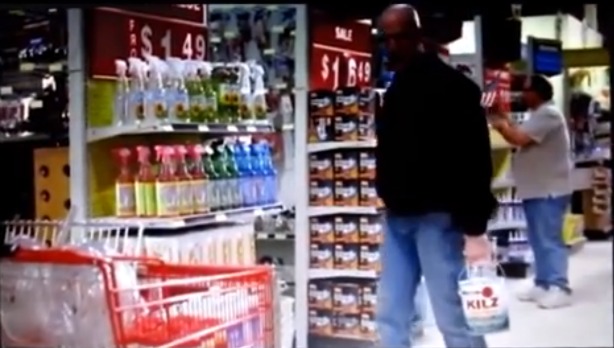 Have a great weekend, yo.
(My connection to Jesse, however, runs more along the lines of our street talk, homes.)
Church.