So, something funny happened to me when I was in Chicago.
I got on the treadmill.  haha
That alone isn't funny, but it kind of reminded me that it had been a loooong time since I'd actually gone for a run. And I can have a tendency to love a good jog, so it's funny that I've gone so long without one.
And then something notatall funny happened.
I was going to buy a shirt at the concert, so I tried on a larger size than I normally do, knowing the sizes tend to run snug on those kinds of shirts, and when I turned to Sue to ask her if it was too tight, she said, what all best friends would say,
"It's fitted."
Except that's not at all what I would have said.  I'm not the girl who always has the right thing to say.  I would have had more of a "I can see your every bulge" look on my face that would have spoken for itself and been inadvertently offensive at the same time.
Anyway, for those two little reasons I've come home and ventured down the path of trying to find some new healthy things to add into my day and I decided it was high time I tried my hand at something I've heard many people try, fat-free baked kale chips.
This is what kale looks like raw, incase, like me, you'd need to take a double-take when looking for it in the grocery store.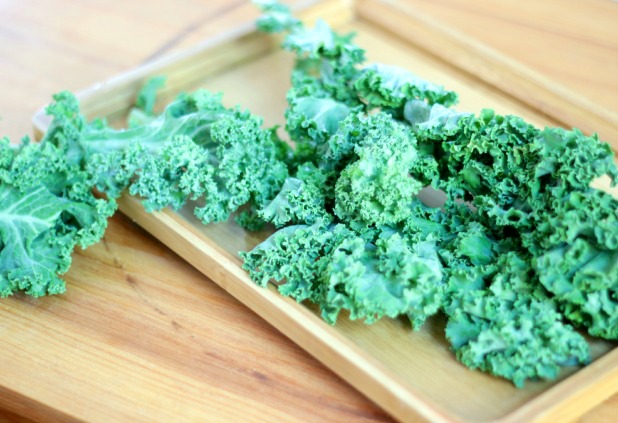 And I surprised myself with how much I ended up loving them.
You know, there's the kind of food love that is just because it's awesome, like peanut butter cups and fluffernutter (affiliate link) and pie.  And then there's the "I love this because it doesn't taste like charcoal and I know it is ridiculously good for me".
This is the latter for sure.  But it is still love.  Even if it is love with an asterisk.  And when I shared that I had made them on social media the reviews were pretty equally mixed between "I love them" and "I always burn them".
It turns out the actual baking time can be tricky and is very important when it comes to how your chips turn out. Undercooked and your kale will still feel like lettuce and over cook and it will taste burnt and bitter.  And if we're actually going to go through the process of making a "snack" out of kale, it better be good.  Am I right?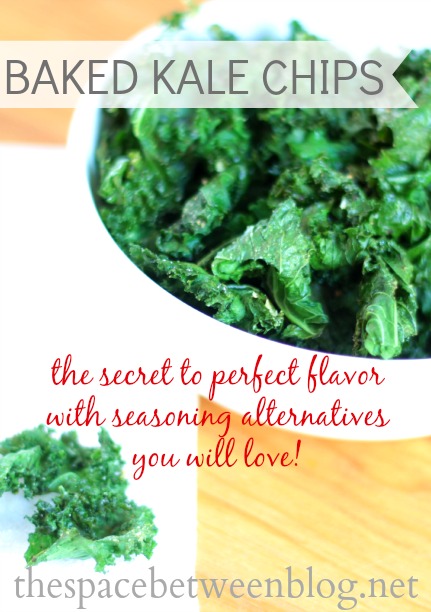 My recipe is adapted from this one.
Ingredients:
1/3 of a bunch of kale, cut off the stems, chopped into bite size pieces, washed and dried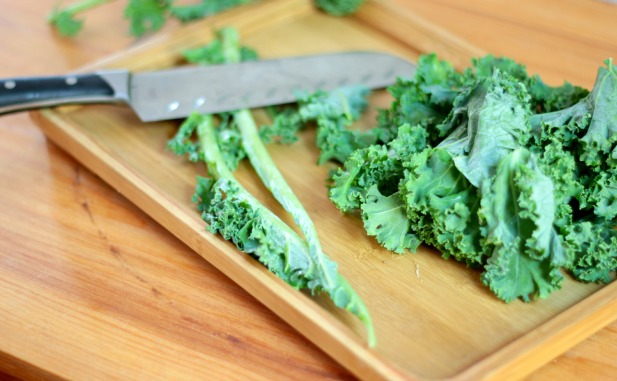 seasoning to taste: I used garlic powder, cracked black pepper and blackening seasoning to give it some kick
olive oil flavored cooking spray
Instructions:
pre-heat oven to 350 degrees
cut, wash and dry your kale
roughly chop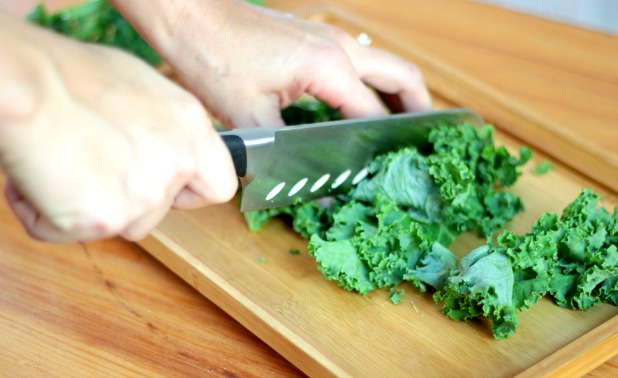 spray your baking sheet with the cooking spray
spread out the kale evenly on your baking sheet
spray the kale with the cooking spray
sprinkle your seasonings on to taste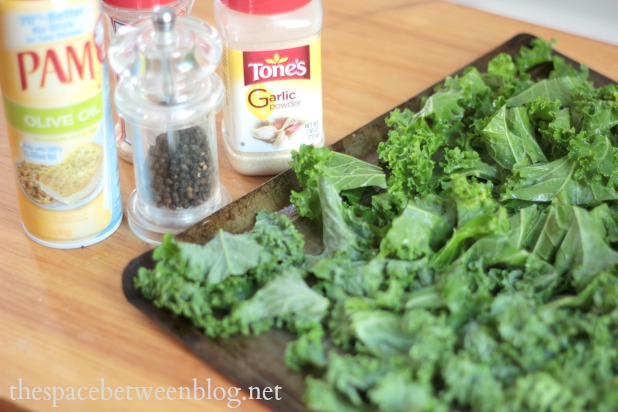 bake for about 10 minutes, watching closely*, increase baking time by about 5 minutes for every additional 1/3 of a bunch
*This is the key step right here.  Most sites say "watch for the tips to brown".  I will tell you, this has not happened any time I made this.  You have to open the oven and try a piece, when they are done they will be crisp to the touch and barely browned.  I found that the part of the kale touching my baking sheet actually browned first.  And the glistening of the cooking spray will make them look limp, so you have to get right in there and give them a try starting at about 8 minutes.
You guys, these little things are surprisingly light and fluffy.  They practically melt in your mouth.  My friend referred to it as her popcorn, such a good analogy.  I will definitely be making these for an afternoon snack or evening nosh.
The 1/3 of a bunch was a good single serve portion.  My friends, who are clearly very smart, offered up these alternatives that we'll all have to try.
garlic and lemon juice
cinnamon
avocado oil instead of olive oil or baking spray
Update:  Other topping suggestions from a readers include
red pepper flakes
maple syrup
paprika and a touch of cayenne
garlic powder, chipotle and parmesan cheese
I've heard these will keep for about a day in a paper bag, so maybe you want to make a whole bunch and spread the joy over the next 24 hours.  You know, until you've had time to head back out to the grocery store to stock up on pie.  🙂
So, have you tried this yet?  Have any seasoning options you suggest?  Would you rather just stick with pie?
And here's one other way to use non-stick cooking spray, but not for cooking right here.