So, we told you last week that we called in the professionals to whip our hardwood floors into shape.
The timing actually worked out perfect since we had a friend come to visit for the week.  So I could do some gallivanting around Key West and still feel like things were happening around the house.  Extra points to me for slacking off and still ending up with floors that look like this right now.  🙂  (And if you like gallivanting pictures, they all go down on Instagram, I'm @thespacebetweenblog.)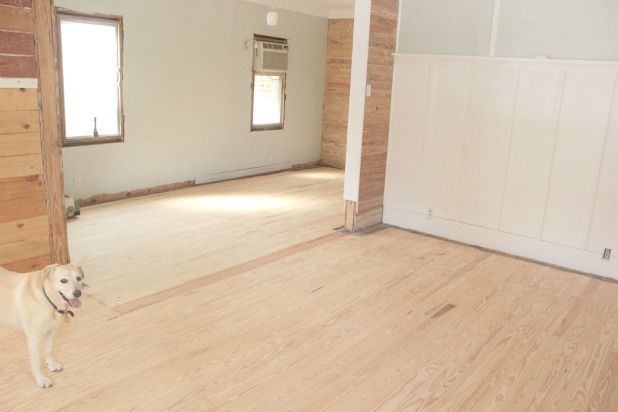 Beautiful, right?!?!  They are the perfect shade of Marley.  🙂  This picture makes me so happy!  It is beginning to start to feel like a real room … one where we can live in, with furniture and artwork … we'resoclose.
The guy we hired to do all of the sanding just needs to finish up around all of the edges and then a final full sand with a finer grit sand paper and then we are going to be talking stain.  We haven't settled on a color yet, we haven't even really settled on the light, medium or dark debate.  Which makes me a little nervous, but the floor guy said he has some suggestions that he's seen work well with our type of flooring (the now extinct Dade County Pine) so I'm hoping to see some samples this week and get that all figured out.
Then the weekend agenda has been designated to staining.  The plan is for Joel and I to tackle the staining and finishing work.
I sure do hope it goes well.
But before we can get to all that, for everyone who asked about what we discovered regarding the potentially asbestos vinyl tiles, and our thoughts on asbestos exposure, here's the skinny from our reputable 'floor guy' himself.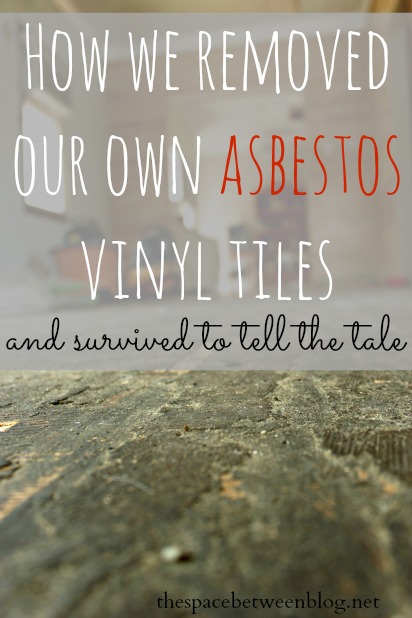 Now, I'm not even remotely suggesting that everyone should go out and find some asbestos floor tiles to play with.  I'm merely 'splainin' why we felt comfortable tackling this part of the process on our own.
A few other noteworthy points:
we don't have any kids so we didn't have that concern to consider
we broke the whole room down into 3 sections and tackled them over 3 weeks
I did the first section when I was alone in the house and Joel did the other 2 sections while I took the dogs to the dog park and shopping … 'cause dogs are welcome pretty much everywhere around here which is handy.
we covered up all access points to other parts of the house and opened the two windows in the dining room and pointed fans out the windows when at work

we wore a respirator and disposed of the tiles in sealed bags as soon as they were removed
we did what we could to keep the area contained – we cleaned everything thoroughly after each session, tossed the work clothes right into the washing machine and wiped down all tools, etc when we were done
there are always more precautions that could be taken, and because of that, there's this
There are so many different resources online, it's just a matter of finding one that says what you want is clear to you.  I found the articles here and here informative.
And then there's the fact that we were reassured by the 'floor guy' who has been uncovering and removing this kind of flooring for more than 20 years and seems totally normal … other than that twitch. Just kidding.
We ended up using a few different techniques, but the one I found the most effective was to use the same angled scraper we used to remove the glued down carpet pad.  The process was simple, if not repetitive and oft-times painfully boring.
keep area damp as a wet area would prevent any asbestos dust from releasing into the air

wedge angled scraper under one corner of a tile

hammer the handle end of the scraper to pry up the tile

move the scraper from corner to corner around the tile

repeat until tile is released

repeat

repeat

repeat
Some tiles were more stubborn than others, and a gauge I read was to try to not break one tile more than 4 times.  Sure, there were times the '4 breaks' rule was broken.  Such is DIY.
I did take the time to video tape me removing just one tile so all of the visual learners can see the approach in action.  If only I had chosen a more agreeable tile to video.  🙂
[youtube=http://www.youtube.com/watch?v=axc_WTfekYQ]
Doing this part of the floor preparation saved us $2 a square foot, just one of the determining factors for us.  That, and we're just suckers for a new kind of DIY.  🙂
Remember when we hadn't even removed the carpet yet?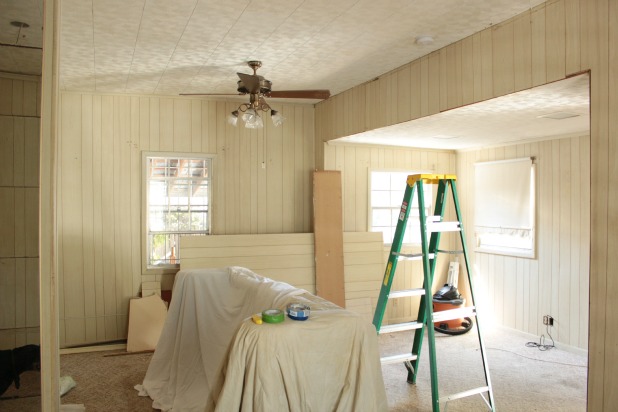 And we might have furniture by next week … say it ain't so.  🙂
To see a little bit more of the journey these floors have taken check it out here and here.  And weigh in on the debate here.