I promise.  There really was a plan.  It was well thought out.  And it was going to work.
Just to recap, we have just relocated from Curacao to Key West and closed on our new-to-us-house.
And when we moved to Curacao over three years ago we didn't take much of our stuff with us.  We just didn't really know what we were in for and didn't want to get down there with a ton of things we not only wouldn't need but couldn't use, or wouldn't have room for or whatever.  And it really was a great plan.
We left 90% of our things in storage in our previous location in Maryland.  So, when we arrived here in Key West and found a house (that seriously is perfect for us in so many ways) we thought it made sense to get all of our things in one place again.  So, I trekked up to Maryland and sifted through our things and lo and behold we had another whole truck shipment arrive at our new-to-us little home last week.
The well laid out, strategized and over analyzed plan was this:
1. Close on the house – check
2. Things from Curacao arrive – check
3. Settle into one bedroom, one bathroom and the kitchen with those things that we've been living with for the last three years – check
(We will be remodeling/renovating the entire house, starting with the living/dining area and just wanted to create a few comfortable spots to be in during the whole process)
4. Things from Maryland arrive – check
5. Store all furniture pieces in the carport, tools in the shed and boxes in the guest bedroom and leave the furniture and boxes as is until we finish the living/dining area redo and have a need for things like decor and accessories and side tables and such …
So far so good … not a bad plan, right?!?!?
But this is where the well laid plan failed me … when I was organizing the shed and all of our tools in preparation for the reno project … I couldn't find the sawzall.  You know that tool.  This one, we have a Ridgid.
And we already have a list of quick fixes we can do around the yard with this guy so I really felt like I needed to find it rightthatsecond.
So I started unpacking boxes.  And more boxes … and even more boxes.
And I rediscovered things like "we have a coffee bean grinder", and "we really do own more than 4 plates and 2 bowls", and "we have a goose on a cake plate".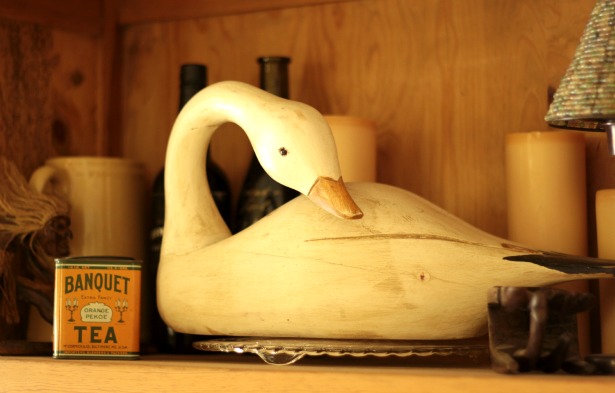 And this happened.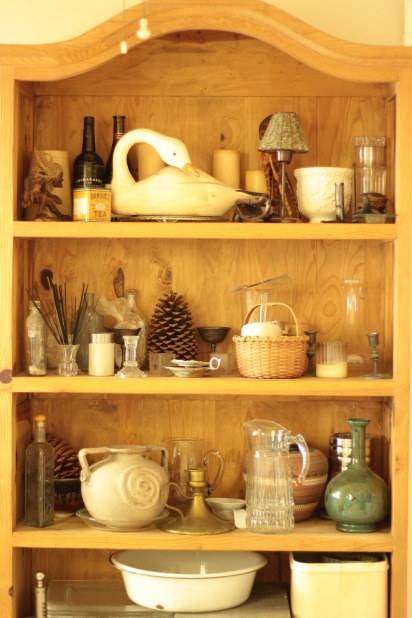 This bookcase was supposed to serve as a pantry in the short term, until we get to our kitchen remodel, but now it's more of a thrift store (just like our shed).  And instead of finishing organizing the shed, I'm grabbing random things and using them to try to add a little bit of form to our functional set up right now.  I'm literally shopping the thrift store house, and taking everyday items and coming up with upcycling ideas for them without even changing them … just by using them in unique ways.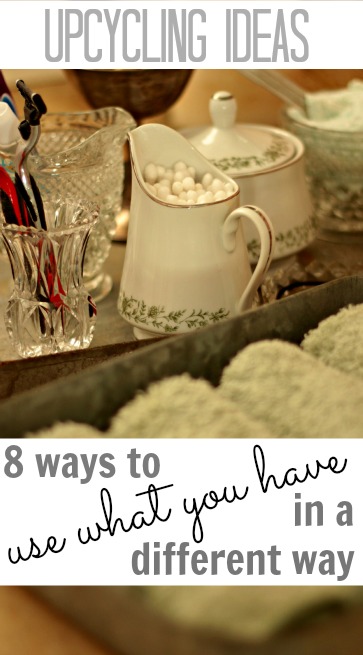 Here are 8 upcycling ideas for your regular things around the house:
tarnished silver goblet as incense holder

galvanized trays to hold groupings

cute glass bowl with silver base as a soap dish

sugar bowls for cotton balls or bath salts AND creamers for q tips or toothbrushes

measuring spoon to scoop bath salts (I use the tablespoon in my homemade laundry detergent, too)

old bottle for your razor AND a toothpick holder for those bobby pins

Fun and functional and FREE!!  I say just take a little peruse around your shelves and see what you might be able to use in a unique way.  So many things have been created and developed for such specific purposes, when really, why not put our toothbrushes in something pretty?  🙂
Now … who wants to see what the rest of this guest bathroom looks like?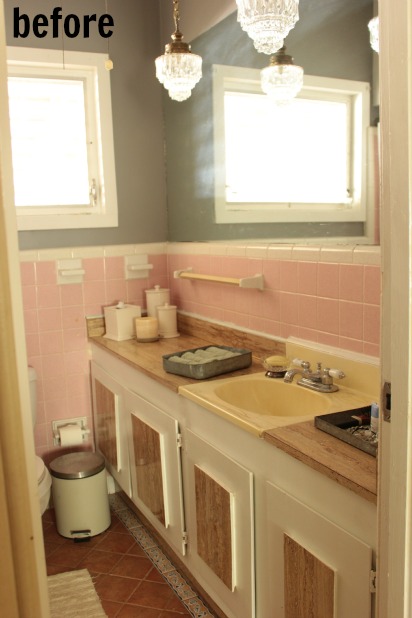 Don't be jealous.  😉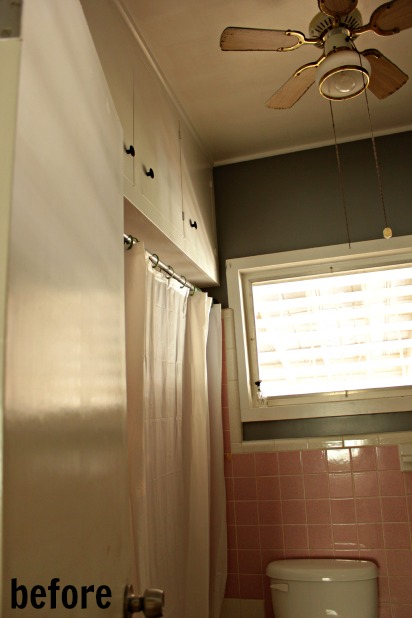 And it has this funny little double entry thingy.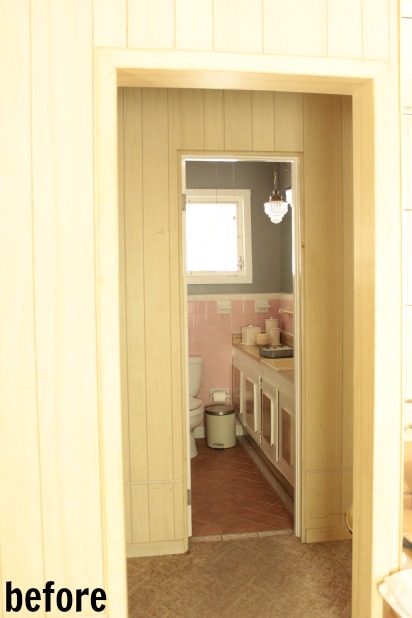 And because that clearly isn't enough awesome … there is a floor to ceiling mirror tile wall just outside of the bathroom.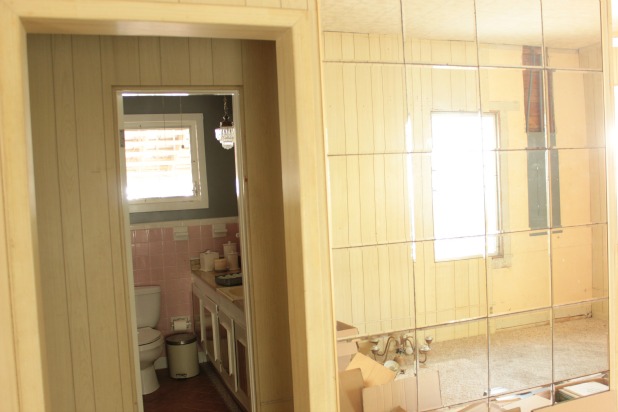 Woah!  Right?
So … yeah … we've got our work cut out for us around here.  We're stoked that beyond the pink tile and faux wood grain counter everything is completely functional.  So we're looking at whittling away at this space in between the bigger room projects.  We don't really have a defined plan and vision, it will definitely develop over time depending on the changes in the spaces around it (the master closet and bath is behind the shower and there are some alternative floor plan options being tossed around), but here's the initial to do list for the guest bathroom:
*update pink tile – there appears to be two layers of tile, I might go with a short term plan like painting it for an immediate update
*change out counter – what about a well sealed chunky wood slab?  It's only 18 inches deep.
*new sink
*new faucet
*frame in the mirror
*update the lighting – now, I think that vintage light is awesome, but Joel … notsomuch.  And I have to admit it dates the space so I'm hoping to convince him it would be perfectly quirky outside.  🙂
*build new cabinet doors to fit current vanity – the water pipes actually come in from the back so the vanity needs to stay to conceal those dang pipes, but I'm looking forward to trying my hand at making some cabinet doors
*remove ceiling fan (after central AC is installed)
*remove the cabinets above the shower – right now that space is really functional storage, but I think with that opened up the whole room would look so much bigger.
Like I said, we're tossing around other, more major ideas too, like moving the entrance door to the wall by the mirror tiles and relocating the linen closet (that is directly behind the door on the left beside the tub) and even removing the tub altogether and tiling a shower to create extra room for the master bath/closet space behind it.
But we'll see.  🙂
Update:  We have gotten past the moving boxes and started the whole house renovation.  You can see how to remove a drop ceiling, how to paint over cracked paint, the DIY lesson we learned the hard way and our first finished wall (board and batten baby!).
What do you think?  What would be at the top of your to do list for this space?  Do the little upcycling ideas help deter the eye from the pink tile for now?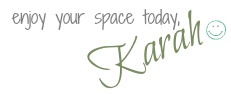 *post contains an affiliate link for one of my favorite tools